TPI Composites' (TPIC) shares have lagged behind the market over the last year, with less than 10% share price growth since last October. Growth has stalled as TPIC looks to revamp their products and enter new markets. However, the industry has changed since Trump's election. Below, I will review TPIC's growth prospects with the changes in industry conditions, then evaluate TPIC's valuation as their product improvement investments come to an end.
Wind Industry Outlook
The Trump Administration has not been kind to the wind industry. The wind industry is expected to reach close to $100 billion by 2025. However, much of this growth is attributed to China, as America is expected to increase wind installations by 59% in that period, while China is expected to increase by over 100%.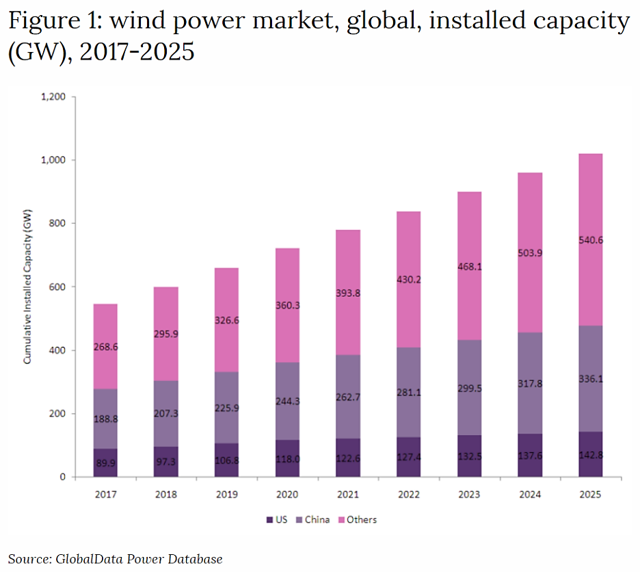 Source: Power Technology (link here)
Trump is famously opposed to wind power. This hasn't helped the wind industry's lobbying effort, as the tax bill is expected to slow down the wind industry. Tax credit for wind energy is being phased out at the end of 2019. This is expected to cause wind investments to stall, as customers will hesitate to spend more on wind power, as costs will rise greatly without tax support. Deloitte also notes that tax credits may continue to decrease demand:
"Other provisions that may concern the industry include potentially reducing the value of the production tax credit (NASDAQ:PTC) for wind beyond the current phase-down, toughening eligibility requirements for PTC benefits, and limiting interest expenses and allowable deductions."
Despite this, corporate demand has spiked in the immediate short term, as corporations are hoping to lock in the tax credit before 2019.
Overall, there is not yet any conclusive signs that United States tax incentives should make a material impact to TPIC. Although there will be short-term uncertainty in the United States, the long-term market should continue their trend, as Deloitte ends their analysis with:
"But despite short-term uncertainty, renewable energy is well-entrenched and growing wind and solar markets are finally reaching the scale and scope to expand exploration of new technologies that show potential to further reduce costs and spark growth. The pace of growth will likely moderate as markets mature, and US policy uncertainty may cause additional challenges along the way. But longer term, powerful enablers such as robust customer demand across multiple business segments and global regions, declining prices, decarbonization, digitalization, and the drive to boost resiliency will likely underpin continued strong growth."
Even if wind power investments slow down in America, TPIC will still be able to capitalize on the growing wind market internationally. Tax credit concerns and white house statements on wind power may lead to a short term slow down and sentiment shift, but international growth and unchanged long term trends provide TPIC with plenty of growth prospects outside of this.
TPIC Revenue Breakdown
Even with a possible slowdown in U.S. sales, TPIC derives a majority of their revenue internationally. While international wind investments are growing faster, TPIC will be relying on volatile countries. Below is a breakdown of their revenue sources by country: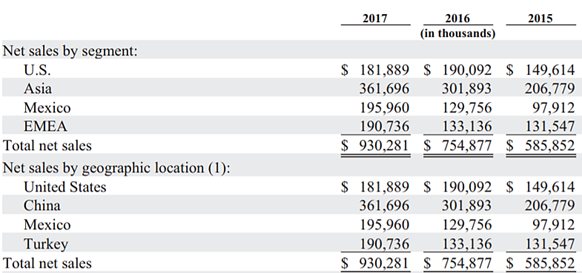 Source: TPIC 10-K
Revenue is defined by where the services are performed, or where the product is made. The good news is that they are able to limit their trade war exposure due to having operations in China, although they still expect costs to rise by approximately 2% when blades are transported between China and America if tariffs are enacted.
However, over half of their revenue (China and Turkey) is derived by countries with a volatile currency and subject to U.S. sanctions or tariffs. Geographical risk will continue to be a major concern for TPIC, although China is going to be spending more than any other country in wind.
TPIC is a supplier for wind power providers, so although their blades are made in different countries, their customers remain the same. Below is a breakdown of TPIC's customers:

Source: TPIC 10-Q
TPIC's reliance on General Electric (GE) has decreased greatly, although they still represent their number one customer. GE is an interesting customer, as they bought TPIC's largest competitor LM Wind Power. Despite this, GE has elected to continue their relationship with TPIC numerous times. Regardless, TPIC faces a lot of risks associated with customer count, although they do hold multi-year contracts with their customers. If GE is planning on insourcing their blades with LM Wind Power over the next few years, this would represent the largest downside risk.
TPIC is diversifying their products, already beginning to generate revenue outside of blades as they start a new business line producing composite chassis for electric commuter buses. The opportunity is there for them to operate in passenger vehicles as well. However, these lines are still in the very early stages, and are not making strong contributions to the top line.
Valuation
As investors are aware, revenue growth has stalled in 2018 due to planned reinvestment and production of the new blade models. Because of this, we'll use guidance figures, rather than operating and growth metrics to supplement the valuation analysis.
In the last earnings call, management noted strength in their backlog and 2019 guidance:
"Furthermore, we have now closed down 13 new lines so far in 2018 putting us near the top of our guidance range for new lines in 2018 up 10 lines to 14 lines . We now have 50 dedicated lines beyond 2018 and set a new record high total potential contract value of $6.4 billion extending through 2023."
And translating this to revenue guidance:
"This gives us the confidence to accelerate some of our plant expansion and growth in 2018 and 2019 to further position us for market share gains and supports our long-term goal of doubling our revenue from wind over the next several years.

To illustrate this point, it will only take 50 lines, averaging $40 million per year to achieve the $2 billion in annual wind only revenue for TPI. We remain confident in our previously stated revenue target for 2019 of $1.3 billion to $1.5 billion or approximately 35% growth and our three-year revenue CAGR of 20% to 25%."
While still early, the expected revenue gains from the new blades provide a very exciting future for investors in terms of revenue growth and cash flow growth.
Going to valuation, below is a snapshot of their metrics:

Source: Seeking Alpha
Similar to LM Wind Power, TPI Composites is also in a position to be a possible acquisition target, with an EV/EBITDA below 12. As mentioned before, investments in upgrading their blade models has hurt cash flow, causing P/CF to be slightly inflated.
Trailing P/E sits at a very high 28.79. Although Morningstar has P/E at 23, their P/E is high for a few reasons. During this reinvestment period, net margin and gross margin have both decreased, which is expected for the business phase they are in. As TPIC begins filling their contracts with the new blades, their net margin should begin returning to previous levels. With margins increasing, as well as revenue growth expected to pick up due to the new blade models, TPIC has the opportunity to turn their projected 25% revenue CAGR into above 30% earnings CAGR, which creates a less than 1 PEG ratio.
Investor Takeaway
For a small company, there are normally numerous risks that drag down valuations. American tax credit questions provide short term uncertainty issues with demand, but there is still no evidence of long term trends shifting, especially as TPIC is creating higher efficiency blades. Turkey and China sanctions/tariffs and currency problems will continue to increase the risk for TPIC. LM Wind Power, owned by GE, represents a long term potential threat as well, although GE hasn't shown aggressiveness in changing anything yet.
Despite short-term issues and press releases against wind energy, investors should ignore the noise and continue to follow the signal, as wind investments are rising all over the world. TPIC is still the main player in wind blades, and perhaps the purest investment in wind energy. TPIC is currently undervalued in terms of 2019-2023 expected performance, and any success they have outside of wind blades will be not only an added bonus, but also a well-needed diversification that can help lower the risk profile.
Disclaimer: The above references an opinion and is for information purposes only. This information is general in nature and has not taken into account your personal financial position or objectives. It is not intended to be investment advice. Seek a duly licensed professional for investment advice. Past performance is not an indicator of future performance.
Disclosure: I/we have no positions in any stocks mentioned, but may initiate a long position in TPIC over the next 72 hours. I wrote this article myself, and it expresses my own opinions. I am not receiving compensation for it (other than from Seeking Alpha). I have no business relationship with any company whose stock is mentioned in this article.