The two main asset classes in our portfolio are equities and precious metals. We believe in diversification in the respect that we aim to align ourselves with the main trends in each of the other asset classes. Crude oil (USO) is an asset class that has really made the news recently - and with good reason.
There is no getting away from the fact that rising prices affect the vast majority of companies due to elevated costs. After storming up to around $77 a barrel at the start of this month, price had come right back down over the past weeks to be trading now at around $71 a barrel. Implied volatility as a result has remained relatively high at about 27% as we can see below.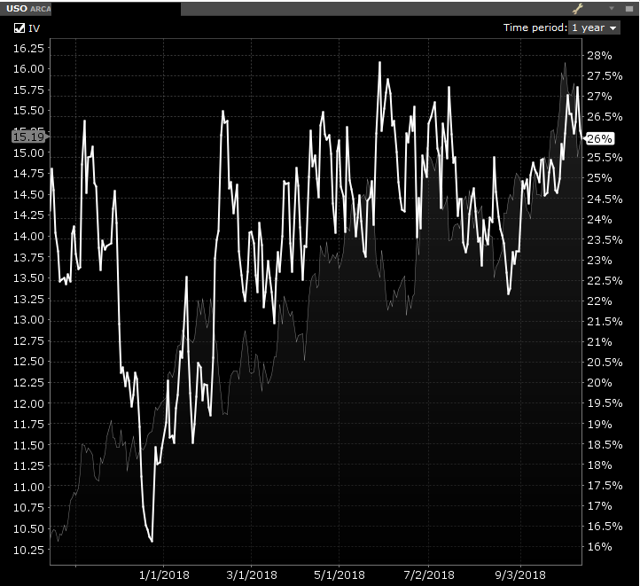 Source : Interactive Brokers.com
Shorting energy has always been perceived a risky play - including at present, with fears surrounding whether Saudi Arabia will be able to make up for the lost supply from Iran and/or whether the U.S. will impose sanctions on the Middle Eastern Country. What we do know, however, is that cycles always play out in the energy markets despite perceived threats that could spike the price of the commodity. Not too long ago, the price of oil went from well over $100 a barrel to under $30 in the space of 18 months. The low we printed in early 2016 was definitely a multi-year cycle low. Here is how we see the cycles in crude oil shaping up at present.
Firstly, if we go to the long term chart of oil, we can see that crude oil has only printed one clear yearly cycle low between now and the bear market lows in early 2016. This means we are now 16 months without printing a clear yearly cycle low in crude oil, which is well beyond its average normal timing band. What does this mean? This means that we should eventually get some clear selling pressure in crude oil not before long. I state this because a yearly cycle low almost always occurs when we get a failed intermediate cycle. This means we should drop below the last clear intermediate low before printing our next yearly cycle low.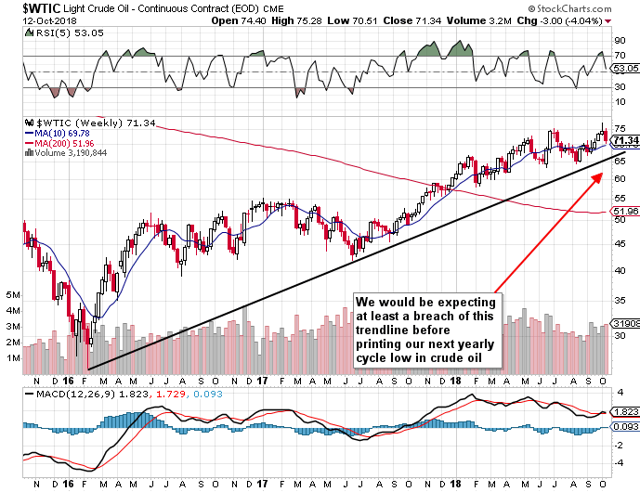 In fact, the yearly cycle trend line more or less ties in with the last intermediate lows of about $65 a barrel. We usually look (in a trend line break) for the retracement south of the trend line to be similar in magnitude to the retracement from the highs to the trend-line. Therefore the $65 level here should be taken as a very minimum.
Now if we look at the crude oil's intermediate cycle count, we can see that the commodity printed its latest intermediate low in early August. We know this was an intermediate low because:
It printed these lows 27 weeks ahead of its last intermediate lows, so it was right in its timing band.
Long-term sentiment got to intermediate type extremes.
We formed a weekly swing low.
We broke through the intermediate trend line which confirmed an intermediate decline was in play.
What is interesting, though, is that this present intermediate cycle has already printed a weekly swing high. This could mean that we have now begun the trip down into the long over-due yearly cycle low. It looks though as this will probably end up being a slow grind to the downside. Although ( as mentioned), we are now 15 months into this present yearly cycle, the present intermediate cycle count is only 7 weeks old which means we could easily have 10 to 15 more weeks before finally printing a yearly cycle low. An early weekly swing high is usually indicative of a left translated cycle (lower lows to come).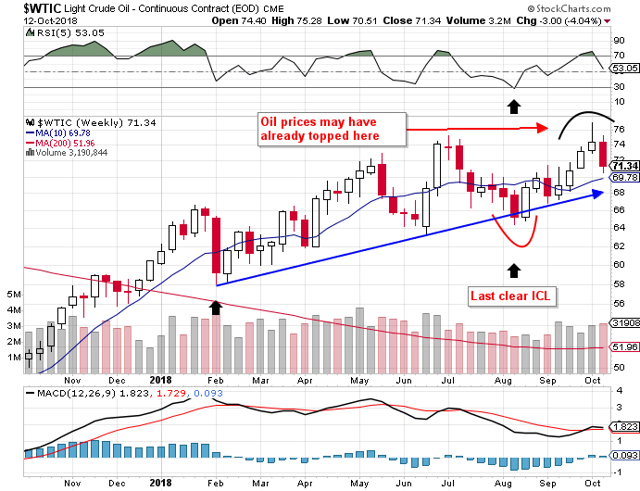 To sum up, crude oil is back up close to $72 a barrel due to tensions with Saudi Arabia. Our research is illustrating that we are due a daily cycle low but we should see some selling pressure before long as crude makes its way down into its long over-due yearly cycle low. $65 a barrel would be our bare minimum for a target. We may use the elevated implied volatility in USO as a vehicle to express our directional view.
Disclosure: I/we have no positions in any stocks mentioned, but may initiate a short position in USO over the next 72 hours. I wrote this article myself, and it expresses my own opinions. I am not receiving compensation for it (other than from Seeking Alpha). I have no business relationship with any company whose stock is mentioned in this article.