Down It Goes
Global stocks (VTI, VEA, EFA) have lost no less than $4.2 trillion during the past week's market rout that has been triggered by a few developments:
Recent rise in bond yields - US Treasuries (SHV, SHY, IEF, TLT), investment-grade ("IG") (LQD, AGG, BND), and High Yield ("HY") (HYG, JNK, AWF)
End of QE in both the US (SPY, DIA, QQQ, IWM) and (though to a lesser extent) in Europe (VGK, EZU, HEDJ, FEZ)
Growing concerns that corporate (earning) margins may be peaking.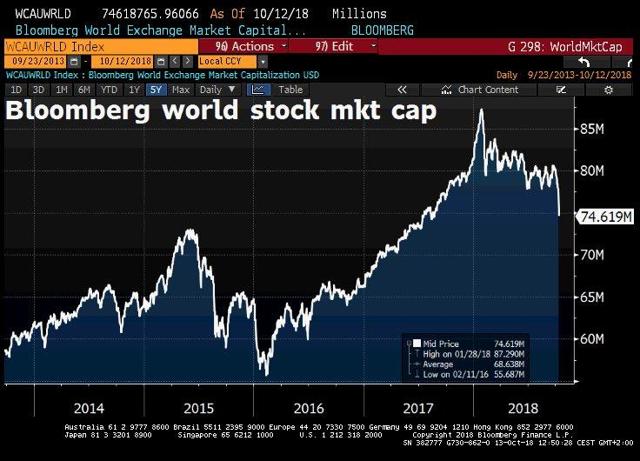 This is how things look like thus far since October 3rd.
Emerging markets ("EM") (VWO, IEMG, EEM) are leading the way down, followed by the US and the UK (EWU). These are the regions that are underperforming the MSCI world (URTH). On the other hand, the eurozone area (specifically), i.e., those countries that adopted the euro (FXE) as their single currency, Europe (as a whole) and Japan (NYSEARCA:EWJ) are outperforming the MSCI world.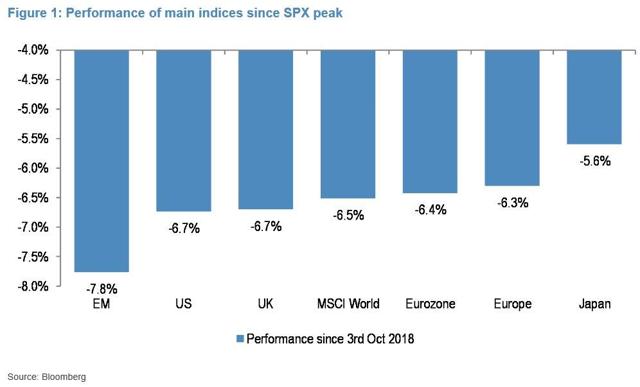 Blame the Fed
According to Bob Prince - co-chief investment officer at Bridgewater, the world's largest hedge fund - the US growth is approaching an "inflection point" where the Fed could turn the "hot" economy into a "mediocre" one.
We are at a potential inflection point where the economy is moving from hot to mediocre
Prince expects more market turbulence as the economy begins to cool.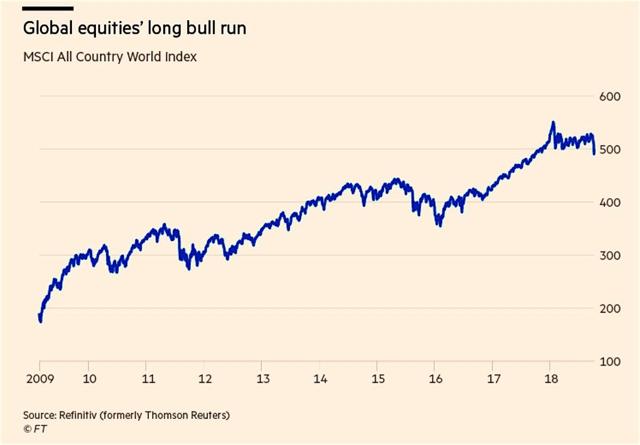 Of course, Prince isn't alone in here, holding the Fed (somehow) responsible for everything/most of what is happening recently in the markets.
President Trump is also on back foot as stocks tumble. He has linked his performance (and rating approval) as president more closely to that of surging market than any of his predecessors did, tweeting about it more than 15 times since February this year alone.
Therefore, when things turn south, one needs to find someone to blame, especially when midterm elections loom amid market rout.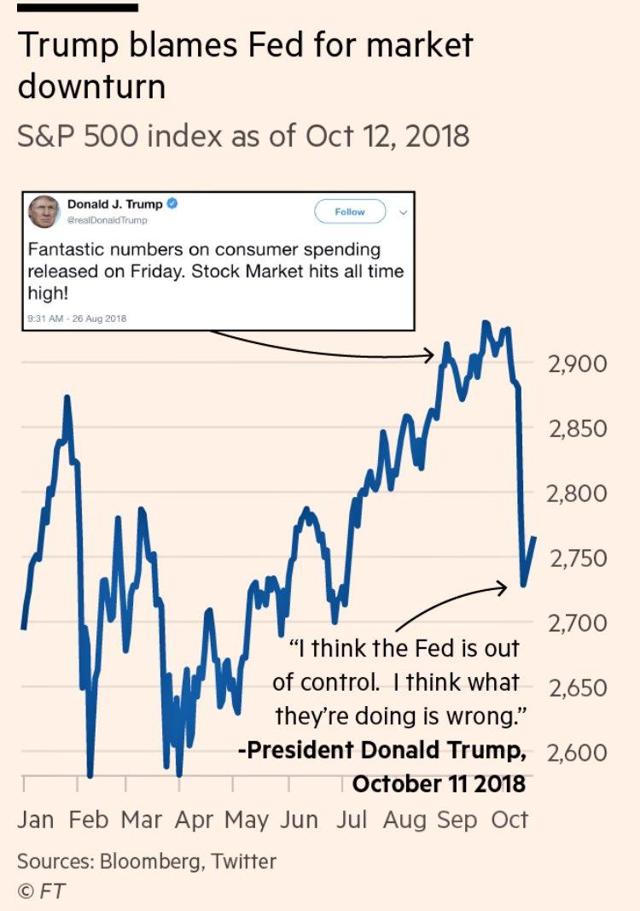 Markets in Turmoil
If you were wondering why the markets were rallying last Friday, look no further than CNBC. The TV network did a special "markets in turmoil" on Thursday night, and historically, believe it or not, that has been a bullish contrarian indicator.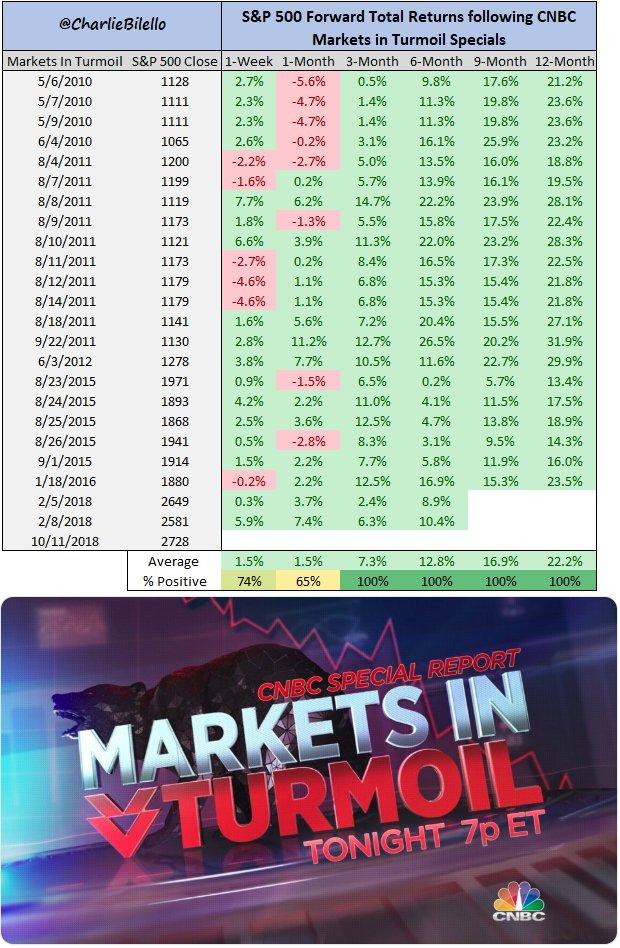 It is important to note that this data set is limited to the 9.5-year bull market run, where corrections have been short-lived. When the next bear market hits, there will be losses (even) following these specials.
Not a holy grail, just a sentiment gauge, and better to see "markets in turmoil" than not.
Extreme Oversold Territory
The McClellan oscillator is a market breadth indicator used in technical analysis by financial analysts of the New York Stock Exchange to evaluate the balance between the advancing and declining stocks

- Wikipedia
The New York McClellan Oscillator ("NYMO") gauge is now in extreme oversold territory. While this isn't a low, odds of a bounce greatly improve from such extreme levels.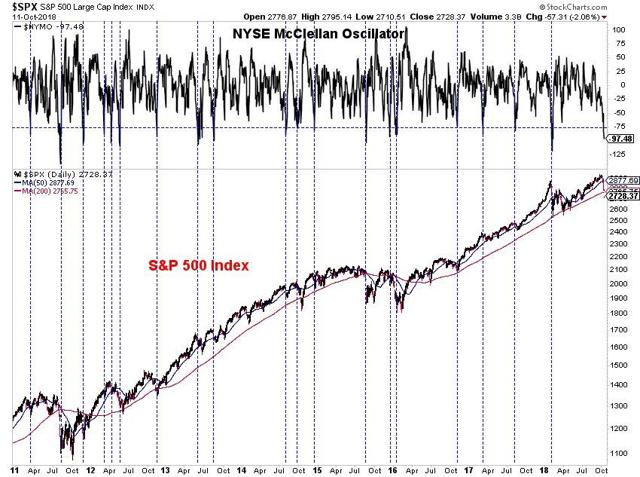 Here is a more detailed data regarding the NYMO: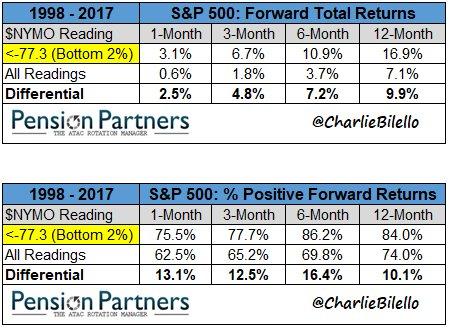 The conclusion, out of the above data, is that extreme low levels of NYMO (that's a reading below -77.3) tend to be followed by above-average market (SPY) total returns (over 1-12 months).
Note that:
"Tend to" is not the same as "Always"!
The lower the NYMO reading and/or the longer the tenor (time from that reading), the higher the probability of a positive total return.
2018 YTD
Total returns, various assets classes, from top to bottom:
Commodities (DBC): +7%
US Stocks (SPY): +3%
US High Yield (HYG): +1%
US Preferred stocks (PFF): -2%
US IG Bonds (AGG): -2%
US REITs (VNQ): -5%
EM USD Bonds (EMB): -6%
Gold (GLD): -6%
MSCI World ex-US (ACWX): -10%
International REITs (VNQI): -11%
Emerging Markets (EEM): -16%
Percentage below 52-week high, various countries, from top to bottom:
US (SPY): -7%
Canada (EWC): -11%
Japan (EWJ): -12%
France (EWQ): -12%
UK (EWU): -13%
Australia (EWA): -14%
Russia (ERUS): -14%
Brazil (EWZ): -20%
Germany (EWG): -21%
India (INDA): -22%
South Korea (EWY): -23%
Italy (EWI): -23%
China (MCHI): -30%
Turkey (TUR): -49%
Recall that those countries' ETFs trading more than 10% below their 52-week highs are already experiencing a correction, out of which those trading more than 20% below their 52-week highs have already entered bear market territory.
Average Country ETF Returns
Just look how different one year can be from another. While in 2017, the average country ETF return was +28%, in 2018 (thus far) YTD, we are talking about a negative average country ETF return of -11% - circa 40% difference!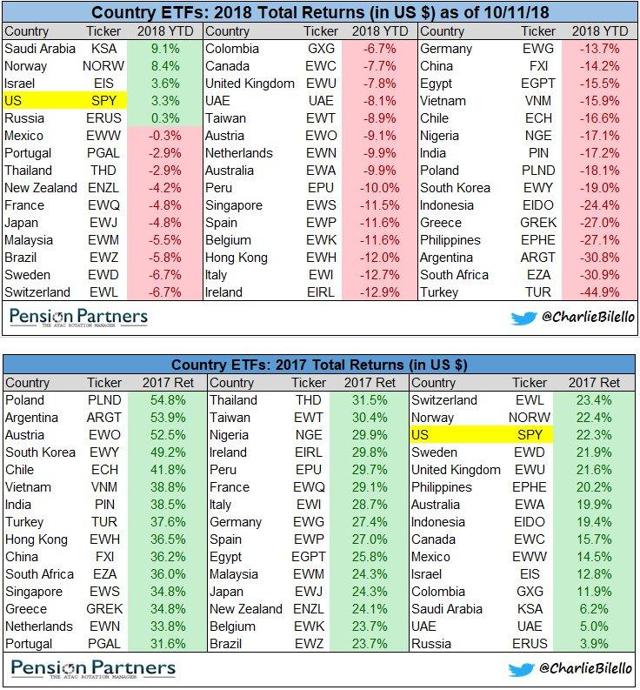 Oversold yet Vulnerable
In spite of the market looking to be oversold, investors should be minded of two important factors:
1. Even after the recent sell-off, equity markets remain vulnerable. Margin debt are near record highs, also when measured by current market cap.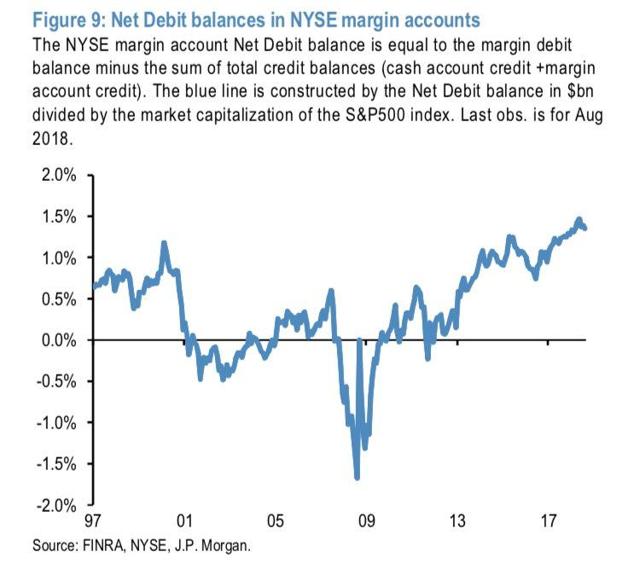 2. Short-selling is back in fashion. Short-sellers are having the time of their year (perhaps decade). The Thomson Reuters' Most Shorted Stock Index has dropped 19% since September!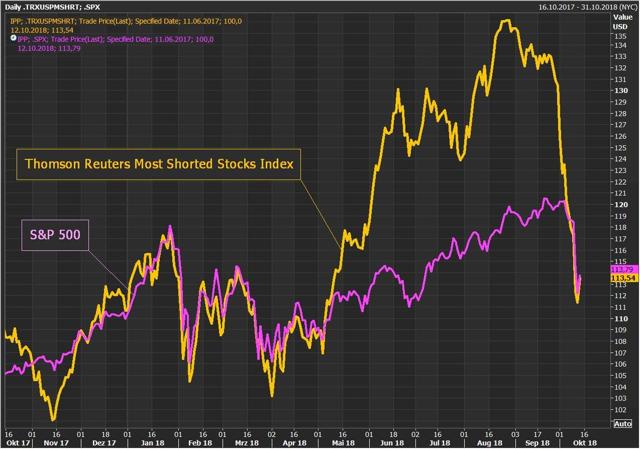 Statistically Speaking
Is the current market rout just a "Red October" blip or the beginning of the end? If the former is the case, now would be the time to buy.
Strategas did some math, saying that similar declines (during uptrend markets) have been buy opportunities in the past.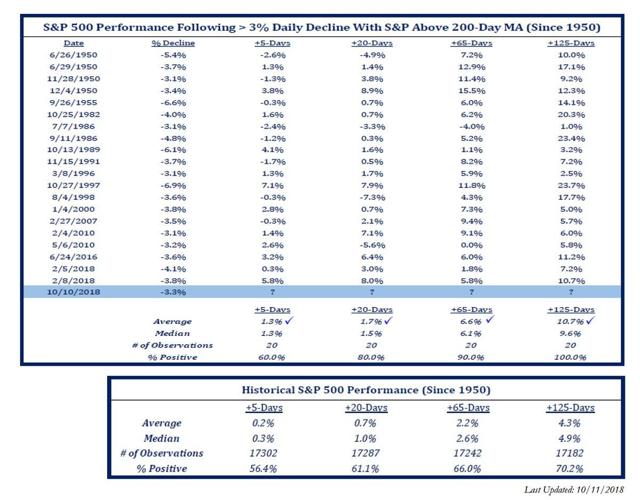 On one hand, based on the above data, investors may expect a total return of between 2.2% (average) and 2.6% (median) from now until the end of the year. On the other hand, the S&P 500 has just moved below its 200-DMA, so I'm not sure that the statistical conclusion still stands.
Another somewhat positive sign is the share of the equity market held by the top 10% of US households as measured by income. They now own over half the equity market wealth. The last time this has happened was post the dot.com bubble burst and led to few decent years for the markets before another (even greater) bubble burst too.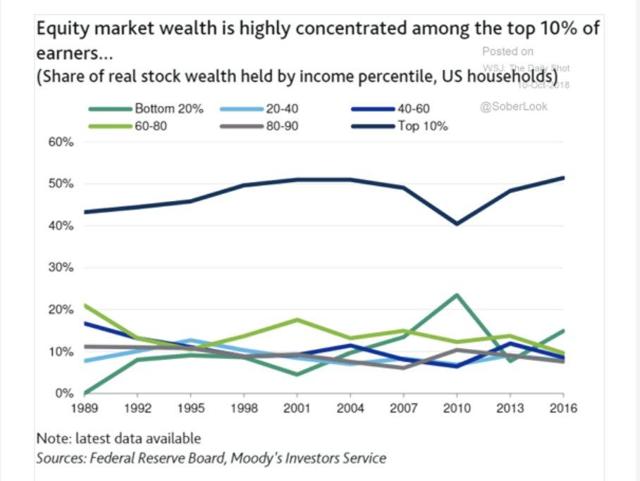 Conclusion
As always, it's all in the beholder's eyes.
Some see the half full of the glass, claiming that if history is of any guidance, the current bull market has many more years to run.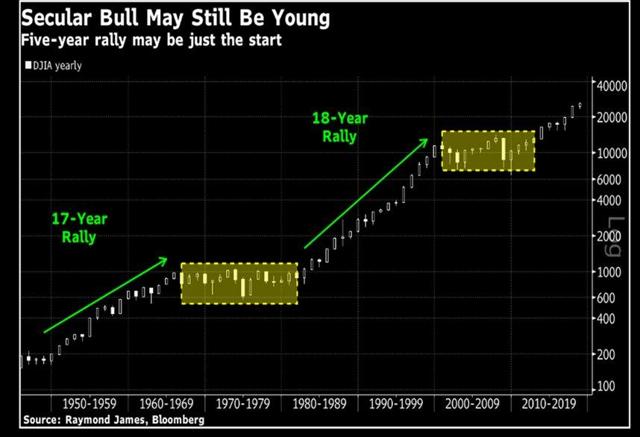 Others see the half empty of it, claiming that this is the last stage in the post-subprime crisis market bull run.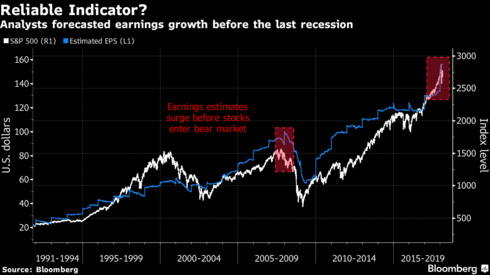 As you already know, we tend to agree with the latter, less optimistic camp.
We've shown why both US equities and, especially, European equities are looking quite attractive these days, at least from a valuation perspective. However, as much as valuations matter (a lot), we also have many issues ranging from the Italian soap opera to the struggling fixed-income market.
We remain cautious. We remain faithful to the United States, the master of the investment universe. Most of all, while remaining respectful to statistical data (after all, it's all in the numbers and the numbers never lie), there's no substitute for proper risk management, active portfolio management and ongoing assessment of the macro landscape.
Numbers don't lie, but macro (always) trumps micro and macro also trumps the numbers.
Author's note: Blog post notifications are only being sent to those who follow an author in real time. In order to receive notifications for both articles and blog posts, go to Author Email Alerts, which lists all the authors you follow, and turn on "Get e-mail alerts" (see below).


The Wheel of FORTUNE is one of SA Marketplace's most comprehensive services. We view our service as a "supermarket of ideas" with an emphasis on risk management and risk-adjusted returns.
We cover all asset-classes: common stocks, preferred shares, public debts, baby bonds, options, currencies, and commodities.
With Trapping Value on-board, you're getting two leading authors for the price of one.
Before committing to the service on a long-term basis, take advantage of the two-week free trial.
Disclosure: I/we have no positions in any stocks mentioned, and no plans to initiate any positions within the next 72 hours. I wrote this article myself, and it expresses my own opinions. I am not receiving compensation for it (other than from Seeking Alpha). I have no business relationship with any company whose stock is mentioned in this article.