Bonds Popped Last Week As Stocks Stumbled
Foreign bonds posted the strongest gain for the major asset classes last week, delivering a contrast with falling prices in equity markets around the world, based on a set of exchange-traded products at the close of trading on Friday, October 12.
Inflation-linked government bonds in foreign markets led the field. The SPDR DB International Government Inflation-Protected Bond ETF (NYSEARCA:WIP) edged up 0.8% last week, although the fund remains close to its lowest close in more than a year.
Foreign and US bonds overall dominated the winner's list for last week's trading. US investment-trade fixed-income securities, for instance, gained 0.3% via the Vanguard Total Bond Market ETF (NASDAQ:BND).
US equities, by contrast, suffered the most last week. The Vanguard Total Stock Market ETF (NYSEARCA:VTI) tumbled 4.2%, the fund's biggest weekly decline since March.
The weakness in equities generally last week weighed on an ETF-based version of the Global Markets Index (GMI.F). This investable, unmanaged benchmark that holds all the major asset classes in market value weights fell for a third week, sliding 2.7% - the index's deepest weekly loss in seven months.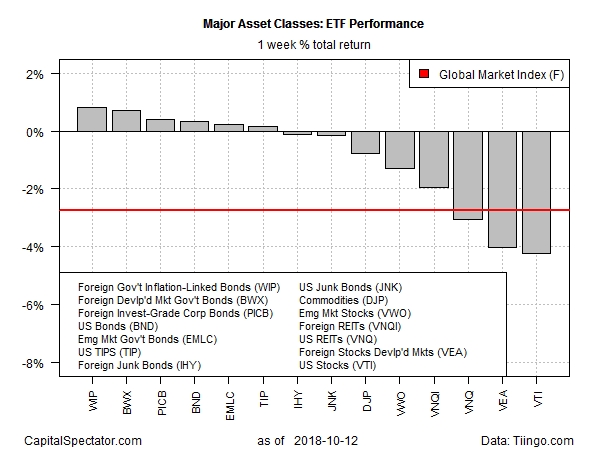 For the 1-year trend, only three slices of the major asset classes are holding on to gains, led by US stocks. VTI is up 9.7% for the trailing 12-month total return. Broadly defined commodities (DJP) and US junk bonds (JNK) are also posting positive comparisons for 1-year results, albeit well below the gain for US equities.
Otherwise, the rest of the major asset classes are in the red for the year-over-year comparison. The deepest 1-year setback is currently held by stocks in emerging markets. After last week's decline, the Vanguard FTSE Emerging Markets ETF (NYSEARCA:VWO) is nursing an 11.4% slide.
GMI.F, however, is still holding on to a modest gain: the benchmark up 1.8% on a total return basis for the trailing 1-year performance through last Friday.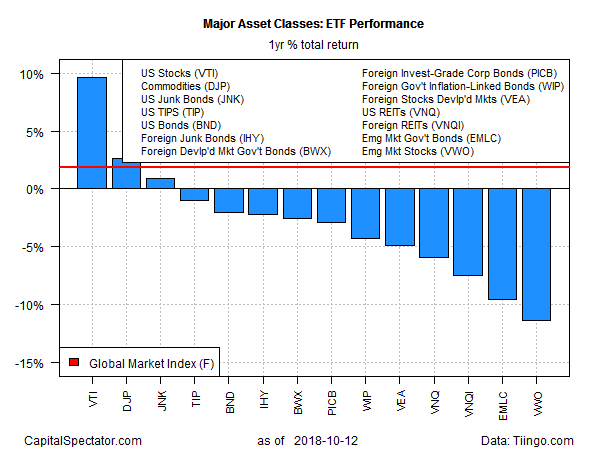 For the current drawdown, broadly defined commodities continue to suffer the biggest slide from the previous peak. The iPath Bloomberg Commodity Index Total ReturnSM ETN (NYSEARCA:DJP) is currently posting a peak-to-trough decline of nearly 47%. US junk bonds, by comparison, are still posting the smallest drawdown - a bit more than 1%, based on the SPDR Bloomberg Barclays High Yield Bond ETF (NYSEARCA:JNK).
GMI.F's current drawdown is a bit more than 6% at the moment.