Both WTI and the United States Oil Fund (USO) associated with it hit 2-year highs a few days ago reaching $76/bbl and $16/share respectively.
In contrast, the Canadian energy sector must be experiencing its darkest days. Last Friday, oil prices in Canada both for heavy oil and light oil plunged against WTI.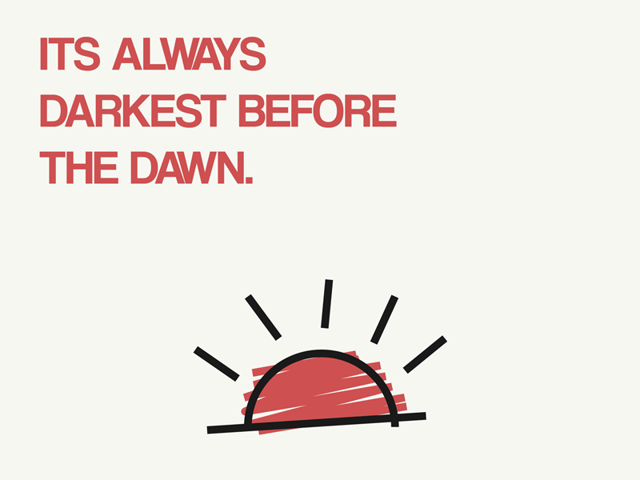 As a result, the vast majority of the oil-weighted Canadian energy producers have dropped significantly over the last days. Their performance is another proof that investing in commodities isn't an easy thing.
Therefore, it doesn't surprise us the fact that according to the Wall Street Journal and the data group eVestment, two-thirds of global commodity funds that were operating in March 2012 before the oil crash, have now shut their doors, as shown in our latest blog post here.
The Key Reasons Behind The Extremely Wide Spreads In Canada This Fall
In the first half of 2018, Canadian oil-weighted producers were faced with unprecedented volatility in oil differentials.
Specifically, in Q1 2018, Western Canadian Select (WCS) remained slightly above C$50/bbl and WTI/WCS differential peaked in excess of C$40/bbl, averaging 67% or C$15/bbl higher than Q1 2017. In Q2 2018, WCS pricing improved considerably relative to Q1 2018 and WTI/WCS spread tightened to approximately C$25/bbl, while WTI/Edmonton mixed sweet spread remained below C$10/bbl.
In the second half of 2018, things started to become ugly, as illustrated below: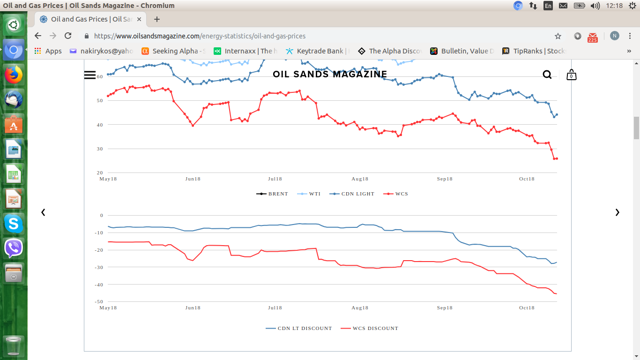 Source: www.oilsandsmagazine.com
Specifically, WCS closed at C$27.33/bbl and the WTI/WCS spread hit a new record high of C$65.17/bbl last Friday. No, this is not a typo. This is C$65.17/bbl. According also to Bloomberg, this differential is a record that goes back to 2008.
Furthermore, the WTI/Edmonton Mixed Sweet differential closed at C$42.7/bbl last Friday, a decade high that's more than three times its typical size.
Obviously, neither WCS nor Edmonton mixed Sweet have followed WTI prices that have rallied since last summer reaching a peak of approximately $76/bbl earlier this month before retreating to about $71/bbl.
A confluence of factors have contributed to this ugly situation such as the lack of pipeline capacity, new production coming from a new oilsands project and a significant reduction in demand due to refinery maintenance shutdowns. Specifically:
1) On the supply side, Canadian Natural Resources' (CNQ) Horizon Phase 3 was completed a few months ago while Suncor's (SU) Fort Hills project was completed a few weeks ago, currently produces 150,000 bbls/d and is expected to ramp up to its full capacity of 194,000 bbls/d by Q4 2018. Suncor's project is a joint venture with Teck Resources (NYSE:TECK) and Total (NYSE:TOT).
2) On the demand side, the refineries have to undergo maintenance because the federal government requires different mixtures in the summer and winter to minimize environmental damage. As such, the seasonal refinery maintenance in the U.S. Midwest (a key market for Canadian crude), including BP's (NYSE:BP) Whiting refinery in Indiana, began in September 2018.
Due to the planned refinery maintenance this year in the U.S. Midwest, it's expected that about 829,000 bbls/d of capacity will be unavailable through October, higher than 560,000 bbls/d in the same period of 2017 and 300,000 bbls/d the year before. This is an approximately 50% increase in unavailable capacity compared with 2017. Obviously, this is a big increase YoY that can't pass unnoticed and has made the differentials hit decade highs this month.
One of these refineries is BP's Whiting refinery in Indiana. This is the largest buyer of Canadian heavy oil in the U.S. It buys about 250,000 bbls/d of heavy crude from Canada and its planned turnaround will last until the end of October 2018.
Moreover, in Canada, Shell (NYSE:RDS.A) (NYSE:RDS.B) is currently conducting maintenance at its Scotford, Alberta upgrading and refining complex. Its capacity is 84,000 bbls/d. Fortunately, this turnaround will not be as long as the one in the spring, according to the company.
The Imbalance Between Supply And Demand Is A Temporary Hit
We are firm believers that this severe imbalance between supply-demand that has caused the discounts to widen and hit decade highs is not here to stay. In other words, we do believe that this is a temporary hit and we currently experience a "darkest before dawn" case.
As a result, we project that both spreads will start to shrink, so both WCS and Edmonton mixed sweet will gradually start to rise effective late October. A confluence of factors will contribute to this gradual change for the better. Specifically:
1) Seasonal refinery maintenance ends in late October and the refineries will then return to high run rates that reached close to 100% last summer when WCS exceeded C$60/bbl and Edmonton mixed sweet was above C$70/bbl.
2) Alberta's bitumen refinery in Sturgeon County is complete and will reach 80,000 bbls/d by year‐end. This is Canada's first refinery in 30 years and could significantly help battered oil producers that are exposed to WCS.
3) According to EIA, U.S. imports of Canadian crude-by-rail shipments jumped to near a record high in May 2018 at 6.3 million barrels (210,000 bbls/d), amid declining production and exports from Venezuela and Mexico due to budget constraints and natural declines from resource depletion.
And further crude-by-rail movement is expected in the next months, as Cenovus Energy (NYSE:CVE), Meg Energy (OTCPK:MEGEF) and Imperial Oil (NYSEMKT:IMO) have made deals to move more oil through Canadian National Railway (NYSE:CNI) and smaller rival Canadian Pacific Railway (NYSE:CP) primarily to the Gulf Coast.
Actually, crude‐by‐rail in Canada is estimated to far exceed 200,000 bbls/d by year end and could even surpass 300,000 bbbls/d by December 2018, according to Greg Stringham, a consultant who mediated talks among oil producers and railways for the Alberta government this year.
The good news continues in 2019, when it's estimated that crude-by-rail will reach 400,000 bbls/d, as linked above.
While most of Canada's crude exports end up in the refineries in the Midwest, the Gulf Coast is a much bigger market for heavy sour crude, where pricing is typically only a few dollars less than WTI, while shipping by rail from Alberta to the Gulf Coast is estimated to cost just under $20 a barrel. In the past, the Gulf Coast sourced its heavy oil from Venezuela and Mexico, but has been facing steep declines in the last couple of years.
In the short to medium term, the aforementioned reasons will definitely make the differentials ease. And fortunately, there are additional reasons next year that could help the Canadian oil prices strengthen further such as:
1) Enbridge's (NYSE:ENB) Line 3 that will be in service in the second half of 2019. ENB's Line 3 has an expected initial capacity of 760,000 bbbls/d and will transport light, medium and heavy crude. Therefore, it can definitely move the needle.
2) Demand growth from China for Canada's bitumen is expected to continue in 2019 thanks to a boost in infrastructure spending, while Venezuela's heavy oil exports to China are estimated to continue to shrink due to the country's declining production, according to Bloomberg. The Chinese refiners load Canada's bitumen on tankers from Vancouver, according to the linked article above.
On top of this, TransCanada (NYSE:TRP) plans to start construction of Keystone XL pipeline in 2019, while Trans Mountain pipeline might be completed by December 2020 although it's currently trapped in regulatory confusion.
How To Play The Decade High Oil Spreads In Canada
The wide differentials have weighed on the Canadian oil-weighted producers since 2017. As also expected, this ugly situation has made many investors quit the Canadian energy industry and search for greener pastures including the energy producers in the U.S.
However, the situation with the U.S. energy names is not rosy either, despite the fact that WTI and USO hit 2-year high a few days ago, as illustrated below: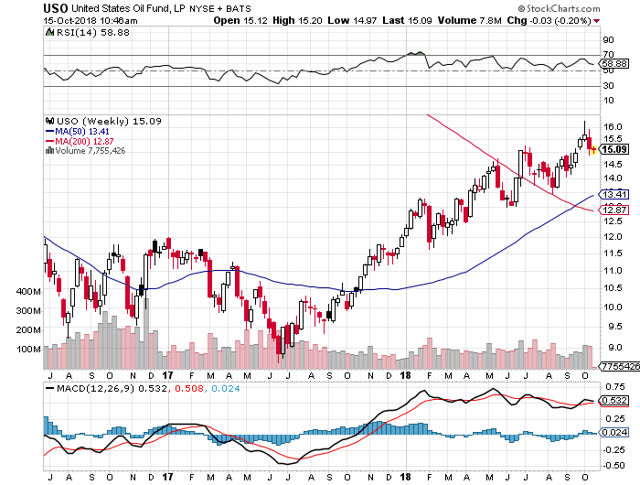 Actually, the majority of the U.S. energy names have dropped considerably since early 2017 and have not followed the recent rise in WTI because of a bunch of reasons including the Permian differentials, as detailed in our recent article here.
The list with the U.S. energy names that have dropped a lot since early 2017 is big and includes both penny stocks and billion-dollar companies such as Chaparral Energy (NYSE:CHAP), Alta Mesa Resources (NASDAQ:AMR), Rosehill Resources (NASDAQ:ROSE), Sanchez Energy (NYSE:SN), Abraxas Petroleum (NASDAQ:AXAS), Approach Resources (NASDAQ:AREX), Ring Energy (NYSEMKT:REI), Halcon Resources (NYSE:HK), Eclipse Resources (NYSE:ECR), U.S. Energy (NASDAQ:USEG), Camber Energy (NYSEMKT:CEI) and Gastar Exploration (NYSEMKT:GST), as forecast in our bearish article here.
In short, we don't believe that investing in the U.S. energy names is the solution. To us, the wide differentials in Canada is a buying opportunity and energy investors can play it this way:
1) They can buy at the current price Auspice Capital's Canadian Crude Oil ETF that trades on the Toronto board under the ticker CCX and closed at C$7.15 per share last Friday.
In this case, investors don't buy oil-weighted producers whose performance hinges upon a number of factors that are not always underpinned by the actual commodity such as drilling results, debt or equity financings.
According to Auspice Capital's press release:
"This ETF lets investors participate in the Canadian crude oil market in a pure way, rather than by buying the stocks of oil producers. This ETF seeks to replicate, to the extent possible, the performance of the Canadian Crude Excess Return Index, which is designed to measure the performance of the Canadian crude oil market in an investable format. The Canadian Crude Index (CCI™) is a benchmark for oil that is produced in Canada.

The CCI™ reference price is displayed in U.S. dollars and represents a rolling three-month exposure, which is intended to improve liquidity, lower transaction costs and reduce the effect of contango and backwardation.

The Canadian Crude Index gives investors a tool to better understand the price of Canadian crude that simply did not exist before. West Texas Intermediate is not an accurate measure of the price of Canadian oil, yet is the one that is most commonly referenced in Canada. This index is a transparent, liquid benchmark that may increase the number of investors participating in Canadian crude."
2) To minimize their portfolio risk, investors can create a basket with oil-weighted Canadian producers with dividends and healthy balance sheets such as Cardinal Energy (OTC:CRLFF), Razor Energy (OTC:RZREF) and Whitecap Resources (OTCPK:SPGYF) to name some.
On that front, we recommend energy investors become overweight on the Canadian oily producers at their current prices which, in our opinion, are takeover targets such as Cardinal Energy and Razor Energy, given that M&A activity in the Canadian energy patch has increased significantly since early 2018.
Specifically, BlackPearl's (OTCPK:BLKPF) deal with International Petroleum (OTC:IPCFF), Meg Energy's deal with Husky Energy (OTCPK:HUSKF) and Precision Drilling's (NYSE:PDS) deal with Trinidad Drilling (OTCPK:TDGCF) are the latest deals in the Canadian energy industry in 2018.
As a friendly reminder, Vermilion Energy (NYSE:VET) acquired Spartan Energy (OTCPK:PTORF), Baytex Energy (NYSE:BTE) merged with Raging River Exploration (OTC:RRENF), Surge Energy (OTCPK:ZPTAF) acquired Mount Bastion Oil & Gas, privately-held Aspenleaf Energy acquired privately-held NEP Canada ULC, Ikkuma Resources (OTC:PRCYF) was acquired by Pieridae Energy (OTC:PTOAF) and Step Energy Services (OTCPK:SNVVF) acquired Tucker Energy Services this year.
Takeaway
Despite the fact that WTI and USO recently jumped to 2-year highs, discounts on Canadian crude oil prices hit shockingly low prices last week with a handful of reasons being responsible for this ugly situation such as seasonal refinery maintenance, growing production from the oilsands and pipeline bottlenecks. This unprecedented situation made Alberta Premier Rachel Notley say last week that widening price differentials cost Canadian producers and governments upward of C$40 million a day.
However, our research and our talk with key executives from the Canadian energy sector tell us that this is temporary.
As such, we anticipate that WCS and Edmonton mixed sweet will gradually rise from their current prices of C$28/bbl and C$50/bbl respectively in the coming months thanks to strong demand from PADD II and PADD III refiners upon completion of the seasonal maintenance, the start-up of Alberta's Sturgeon Refinery and crude-by-rail shipments.
Meanwhile, we project that WTI and USO will stabilize at their current prices by early 2019, barring unforeseen events (i.e. U.S. sanctions against Saudi Arabia).
Therefore, we expect WTI/WCS and WTI/Edmonton mixed sweet differentials to narrow and normalize below C$30/bbl and below C$15/bbl respectively over the mid-term.
Additionally, we forecast that the completion of Enbridge's Line 3 will reset differentials and will make them return to pipeline economics by the end of 2019 from the rail economics in the first half of 2019.
After all, there are some excellent buying opportunities in the energy sector these days. Although we keep our best picks for the subscribers to Value Investor's Stock Club, we advise the energy investors to be picky and steer clear of the highly leveraged producers. Although the leverage could help a stock outperform and make you think that you are clever, statistics say that leverage produces zeroes in most cases. Good luck.
Stay ahead of the crowd. Sign up for a 2-week Free Trial for Value Investor's Stock Club and discover our overlooked, deep-value stocks with multi-bagger potential and our low-risk, high-yield dividend stocks (8%+ yield). Since January 2016, we have locked in profits from more than 40 value & dividend picks for our subscribers generating 35% per pick while holding the stocks less than one year. Therefore, we have received unanimous 5-star rating and outstanding reviews.
Also, click the "Follow" button to receive our free articles. Since 2012, Value Digger has been ranked in TOP-100 with 5-star rating out of over 6,000 financial analysts (TipRanks).
Disclosure: I am/we are long CRLFF.
I wrote this article myself, and it expresses my own opinions. I am not receiving compensation for it (other than from Seeking Alpha). I have no business relationship with any company whose stock is mentioned in this article.