I have written many articles on the solar industry, and several articles detailing my bullish view on First Solar (FSLR). You can read my First Solar articles here and here. The first article demonstrates the large cost advantage of the new series 6 utility scale model from First Solar.
My most recent article discusses the Chinese decision, and why this creates buying opportunities for several solar stocks like First Solar and Solaredge Technologies (SEDG).
With over $3 billion of cash and short-term investments on its balance sheet, and production sold out for at least 2 years, and trading at book value, First Solar is the best investment in the solar sector in our opinion.
First Solar's cost advantage - is it gone?
Here is a table from a recent negative article about First Solar from Motley Fool author Travis Hoium:
| | | | |
| --- | --- | --- | --- |
| Time Period | Price | Tariff | Net Solar Panel Price |
| Q4 2017 (pre tariffs) | $0.37 per watt | n/a | $0.37 per watt |
| Q4 2017 (post tariffs) | $0.37 per watt | $0.11 per watt | $0.48 per watt |
| Projected 2018 with tariffs | $0.24 per watt | $0.07 per watt | $0.31 per watt |
Source: Bloomberg New Energy Finance estimates, Q4 2017 solar panel price. Calculations by the author.
The above-projected 2018 ASP's of .24 per watt is not accurate. Here is a quote from Canadian Solar (CSIQ) CEO Shawn Qu on August 14th, 2018:
Yes. Well, for example our Q2 ASP is $0.33, $0.34. Our ASP will not decline 15%, 20% from Q2 to Q3, because some of the contract were negotiated liable so some of the old pricing still remain.
So, midway thru 2018 the ASP is still .33 per watt, and will not decline much in the 3rd quarter. Also, First Solar's market is unique - its utility-scale solar, not commercial or residential. These large-scale projects (100MW+) are bid on based on the full system power purchase agreements - PPA's.
All these large projects require unique skills, and most importantly large-scale financing. Large banks will require the modules to have a full warranty, and the module firms must have a solid balance sheet to be considered for financing. Let's look at First Solar's supposed competition: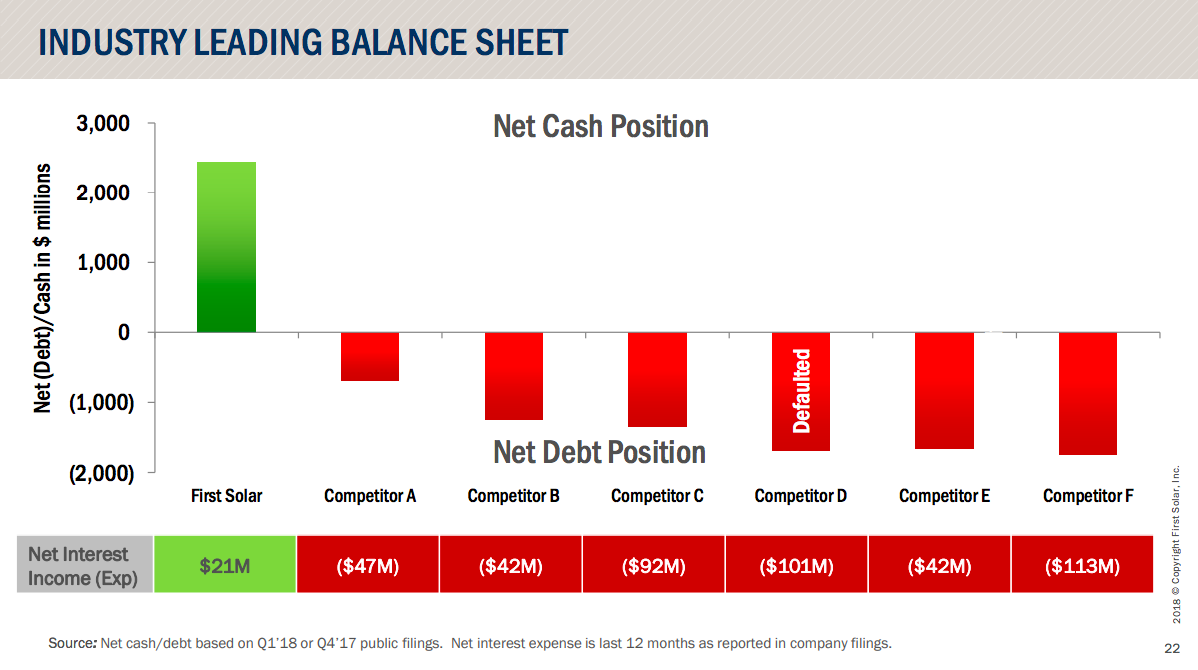 Source: First Solar investor presentation, July 26, 2018. Net cash/debt based on Q1'18 or Q4'17 public filings. Net interest expense is last 12 months as reported in company filings.
Notice anything? If you were making a financing decision on a $500m+ project, which solar manufacturer would you want? Another important point is that all these other solar players are mostly competing in the residential market as well as larger projects - none are solely focused on large-scale projects like First Solar. So the module cost is not the only factor.
Of all the solar firms listed in the above table, only Canadian Solar is a tier one competitor to First Solar in our opinion. Canadian Solar purchased Recurrent Energy for utility-scale solar projects. Canadian Solar's debt to equity ratio is very high at 2.2. First Solar has no net debt, and over 2 billion in cash - the most bankable solar player in the world.
2018 solar module and project costs dynamics
The solar module cost table shown above has the selling price of Chinese modules of 24 cents per watt. A couple of points here. First, this number does not include freight or warranty - so add 2 cents per watt to compare to First Solar.
Second - where does one come up with 24 cents? Let's dive in by looking at Candian Solar's last conference call, and average selling price - ASP, discussions from their CEO Shawn Qu:
Shawn Qu

Yes. Well, for example our Q2 ASP is $0.33, $0.34

Our ASP will not decline 15%, 20% from Q2 to Q3, because some of the contract were negotiated liable so some of the old pricing still remain. But going forward, yes, we eventually will see the price come down as the cost come down.

For the on market this stage, for newly negotiate contract, you will see the module ASP from anywhere from I will say 31% to 32% down to maybe 25% and 26%, depend on a branding, depend on depending on the types of volumes, the wattage, the higher the efficiency, the higher the price.

And also depend on the payment terms. There is a lot of factors there and regarding the cost, I will say the low cost is a China production, we are talking about maybe 22% to 23% out of the factory, but if it's out of China production we are going to also see maybe 25% or 26% on the South Eastern Asian countries.

But if you produce in Brazil for example, we have a factory in Brazil and then all this local tax will make the cost higher, but of course the price also higher. So it depends on where you produce and also like what type of module you are starting. I hope I gave you a picture.
Reading the above comments from Canadian Solar, the current Q2 ASP's are 33 to 34 cent per watt. This current quarter, ASP's will still be above 30 cents per watt. Then in the 4th quarter with newly negotiated contracts from suppliers, their costs will decline 22-32% depending on several factors, so this means maybe a 9 cents per watt decline in selling price.
So it looks like by year end, Canadian Solar selling price may fall to 25(27 cents to include F&W) cents per watt. So we will see up to a 30% decline in costs with no new technology or innovation? How can this be? Very simple explanation:
The recent move by China has caught the solar supply chain in China by surprise. This will result in a large inventory build by year-end, forcing these suppliers to sell their components well below cost. This is not a permanent cost reduction, but a one-time clearing of inventory.
So what will the cost and selling prices be in 2020 and 2021? This is the question for First Solar since it is sold out until 2021. Also to note, our estimate for First Solar cost per watt in 2020 is under 18 cents.
So basically, these short-term cost and price dynamics are meaningless for First Solar. By 2020/2021, the Chinese government will accelerate solar installations, inventory levels will normalize and selling prices will rebound in our opinion.
Now, about those new bookings
Again a quote from Travis in the above-mentioned article from Motley Fool:
It's no coincidence that First Solar's bookings plunged in the second quarter of 2018, given pricing trends. And if we don't see a big increase in demand and prices for commodity solar panels in the next few quarters, First Solar could face some serious pressure on margins and profitability. Unfortunately, falling margins and profitability will probably be a common story in solar over the next year.
Falling margins? Not for First Solar since they are sold out till 2021! Now let's look at First Solar's bookings and capacity build out.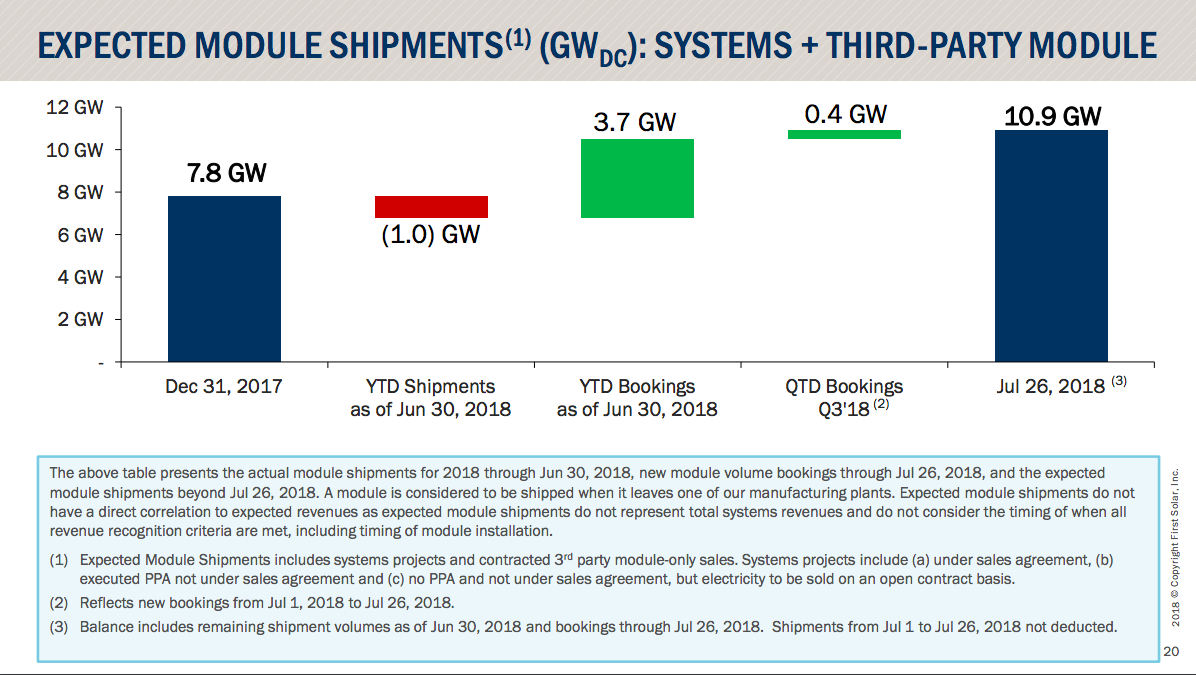 Source: First Solar investor presentation, July 26, 2018.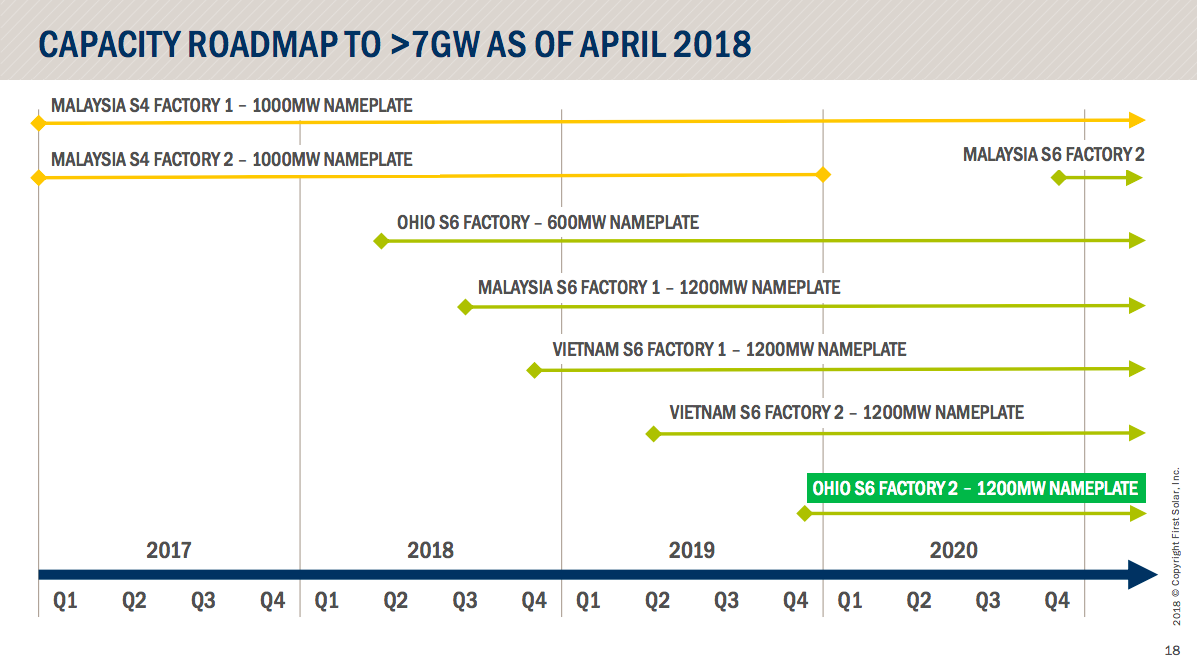 Source: First Solar investor presentation, July 26, 2018.
So First Solar has about 11 GW's of bookings as of July 26th. Looking at the capacity above, it becomes obvious that First Solar can't respond to any request for proposals - RFP's, with a project start date earlier than mid-2021. That's 3 years into the future - not only is First Solar sold out - it's becoming booked out. Until First Solar satisfies its current book, it really has limited opportunities for new bookings.
As time goes by and First Solar builds out its capacity and delivers on its current book of business, we will see an acceleration in bookings - but not until next year in our opinion.
Final thoughts for investors
First Solar investors need to focus on the Series 6 capacity build out, and 2019 and beyond revenues. Chinese module firms temporal cost dynamics and new First Solar bookings are currently irrelevant to First Solar's valuation. Here is a quote from Mark R. Widmar, First Solar's CEO on July 26th:
For example, the average ASP of Series 6 modules booked this year is essentially consistent with the 2017 Series 6 bookings average module ASP. Note this is especially noteworthy given the current year bookings offer shipments through the end of 2020. Furthermore, when compared to 2018 Series 6 and Series 4 bookings, Series 6 average ASP is 6% higher than Series 4.
So the 11GW of bookings have solid, very profitable selling prices locked in. Possible negative developments to keep on eye on is any further production issues with these new factories and the average wattage of the series 6. Both appeared to be minor issues in the last earnings report.
Another recent trend that is positive for First Solar is the increasing prices for natural gas and oil.
We reiterate a strong buy on First Solar.
Disclosure: I am/we are long FSLR. I wrote this article myself, and it expresses my own opinions. I am not receiving compensation for it (other than from Seeking Alpha). I have no business relationship with any company whose stock is mentioned in this article.