Our research has led us to a bearish view on Namaste Technologies (OTCQB:NXTTF), and we recommend investors sell their shares and/or short if they can find shares to borrow. We've discovered that company officers are apparently engaging in related party transactions and the company isn't disclosing them. Citron Research has published two scathing reports exposing management's alleged fraudulent actions: "Namaste: A Party Not To Sell Your Shares," and "Namaste: Citron Has Exposed Complete Fraud." The recent narrative surrounding Namaste has been about it and Citron. However, the facts are what's important, and our discoveries go beyond Citron's reports.
Over the last week, we've seen a flurry of PRs of shareholder lawsuits against Namaste. This report has some new ammunition for the attorneys to consider. So, shareholders - pull up a chair and get ready to hold your nose.
Related Party Transactions Are Required To Be Disclosed In Canada
Namaste Technologies is a Canadian company that trades on the Toronto Stock Exchange. Under International Accounting Standards (IAS 24), Canadian public companies are required to disclose related party transactions. To our knowledge, the apparent related party transactions that we uncovered in this report were not disclosed by Namaste. This could result in an internal investigation into the company by the Canadian Securities Administration (CSA).
The Complete Story Behind Dollinger Enterprises US Inc.
ESC Hughes, led by David Hughes, The Chief Marketing Officer of Namaste, acquired a subsidiary from Namaste, Dollinger Enterprises US Inc., and is taking it public in Canada for a whopping 3,200% gain and keeping all of the money for Hughes and his associates, not Namaste shareholders.
The typical path to get rid of a none core asset is a spin-off. Examples of cannabis companies that recently had spin-offs are Aurora Cannabis (ACBFF) and The Green Organic Dutchman (OTCQX:TGODF) as shown below. These both worked great for shareholders.
On June 20, 2018, Aurora to spin-out US assets
On June 19, 2018, TGOD announces plans to spin out company
Now, did Namaste also do a spin-off of its valuable non-core asset Dollinger Enterprises US? Nope. The company decided to sell it to a related party, ESC Hughes, for only $400K. It appears to us that Citron's work is legitimate regarding the asset being sold to two employees of Namaste (David Hughes and Paul Burn). See the following document uploaded by Citron below for the proof: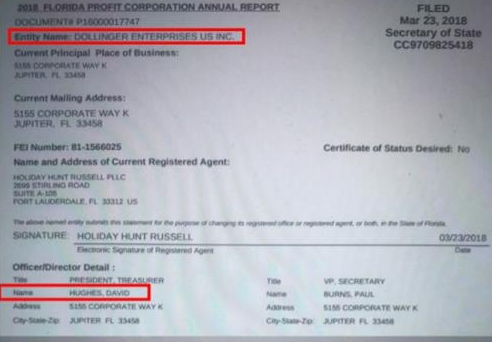 Source: Citron Research Report
And now is where things turn worse in our view - in new findings that Citron and the rest of the market has so far missed: ESC Hughes is already monetizing this asset through a new cannabis company that is going public. Lifted Innovations filed its initial prospectus on Sept. 27, 2018: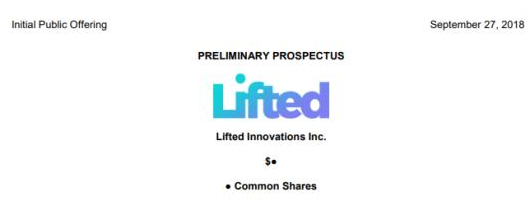 Source: Sedar.com, Prospectus of Lifted Innovations
To show that these are the same assets, shown below are the same two websites that Dollinger Enterprises owned:

Source: Sedar.com, Prospectus of Lifted Innovations
For proof that Namaste owned these two sites: EveryoneDoesit.com and Namastevaporizers.com; please see this press release of Namaste's sale of Dollinger USA, where they are mentioned.
And for any needed additional corroboration, the undisclosed related party ESC Hughes also shows up:

Source: Sedar.com, Prospectus of Lifted Innovations
The Lifted Innovations IPO prospectus shows outstanding shares of 64.7M (page 6) and an initial private placement price of $0.20 per share (page 9). That totals a $12.9M value. As Namaste sold Dollinger Enterprises for only $400K, we believe that shareholders missed out on $12.9M - $0.4M = $12.5M!
In summary, David Hughes, the CMO at Namaste, will own stock in a new public entity at the cost of Namaste shareholders. Note that it appears Lifted Innovations has some other assets, but even accounting for those, shareholders lost significant value. One can also make the argument that the market wasn't as "cannabis crazy" back in late 2017. But anyway you cut it, this was a related party transaction that will enrich insiders to the detriment of shareholders.
Namaste's Undisclosed Consulting Fee Related Party Transactions
Citron stated in his first report on Namaste:
Consulting and professional fees are more than 3x salaries - the SEC is sure to ask what these are? Could they be related parties? Who pays $2 million to consultants?
Citron didn't dig deeper to see who the consultants were - but we did. Through our due diligence, we've found that some of Namaste's consulting and professional fees from 2017 were indeed to related parties. We believe these "consultants" are none other than Namaste's head of the audit committee, the Chief Marketing Officer, and the head of Namaste's UK team who sold Namaste his company. You can't make this stuff up!
From the Q3 2017 earnings report, it states:
Consulting fees for the three months ending May 31, 2017 were $1,362,918 (2016 - $72,439). These expenditures relate to compensation amounts paid to various companies and individuals for marketing and distribution services, customer service activities, and product development and research. At the end of May 31, 2017 the Company had service agreements with 35 consultants, either directly or through the Company's e-commerce marketing partner ORH, Access Fulfillment and service provider Aspen India. [emphasis added]
As shown above, ORH, Access Fulfillment, and service provider Aspen India are all related parties to Namaste. Looking at each one:
Related Party #1: ORH
The first related party transaction mentioned was to ORH Marketing.
A corporate search reveals that Anne Treanor is a director at ORH Marketing Limited. She appears to be a relative of Namaste's Chief Marketing Officer David Hughes, as both are located in Ireland and share a surname: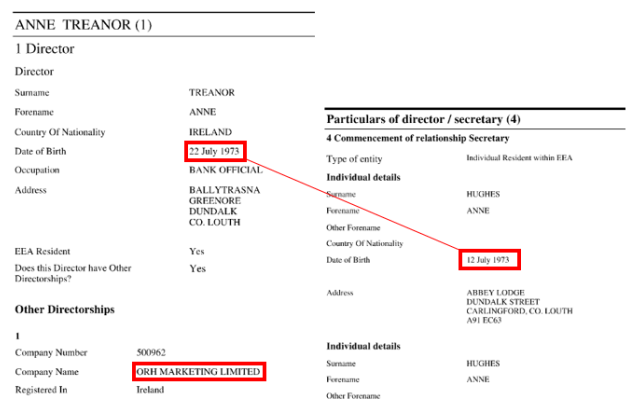 Source: ORH Marketing filings here and here
Related Party #2: Access Fulfillment
Like payments to Aspen India, Namaste started by paying Access Fulfillment as a consultant. But it appears that that was not enough and on 9/13/18, Namaste acquired AF Trading (Access Fulfillment) in the UK for $5M. As stated in the following quote from the PR "AF Trading' Is "Access Fulfillment":
Namaste Bahamas Inc. ("Namaste Bahamas"), has signed a Binding Terms Sheet ("Terms Sheet") to acquire all of the issued and outstanding shares of UK-Based AF Trading Ltd. (operating as "Access Fulfillment" or "accessfulfilment.com").
This is another big red flag, because Access Fulfillment was owned by Namaste's head of the UK team, David Hughes. He spent the last 18 years as the CEO and Owner of Access Fulfillment.
As shown on David Hughes' LinkedIn account: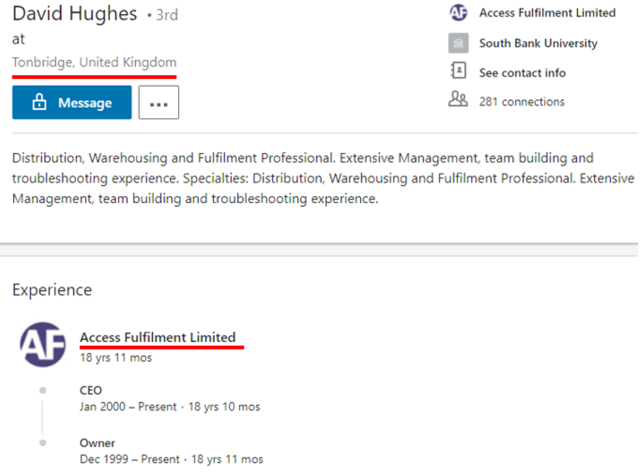 Source: Linkedin
Confusingly, there are two David Hughes working at Namaste, one from Ireland and one from the UK. Namaste's CEO Sean Dollinger himself confirms this in the 2017 Cannalyst interview:

Source: Reddit Interview with Sean Dollinger (CEO of Namaste)
And what did they pay $5 million for? It appears not much substance as shown on AF Trading's balance sheet below: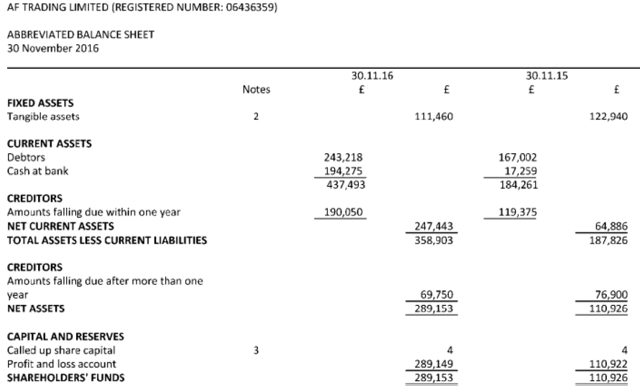 Source: AF Trading Financial Statements
The net assets reported on 11/30/16 were only worth $289K.
Related Party #3: Aspen India
Usually, it's three strikes and you're out, and this last related party is a big one. We believe even the head of the audit committee is a "consultant" being paid through undisclosed consulting fees. This is a big No-No and red flag.
Kiranjit Sidhu is on the board of Namaste and chairman of the audit committee. From Namaste's 2018 Annual General Meeting Of Shareholders:

Source: Sedar, Namaste 2018 General Meeting
Mr. Sidhu's background includes a company called Aspen Communications which is based in India. From the same filing, it says:

Source: Sedar, Namaste 2018 General Meeting
But, as we saw above, Namaste was paying a consultant from India called "Aspen India". It's elementary to connect the two.
When a company discloses the names of 3 consultants and all three consultants turn out to be undisclosed related parties, that is a huge red flag. Many questions arise on the back of our work and most simply:
* Are there any consultants that are not related parties?
* Are the related parties remitting money back to founders and insiders of the company?
* Do the auditors, underwriters and class action lawsuit lawyers know that this is happening?
Here is a summary of the total consulting and professional fees over the past few years, and how much they've grown: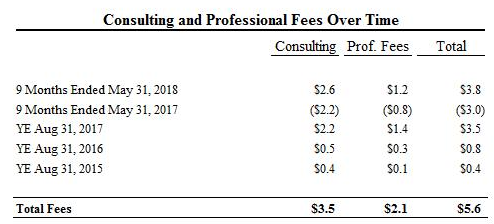 Source: White Diamond Research Analytics based on Namaste Financial Statements
Namaste Is Starting To Cover Its Tracks On Related Party Transactions
As shown on Wayback Machine, on Aug. 15, 2018, Namaste's website had no asterisk for its Chief Marketing Officer, David Hughes.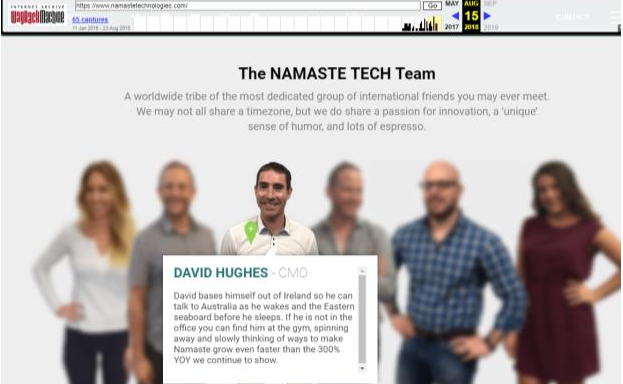 Source: Wayback Machine of Namaste's site
But today (or just recently on Namaste's site), after Citron's published reports highlighting David Hughes as a consultant, Namaste added an asterisk to his name with a disclaimer below it: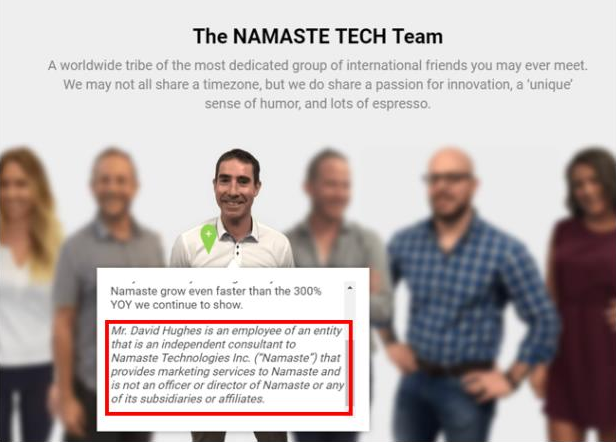 Source: Namaste Webpage
How is it possible that the Chief Marketing Officer is not an 'officer' or 'director' of the company? Adding an asterisk to an insider being a consultant does not seem like something that is a net benefit to shareholders. But it does confirm our suspicions about related parties as aforementioned above.
A Look At The Cannmart Building
Speaking of Cannmart, let's take a look at its head office. Does this tiny, old looking building look like the 'Amazon of Cannabis?'
This is Cannmart's address. If this is Namaste's future, in our opinion it doesn't look bright.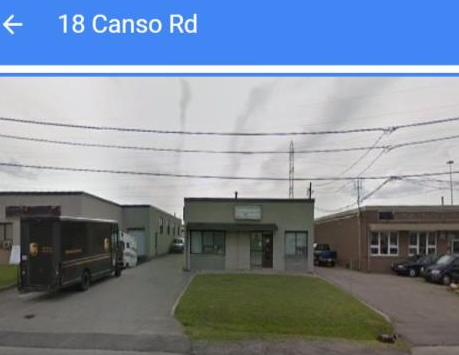 Source: Google Maps
Recent News On Namaste
Namaste put out a statement on 10/9/18 and stated its
NASDAQ application is progressing but has not been accepted or approved, that the Company's sale of its US assets was not to a "related party" and was not a "related party transaction" as defined under applicable Canadian securities laws.
It has been almost three months since the CEO incorrectly claimed in a video that Namaste received acceptance to the NASDAQ exchange. We are skeptical that it will get NASDAQ acceptance given the news about related party transactions, and it has already taken a long time since the CEO's incorrect claim in the video.
Namaste claims the sale of Dollinger Enterprises US wasn't a related party transaction. How will Namaste respond to the evidence shown in this report?
It also appears that the related parties (consultants who are insiders) were paid in options:
ORH Marketing was paid 240K options on 1/16/18 and 600K options previously.
David Hughes was granted 840K and 75K options as an employee.
On 9/25/18, Namaste changed its auditor to PricewaterhouseCoopers (PWC). We find the changing of its auditor towards the end of the year is a red flag. We'd like to see how PwC views the related party transactions documented here. We'll be sending them this report.
Conclusion
Rarely in our work have we seen so many questionable transactions by a company. The concept of "consultants" appears to have been given a new name at Namaste, and shareholders should be concerned as the company's new auditor, PricewaterhouseCoopers, may not approve of the related party transactions that we revealed here. When the economics of transactions don't make sense, like the sale of Dollinger USA and the purchase of Access Fulfillment, it can often be at the expense of shareholders.
Editor's Note: This article covers one or more microcap stocks. Please be aware of the risks associated with these stocks.