Summary
SaaS remains the most lucrative segment of the cloud market.
Microsoft leads all companies with a 17% global share of the SaaS market.
SaaS is by far the prominent growth lever in the high-margin cloud industry.
If you have read any of our content in the first year of the Mad Hedge Technology Letter, the content is distinctly bullish technology stocks. A fundamental driver propelling this cogent argument is the dominant Software-as-a-Service (SaaS) industry booming inside the confines of Silicon Valley.
If you want to boil down your tech investment thesis to one indispensable rule – only invest in tech companies that carve out prominent SaaS businesses. If you stick with this nostrum, you will be delivered profits in spades.
We have recently taken in a swarm of new tech letter subscribers and understanding the panacea that is SaaS will entrench your portfolio in a glorious position to reap untold profits.
What is SaaS?
SaaS is a distribution method in which software is diffused to paid subscribers, usually on an annual, reoccurring payment plan, and the software is remotely stored on a centralized cloud platform awaiting use.
Unsurprisingly, SaaS remains the most lucrative segment of the cloud market.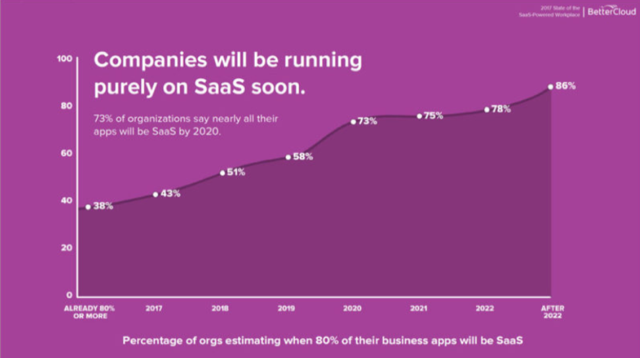 In 2017, the tech industry did $60.2 billion in annual SaaS sales; that number is poised to explode to $117.1 billion in 2021. The near doubling of sales underscores the robust nature of these tech firms setting up businesses of this ilk, and the positive effects dripping down to the bottom line.
Simply put, no SaaS business, no reason to invest. SaaS isn't the only cloud revenue companies can carve out. Tech firms also offer platform-as-a-service (PaaS) and infrastructure-as-a-service (IaaS).
However, SaaS is by far the prominent growth lever in the high-margin cloud industry. The indomitable presence inside the SaaS industry is Bill Gates' creation Microsoft (MSFT).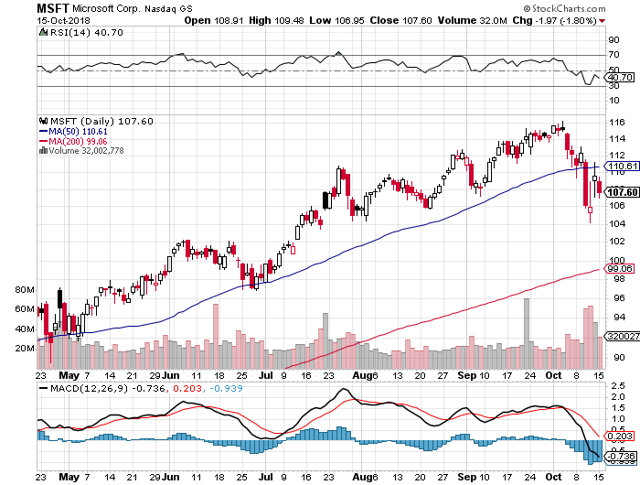 Microsoft leads all companies with a 17% global share of the SaaS market. The Redmond, Washington outfit blew past stalwart Salesforce (CRM) nine quarters ago. Microsoft's sizzling SaaS business is an oversized contributor to its 45% revenue growth rate, which is head-and-shoulders above the industry average.
Salesforce, Adobe (ADBE), Oracle (ORCL) and SAP (SAP) fill out the top five largest global SaaS businesses, but it is really a tale of two stories. Oracle and SAP, which are competing in the same market, are grappling with legacy database businesses and legacy tech, which are punished by investors.
John Dinsdale, a chief analyst at Synergy Research Group, mentioned two outliers of "Cisco and Google too who are making ever-bigger inroads into the SaaS market" leveraging Cisco's (CSCO) multitude of software assets and Google's (NASDAQ:GOOG) (NASDAQ:GOOGL) G Suite.
The thing that makes SaaS the x-factor for tech companies is that inevitably every company from every walk of life will adopt this mode of software, giving legs to this distribution model. Vendors are scrambling to put together some resemblance of a SaaS product together, and this trend is a vital contributor to an industry that is growing 32% YOY worldwide.
Kevin Cochrane, chief marketing officer of SAP Customer Experience lay bare his thoughts about this type of service describing it as the "Golden Age of SaaS." Companies are becoming digital first from end to end, explaining the sharp rise in IT professional salaries and rise in quality software products.
As we look around the corner to the IaaS part of the cloud industry, which is growing at around 30% YOY, there is one dominant player, and everybody knows its name.
Amazon (AMZN) is the No. 1 vendor with Microsoft, Alibaba (BABA), Google, and International Business Machines Corporation (IBM) trailing behind. The top four IaaS players have carved out a total of 73% of the global market ravaging any resemblance of competition.
Amazon is the industry standard with the best record of customer success.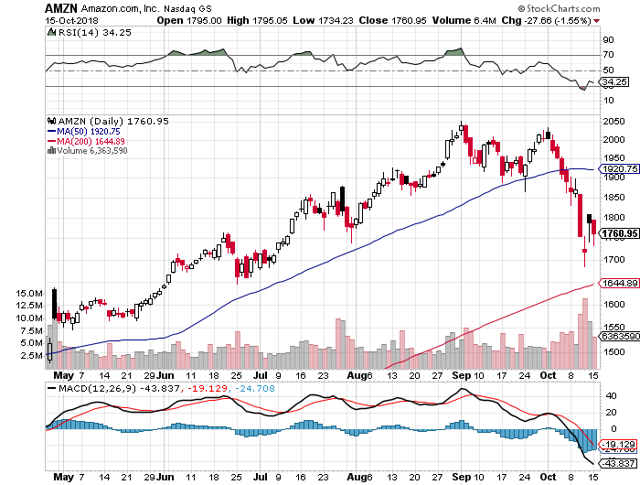 If Amazon branched off into the SaaS industry, it could unlock an additional $100 billion in annual revenue. A shift into this direction could pad Amazon's margin's even more after successfully boosting North American e-commerce margins from 2.4% to 4.7%.
It's not entirely inconceivable that Amazon could break the $2 trillion valuation in three to five years, as its revved-up digital ad business registered growth of 129% YoY last quarter.
Microsoft seized the runner-up position in the IaaS market to Amazon by growing 98% YOY with sales eclipsing $3.1 billion in 2017. Wherever you turn, whether toward the cloud business or gaming, investors can find Microsoft making sales.
Microsoft has been a favorite of the Mad Hedge Technology Letter and it's hard-pressed to find a better public tech company in operation now.
The SaaS industry is not a one-size-fits-all proposition. Thus, there is abundant room for niche offerings that quench companies' demand for specific services. This is the reason why cloud companies have participated in a non-stop buying binge of smaller companies that fit their needs.
Microsoft purchased developer favorite GitHub for $7.5 billion earlier this year, and similar examples are scattered all over the tech ecosphere.
Artificial Intelligence (AI) will be the kicker that powers SaaS performance to new heights because incorporating this groundbreaking technology will enhance functionality and, in return, raise profits for all involved.
The scalability of SaaS products has allowed companies to offer software for affordable prices allowing the smallest of firms to adopt a digital-first strategy. This software connects with other software seamlessly integrating an array of productive apps that help teams overperform and overdeliver.
In the American workplace, 73% of companies will be exclusively using SaaS to function by 2020. American companies are using 16 apps on average per day, a 33% jump in the number of apps they were using just two years ago.
The migration to mobile has swallowed up SaaS products as well with more mobile-specific software rolling out to mobile devices. The meteoric rise of SaaS offerings has cut IT security budgets substantially as security has been delegated to the cloud instead of inexpensive in-house security teams.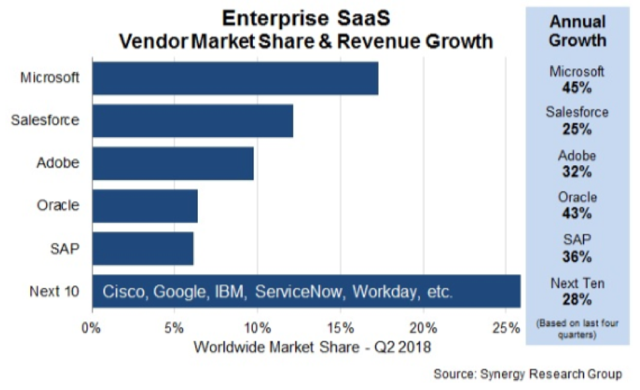 No longer do tech firms need to beef up guarding their own gates. Protection is provided on a centralized cloud with a third-party company ensuring safety. This development has helped a new industry rise – cloud security.
Whether people realize it or not, the SaaS industry is here to stay and will become more prevalent in every industry going forward. This is incredibly bullish for companies that sell SaaS products as revenue will continue to rise.
Disclosure: I/we have no positions in any stocks mentioned, and no plans to initiate any positions within the next 72 hours. I wrote this article myself, and it expresses my own opinions. I am not receiving compensation for it (other than from Seeking Alpha). I have no business relationship with any company whose stock is mentioned in this article.