The merger between Transocean (RIG) and Ocean Rig (ORIG) is gaining steam. New merger materials are out in public, so investors have the chance to see how Ocean Rig was trying to sell itself and how the company ended in Transocean's hands.
It turns out that Ocean Rig's management was trying to sell the company right after it completed restructuring and emerged from bankruptcy with a clean balance sheet. According to merger materials, Transocean's CEO Jeremy Thigpen contacted Ocean Rig following the completion of Ocean Rig restructuring in autumn of 2017. In December 2017, Ocean Rig became serious about the potential sale and hired Credit Suisse (CS), which advised to use an auction to sell the company.
At various points in January 2018, Credit Suisse contacted Transocean, as well as companies A, B, C, D, E, F, G, H and I (!!!) regarding their interest in Ocean Rig. As we can see, the potential acquirers, at least in Credit Suisse eyes, were not limited to usual suspects from U.S. Big Board – Diamond Offshore (DO), Ensco (ESV), Rowan (RDC), Noble Corp. (NE) (note that Seadrill (SDRL) was in restructuring at that time). If we assume that the above-mentioned companies except for Seadrill were among those who were called by Credit Suisse to evaluate their potential interest in Ocean Rig, one has to wonder what other five companies were called. Among bigger players (by fleet size), many are specializing in jack-ups, like Borr Drilling (OTCPK:BDRLF) or Shelf Drilling. Anyway, there was a major effort to sell Ocean Rig to anyone at the beginning of this year.
However, it did not succeed. Only Transocean, company A and company C had any serious interest in the transaction, but they declined to buy Ocean Rig in February 2018. Company A stated that market conditions and weak stock prices were the main obstacles for the transaction. Company C also was worried about market conditions and did not want to purchase idle rigs. Transocean's reasons for not pursuing the Ocean Rig merger at that time were market conditions and weak stock price.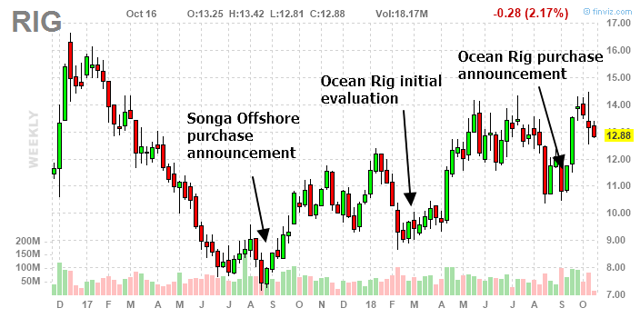 Apparently, Transocean's management decided that shareholders will be infuriated with another dilution at a local price bottom for the stock and therefore took a break. However, as soon as Transocean's stock price was on its way back, the company revisited the Ocean Rig case and contacted its management in June 2018. Transocean and Ocean Rig bargained a bit, but, since Ocean Rig had no other bidder, Transocean ended with a slightly higher offer than it originally put.
In my opinion, Ocean Rig's management played its best in this quest to sell the company. It looks like no one except for Transocean was really serious about the transaction, and companies A and C just wanted to take a closer look at whether the transaction might theoretically work. Transocean marketed the deal to the investment public stating that it was paying $278 million per core drillship. As seen in the Bassoe table below, none of the existing rigs has reached this valuation (note that Paros is still given a $158 million - $175 million valuation while we know from Transocean's conference call that it's basically scrap):

Source: Bassoe Offshore
In my opinion, the fate of the cold stacked drillships remains unclear, and they will certainly demand a material amount of money to be put back into work. I have previously stated that some of the "core eight" (Apollo, Athena, Corcovado, Mykonos, Mylos, Olympia, Poseidon, Skyros) will not make it back to the market and I maintain this view.

Source: form 424B3
Ocean Rig's management projections call for $495 million of revenue in 2019, up from a run-rate of $284 million annually based on second half numbers. Just as in case of other financial projections that I have seen during this market downturn, both in mergers and bankruptcies, these ones look straight out of the fantasy world. In my opinion, if Ocean Rig management indeed believed that it will go from a run-rate of about ~$300 million annually in 2018 to $850 million in 2020, they would not be trying so hard to sell the company. Ocean Rig had no financial problems after restructuring and it had plenty of time to wait for the market recovery.
Conclusion: While old, pre-bankruptcy Ocean Rig shareholders got decimated anyway, deal or no deal, the new shareholders who purchased Ocean Rig stock after the bankruptcy got a marvelous offer from Transocean, which will have to work very hard to justify this aggressive acquisition.
If you like my work, don't forget to click on the big orange "Follow" button at the top of the screen and hit the "Like" button at the bottom of this article.
Disclosure: I/we have no positions in any stocks mentioned, and no plans to initiate any positions within the next 72 hours. I wrote this article myself, and it expresses my own opinions. I am not receiving compensation for it (other than from Seeking Alpha). I have no business relationship with any company whose stock is mentioned in this article.
Additional disclosure: I may trade any of the above-mentioned stocks.