Quick Take
Trimble (TRMB) announced it has acquired Veltec for an undisclosed amount.
Veltec operates as an auto and truck fleet mobility telematics provider.
TRMB continues to execute an aggressive acquisition strategy as it seeks to acquire complementary technologies and expand its geographic footprint worldwide.
Target Company
Londrina, Brazil-based Veltec was founded in 2005 to develop technologies that improve safety and reduce operational costs while increasing visibility into driver and fleet performance.
Management is headed by President and DirectorJ ose Jurandir Barrozo, who has been with the firm since its inception.
Below is a brief overview video of the firm's capabilities (in Portuguese):
(Source: CanalVeltec)
Veltec's primary use cases include:
Cost-effective Driving
Accident Prevention
Fleet Management
Onboard

Video monitoring

Driver Journey Control
Passenger Transport Management
Company partners are:
Randon
Taipastur Workplace Safety
Atlantica
Market
According to Marcus Hennecke, global account manager at Fleet Logistics, the Brazilian fleet management market has significant potential to grow. Factors that might hinder the growth are local, such as the sheer size of the country, the different regional conditions and specific national rules and regulations, especially those that are tax-related.
Stratas Advisors believes the Brazilian light vehicle fleet will top 43 million in number by 2027. Furthermore, gasoline demand will increase by 1% annually despite efforts to diversify toward low emissions or electric vehicles.
Part of the demand for fleet telematics is to reduce operating costs through route management and driver journey control.
Automotive Fleet magazine says that an important challenge for fleet operators is that many of their vehicles are spread out over large geographic areas, especially in the southern part of the country.
For telematics firms such as Veltec, demand from large- and medium-sized fleet operators is strong as the Brazilian economy continues its slow economic improvement.
Acquisition Terms and Rationale
Trimble didn't disclose the acquisition price or terms and didn't file an 8-K or disclose a change in financial guidance, so the deal was likely for a financially non-material amount.
A review of the firm's most recent 10-Q filing indicates that Trimble had $571 million in cash and equivalents and $2.3 billion in total liabilities, as of June 30, 2018.
Free cash flow during the six months ended June 30, 2018, was $231.8 million.
TRMB acquired Veltec to gain access to the Brazilian fleet management market.
As Thomas Fansler, president of Trimble Transportation Mobility stated in the deal announcement,
With this acquisition, we look to collaborate on delivering new technology for our customers, expand our footprint and further our vision of improving transportation and logistics throughout the world.
In the past 12 months, TRMB's stock price has dropped 2.4% vs. the S&P 500 Index 8.1% gain, as the chart below indicates: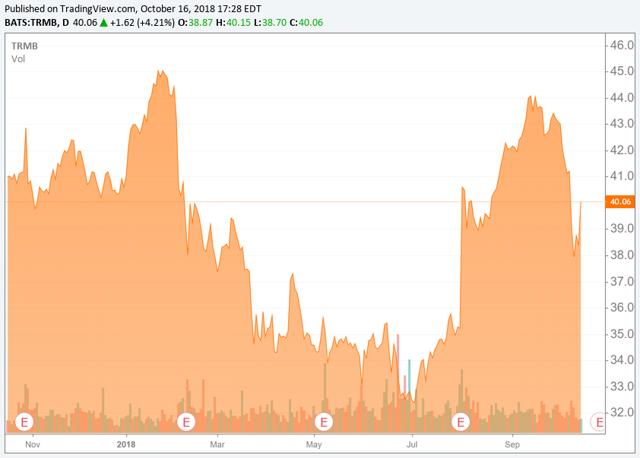 (Source: SEEKING ALPHA)
Trimble has been quite actively acquiring technologies over the past several years.
Within the fleet management space, I wrote about its acquisitions of 10-4 Systems and ISE.
These acquisitions show management's focus on either adding complementary technologies or, in the case of Veltec, adding geographic footprint as the firm seeks growth overseas.
The Brazilian economy has undergone a difficult last few years but appears to be resuming at least slow growth. As the largest country in Latin America, Brazil provides an enticing market for TRMB to devote financial resources to building a business.
It may be an opportune time for TRMB to expand its operational base in the country.
Management needs to continue building on its telematics capabilities and footprint if the stock is ever to resume its previous growth trajectory.
Thank you for reading. I write about IPOs, M&A deals and public company investments in tech startups. I focus most of my time on IPOs. If you're interested in investing smarter in IPOs, you should check out IPO Edge.
Disclosure: I/we have no positions in any stocks mentioned, and no plans to initiate any positions within the next 72 hours. I wrote this article myself, and it expresses my own opinions. I am not receiving compensation for it (other than from Seeking Alpha). I have no business relationship with any company whose stock is mentioned in this article.