Signalling is a great way for management to set expectations for the firm's investors. As such, allow me to start with a quote by ChineseInvestors.com (OTCQB:CIIX) CEO Warren Wang on 12th October, three days before the release of the firm's calendar third-quarter results (fiscal first quarter).
I'm pretty confident in my opinion we can deliver $10m-$20m [in revenues] next year.

- Warren Wang, ChineseInvestors.com CEO
For context, revenues in the previous fiscal year were $2.4 million. So, in the next four quarters of this fiscal year, investors should expect to see revenues quadruple at a minimum.
Headline results disappoint again
So imagine their disappointment at the fiscal first-quarter earnings. Revenues grew tepidly to $712,360, with $9.3 million remaining in the next three quarters to achieve the minimum $10 million target set by the CEO. But more importantly, expenses remained stubbornly high. Cost of revenues grew around 68% both on a quarterly and yearly basis, while operating expenses declined slightly from the historic high of last quarter, down to $2.2 million. This resulted in an operating loss for the quarter of $1.96 million.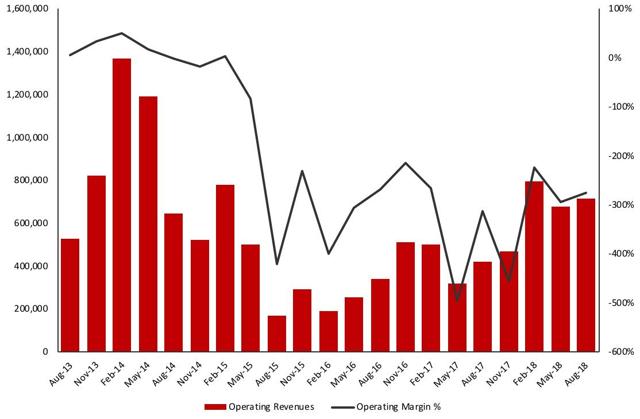 Operating revenues and operating margins (on the right axis). Units: US dollars. Source: ChineseInvestors.com investor relations
One aspect of expenses that should be questioned is advertising expenses, which have doubled in the past year to $317k, in particular, the platform the CEO uses to signal to English-speaking investors. MoneyTV averages around a dozen views per video, yet costs $12k for three months of coverage. Given that there are videos throughout the year, spending $48k for around a hundred YouTube views a year is not value for money.
Moving to profitability, the company managed to offset some of those operating losses by posting a $875k unrealized gain on trading securities. After deductions for preferred stock dividends, net loss to ordinary shareholders was $1.74 million, which is the lowest since November 2016. However, it is worth remembering that this gain has yet to be realized - it's a noncash gain, and it's nonrecurring.
Broadly speaking, it's an improvement, but nowhere near as much as it needs to be. Ignoring the $10 million fiscal year revenue target for a moment, revenues did creep upwards, expenses did fall slightly from historical highs, and the firm benefited from a one-time unrealized trading gain. All of which took the net margin to a mere -244%; looks bad, but it's the best since November 2016. The problem is that we've seen this before; small improvements are followed by larger losses in the following quarter.
Now, despite the CEO's comments seeming wildly optimistic (if I'm being nice), I have set a higher revenue target for the company. In my previous article, I stated that the company needs to be posting $4 million of revenues a quarter in order to cover its expenses and its financing obligations. The caveat was that the longer this target isn't met, the more financing will have to be taken on to cover expenses, and so, the target has to be increased.
Cash flows rely on heavy financing to remain positive
So, while some improvements have been made on the income statement, ChineseInvestors.com underwent the second-largest quarterly financing in its history. Cash from financing activities were $3.9 million, coming from sales of both debt and preferred shares. The reason for this is because the company saw its largest-ever net cash outflow from operating activities: $2.23 million.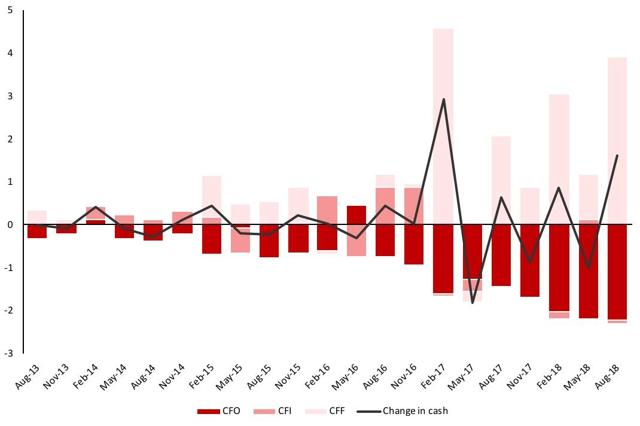 Net cash flows from operating, investing and financing activities. Units: $ millions. Source: ChineseInvestors.com investor relations
Let's try to make sense of where this capital raised is going. Since the quarter ending February 2017, the company has raised $15.3 million in external financing. In that same time, it has seen $12.5 million of operating cash outflows. Cash and equivalents was $647k in November 2016 and is now $3.0 million, and the only asset account on the balance sheet which has gained in size is the investment in an affiliate, which is likely the hemp business. As such, it appears that money is being raised simply to keep the company solvent and to fund the hemp business, which will soon be spun off. This leads to a very important question for investors: when the hemp business is spun off, CIIX will be left with all of this debt and the heralded new source of revenue removed, so how can this debt ever be paid off?
Management compensation is an issue that just won't go away
I want to pick up on another rebuttal the CEO provided to my previous criticisms over executive compensation.
Someone says the CEO got paid so much, the management team got paid so much. I want to address that: 70% is from restricted stock.

- Warren Wang, ChineseInvestors.com CEO
That statement is wrong; the CEO does not receive 70% of his compensation in stock. In the 2018 fiscal year, 42% of his compensation was in cash, meaning that 58% was in stock (10-K report here, page 29). In addition, he has the highest proportion of compensation in stock. In the fiscal year 2018, 56% of management compensation was in cash. The 70% claim is an exaggeration.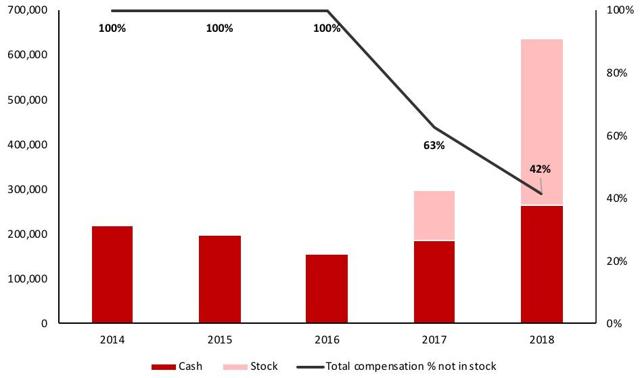 CEO Warren Wang's annual compensation. Units: US dollars. Source: ChineseInvestors.com investor relations
Instead of exhibiting management's confidence in the stock, the company is doing all it can to keep the EPS (or loss per share in this case) stable despite losses growing exponentially. The way this is done is through expansion of the share count. It is my belief that executives are being paid in stock because it's an easy way to expand the share count, in addition to issuing convertible preferred shares.
Notice how the growing losses aren't reflected in the EPS because losses are growing at the same rate as the share count. During the fiscal year, the company issued 1,520,000 shares of common stock for compensation, the vast majority of which occurred in October 2017, which was during a quarter where a large preferred share dividend was paid upon conversion to common stock, and the share count jumped 8.5 million. In addition, August 2018 saw half a million new shares issued to service providers, including Regal Consulting, a company that pays Microcap Speculators for services (10-Q here, pages 17-18).

Despite plummeting earnings, EPS is kept stable by increasing the share count. Source: ChineseInvestors.com investor relations
Ultimately, we're seeing EPS management at the expense of shareholders. When the share count is diluted to such a magnitude, it just dilutes the potential gains that ordinary shareholders can receive if the company ever makes a profit. In the space of one fiscal year, the share count has more than doubled, meaning that ordinary shareholders have seen their claims on future profits slashed by 56%. It's a recurring theme: shareholders' interests are being ignored.
Putting the Chinese hemp-related sales into context
It seems that a lot of optimism surrounding the company comes from the belief that China is a huge untapped market for hemp product sales, and that by being one of the first in the market, CIIX has a potential customer base of 1.4 billion people.
I'll go into product details and sales figures in a moment, but let's just take a step back and consider the following. Chinese regulators will never allow hemp products to become anything more than a small niche, because as soon as consumers start searching for the other uses of hemp and marijuana, China develops a drug problem. And remember, China is a country that is very strict on drug use and trafficking, with executions not uncommon.
Let's now look at how CIIX's current hemp-related products are selling. While there are likely different outlets - other online stores and brick-and-mortar stores - we can use Alibaba (NYSE:BABA) as a good proxy, given that its Taobao and Tmall platforms are China's largest. Below is a picture of all of CIIX's hemp products, and the numbers highlighted by the red square are the total number of sales of each one.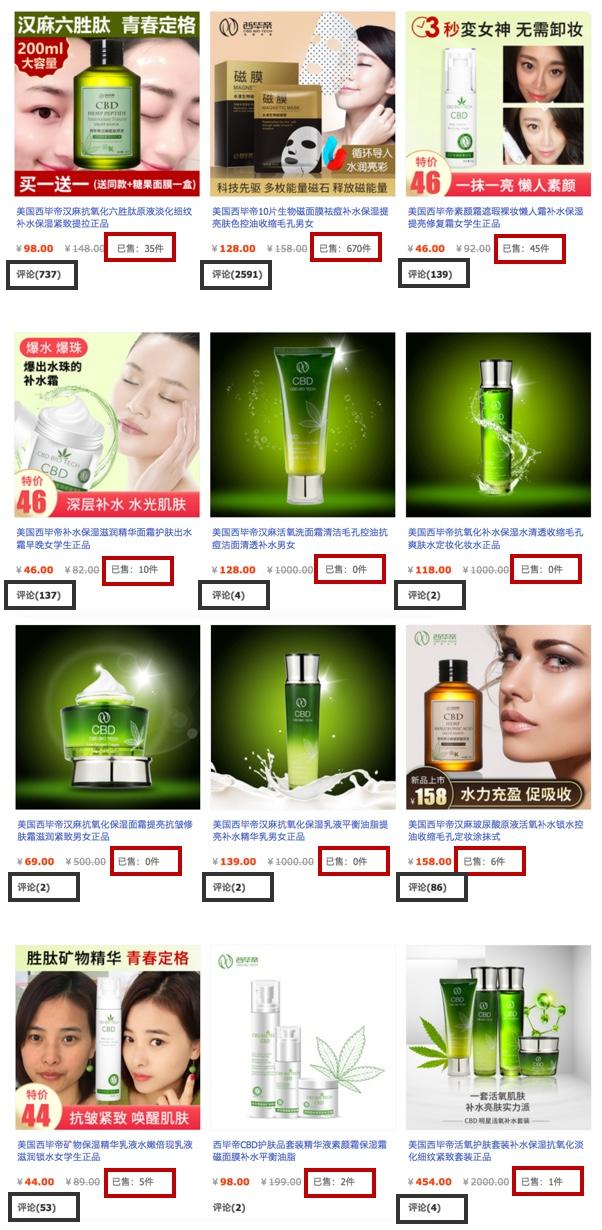 List of all products sold on Taobao by CBD Biotech. Source: Alibaba
From these 12 products on sale, we can see that the total number of products sold is 774, the vast majority of which comes from the face masks. But curiously, I've highlighted 11 products with a black square because they have more reviews than products sold - a strong indication that fake reviews are being paid for. It would be unusual for a product sold 35 times to have 737 reviews, but there are products that have reviews that have yet to be sold. So, if we look at the face mask, which has been sold 670 times, it appears that the first genuine reviews appeared in August. We can therefore deduce that around 220 are being sold every month.
Let's now look at Tmall, which is slightly different because it only reports monthly sales. Again, monthly sales are highlighted in red and the number of reviews is highlighted in black.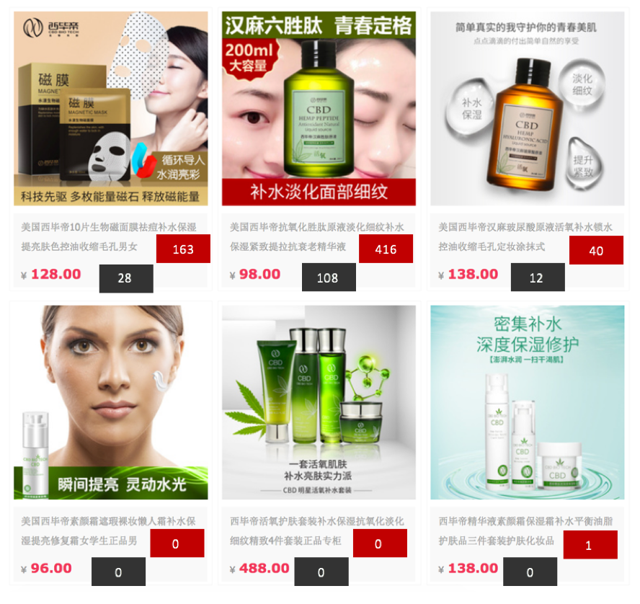 List of all products sold on Tmall by CBD Biotech. Note that sales and reviews are listed on the "all products" screen so I've added them manually. Source: Alibaba
The face masks and the peptide liquid are the biggest sellers on Tmall. Combining both platforms, we can say that the firm has sold a total of 1,394 products, and assuming no price changes, that would equate to revenues of ¥160,828 ($23,228 at today's value). This isn't something to be excited about, and highlights that either demand doesn't exist or the marketing isn't working.
Launch of the hemp-infused rice wine
A source of excitement among the company and its investors is the imminent launch of a hemp-infused rice wine. While the company may be touting this as the reason why revenues will quadruple this fiscal year, let's see how this Bama rice wine sells in China. Using Alibaba's platforms again, the picture below shows the scope of demand in China for this product.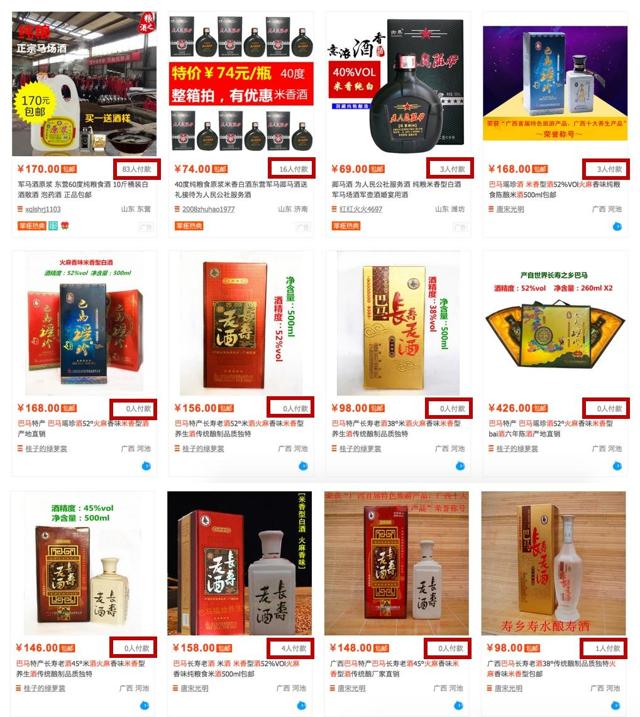 A search for Bama Rice Wine yields 12 results on Taobao. Source: Alibaba
Sales aren't great, just surpassing 100 total sales of rival products. It really does raise questions about whether the launch of the CBD hemp-infused rice wine would sell significantly. And I get that people would think that rice wine would be a big seller among Chinese consumers, but it's a heavily saturated market dominated by big state-owned companies like Kweichow Moutai.
How much longer do investors have to put up with this?
When the CEO is setting high expectations that are proven to be completely out of touch with reality just a few days later, investors should begin to question whether the right management team is leading the company. High expectations are set, reality disappoints, and all the while the company is hemorrhaging cash and drowning in debt, just so that management can keep its high salaries.
What should be happening is that a broad set of attainable goals for this fiscal year are publicly stated. Allow me to make some realistic suggestions:
Total revenues for this fiscal year: $5 million (a mere doubling of last year's revenue).
Total general and administrative expenses: No more than $4.5 million (this would return it to levels not seen since the year ending May 2017).
Positive net operating cash flows.
This would help reduce the company's debt burden and would begin to start aiming to generate a profit for ordinary shareholders. Based on the fiscal year-end performance (May 2019), management could then justify changes to executive compensation.
However, this likely won't happen. In my opinion, the CEO will continue to make outrageous claims about what revenues will be, and will make no commitment to reduce expenditure growth and no commitment to generate a profit for shareholders, all the while increasing executive compensation.
The one justification that continues to be spouted by the CEO about why the company is run this way is that it's a penny stock, implying that profitability isn't as important as it is for larger companies. Well, this is where the CEO is wrong. CIIX is a publicly listed company, which means it has shareholders. Management of a public company should be working in the best interests of its shareholders. The behavior shown by management in the past few years has been the opposite of this:
Falling or tepidly growing revenues.
Rapid growth in expenditures.
Large increase in the company's debt burden, which likely can't be paid off unless revenues can grow exponentially.
Net losses to shareholders that are multiple times larger than the revenues generated.
Large dilution of shareholder equity.
Consistent increases in executive compensation as a reward for failure.
I am aware that CIIX does read my reports. The company's official Seeking Alpha account follows me, and the CEO has responded to my previous articles. Therefore, with the CEO's expectation of $10-20 million of revenues this fiscal year, he should be held accountable for the failure to achieve this. In my view, if the company cannot post $10 million in revenues this fiscal year, investors should start to ask whether or not a more shareholder-focused leader should take over.
Disclosure: I/we have no positions in any stocks mentioned, and no plans to initiate any positions within the next 72 hours. I wrote this article myself, and it expresses my own opinions. I am not receiving compensation for it (other than from Seeking Alpha). I have no business relationship with any company whose stock is mentioned in this article.
Editor's Note: This article covers one or more microcap stocks. Please be aware of the risks associated with these stocks.