Investment Thesis
Toronto-Dominion Bank (NYSE:TD) has the best dividend growth profile in the industry. Encompassing strong earnings growth and the lowest dividend payout ratio among its domestic peers, TD is poised to continue outpacing its rivals in dividend growth. Over the last 20 years, TD has achieved a dividend growth rate of 11%, contributing to its out-performance among Canadian and American banks. TD is currently trading ~10% below its fair value giving investors the opportunity for stock price appreciation as well as dividend growth. Beyond its growth profile, TD is also a well operated and lower risk bank that has an impressive record of rewarding investors with sector leading total returns.
Company Overview
Trading on both the TSX and the NYSE, TD Bank has 25M customers worldwide, including 12M online and mobile customers. TD Operates in three major segments, Canadian Retail Banking, U.S. Retail Banking and Wholesale Banking (operating under the brand TD Securities). TD Bank is a best in class North American financial institution that offers investors the best of both the U.S. and Canadian banking businesses. TD is a dividend growth power house and has been one of the best performing financials in North America over the last decade. Possessing a high quality loan portfolio and perennial cost advantages over its Canadian peers, the bank is a stable business that has a long runway to continue growing its dividend. As a prudent lender and subject to Canada's highly regulated banking standards, TD Bank is well-capitalized with a Common Equity Tier 1 ratio of 13.1% and total capital ratio of 15.4% as of the end of Q3 2018.
A Leading North American Retail Bank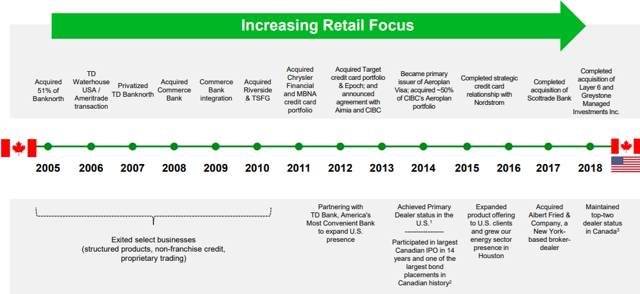 Source: TD Q3 Investor Presentation
Encompassing strong positions in both the profitable Canadian banking oligopoly as well as the growth potential of the robust domestic U.S. market, TD occupies a sweet spot among the North American financials. It is the second largest bank in Canada by market capitalization, assets and market share. With even more branches in the U.S. than in Canada, TD is the 5th largest bank by assets and the 6th largest by market capitalization in North America. Approximately 60% of its revenue from its Canadian operations while 35% is derived from the United States, with the portion of revenue derived from the U.S. segment showing steady growth.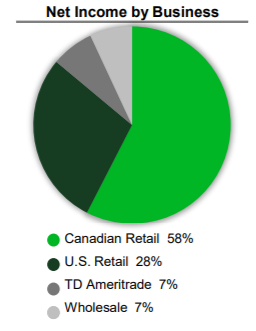 Source: TD Bank
Canadian Retail Banking
Unlike the U.S. banking sector, the Canadian banking sector fared relatively well during the global financial crisis, with all of the major banks preserving their dividends. A stricter regulatory environment in Canada and high barriers to entry has lead to lower overall risks and associated costs for the Canadian banking sector in general. As one of the dominant players in Canada, TD is one of the six banks that account for 90% of market share in the Canadian banking sector. The Canadian banks are more geographically diverse than similar U.S. regional banks of comparable size reducing their regional risk exposure. The Canadian banking sector is a highly regulated oligopoly featuring high margins and low uncertainty, making it a very attractive business. These tight regulations and government protection from foreign competition make the Canadian banking business a license to print money. According to Equity Analyst, Eric Compton of Morningstar "Excess returns are almost certain within Canada." TD's continued success in this sector is systemically supported by the structure of the industry.
With over 15M customer in Canada, TD has a solid presence in the Canadian banking sector. TD is the largest issuer of credit cards in Canada and operates profitable business segments in personal banking, business banking, insurance and wealth management. TD is the #1 or #2 in market share for almost all retail banking products in the Canadian market and is popular for having weekend and evening hours at its retail locations, giving it a customer service advantage over its peers. The Canadian retail business with its stable profits has produced consistently strong results allowing TD reinvest proceeds in their growing U.S. business and enabling it to diversify beyond the Canadian market.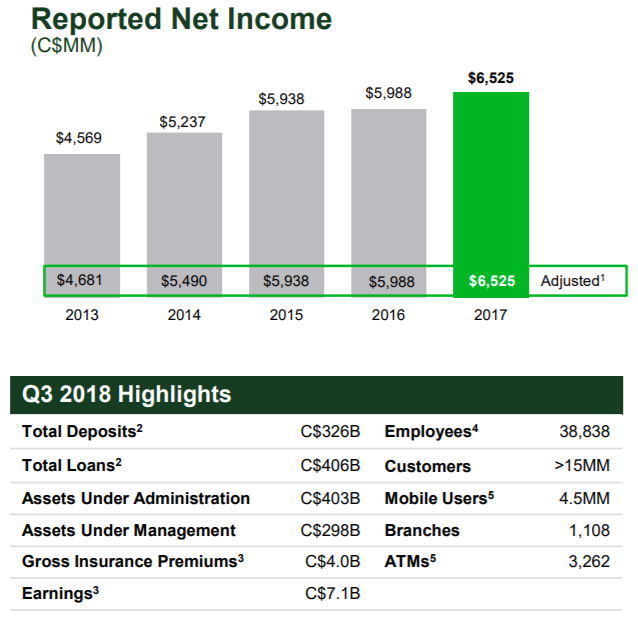 Source: TD Bank
U.S. Retail Banking
TD's major strategic focus over the last decade has been building out its U.S. retail banking segment. Combing strong organic growth with strategic acquisitions, TD now has over 9M customers in the U.S. where it operates 1,248 retail locations in 15 states as well as the District of Columbia. Compared to the Canadian sector, the U.S. segment has produced lower returns on equity, indicating that TD may have paid too much for its American assets. Despite the lower relative returns, TD's U.S. Retail Banking segment has provided great growth. Year over year results from Q3 2018 show 8% revenue growth and net interest income increased growth of 11%. Loan volumes have increased 4% and deposits are up 9% in the same quarter. These positive results have been supported by growing deposit margins and fee income growth in personal and commercial banking. In addition to the retail operations, TD's U.S. operations include 42% ownership in TD Ameritrade. TD Ameritrade, a leading brokerage firm with more than 11M clients and $1.2T in assets under management, has been a great source of growth that is poised to continue to experience double digit growth.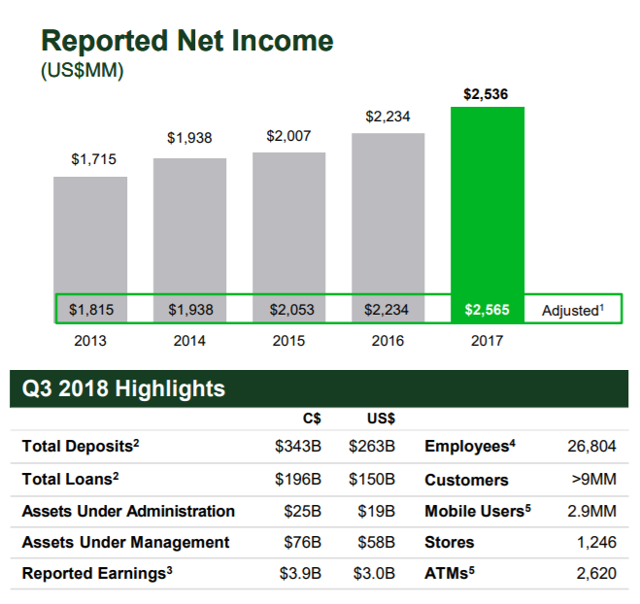 Source: TD Bank
Impressive Results
TD had another great quarter in Q3 2018, adding to a positive stretch of earnings growth and improved operating results. Across all business segments, TD reported net income of $3.105B (CAD), an increase of $336M (CAD), or 12%, compared with the third quarter of 2017. This growth is attributable to TD's two largest business segments, U.S. and Canadian Retail. Canadian Retail put up strong results with an improvement of $127M (CAD), or 7%. The U.S. Retail segment achieved impressive 27% income growth, adding $242M (CAD) to the bottom line. The tremendous growth from the U.S. Retail division has been buoyed by a lower effective tax rate and strong results from TD Ameritrade.
From an operating perspective, TD has been improving profitability, managing to grow total revenue at 6% in 2017 with expenses growing only 3%. Likewise, TD has improved its RoTCE (return on tangible common equity) to 17% overall including an impressive 13-15% RoTCE in the U.S. Retail banking. Revenue per employee is better than its Canadian sector peers at $450.1K/Employee compared to $427.4K/Employee. Management has made great progress over the last few years improving TD's efficiency ratio (non interest income as a percentage of total revenue). In 2017, the efficiency ratio dropped to 53.6%, compared with 55.0% the previous year.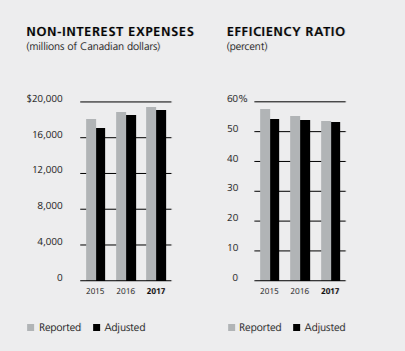 Source: TD Annual Report 2017
Although the bank enjoyed positive results in its most recent quarter, its long term results are even more impressive. TD's 5-year annualized total shareholder return is 16.7% compared to the Canadian sector average of 14.6%. These consistently strong results have made TD one of the best long term investments in the North American banking sector for total shareholder returns. Over a 10-year time horizon, TD has been unparalleled in delivering superior returns, surpassing both its Canadian peers [Royal Bank of Canada (RY), Bank of Montreal (BMO), Bank of Nova Scotia (BNS) and Canadian Imperial Bank of Commerce (CM)] and its American peers in both the Money Center Banks [ Citigroup Inc. (C), Bank of America (BAC), JPMorgan Chase & Co. (JPM)] and Super-Regional Banks [ Wells Fargo & Co. (WFC), PNC Financial Services Group, Inc. (PNC), U.S. Bancorp (USB)].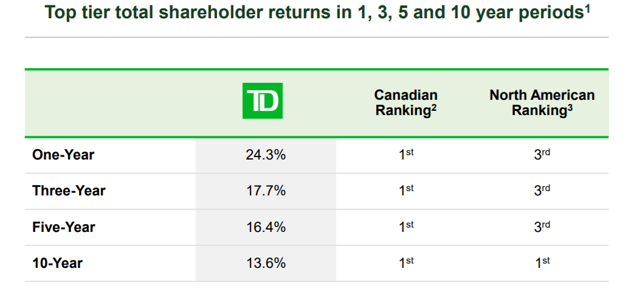 Source: TD Q3 Investor Presentation
Valuation
TD typically trades at a premium relative to its sector peers with a Price/Book of ~2.1 compared to domestic rivals at ~1.7. On an earnings basis, TD typically commands a higher multiple based on its U.S. exposure and high quality loan portfolio. With a forward P/E of 11.17, TD's recent close price of ~$57 USD leaves it near its fair value. Morningstar estimates a fair value of $62 USD, while the analyst consensus suggests a one year price target of $64.12 USD. By using a fair value estimate of $63USD (~$82 CAD), TD has approximately 10.5% upside plus its dividend for a combined total return of approximately 14%. TD has recently repurchased almost 23 million shares, a small portion of the 1.78B shares outstanding. This relatively low repurchase quantity suggests that TD doesn't see their stock as undervalued. Conversely, TD has a short interest of less than .02% of shares outstanding, suggesting that traders don't see a lot of downside.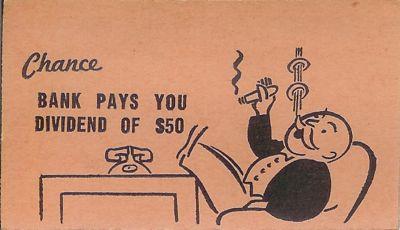 Source:Parker Brothers
Continued Growth
With high barriers to entry and regulation that prevents foreign competition in the Canadian banking sector, TD is well-positioned to continue delivering strong returns. TD's continental scale coupled with its relatively low cost of capital ensures that it enjoys predictable and stable systemic cost advantages. All five of Canada's large banks enjoy the benefits of this comfortable operating environment, but what differentiates TD is how it has directed its reinvested profits outside of the Canadian retail banking business. Revenue earned in the lucrative, regulated and relatively low risk Canadian banking oligopoly can be deployed for growth in the U.S. and abroad.
TD's recent acquisition of Greystone, an alternative asset manager is likely to turn accretive within the year. Both the Federal Reserve and the Bank of Canada are likely to move interest rates higher in the coming quarters helping to improve net interest margins. TD's exposure and strong brands in the U.S. make it the best positioned Canadian bank to benefit from the positive catalysts in the U.S. banking sector including: tax reform, rising interest rates, low unemployment and a robust domestic economy. With all these growth factors helping to benefit TD's bottom line, investors should expect mid to upper single digit earnings growth in the coming year.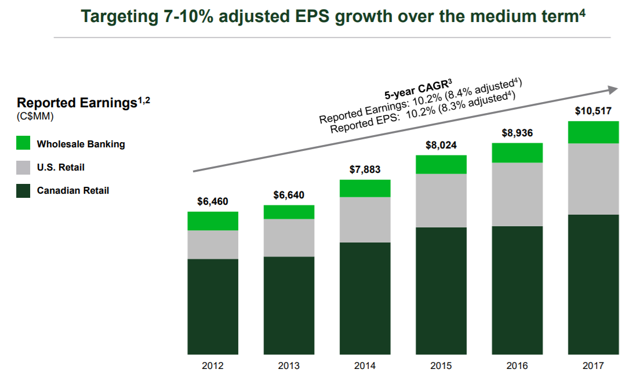 Source: TD Q3 Investor Presentation
Dividend Growth
TD Bank's 11% annualized dividend growth rate over the last 20 years is a testament to its commitment to return capital to shareholders. Its strong dividend growth history dates back over 160 years. Due to the strength of the Canadian banking sector, TD like its domestic peers did not cut its dividend during the global financial crisis, highlighting its stability and worthiness as a long term holding. TD's 5 year CAGR for dividend per common share was an impressive 10.2%, which compares favorably to the sector average of 6.8%.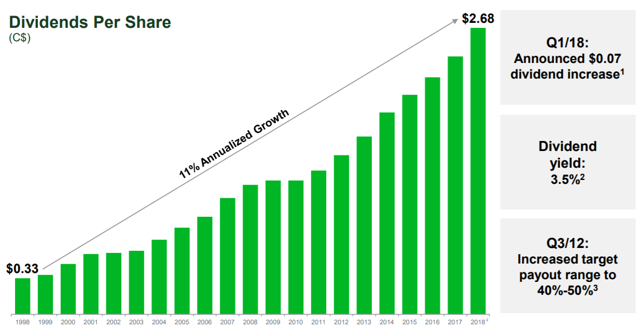 Source: TD Q3 Investor Presentation
With a current yield of 3.48%, TD has the lowest current yield as well as the lowest pay out ratio of the large Canadian banks at 43.42%. Even while offering a superior yield compared to most of the U.S. financials (where the sector average is 2.03%), TD demonstrates high visibility for future dividend increases. With the lowest yield, and the best 5-year average dividend growth rate in the Canadian banking sector, TD is the clear choice for investors interested in steady dividend increases. EPS growth over the past 5 years grew an average of 10.21% providing management with the ability to increase dividends with confidence. In its Q3 2018 results , TD announced that it had increased its target payout range to 40-50% of adjusted earnings.

Data Source: Reuters & Yahoo Finance
Risk Analysis
Despite TD's impressive track record or revenue growth and pleasing shareholders, there are a number of risks that CEO Bharat Masrani will need to navigate in the coming years. TD's most obvious risk would be a slow down in the Canadian economy where 2/3 of its revenue it currently derived. The cyclical nature of Canada's largely resource dependent economy is a risk for all financial institutions in Canada. Fortunately, TD has limited exposure to the resource sector with only 1-2% of loans outstanding coming from the Energy or Mining sectors. Another domestic risk would be a slow down in the Canadian housing market. Canada currently has one of the highest home price to income ratios in the developed world. The hot Canadian housing market will inevitably correct, but with a strongly regulated mortgage market and government insurance on mortgages, the housing market should have a soft landing.
With consumer debt levels in Canada, and modest level of population growth, TD's future growth will have to come largely from outside of Canada, most likely from the United States. Although the U.S. banking sector has great growth potential for TD, it is highly competitive and future growth by acquisition could be expensive. If TD over pays for acquisitions, it will weigh on future returns. TD may have already experienced some of this when they paid top dollar for some U.S. credit card portfolios. The counterweight to these risks is prudent management, for whom Morningstar assigns a stewardship rating of exemplary. TD Bank has history of being a more conservative lender than some of its peers and has stewarded its capital efficiently and prudently over its long history. Based on its high quality credit portfolio and past performance during the global financial crisis, TD is likely better situated than its sector rivals in Canada and the U.S. to withstand a downturn in the economy.
Investor Takeaways
TD Bank is a best in class financial services firm that combines the most advantaged elements of the U.S. and Canadian banking sectors giving investors access to both regulated stability and proven growth. With a dividend growth record dating back to 1857, TD Bank's 11% annualized dividend growth rate over the last 20 years is a testament to its commitment to return capital to shareholders. With strong earning growth in the mid to high single digits and a sector low payout ratio, TD is well-positioned to continue impressive dividend growth. By using a fair value estimate of $63 USD, TD has an approximate upside of 10.5% plus its growing dividend for a combined total return potential of approximately 14%.
TD has an impressive track record of achieving industry-leading results for investors. Over the last five years, the bank has delivered an annualized total shareholder return is 16.7% making TD one of the best long term investments in the North American banking sector for total shareholder returns. Over a 10-year period, TD has been unparalleled in delivering superior returns, surpassing both its Canadian and American sector peers. Investors in TD are treated to a potent combination of capital appreciation potential, steady dividend growth, and stability making this a perfect stock for almost any portfolio.