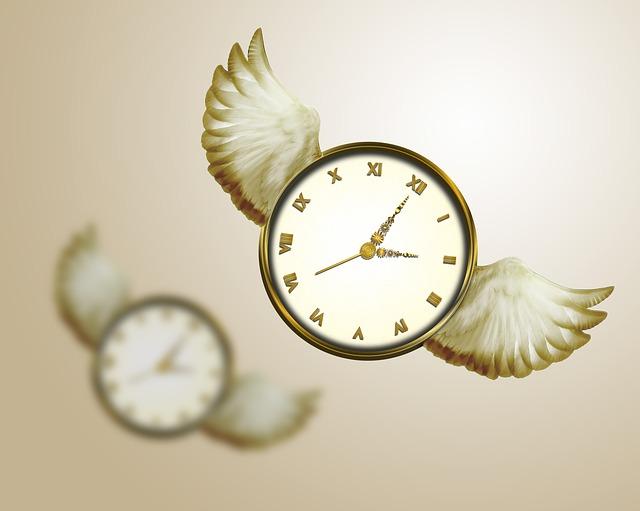 Wow, time flies! For those that have chosen to follow me, you may have noticed that I haven't written much lately. There's the full-time job thing, I've spent some time in Uganda, and as any special-needs parent will tell you, caring for someone with autism is both time-consuming and exhausting. Couple that with a healthy dose of procrastination and what you have is what I realized when a recent bout of curiosity made me look: I haven't provided a portfolio update in over two years!
The Context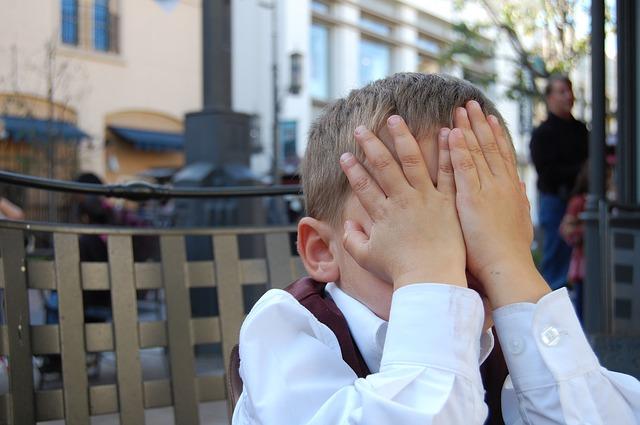 Due to my noticing expensive mediocrity within the options of my 401k and a belief that I could do better, I made the decision in 2013 to manage predominantly all of my retirement account myself, inside of a just-instituted self-directed brokerage account.
Things were great, but as a side-effect of my then "investing" style, annual trades reached into triple digits. I did a swell job at making the portfolio dollar amount get bigger. Couple this with investing always being a hobby and I was hooked. I was a wonderful portfolio manager while I had the time to babysit my portfolio. Then real children (3) came (and the aforementioned autism) and I quickly didn't. The thing about momentum or swing trading is, if you are tuned to PBS Kids rather than market and industry news, things can get ugly and fast. They did.
The idea for a "portfolio rehab" was born in 2015 - to overhaul my retirement account from something I was doing a bad job at babysitting, to something that I didn't have to. I became a DGI convert - the still-mind blowing idea of not chasing percentages in favor of buying a stream of income that I and mine will be able to live off of in retirement.
The Metrics
It would not be fair to you as a reader to give a play-by-play of the last two years (that may even put me to sleep), so I have decided to go year-to-date, quarter-over-quarter, and year-over-year.
Total Return
Since this portfolio is a dividend growth portfolio, it makes little sense to compare the percentage gained with the generic S&P 500. Rather, there are two closer-in-kind ETFs that I can compare it to: the Invesco High Dividend Low Volatility ETF (SPHD) and the Schwab U.S. Dividend Equity ETF (SCHD). The names of both of these ETFs are what I aspire to, and frankly, if I can't keep up with them, I could just buy an ETF.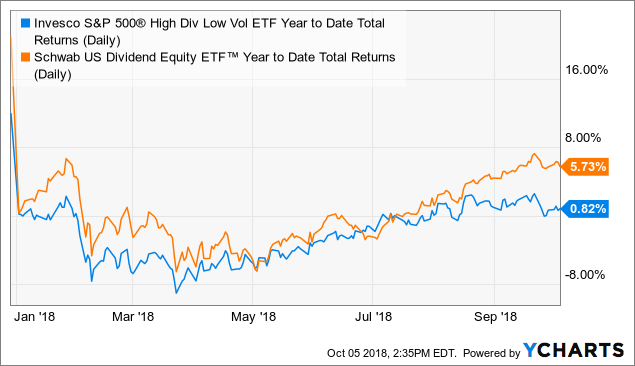 Through September 30, my return net of all deposits was 5.53%. It's nothing to write home about, obviously, but I am comforted by the idea that if I were to simply make my biggest loser (more on this later) break even, this number jumps to 6.93%.
Income
Due to Cracker Barrel's (CBRL) third quarter special dividend and some covered calls I wrote, the quarter just ended was my largest yet. The $669.25 is ~22% above last quarter's total, 32% above last year's third quarter, and 75% since my last update.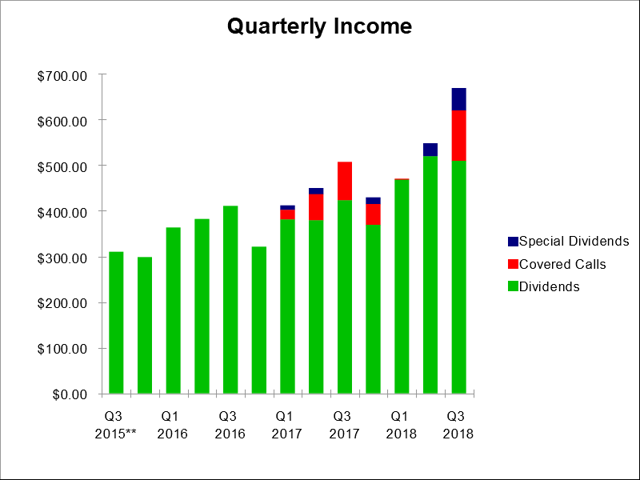 ** first quarter as a fully DG portfolio. Lumpiness in base total is my disregard for ex-dividend dates.** All charts created by author.
With Main Street Capital's (MAIN) special dividend in the fourth quarter along with more covered calls written, I fully expect this next quarter to be my first $700 quarter.
However, since I am exactly 25 years away from retirement at this point, the far more important metric to me is the trend line of forward twelve months income - a snapshot of how much income I would receive in the next year if I were to retire today.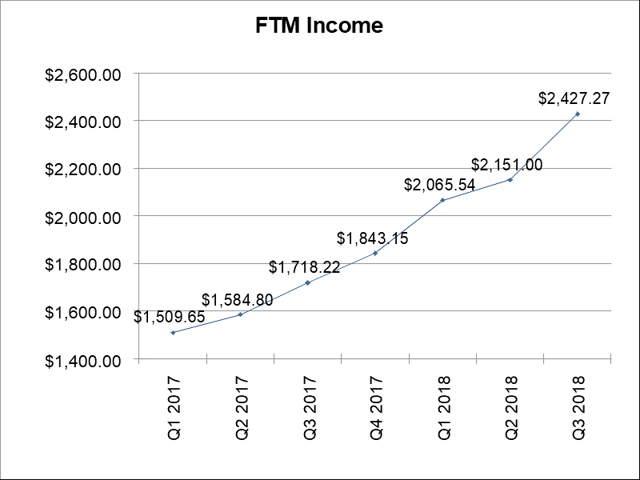 It is inspiring to see this number continue to grow "up-and-to-the-right". It is up 12.84% since last quarter, and comes in at a solid 4.67% of my quarter-end cost basis.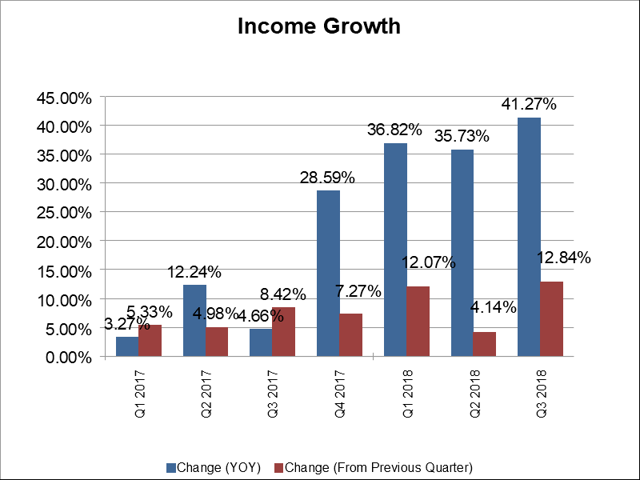 However, since I am still in the small numbers game, the increases continue to be made up more of transactions than actual compounding and growth. For the third quarter, I initiated positions in Dominion Energy (D) and General Mills (GIS):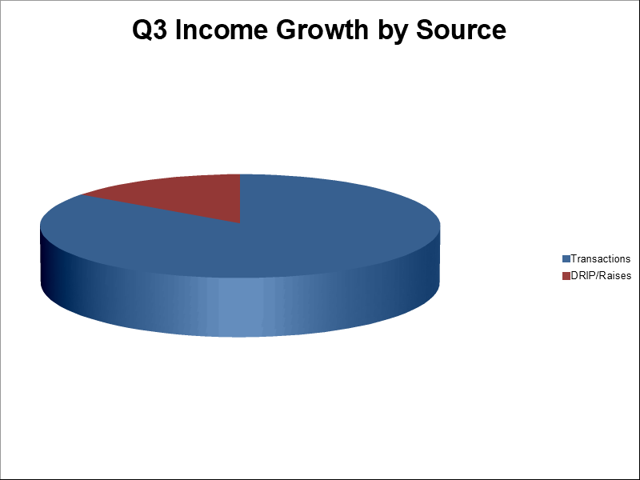 While I am happy this FTM number continues to grow, it means nothing in a vacuum. It is great to shovel dirt into a hole, but it would help to know how big the hole is. This is why at the beginning of 2017, I tried for the first time to put a number on what I am trying to shoot for, so that I could regularly gauge whether or not I am on track. I picked four different and arbitrary income targets - $75,000 of annual income at age 55 and normal retirement age, and $100,000 of annual income with the same time frames. I then reverse calculated how much my Q1 2017 FTM income number would need to grow each quarter to make my back-of-the-napkin targets a reality in 15 and 32 years, respectively.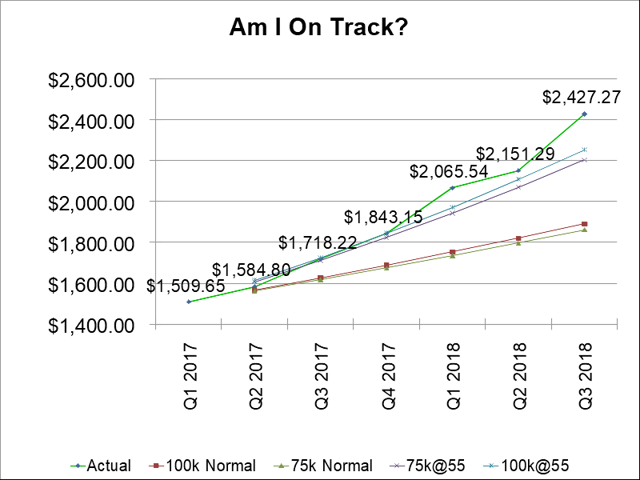 Ideally, as long as my FTM income number tracks with those top two lines, I can afford to not be a Walmart greeter. However, upon my quarter-end reflections, this chart has made me start to wonder whether or not my foot is too heavy on the gas pedal, in that I am bearing unnecessary risk.
My Holdings and Goals
What I have started and continue to work toward is a portfolio of twenty great and stable businesses that each provide 5% of my total income. What has not changed since my last update two years ago is that I am not there yet. However, here is what I hold as of now:
Carnival Cruise Lines (CCL): I am aware that the cruise industry is cyclical. There are two things to say in response, though. Cruise ships offer an incredible value versus land-based vacation. Secondly, cruises are predominantly an American past time. As more populations in more areas creep into the middle class, and as the well-worn "millennials chase experiences" maxim comes true, Carnival and others in the space stand to benefit.
Clorox (CLX): My search for a consumer goods play resulted in buying Clorox in May when it dipped under $121. Uninspired by Colgate's (CL) and Church and Dwight's (CHD) offerings, Clorox has a subjective broader range of products than Kimberly Clark (KMB) or Procter & Gamble (PG).
Cracker Barrel (CBRL): Food that caters to a specific genre, paired with a unique retail space that they make you wait and browse in while they ready a table for you that is already ready. Couple this with a rollout of catering and delivery, and another growing chain restaurant called Holler and Dash, and I think this is a long-tail winner.
Dominion Energy (D): To get historical for a moment, when I sold Mattel (MAT) to pick up my first utility in 2016, I really struggled choosing between Southern Company (SO) and Dominion. I ended up picking Southern due to a subjective belief in demographic trends and a favorable regulatory environment. However, time has shown me that I needed to pick up Dominion to get the one that is better run.
General Mills (GIS): The processed food space has been a disaster, with Campbell Soup (CBP), Kellogg (K), and Kraft-Heinz (KHC) all not even treading water. I wrote in October 2017 to avoid Kraft, and even though I was excoriated in the comments for having bad timing, heeding my advice would have saved an additional 26% drop.
In my view, General Mills' purchase of Blue Buffalo signals what will ultimately be a breakout from the pack, and I am being paid north of 4% on my purchase to wait for it to play out.
EPR Properties (EPR): The first alphabetically of three REITs in my portfolio, EPR was purchased because of their unique real estate choices - cinemas, TopGolf, ski slopes and private schools. I bought quite a bit more when shares took a tumble. While the resulting green in my portfolio is nice since the recovery, it is now my largest position.
Hershey (HSY): This is the closest thing I have to an emotional position in my portfolio. It remains to be seen if their launch into jerky and popcorn will pay off, but I recently have found myself buying more of the chocolate stuff to help them out.
Johnson & Johnson (JNJ): Why ask why?
L Brands (LB): This holding is not like any others in my portfolio in that I bought it with no intention of riding off into the sunset with it. Similar to my wildly successful trade with La-Z-Boy (LZB), the strategy would be to take a position after the fallout from a bad quarter, and then write covered calls and collect dividends until the shares were successfully called away. The drop in L Brands came as well as the fallout, and then I bought at what I thought may be close to the bottom. It wasn't.
Victoria's Secret has hit a rough patch, so much so that the star of their show has become Bath & Body Works. I will continue to buy covered calls in order to either wait for a turnaround of the larger business, or to lower my cost basis so that if I need to eventually sell it, it won't be quite so painful.
LTC, Inc. (LTC): This one has me a bit perplexed. I picked it after a desire to stay in the healthcare REIT space after the mess at HCP (HCP), and it is truly a no-nonsense management group over there. However, the time is quickly running out for their dividend growth record to remain intact. I have a clearcut strategy for when a dividend is cut. I don't for dividend freezes. I continue to write covered calls against my position while trying to decide whether or not I would be upset if the shares were called away.
Main Street Capital (MAIN): After my travails with Prospect Capital (PSEC), I swore off the Business Development Company space for a couple of years. I eventually made the decision to wade back in with (in my view) the gold standard in the space. There is a no-nonsense, shareholder-friendly, and external management team in place that takes equity stakes as well as debt, a rising net asset value per share trend, and a market that sees their quality by consistently pricing it at a premium, which is an important sign for a BDC. It is and will remain my only foray into the space.
McCormick (MKC): I had this company on my watch list for over three years. It essentially owns an entire aisle of a grocery store, as it is the ubiquitous player in a spice and seasoning segment with no clear or close number two - not to mention they have an entire Industrial segment. When they acquired Reckitt Benckiser's food segment to get into the condiment aisle, I grew impatient and pulled the trigger. It is now over 30% from my purchase price, but I have determined to buy more whenever it is yielding ~2%.
Microsoft (MSFT): This is the company I pay by far the least attention to. I bought it as an income play while Steve Ballmer was still at the helm. A few years later it is triple what I paid for it. Dividend growth continues to be acceptable, and my initial investment is out. I am playing with house money.
Paychex (PAYX): Having one of either Paychex or Automatic Data Processing (ADP) has long been intriguing to me, as the panoply of products that they offer (human capital management, insurance, payroll, etc) ensures that once they sink their teeth into a business customer, the switching costs make it incredibly hard to get away. Due to superior return metrics (ROE, ROIC, margins, etc.), and the belief that one runway is longer than the other (PAYX is predominantly a domestic story), I decided to go with Paychex earlier this year.
PPL (PPL): International dividend policies are generally not conducive to dividend growth portfolios. Dividend growth is predominantly a U.S. calling card, and added to this reality is the vicissitudes of foreign currency translation. My purchase of PPL was designed to clandestinely add a bit more international exposure, as the former Pennsylvania Power and Light boasts utility customers in Great Britain as well.
Realty Income (O): This and Johnson & Johnson were the first companies I bought when I decided to make a go of it in the dividend growth space. The Monthly Dividend Company continues to be (in my view) the gold standard of the net-lease space. Not only is the business stable enough to be a dividend growth stalwart, but a number of its tenants are dividend growth companies as well.
Southern Company (SO): Southern was the first utility I ever purchased. However, the Vogtle debacle and kerfuffle has gradually turned me sour on their prospects. I am writing covered calls against the position for extra income, and I have decided that Dominion is its replacement. I will not be sad if the shares are called away.
Next Steps
I alluded to it earlier, but I have made the choice to not weight my portfolio on a percentage of market value, opting instead for percentage of income. I stated earlier that my ultimate portfolio goal is to have twenty great businesses that I do not have to babysit, each responsible for 5% of my portfolio's total. These last two statements result in the idea that the generally lower risk businesses will eventually have more of my investing dollars - one must buy more of Johnson & Johnson to equal the dividend amount of EPR, for instance.
In reality I am nowhere close to that. Not only do I not have the twenty companies yet (I am in no rush to get them), but when REITs and utilities took a tumble awhile back, I bought a lot more of them. As a result, income skews greatly towards these names - the crystallization of my "is my foot too heavy on the gas pedal" rumination earlier.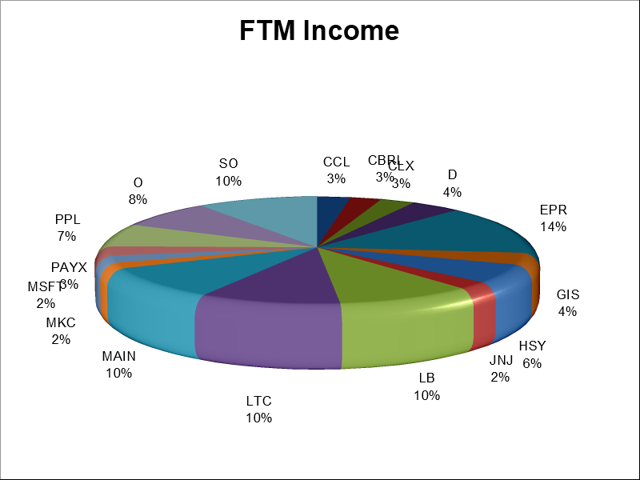 As a result, the next step is quite obvious, and that is to work to balance this out. Though it is certainly tempting to turn the dividend reinvestment off of the overweight names, I am of the mind that since the vast majority of them are still doing what I asked them to do and grow shareholder payout, then I should continue to let them do so. However, three REITs comprising 32% of my twelve month income is a little scary. Adding the utilities results in over half my portfolio income coming from just six names. The next step is getting this number down.
Summary
I am now three years into my dividend growth journey, and with every passing day I am more at peace with the fact that for me I have made the right choice. Rather than wondering what direction I'd need to go in when the streets turn red because a politician said something stupid, my retirement income currently inches up at least 25 times every quarter without me having to move a muscle. Thankfully I am on track, but over the next few quarters I will look to clean up the imbalances. Thanks for reading!
If you found value here, I'd be honored if you followed me to get semi-regular updates. However, I am not a professional investor, and as such, the strategies, companies and/or positions mentioned and any associated analyses are related to my own personal experience, expertise and situation, and is not intended to be personal advice or a recommendation for you to buy or sell. As everyone has their own risk tolerance, goals and needs, it is important that you perform your own due diligence. Happy Investing!
Disclosure: I am/we are long CCL, CLX, CBRL, D, EPR, GIS, HSY, JNJ, LB, LTC, MAIN, MKC, MSFT, PAYX, PPL, O, SO.
I wrote this article myself, and it expresses my own opinions. I am not receiving compensation for it (other than from Seeking Alpha). I have no business relationship with any company whose stock is mentioned in this article.