Domino's Pizza, Inc. (DPZ) reported Q3 earnings highlighted by EPS of $1.95 per share, up 65% compared to the same period in 2017. Unfortunately the market is focusing on same store sales numbers that missed expectations. US same store sales grew 6.3% while its international locations grew a weaker 3.3% on the quarter. The stock is down by 3% to $265 in early trading, off now nearly 15% from its recent all time high of $305.50.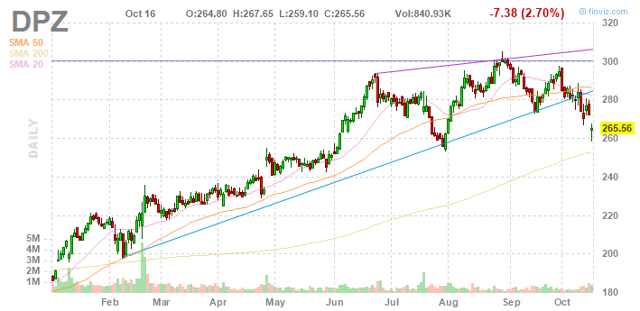 DPZ monthly stock chart. Source: Finviz.com
The story here has been the steady increase in profitability over the past decade through a refined and efficient operating model. In my opinion much of the earnings boost has already been reflected in the stock, still up 45% year to date. I think the stock has more downside over the next year although trade choppy here in the near term.
This article will explore the following three points that make up my short thesis.
Slowing growth
Lack of near-term catalysts
Stretched valuation
Background
The company has a network of stores 5,751 stores in the United States and 9,603 across 85 international markets. Revenues are generated primarily by charging fees and royalties to independent franchisees. The international market represents approximately 70% of total revenues. In Q3 the company reported earnings of $84.1 million on $2.35 billion in revenues globally. Domino's was a pioneer of sorts with online pizza ordering back in 2007 which was later enhanced to include mobile and its pizza order tracker. During this period the company underwent a brand refresh, updating its logo from "Domino's Pizza" to just "Domino's" to better market its other menu options including pastas, wings, and deserts. The company now boasts that since 2010, Domino's has posted the fastest same store sales growth among the top 10 QSR "quick service restaurants" in the United States.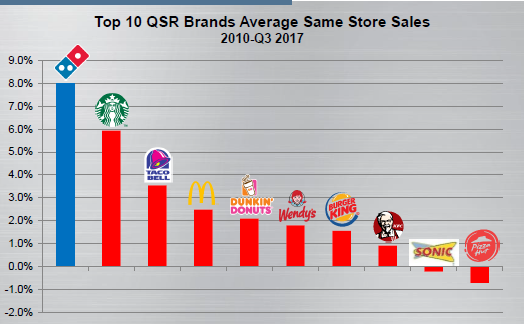 Top 10 Quick Service Restaurants avg. same store sales. Source: Dominos Investor Presentation
Overall, it's an been an impressive run but I believe the stock is overvalued here at $265 per share and ready for a more meaningful pullback. Taking a deep dive into the financials, it appears the bulk of the growth story has already been played out and the company will be challenged to incrementally lift revenues beyond market expectations. The stock is trading at a valuation premium to its own historical trading range which I believe is unjustified given the expectation of slower growth going forward. In the context of a more challenging global growth environment and emerging market volatility, DPZ earnings could disappoint going forward leading to a correction in the stock. My price target for the stock is $220 representing 16% further downside
In Q3 the company reported revenues, up 24% compared to the period in 2017 but this number is actually misleading as the company adopted an accounting rule in Q1 requiring the company to report franchise contributions to advertising as a revenue which is subsequently netted as an expense. On an pro-forma basis, revenues increased 9.3% year-over-year. What's interesting here is that multiple sources of financial data (Finviz.com/ Yahoo/ YCharts) still display the un-adjusted 24% y/y revenue growth which may be misleading to some in the investment community whom assume "sales" increased more than reality.
Slower Growth Going Forward
What I'd like to focus on is an overall lower rate of "organic" growth beyond some of the skewed non-comparable data and positive financial engineering. Same-store-sales and (total) global retail sales growth have been trending lower for the past two years. The strong growth of the past decade is already losing steam. In Q3, nearly every performance metric disclosed by the company was down from Q3 2017 and I expect this trend to continue. Global retail sales growth of 10.4% y/y slowed 380 basis points from 14.2% in Q3 2017, domestic stores same-store-sales growth of 6.3% was down 210bps from 8.4% last year. International retail sales fell the most abruptly to 9% y/y from 16.3% in Q3 2018, pointing to the biggest risk.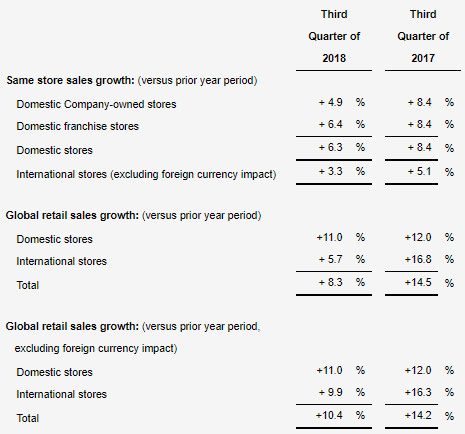 DPZ Q3 2018 Earnings Presentation. - Source: Domino's Pizza, Inc.
The operational metrics are part of a longer trend decelerating since 2015. Domestic stores sales growth peaked in 2015 at 14.2%, while international sales growth peaked in 2016 at 17.5%.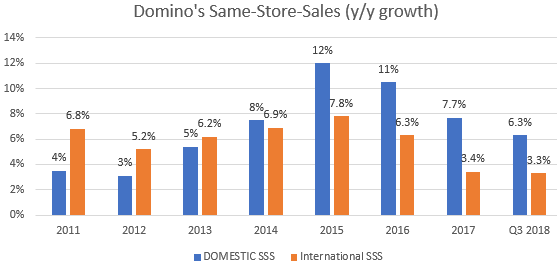 DPZ Same Store Sales. Source: Dominos Investor Presentation. Author Analysis
On its own 6.3% same-store-sales is fine but raises questions regarding company guidance over the next 3-to-5 year period which would be the slowest since 2012. Management is guiding for domestic and international same store sales in the 3% to 6% range. Domino's is already at the lower end of the range for international segment and domestic operations are expected to slow from here. Global retail sales (net revenues) growth of +8 to +12% in the outlook to me has the biggest risk of disappointing. Q3 revenue growth was 9.3% y/y and it will be difficult for the company to reach the top end of these projections.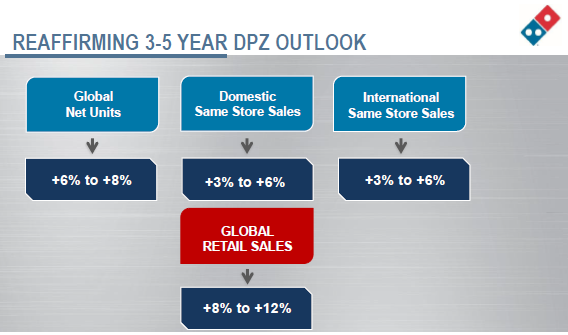 DPZ 3-5 year outlook, revenue guidance. Source: Dominos Investor Presentation
The Bear Case
The stock right now is trading under the assumption of the attaining high-end guidance estimates which I believe is at risk. Results at the low end of guidance will be a big disappointment and send the stock lower. Domino's faces the challenge of remaining relevant among multiple choices for consumers in the highly competitive fast food segment. I believe the market is saturated with Domino's locations globally (more so in the United States) in all strategically important geographies. Anecdotally, go to any major city in the world and Domino's is likely already just a call away. The company relies on the international market for 70% of revenues which becomes a concern in an environment of more volatile global growth.
Grubhub (GRUB) mobile food ordering is in direct competition with Domino's proving more choices for pizza from smaller independent businesses through its platform. I expect a broader trend of margin pressures in the industry in the years ahead.
Valuation Matters
Shares of DPZ look stretched here with a market cap of 11.5 billion, trailing-twelve-month P/E of 39x, and forward P/E 29x. The company earned $5.83 per share in 2017, forecast to grow to $8.34 per share for the fiscal year 2018, and $9.52 in 2019. My price target of $220 per share is about 26x 2018 earnings which I think is comes closer to a normalized industry average. There is also the downside of earnings estimates which I expect to begin following this weaker Q3 release.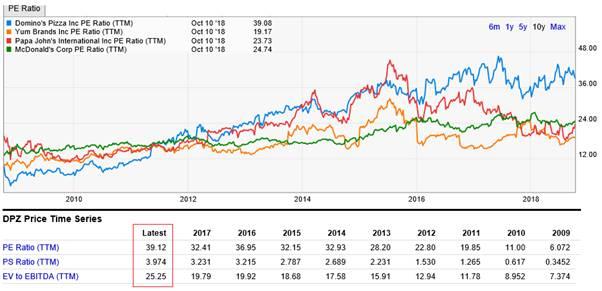 EV/EBITDA and P/E comparables trading chart (10/10/2018). Source: ycharts.com
DPZ's current price-per-earnings, price-per-sales, and enterprise value to EBITDA reflect the most expensive the stock has been in at least 10 years. Its one thing to justify premium levels of valuation when a stock is in its high growth stage; but Domino's is past that. DPZ is not some tech company with unlimited market white space around the world. DPZ is also expensive among a peer group that includes Yum Brands (YUM), Papa John's (OTCPK:PAPA), McDonald's (MCD), Starbucks (SBUX), and Dunkin Brands Group (DNKN). On average DPZ trades at about a 60% premium in terms of EV/EBITDA and forward price-per-earnings to the industry. Domino's deserves some premium, to the group given the quality of its earnings, but I believe the valuation gap should narrow as growth cools off.
Conclusion
Domino's is entering a new phase of moderating growth and its currently high valuation leave it little room for operational error. The company has a significant amount of business in emerging markets which represent a risk to earnings in the current environment of increased volatility. The challenge will be to maintain growth in saturated and mature markets while fending off competition from other fast food alternatives and emerging competitors like (GRUB).
Disclosure: I/we have no positions in any stocks mentioned, and no plans to initiate any positions within the next 72 hours. I wrote this article myself, and it expresses my own opinions. I am not receiving compensation for it (other than from Seeking Alpha). I have no business relationship with any company whose stock is mentioned in this article.
Editor's Note: This article covers one or more microcap stocks. Please be aware of the risks associated with these stocks.