Fuel retailer and C-store operator CrossAmerica Partners LP (CAPL) has been a standout in the fuel retail sector over the last several quarters for the wrong reasons. Its unit price has steadily underperformed the share prices of its peers Casey's General Stores (CASY) and Murphy USA (MUSA) both over the TTM period and the last five years (see figure). This poor unit price performance is even more surprising given that the fuel retail sector benefited from substantial tailwinds between 2015 and 2017 as low energy prices resulted in higher sales volumes and widening margins for both fuels and merchandise. CrossAmerica's unit price has defied conventional wisdom despite these favorable conditions by declining first when fuel prices declined in 2015 and then again when they rebounded in late 2017/early 2018.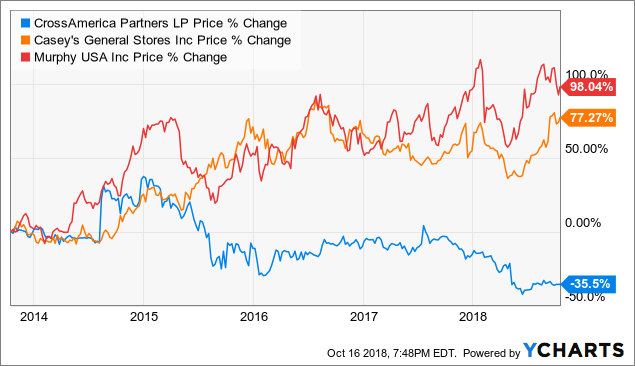 CrossAmerica is unique within the fuel retail sector in that it is a MLP. As such its primary attraction is its high distribution rather than its potential for unit price appreciation. It has provided its unitholders with a distribution yield of between 6% and 15%, depending on its underlying unit price movements, since early 2015 that has compared very favorably with the dividend yields of Casey's (low single-digits) and Murphy USA (non-existent). CrossAmerica's unitholders have fared poorly even on a total return basis, however, having roughly broken even over the last five years on a nominal basis (see figure).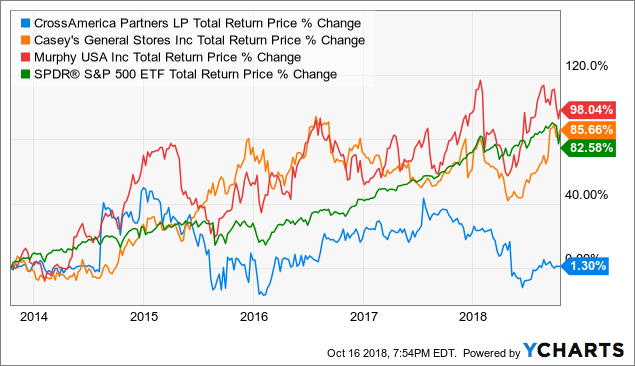 What is most surprising about CrossAmerica's unit price performance is that it has been roughly as adept as the rest of the independent fuel retail sector at converting the tailwinds of recent years into financial returns. Its EBITDA results have varied over time, but the MLP has managed to achieve stronger overall EBITDA growth over the last five years than either of its main peers (see figure). Its EBITDA margins over the same period have not managed to keep up with those of best-in-class Casey's, but they have topped those of Murphy USA in each of the last five year's except 2015.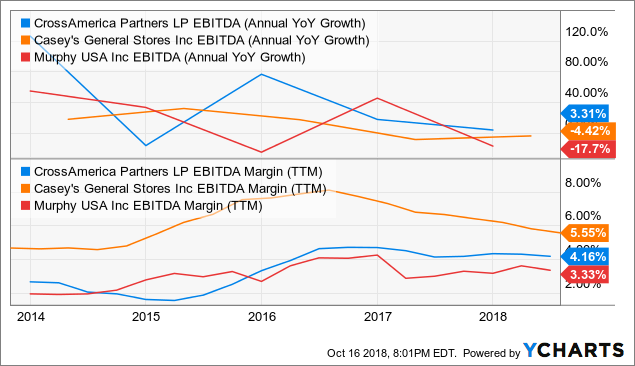 Most importantly for a MLP, CrossAmerica reported impressive operating cash flow growth between 2014 and 2016 (see figure) and it has managed to keep that result near its earlier highs in 2017 and 2018. This performance, too, compares favorably with Casey's and Murphy USA, although operating cash flow growth is not quite as important to those two firms given their lack of dividend prioritization.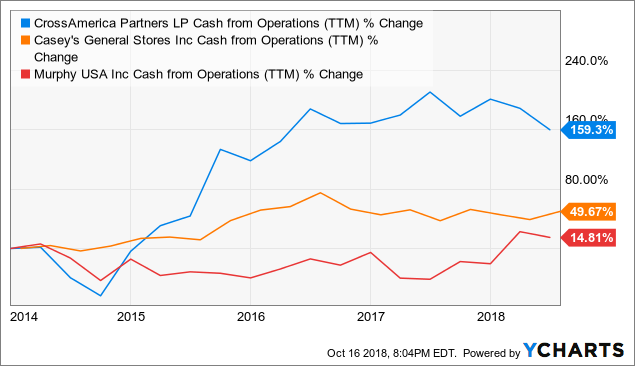 In keeping with its unique status, CrossAmerica converted its rising operating cash flow into steady distribution increases for its unitholders between late 2013 and early 2018, at least until it implemented a substantial cut earlier this year (see figure). This contributed to its rising distribution yield given its underlying unit price weakness (see second figure).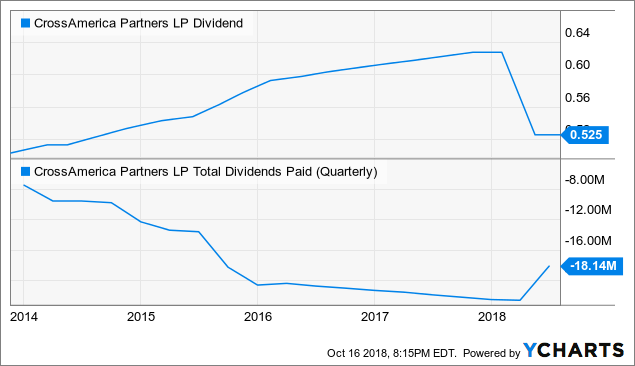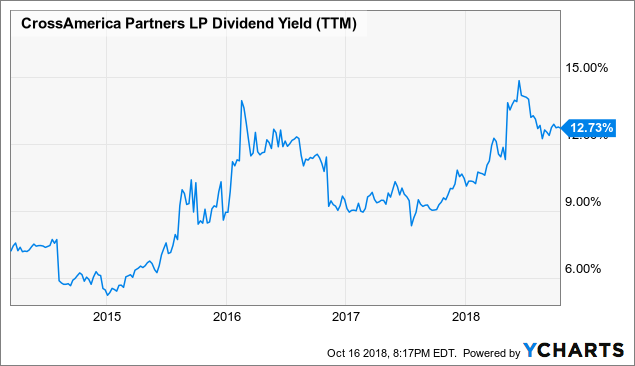 Two factors do much to explain why CrossAmerica's unit price has fared so poorly over the last several years despite the company's favorable operating conditions, both of which are directly connected to its status as a MLP. First, Casey's and Murphy USA both used the proceeds of the high-margin, high-volume environment that prevailed after 2014 to acquire new retail capacity and, especially in the case of the former, invest heavily in their existing capacity. CrossAmerica has achieved nowhere near the same asset growth rate since early 2016 (see figure) due in large part to the fact that, as a MLP, it has paid out the large majority of its distributable cash flows to its unitholders through its distribution, leaving it with little cash remaining for asset expansion.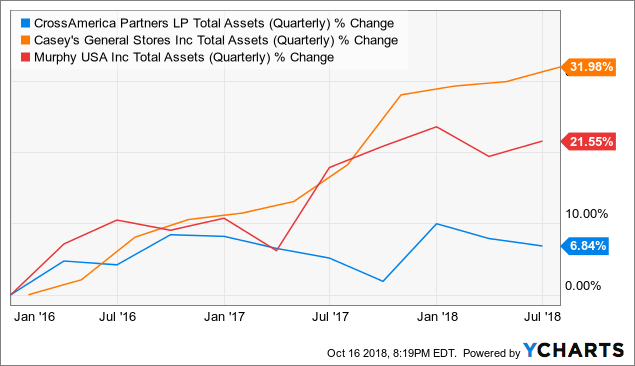 Second, CrossAmerica's lack of liquidity even in 2015 and 2016 forced it to dilute its unitholders via substantial equity raises (see figure). This strategy contrasted sharply with the large buyback programs that Casey's and Murphy USA have both maintained and even expanded over the last several years. One consequence of this difference is that CrossAmerica's units have experienced modest dilution since early 2016 whereas the number of shares outstanding for Casey's and Murphy USA have declined by 6% and 22%, respectively, over the same period (see second period).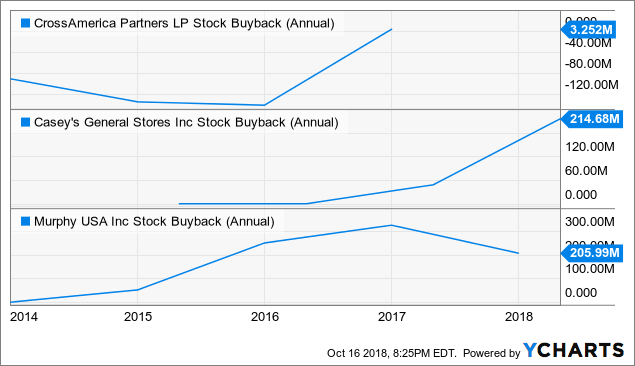 The good news for CrossAmerica's unitholders is that the MLP's sponsor CST Brands (CST) was purchased by Canadian fuel retailer and C-store operator Couche-Tard (OTCPK:ANCUF) last year for $4.4 billion. Since then CrossAmerica's management has taken initial steps to bring its cash flows under control, including a painful but important 17% cut to the quarterly distribution in Q2 that brought it down to a level not seen since Q4 2014. This step brought the MLP's distribution coverage ratio up from 1x in Q2 2017 to 1.11x in Q2 2018 despite a 6% reduction to its distributable cash flow over the same period.
The bad news for CrossAmerica's unitholders is that the headwinds that allowed it to increase its distribution prior to this year have faded as the prices of gasoline and diesel have rapidly increased (see figure). Rising fuel prices normally result in declines to sales volumes and the compression of both fuel and merchandise margins as consumers do more comparison shopping for fuel and respond to spending more at the pump by spending less on merchandise. Unlike Casey's, which has managed to avoid this tailwind by investing heavily on product optimization, and Murphy USA, which has bolstered its share price through heavy buybacks, CrossAmerica faces this less helpful environment with a rising debt burden (see second figure) and a distribution coverage ratio that still leaves little room for future cash flow declines despite the recent distribution cut.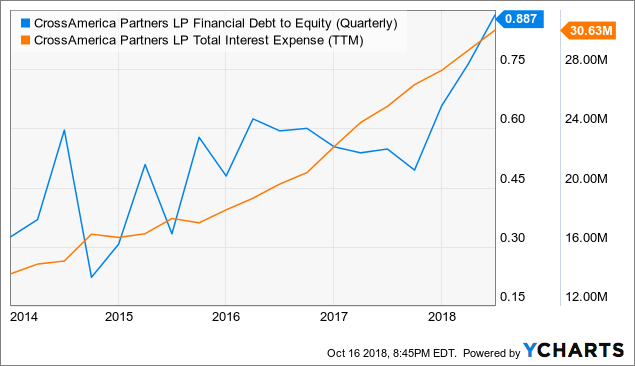 Investors might be tempted to initiate long positions in CrossAmerica given its declining unit price and double-digit distribution yield. While it achieved a solid record of EBITDA growth and EBITDA margins during the favorable operating environment that prevailed between 2015 and 2017, investors should be aware of the fact that its past distributions and dilutive approach to its unitholders left the MLP in a much weaker position than its non-MLP peers at a time when headwinds are now strengthening due to rising fuel prices. CrossAmerica has underperformed relative to both the S&P 500 and its non-MLP peers over the last several years for a reason, and, while its management has responded to last year's acquisition of its sponsor by taking some difficult but necessary steps to improve this situation, it has little leeway given increasingly-adverse operating conditions.
Disclosure: I/we have no positions in any stocks mentioned, and no plans to initiate any positions within the next 72 hours.