Late in 2017, we wrote an article covering the stocks with the highest number of Buy Recommendations relative to total recommendations. They were named the Best Stocks of 2018 because of the relative optimism within the analyst ranks. With 3 out of 4 quarters in the record books, let's see how some of these stocks performed.
Overall, analyst recommendations did do a decent job of predicting outperformance. The chart below shows the average performance of the group of stocks by decile, based on the rankings generated in late 2017. The 10 stocks with the highest number of buy recommendations are grouped in quartile 1, while the stocks with the least number of buy recommendations are grouped in quartile 10. The list is based on the original list of 100 stocks published here.
Overall, the tendency has been for stocks with a greater number of Buy recommendations to outperform those with fewer Buy recommendations. But the results thus far haven't been very clear-cut.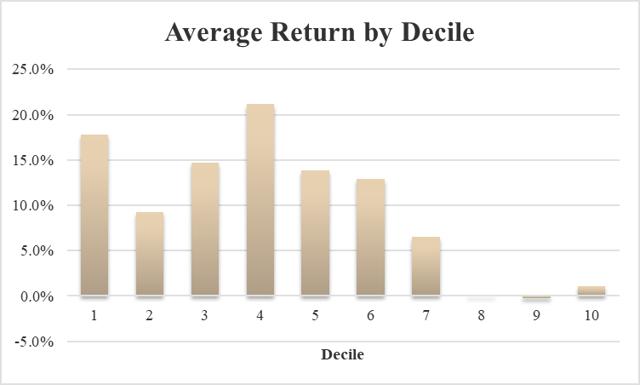 Stocks in the top decile have generated, on average, a total return for shareholders of 17.8%. That is the second highest performance among deciles, which is led by companies in the 4th decile. Those stocks have returned 21.1% YTD.
Readers may recall the rankings shown below. Alibaba (BABA) had 47 Buy recommendations of a total analyst coverage of 49, putting it at the number one spot with a 96% Buy Rating. Unfortunately, BABA has declined 5.8% so far this year, putting it at #74 of the Top 100 stocks going into 2018. (Unfortunately, we couldn't get the entire list to show legibly.)
December 2017 Analyst Consensus Ratings - Top 10

Which company is #1? Netflix (NFLX) with a return of 77% YTD despite only 60% Buy recommendations as of late 2017.
A regression of rank, based on number of buy recommendations, compared to YTD performance confirms that, to some degree, consensus analyst estimates are good predictors of future performance. The chart below plots all companies still in existence with their analyst buy at the end of 2017, relative to their YTD performance. A downward sloping line - albeit with a very mild slope - is indicative that number of buy recommendations is a good indicator of future returns.
That said, the data isn't very tight. Notice the dot plots aren't necessarily hugging the trend line, meaning the relationship is weak, at best - but it does exist.
The other point I'd like to make is that even in the higher ranked stocks, there is considerable dispersion. Within the top 20 percentile of analyst rankings, stock returns ranged from 60% to declines of around 40%. Unless you're going to invest in all of the stocks within a specific decile, you better pick the right stock!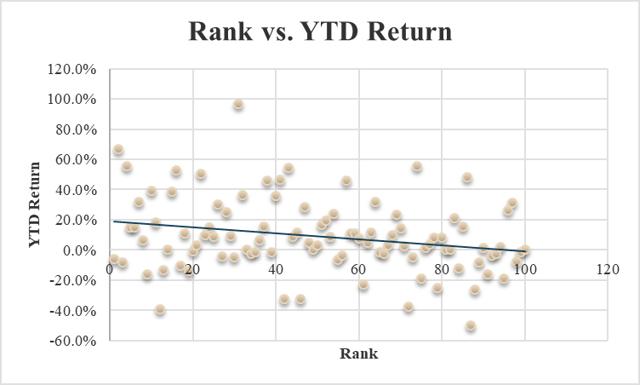 The following is the list of Top 10 performing stocks from the list presented in December 2017 along with their YTD total return and rank at the time of the previous article. The table also shows the current percentage of Buy recommendations currently active. If you want the entire list, please message me.
YTD Returns for 2018 Best Stocks - Top 10

The Take Away
The moral of the story is to be very wary of analyst consensus estimates as they too are prone to human error and are not privy to a crystal ball any more than you and I.
However, in aggregate, consensus analyst recommendations could be a good place to begin your search for potential winners. Just make sure you do your own diligence too.
Readers probably know well enough to know that they should take analyst recommendations with a grain of salt. Full disclosure - we too rely on third-party research to give us insight into a broader investment universe than we can cover ourselves, but we do our own research in addition to the third-party research we pay for - so we can make credible and justifiable investment recommendations. We suggest readers do the same.
Disclaimer: Please note, this article is meant to identify an idea for further research and analysis and should not be taken as a recommendation to invest. It is intended only to provide information to interested parties. Readers should carefully consider their own investment objectives, risk tolerance, time horizon, tax situation, liquidity needs, and concentration levels, or contact their advisor to determine if any ideas presented here are appropriate for their unique circumstances.
Past performance is not an indicator of future performance.
Investing in any security has risks and readers should ensure they understand these risks before investing.
Real Estate Investment Trusts are subject to decreases in value, adverse economic conditions, overbuilding, competition, fluctuations in rental income, and fluctuations in property taxes and operating expenses.
This post is illustrative and educational and is not a specific offer of products or services.
Information on this blog is not an offer to buy or sell, or a solicitation of any offer to buy or sell the securities mentioned herein, nor is the author compensated by any of the products mentioned.
Information presented is believed to be factual and up-to-date, but we do not guarantee its accuracy and it should not be regarded as a complete analysis of the topics or subjects discussed.
Information presented is not believed to be exhaustive nor are all the risks associated with the topic of each article explicitly mentioned. Readers are cautioned to perform their own analysis or seek the advice of their financial advisor before making any investment decisions based on this information.
Investment decisions should be based on an individual's own goals, time horizon, and tolerance for risk. Nothing in this content should be considered to be legal or tax advice and you are encouraged to consult your own lawyer, accountant, or other advisors before making any financial decision.
All expressions of opinion reflect the judgment of the author, which does not assume any duty to update any of the information.
Any positive comments made by others should not be construed as an endorsement of the author's abilities to act as an investment advisor.

REITs, Opportunities, & Income ((ROI)): High potential ROI investment ideas for your portfolio
While much of our coverage is focused on REITs, we also provide in-depth research on small-cap growth stocks, macroeconomic analysis, and income growth opportunities. I also share details on a concentrated REIT portfolio designed to outperform the MSCI US REIT Index with lower volatility.
Try it free for two weeks with no obligation
Start a free trial now and enjoy a 10% discount.
Disclosure: I am/we are long AMZN,AAPL,AMT,FB. I wrote this article myself, and it expresses my own opinions. I am not receiving compensation for it (other than from Seeking Alpha). I have no business relationship with any company whose stock is mentioned in this article.