Market Intro


CNBC: 10:04 AM EST
US stocks (SPY, DIA, QQQ, IWM) are down in the Wednesday morning session after a fantastic run higher on Tuesday. The losses are fairly even between the four indices.

Sovereign yields cannot take the blame today. Indeed, after spiking a couple weeks ago, Treasury yields are off their highs and have behaved in fairly low-key fashion. Today's Fed minutes may offer reasons for this state of affairs to shift back to one where yields cover a wider range of values.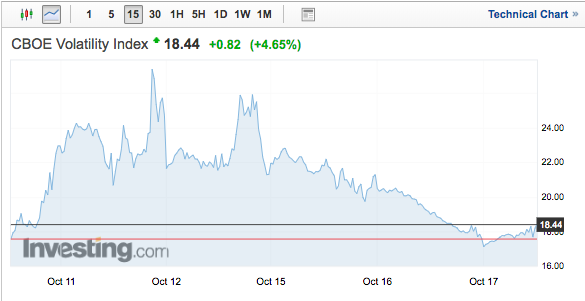 Speaking of wide ranges, spot VIX has made quite the round trip over the last five days. Below I discuss some reasons as to why I believe a roaming VIX is very much in the cards over the next couple weeks.
Thoughts on Volatility

Ms. Sonders makes an important point, because it highlights the fact that there is a pretty strong mechanical argument for higher Treasury yields (IEF, TLT, AGG). My belief is the one major event that could drive yields lower is a panic.
A lot of asset valuations were justified on the sinking sand of low rates…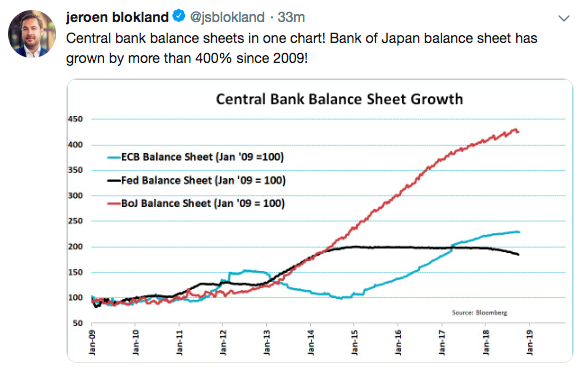 Sure the Fed is letting securities bleed off their balance sheet. Really this is reintroducing supply out into the open markets; most of the money from their purchases sloshed around as excess reserves. But now liquidity may become psychologically dearer.
Of the three banks, the Fed has likely jeopardized its nation's long-term interests the least. And I'm not saying that as a chest-pounding #Merican.
In my estimation, the Eurozone (VGK) and Japan (EWJ) have set the stage for a true melt-down at some unforeseeable future point, as their central banks are now captive to the broader, thrashing markets.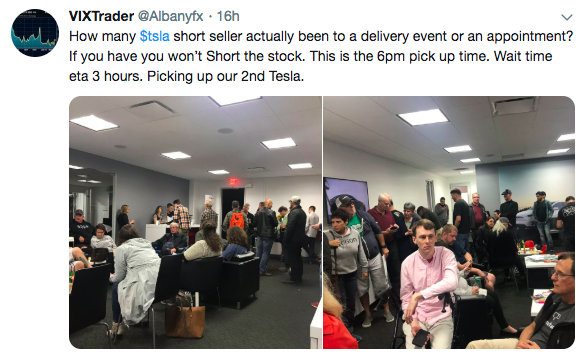 …No. This kind of thinking justifies any and every valuation. I've been to Toys R' Us (now where's that ticker...) near Christmas and it was jam packed… was that a bad short? It's okay to invest in an innovative theme that has captured a lot of excitement, but the kind of thinking above does not really amount to a rebuttal of a well-considered thesis (as an aside, I have never had any position in TSLA, short or long).
Term Structure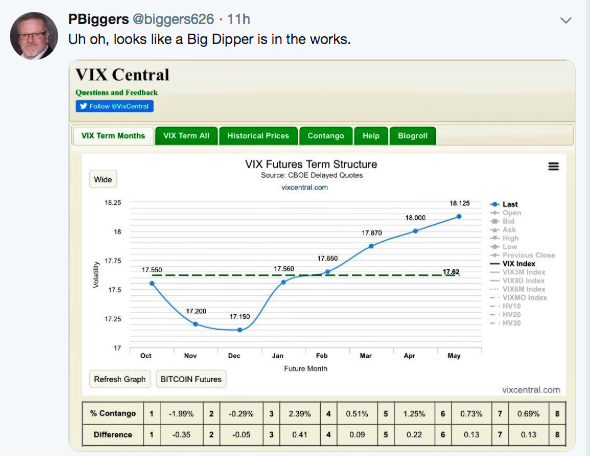 The October contract expired this morning, and so the upward lilt at the left of the graphic above is now gone: no more star gazing!
Even so, the term structure has taken on an odd shape. What I'd like to highlight here is that we saw a lot of sloppy action that left us more or less range bound between spot VIX 15 and 25 between Feb and early May.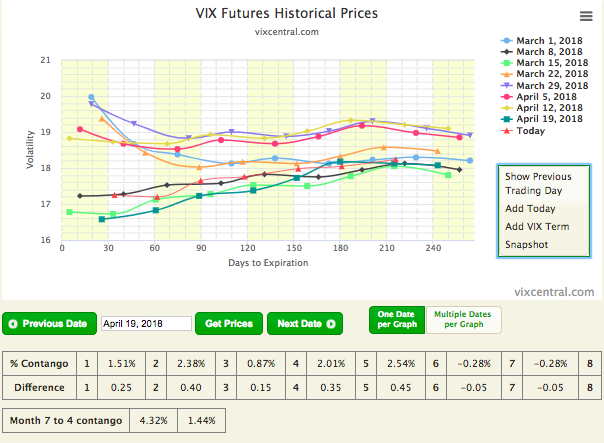 The term structure took on a wide variety of shapes over that period. From what I'm reading and seeing, many seem to be so used to buying the dip in equity that they just assume last week's move can only be spasmodic.
Sorry: these things can take awhile, even under the scenario where we recover (let's not even discuss what happens if we do not).
For now, it's best to think of our current market as volatile, at least from the perspective of most of the last seven years or so. In other words, SPX market direction can really go either way, but I expect for VIX to whip around - both higher and lower - for at least a couple weeks.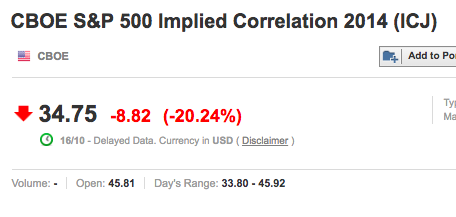 Talk about whipsaw - The Implied Correlation Index, which draws to its close in a month or so (it will be replaced by JCJ), shot from the low 20s, into the mid 40s, and crashed yesterday from almost 46 to 34! Implied correlations between individual S&P names is a major driver of volatility.
The large gyrations in this index insinuates that spot VIX may be quite unstable here… and this index is more or less in the middle of its recent range, which is to say that it could easily blast further in either direction.
Conclusion
If this is your first time reading Market Volatility Bulletin, thanks for giving it a try. If you're a regular, we thank you for your ongoing contributions in the comments section.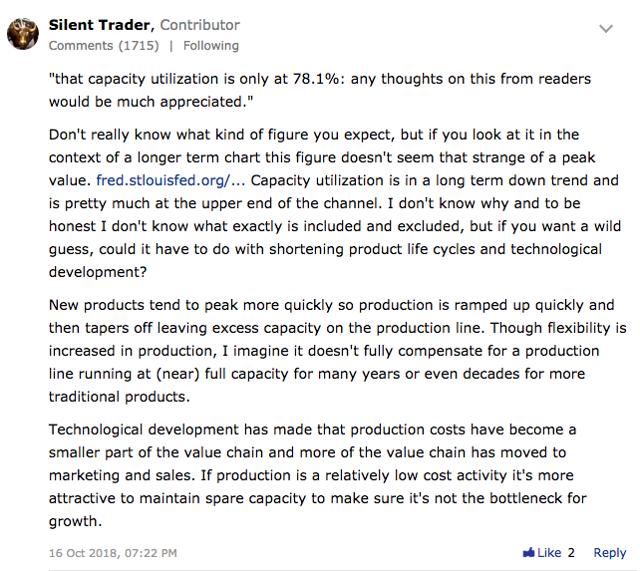 Silent Trader responded yesterday to my open question as to why capacity rates were low when unemployment rates were also near historic lows.
And I'm so glad he did. I've read ideas akin to what he shares, but he really boils this down to a few salient points. In particular I liked the notion that as production costs shrink relative to the whole of the value chain, then the marginal cost of having some unused capacity essentially amounts to a call option on bursts in demand.
Thank you for reading.
Please consider following.
Disclosure: I/we have no positions in any stocks mentioned, and no plans to initiate any positions within the next 72 hours. I wrote this article myself, and it expresses my own opinions. I am not receiving compensation for it (other than from Seeking Alpha). I have no business relationship with any company whose stock is mentioned in this article.
Additional disclosure: I actively trade the futures and options markets, potentially taking multiple positions on any given day, both long and short. I also hold a more traditional portfolio of stocks and bonds that I do not "trade". I do believe the S&P 500 is priced for poor forward-looking returns over a long timeframe, and so my trading activity centers around a negative delta for hedging purposes.