American multinational tobacco producer Philip Morris International (NYSE:PM) is set to unveil its third quarter of 2018 earnings Thursday, as the industry undergoes radical shifts in product offerings, innovation, and regulatory scrutiny.
PM had cut its earnings outlook in Q2 2018 to reflect the effect of certain product and marketing initiatives, including the end-of-year debut of its next generation of reduced-risk IQOS devices.
IQOS is designed to heat special-manufactured tobacco units up to 350°C, without combustion, fire, ash, or smoke.
The company said the move requires reducing its inventory of current devices, with the ramp-up of the new models anticipated in 2019.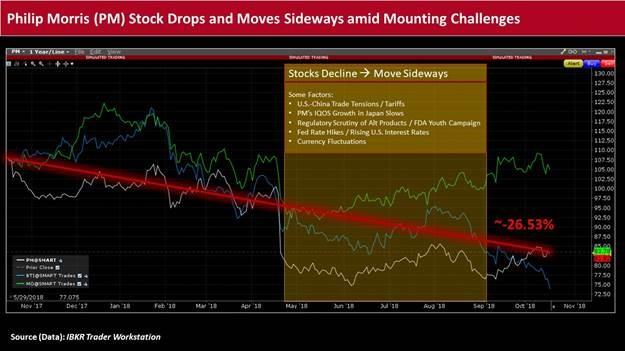 While PM expects to earn between US$5.02-5.12 per share for the full-year 2018, down from its prior guidance of US$5.25-5.40, the range remains well above (+29-32%) its 2017 performance level.
Gimme Credit analyst Carol Levenson recently noted that although PM is "facing much slower growth" in Japan - its lead market for the IQOS product - it is "important to remember" that heated tobacco units only represent 5% of the firm's volume.
In Q2, combined volume rose 0.9%, with cigarette volume down 1.5% and heated tobacco unit volume up nearly 75%, "a dramatically slower rate of growth than in previous quarters," Levenson continued. She added, however, that reduced-risk products (RRPs) are "beginning to make a difference as they are introduced in select markets, and are offsetting to some extent the secular cigarette volume decline."
Targeting health benefits
Meanwhile, PM appears to be exploiting the purported health aspects of IQOS, while it aims to reinvigorate its sales in Japan.
In June, PM - the New York-based maker of iconic brands, including Marlboro and Chesterfield - noted there were "positive results" from a clinical study on IQOS, which claims to have demonstrated improvements in the biological response of people who switched from smoking to the smoke-free product for six months.
PM's chief medical officer Frank Luedicke said the results were "very encouraging" and continue "to point in the direction of risk reduction."
The firm, which boasts sales of IQOS in 43 international markets, claims that since there is no burning, "the levels of harmful chemicals are significantly reduced compared to cigarette smoke."
Moreover, PM added that the study met its primary objective:
all eight of the primary clinical risk endpoints moved in the same direction as observed for smoking cessation in the group who switched to IQOS, with statistically significant changes in five of the eight endpoints compared with on-going smoking. These clinical risk endpoints are associated with diseases including heart and lung diseases, covering multiple organ systems, disease pathways, and biological mechanisms such as inflammation and oxidative stress."
However, not all analysts have been encouraged by the study's findings.
Stanton Glantz, director at the Center for Tobacco Research Control & Education, for example, said the results "sound pretty good until you note that this study only examined 8 clinical measures, compared to the 24 in the earlier study submitted to the FDA." Furthermore, there is "still not good evidence publicly available" that the IQOS products are safer than cigarettes, he said, adding that this "particular study also raises questions about manipulating the experimental design, something Philip Morris and other tobacco companies have a long history of doing."
Market perception
Against this backdrop, PM's stock has taken a steep plunge of more than 26.5% year-on-year after meandering sideways the past few months.
Bondholders have also felt the sting as certain company bond yield rates have moved higher.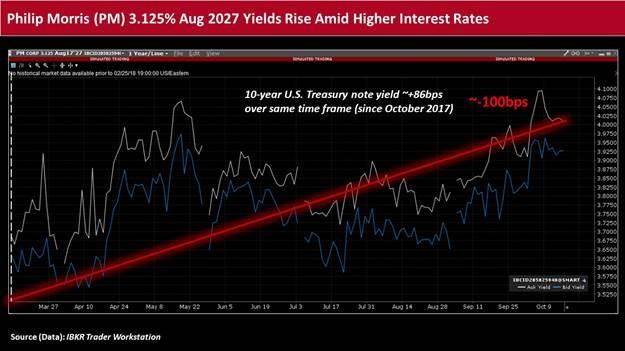 The yield on the 3.125% notes due August 2027, for instance, has risen nearly 100bps since October 2017, amid a roughly 90bps climb in the yield of the 10-year U.S. Treasury note over the same period.
The firm's 2027s were last offered at a yield of roughly 4.01%.
Although PM's earnings had been generally keeping pace with debt increases, the company's leverage has also recently risen, as EBITDA has been facing currency pressures.
However, the market's overall perception about PM's creditworthiness remains in positive territory, with the spread on the company's five-year credit default swaps (CDS) trading only about 3.5bps wider over the past three months to under 62.5bps.
Other equities, including British American Tobacco (NYSEMKT:BTI), Altria Group (NYSE:MO), and Pyxus International (NYSE:PYX) have also fallen recently, amid broader risk aversion as well as heightened trade-related tensions between the U.S. and China.
Seeking growth
As the population of smokers generally declines, tobacco companies have been pursuing alternative paths towards growth.
PYX, for example, offers blends of tobacco, menthol and flavors for cigarettes, pipes, 'roll-your-own' (RYO), and cigars. However, given its flavored product line, PYX, along with certain other domestic tobacco companies, face a potential regulatory threat from the U.S. Food and Drug Administration (FDA).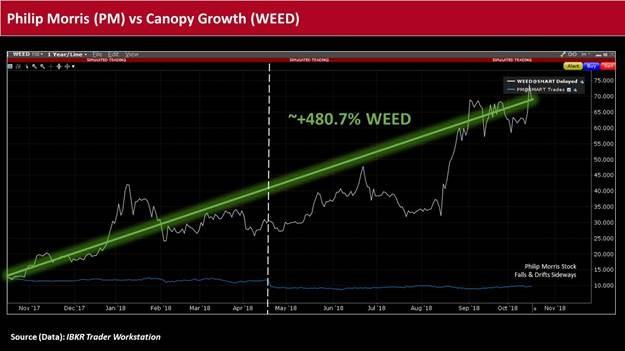 FDA commissioner Scott Gottlieb recently said that, among other steps aimed at combatting youth access to tobacco products, the administration was targeting the use of flavors. Gottlieb said:
We know that the flavors play an important role in driving the youth appeal. And in view of the trends underway, we may take steps to curtail the marketing and selling of flavored products. We're now actively evaluating how we'd implement such a policy."
As the potential new regulations threaten PYX's portfolio of products and services, the firm has been busy exploring other options.
Pyxus CEO Pieter Sikkel said the company is "continuing to make measured investments in industrial hemp, e-liquids and legal Canadian cannabis business lines."
With Canada's legalization of recreational cannabis coming on-line, Sikkel added that construction work has been underway for its wholly owned, indirect Canadian subsidiary FIGR to expand its greenhouse and warehouse capacity in that market.
The Canadian Cannabis Act, which becomes effective Wednesday, creates a strict legal framework for controlling the production, distribution, sale, and possession of cannabis across the country.
Among the legislative provisions, adults who are 18 years or older will be able to legally purchase cannabis, and cannabis oil, from a provincially-licensed retailer.
The new law has sparked a wave of investor attention on Canada's cannabis producers, including Canopy Growth (TSX: WEED, CGC) - which received close to US$4bn from U.S.-based alcoholic beverage maker Constellation Brands (NYSE:STZ) in mid-August.
By contrast to the recent fall in more traditional tobacco companies' shares, Canopy Growth has ballooned by almost 500% year-on-year.
Note: This material was originally published on IBKR Traders' Insight on October 16, 2018.
The analysis in this material is provided for information only and is not and should not be construed as an offer to sell or the solicitation of an offer to buy any security. To the extent that this material discusses general market activity, industry or sector trends or other broad-based economic or political conditions, it should not be construed as research or investment advice. To the extent that it includes references to specific securities, commodities, currencies, or other instruments, those references do not constitute a recommendation by IB to buy, sell or hold such investments. This material does not and is not intended to take into account the particular financial conditions, investment objectives or requirements of individual customers. Before acting on this material, you should consider whether it is suitable for your particular circumstances and, as necessary, seek professional advice.
Disclosure: I/we have no positions in any stocks mentioned, and no plans to initiate any positions within the next 72 hours. Business relationship disclosure: I am receiving compensation from my employer to produce this material.
Editor's Note: This article discusses one or more securities that do not trade on a major U.S. exchange. Please be aware of the risks associated with these stocks.