Indexing's meteoric rise introduced investors to the value of prioritizing low costs, transparency, and consistency in their portfolios.
With that growth comes increased scrutiny. Recent criticisms—indexing is too big, indexing creates higher market volatility, indexing distorts capital markets, to name a few—have made their way into headlines. But our research suggests that many of these are unfounded.
An in-depth look at the data not only dismisses some of these claims outright, but it also helps support the case for investing across the indexing universe.
Indexing is a small part of the global market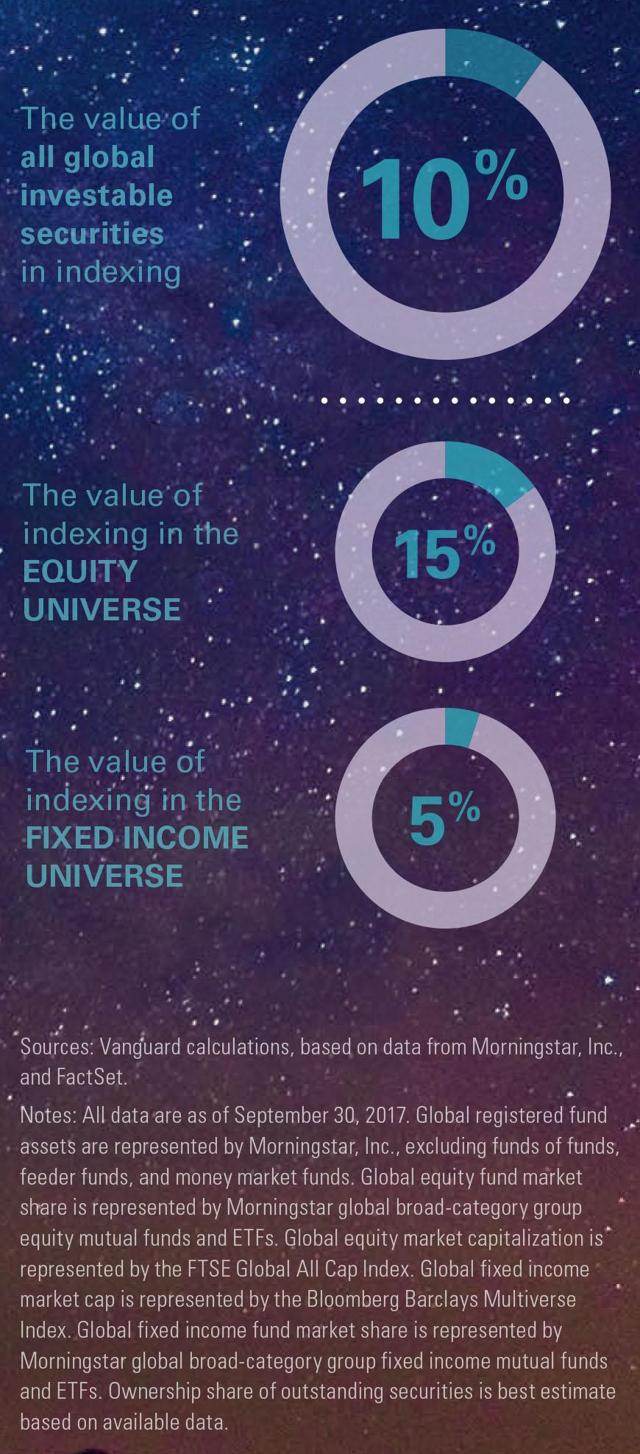 What indexing is
Many criticisms of indexing stem from the use of data points that are skewed by a given party's definition of the indexing marketplace.
Index strategies are constructed to match or track the components of a market index. By this definition, they represent just a fraction of the market. Index funds own about 10% of the value of all global investable securities and account for about 30% of registered fund assets.
Indexes are passive, but not always used that way At first glance, indexing's growth might suggest a glut of portfolios performing in lockstep with the broad market. But the average index fund investor hasn't exactly tracked the broad market, bucking those expectations.
Compared with Vanguard Total Stock Market Index Fund, investors' returns on average have fluctuated from outperforming by 14% to underperforming by 8% at various intervals over the past two decades.
Put simply, the adoption of passive products doesn't automatically lead to overall passive portfolio allocations.
Investors use index funds, but build active portfolios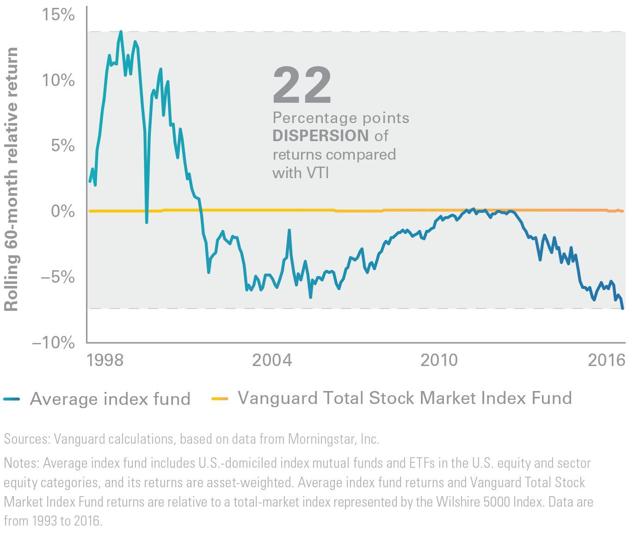 Indexing's growth: No cause for concern
Some detractors say indexing's growth creates a market with fewer opportunities to pick winning stocks, increased volatility, and increased trading volumes that may cause market dislocations. However, none of these claims can be attributed to the rise of indexing.
Indexing doesn't affect price dispersion
One of these ideas is that indexing raises market correlation and leads to active underperformance. But defining market opportunity through security dispersion—the percentage of stocks that either out-or underperform the index by at least 10 percentage points—tells a different story. Doing so proves that dispersion levels have remained fairly stable over time despite the growth of passive's market share.
No more, no less challenging for active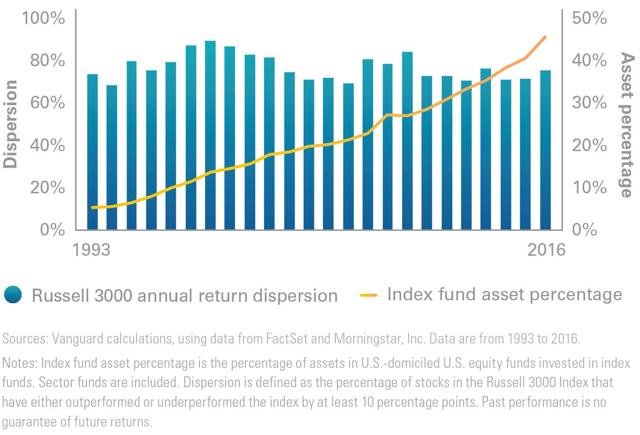 Daily trading volume on U.S. exchanges: Indexing has minimal impact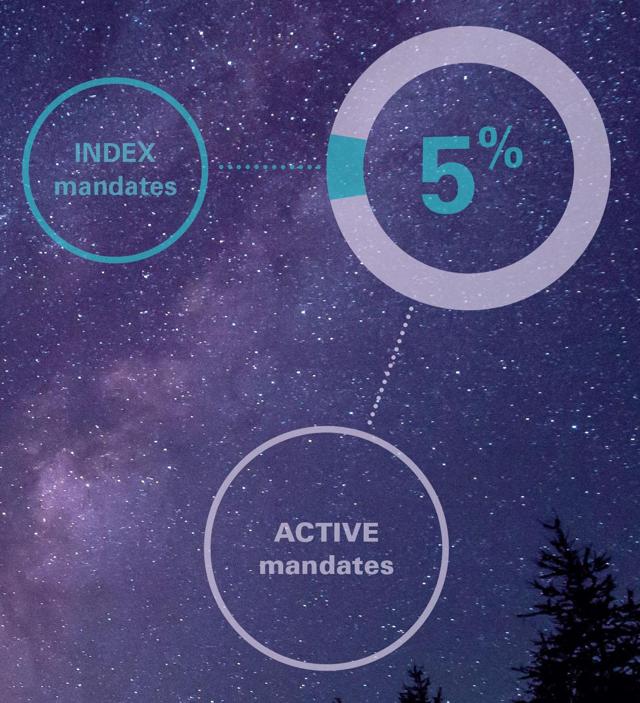 There's no connection between indexing and market volatility
Critics also express concerns about a relationship between indexing and higher market volatility, but the data tell a different story. Even as index funds' share grew, the market's standard deviation rose and fell at a seemingly random pattern, save for time periods associated with the tech bubble and the great financial crisis.
Passive asset percentage and market volatility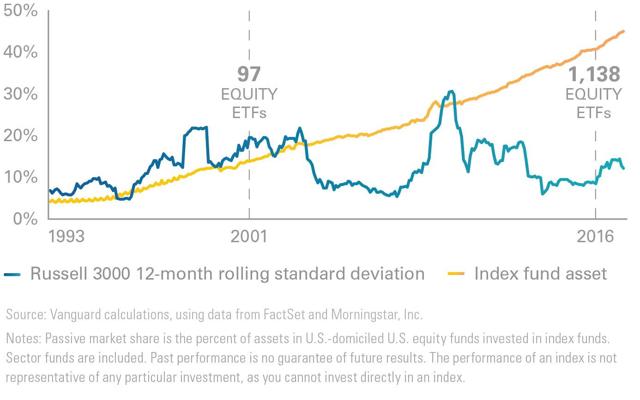 Active still drives price discovery
Others argue that increased indexing activity leads to a decrease in price discovery. However, because index strategies have low turnover and trade at the margin across a large list of securities, they have minimal impact on trading activity.
Portfolio management of indexing makes up about 5% of daily trading volume on U.S. exchanges. Other market participants, such as retail investors, high-frequency traders, and pension funds, account for the vast majority of trading volume. Active participants dominate securities trading and facilitate price discovery.
The upside of indexing
Erroneous arguments against indexing aside, there are real advantages to indexing. And the numbers prove it.
Relative investing is a zero-sum game
One of the major credits to indexing's success is the zero-sum game theory, which states that every dollar earned through outperformance is offset by a dollar lost elsewhere in the market. To put it simply, for every winner, there must be a loser.
Performance supports zero-sum theory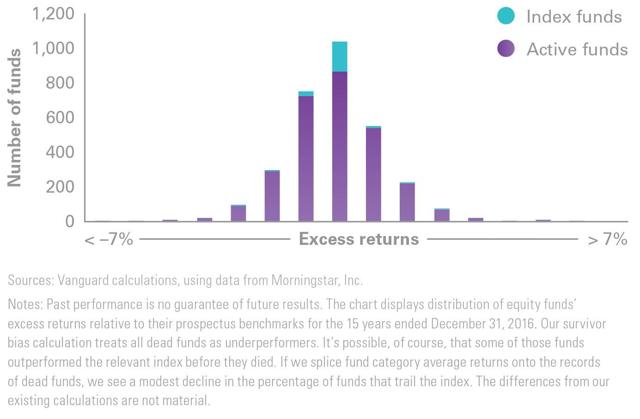 As you can see, outperformance tends to be less likely than underperforming or tracking the market.
Costs drag returns and affect investment outcomes
Not only would every investor beating the market be mathematically impossible, the zero-sum game doesn't even consider costs. Investors are subject to plenty of charges, including management fees, administrative costs, market-impact costs, and taxes.
You might think that paying more increases the likelihood of success. But historically, the higher a fund's fees, the lower its propensity to outperform. In many cases, you can help increase the chances of outperforming by simply seeking the lowest possible cost for a given strategy.1
Small-cap blend funds' excess returns versus expense ratio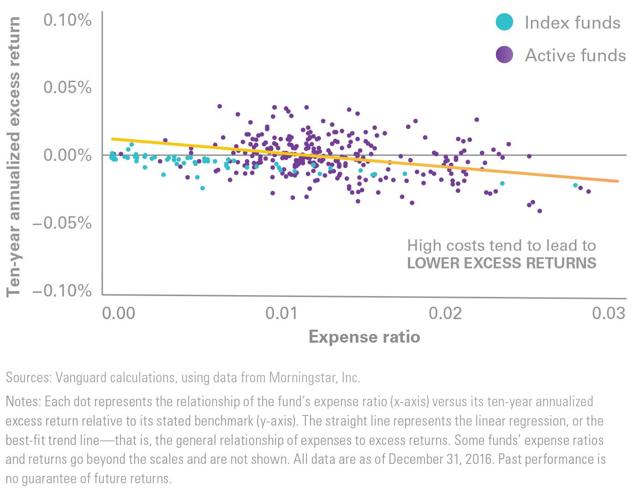 1 Daniel Wallick, Neeraj Bhatia, Andrew Clarke, and Raphael Stern, 2011. Shopping for alpha: You get what you don't pay for. Valley Forge, Pa.: The Vanguard Group.
Performance of active funds versus their style benchmarks
15 years ended December 31, 2016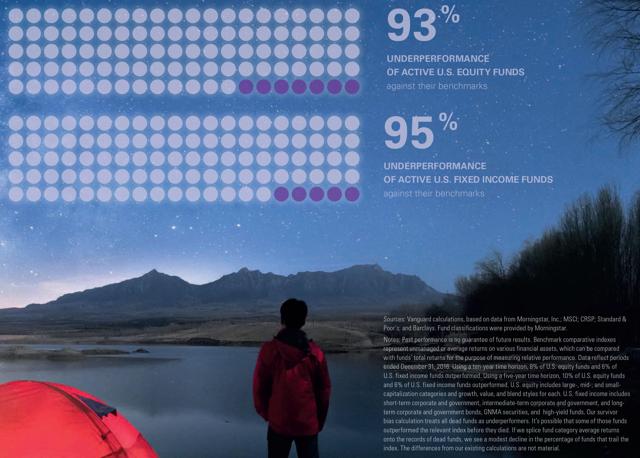 High-cost active has a higher hurdle to clear
Considering that investors are subject to the boundaries of the zero-sum game and the drag of costs, outperforming over long time periods using high-cost active managers is increasingly tough. Our research shows that over the trailing 15-year time period ended December 31, 2016, only 7% of U.S. active equity funds and only 5% of U.S. active fixed income funds managed to outperform their respective benchmarks.
Indexing has driven down the cost of investing
The high-cost active hurdle might be even taller if not for indexing. A tethering effect has been driving down active expense ratios nearly in-step with index expense ratios over the past 25 years.
Active costs have dipped thanks to indexing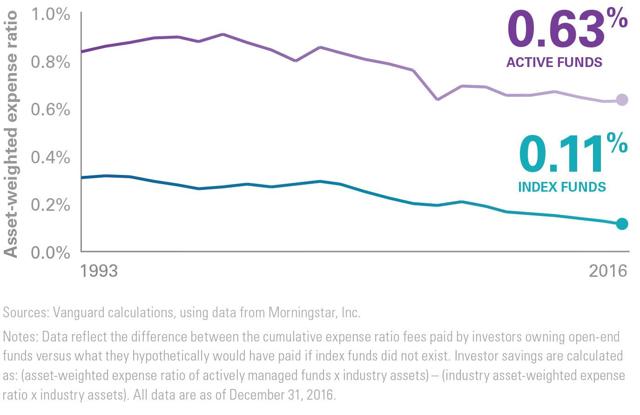 But even with the industrywide trend toward lower expense ratios, indexing is still the best option for minimizing costs; the asset-weighted average expense ratio is 0.11% for index funds compared with 0.63% for active funds.
Indexing's low-cost effect means you keep more of what you earn. From 1976 to 2016, indexing helped investors save an estimated $153 billion. That's nearly equal to the 54th-largest economy in the world (as of 2016).1
Indexing provides relative consistency
One of the most important decisions you and your advisor will make is determining your asset allocation. But getting an accurate return from a chosen asset class is far from certain. Historically, indexing provides consistent and transparent relative asset class investment performance.
Range of excess returns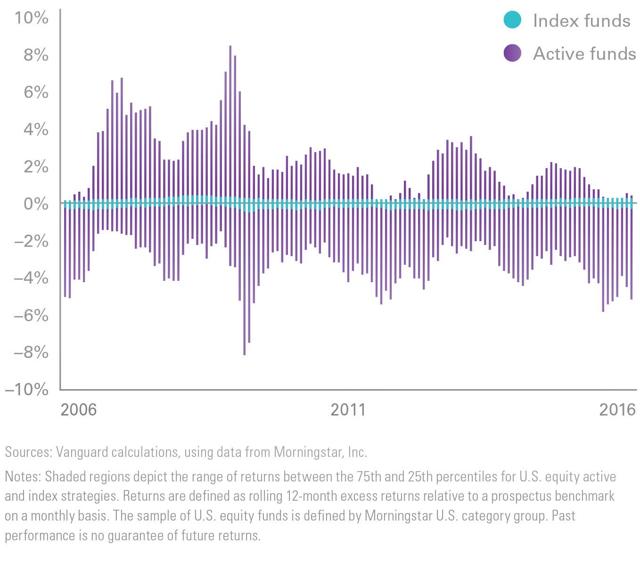 1 Vanguard calculations, using data from Morningstar, Inc. In this hypothetical example, data assumes index investors would have invested in active funds had index funds not existed. Data reflects the difference between the cumulative expense ratio fees paid by investors owning open-end funds versus what they would have paid if index funds did not exist. Investor savings are calculated as: (asset-weighted expense ratio of actively managed funds x industry assets)—(industry asset-weighted expense ratio x industry assets).
Map out your long-term goals with your advisor. Then identify the constellation of index funds that will help guide the way.
Want research behind the data? Read Setting the record straight: Truths about indexing white paper
For more information about Vanguard funds or Vanguard ETFs, contact your financial advisor to obtain a prospectus or, if available, a summary prospectus. Investment objectives, risks, charges, expenses, and other important information are contained in the prospectus; read and consider it carefully before investing.
Vanguard ETF Shares are not redeemable with the issuing Fund other than in very large aggregations worth millions of dollars. Instead, investors must buy and sell Vanguard ETF Shares in the secondary market and hold those shares in a brokerage account. In doing so, the investor may incur brokerage commissions and may pay more than net asset value when buying and receive less than net asset value when selling. Investors cannot invest directly in an index.
All investing is subject to risk, including possible loss of principal. Bond funds are subject to the risk that an issuer will fail to make payments on time and that bond prices will decline because of rising interest rates or negative perceptions of an issuer's ability to make payments.
BLOOMBERG® is a trademark and service mark of Bloomberg Finance L.P. BARCLAYS® is a trademark and service mark of Barclays Bank Plc, used under license. Bloomberg Finance L.P. and its affiliates, including Bloomberg Index Services Limited ("BISL") (collectively, "Bloomberg"), or Bloomberg's licensors own all proprietary rights in the Bloomberg Barclays Indices.
The products are not sponsored, endorsed, issued, sold or promoted by "Bloomberg or Barclays". Bloomberg and Barclays make no representation or warranty, express or implied, to the owners or purchasers of the products or any member of the public regarding the advisability of investing in securities generally or in the products particularly or the ability of the Bloomberg Barclays Indices to track general bond market performance. Neither Bloomberg nor Barclays has passed on the legality or suitability of the products with respect to any person or entity. Bloomberg's only relationship to Vanguard and the products are the licensing of the Bloomberg Barclays Indices which are determined, composed and calculated by BISL without regard to Vanguard or the products or any owners or purchasers of the products. Bloomberg has no obligation to take the needs of the products or the owners of the products into consideration in determining, composing or calculating the Bloomberg Barclays Indices. Neither Bloomberg nor Barclays is responsible for and has not participated in the determination of the timing of, prices at, or quantities of the products to be issued. Neither Bloomberg nor Barclays has any obligation or liability in connection with the administration, marketing or trading of the products.
Morningstar data © 2018 Morningstar, Inc. All Rights Reserved. The information contained herein: (1) is proprietary to Morningstar and/or its content providers; (2) may not be copied or distributed; and (3) is not warranted to be accurate, complete or timely. Neither Morningstar nor its content providers are responsible for any damages or losses arising from any use of this information. Past performance is no guarantee of future results.
© 2018 The Vanguard Group, Inc. All rights reserved. U.S. Patent Nos. 6,879,964; 7,337,138; 7,720,749; 7,925,573; 8,090,646; and 8,417,623.Vanguard Marketing Corporation, Distributor of the Vanguard funds.