Gold now seems to have broken clear of the trading range it has been in since mid-august. We are getting some consolidation at present, but price is managing to remain above the $1,220 level. The $1,220 level was crucial in that we needed this price to be taken out for a weekly swing to form. Now, we need some follow-through to confirm that we did indeed print an intermediate cycle low.
What we want to discuss in this article, though, are the ramifications of gold being caught in the narrow trading range for the best part of two months. In technical analysis, what once was resistance can then become strong support, and this is especially true when the duration of the trading range is significant. Let me explain.
In the precious metals market at present, for example, there are three distinct groups of investors or traders. These are the longs, the traders who are short, and the third group who are still undecided and because of this are on the sidelines. Many Traders who adopt a "trend following" strategy remain out of the equation when the respective asset class is trading in a range bound manner. Therefore, we should not underestimate the amount of traders who all likelihood was on the sidelines in the precious metals market over the past 2 months or so.
So, what are the ramifications of gold breaking out of this trading range last week? Well, the traders who are long which means that they bought over the past 2 months are going to be obviously content. Why? Because they are going to believe they were right and will probably regret not having bought more. Traders who were short will be desperately hoping for a move back down to the consolidation zone so they can cover. In fact, you can bet some shorts have probably covered already. What about the traders, though who initially were on the sidelines because of the absence of a strong trending move? Well, now that the resistance level has been breached, you can bet that this group would have used the breakout to scale into a long position.
Therefore, we believe that any pullback in the price of gold back into the validation area below 1,220 will be heavily bought from all three of the vested interests in this asset class. Resistance has now become support in effect.
Furthermore, it should be taken into account that the new support level of about $1,220 last week was formed on heavy volume. When a breakout occurs on large volume, it makes that support level far more important than if the breakout didn't occur when a lot of intra-day trading activity was taking place. We usually see the more technically minded traders or the more shorter-term traders entering the market when higher highs are achieved. This is what seemed to have taken place here in gold last week with respect to the third group who were waiting for a technical breakout before entering long positions.
In terms of cycles, there now is a high probability that gold printed an intermediate low on the 16th of August and is now on its second daily cycle which started on the 28th of September. We now are on day 16 of this present cycle. Daily cycles usually last 20 to 30 trading days, so we could be close to a daily cycle top assuming we print a right translated cycle. One thing is for sure, though. If we drop back into the consolidation zone, we expect aggressive buying to ensue for reasons stated above. We are still only 9 weeks into this intermediate cycle, though. The last one lasted 35 weeks. We would not be looking for an intermediate top until at least week 15.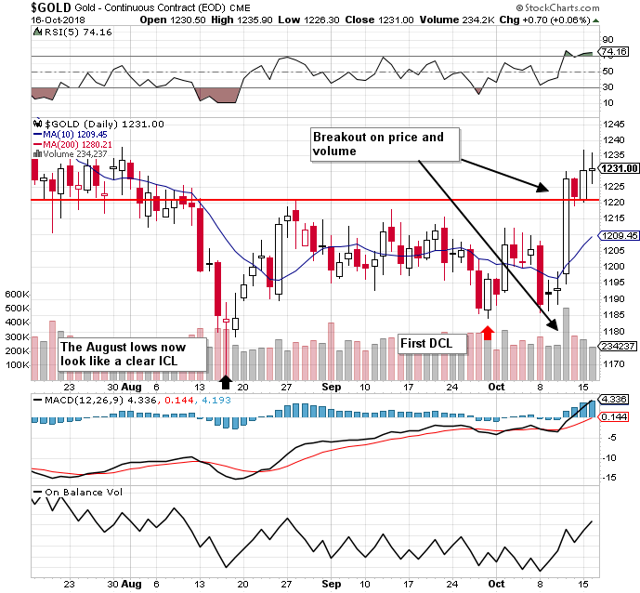 To sum up, the longer a trading range lasts, the more significant it becomes especially if a breakout occurs on high volume. That is exactly what we have here on the gold chart. Technical traders joined the longs once price broke above $1,220. We believe now that this level has become support, and if price were to drop back into the consolidation zone, heavy buying would take place once more.
Disclosure: I/we have no positions in any stocks mentioned, and no plans to initiate any positions within the next 72 hours. I wrote this article myself, and it expresses my own opinions. I am not receiving compensation for it (other than from Seeking Alpha). I have no business relationship with any company whose stock is mentioned in this article.