I recently picked up shares in renewable energy company Pattern Energy Group (PEGI) on share price weakness, and discussed my reasons in this article. One commenter wanted to know more about one of PEGI's main competitors, NextEra Energy Partners L.P. (NEP). This prompted a deeper dive to delve into the main facets of the operations, and naturally a comparison to PEGI.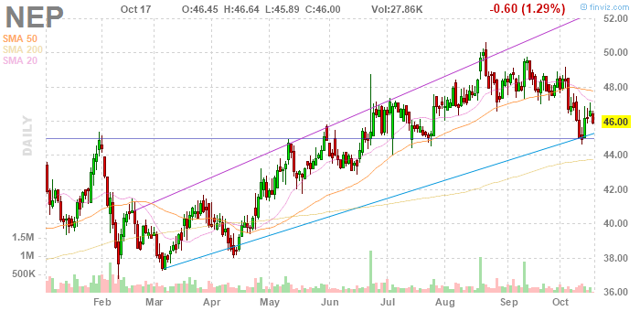 Image from finviz.com
Whenever I see the dreaded "LP" after a stock I usually sigh and move on, but luckily NEP does not issue a K-1 for tax purposes, which saves investors a headache come April. Additionally, since NEP is treated as a C-Corp for federal tax purposes, there's no Unrelated Business Taxable Income that would penalize you for holding shares in a tax-advantaged account like a Roth IRA. I confirmed this fact with NEP's investor relations. For those who are unfamiliar with the structure or purposes of an MLP, there's an investopedia article that does a good job explaining it. Essentially, this corporate structure is designed to avoid double taxation, where the company would pay income tax and you would pay taxes on the dividends.
Structurally, utility giant NextEra Energy (NEE) is the general partner, and limited partnership units behave like typical non-voting common stock. NEE is the "big brother" that assists NEP with issues like credit and growth prospects.
After selling its stake in Canadian assets, NextEra Energy Partners owns wind and solar assets in the US and also owns seven natural gas pipelines in Texas. These pipelines represent just under a third of total revenues in terms of portfolio contribution. This ownership offers a little more diversification than companies like PEGI, which are almost entirely wind energy.
Reasons NEP Stands Out From The Rest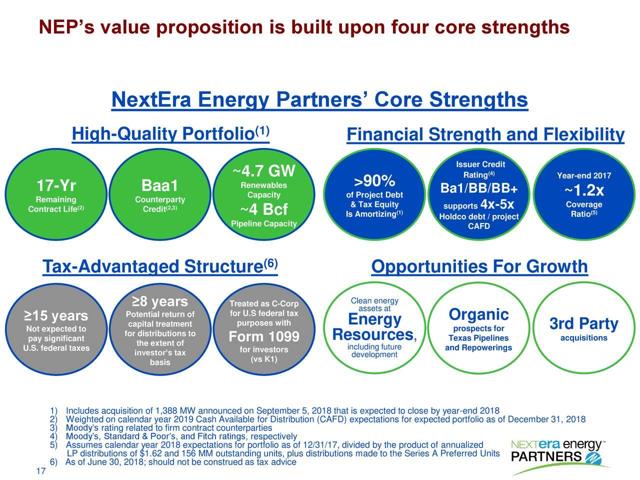 Image from investor presentation 10/5/18
NEP is growth focused, with five-year distribution growth targets of 12%-15% annually. That's significantly higher than PEGI's ~2% growth or possible "frozen" dividend payout. Cash Available For Distribution was up 37% YoY in the most recent earnings report. This massive growth comes from significant debt, a massive deployment of capital in 2017 projects that are contributing to the bottom line, and retained earnings.
While capital recycling from selling the Canadian assets (for a loss) and redeploying the proceeds into the newly announced US portfolio will help juice earnings, I'm mostly focused on the power of retained earnings that the company has at its disposal. Last quarter's earnings were $1.43 per share, up from $0.24 a year ago. Distribution to common units of $0.42 means that the company retained approximately $70 million for the quarter. This cash can be reinvested back into the business in order to achieve the company's growth targets. I would rather NEP use these proceeds to grow the business rather than pay down debt, because the returns are higher.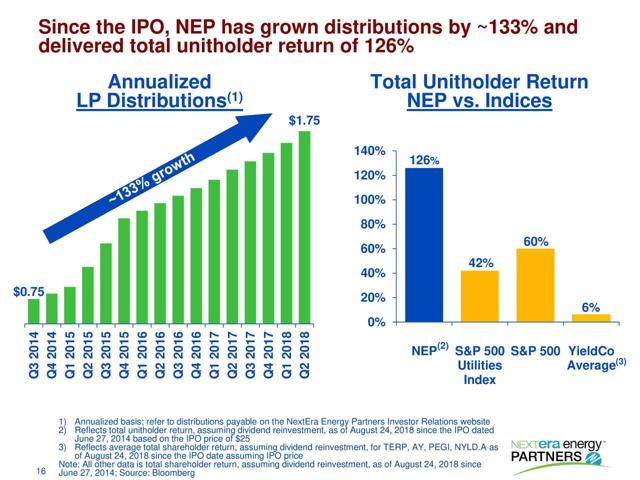 Image from investor presentation 10/5/18
$0.42 distributions on $1.43 of earnings is a payout ratio of about 29%, which shows you how much they can raise the dividend. Seeking Alpha's payout ratio numbers come from an annualized figure that includes six months before these assets really started to generate income, thus the 90% payout ratio listed.
A low payout ratio coupled with growth does come with drawbacks, as the dividend yield is a rather unimpressive 3.7%. PEGI sports a 9% dividend. It would take eight years of 12% growth (the low end of dividend growth guidance) to achieve a 9% dividend. Management is only committing to 12%-15% over five years, not eight years. If you're looking for dividend growth, obviously NEP is where to find it. Current income goes to PEGI. Share price appreciation will follow dividend growth, so that advantage goes to NEP as well.
Where NEP really differentiates itself from PEGI is in the retained earnings mentioned earlier. PEGI's payout ratio is ~100%, while NEP is at 29%. PEGI shares are being punished by crystal-ball analysts predicting a dividend cut (which won't happen) as management aims to lower their payout ratio to 80%. NEP represents significantly higher safety due to the fact that they have financial wiggle room for variable things such as wind speed or cloud cover. While PEGI will someday return to growth, there's no guarantee that this will happen anytime soon.
Risks
Operating renewable energy is lumpy due to aforementioned wind and sun variability. Being able to rely on tax credits or tax rates is nearly futile in this political climate. Interest rates increasing will have a negative effect on a company's ability to access capital at attractive prices. These are the types of things that you will have to be comfortable with if you invest in either PEGI or NEP.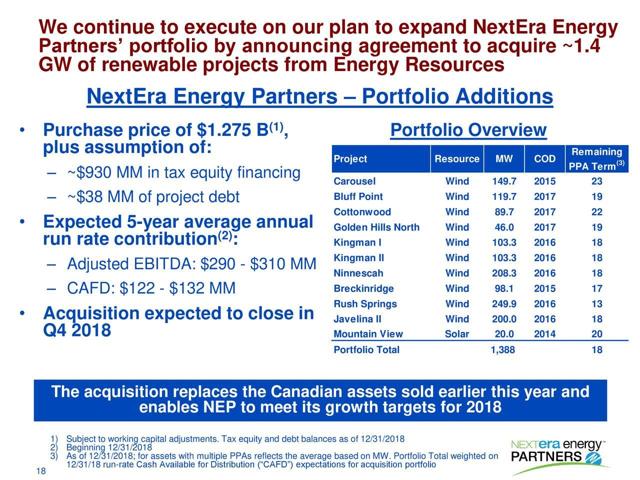 Image from investor presentation 10/5/18
Management is skating to where the puck will be by divesting the Canadian assets in favor of the new US assets. The Power Purchase Agreements have very long terms, and the tax implications are more favorable domestically.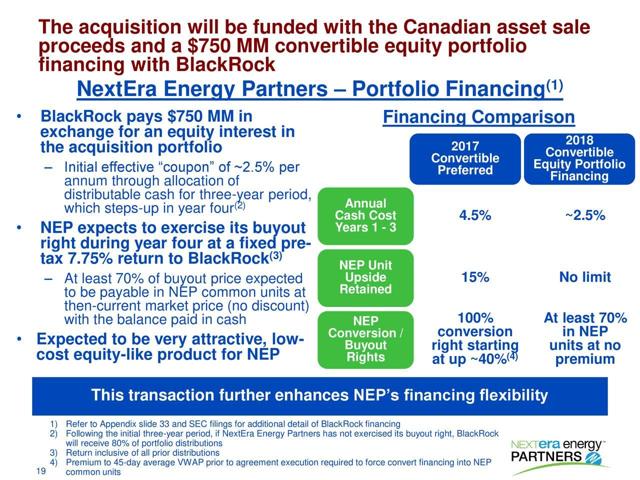 Image from investor presentation 10/5/18
The unique funding agreement struck with BlackRock (NYSE:BLK) for the new portfolio looks odd at first, but its terms boil down to being more advantageous than issuing capital through preferred shares or more traditional debt. Yes, there will most likely be a large shareholder dilution in four years, but despite the dilution the portfolio should still be accretive to earnings and key to the distribution growth plan.
Summary
NextEra Energy Partners is quickly becoming a significant player in the renewable energy space. Their corporate and financial structure allows them to achieve massive growth in the coming years. Patient dividend growth seekers will be handsomely rewarded. I think the best way to play the renewable energy space is to simply own both NEP and PEGI. You match growth with income and are putting your money with very capable and transparent management teams.
Disclosure: I am/we are long PEGI. I wrote this article myself, and it expresses my own opinions. I am not receiving compensation for it (other than from Seeking Alpha). I have no business relationship with any company whose stock is mentioned in this article.