Let me dive into the business of the day by first posing to readers the million dollar question: are we already in the throes of a bear market?
Back in May, Morgan Stanley's (NYSE:MS) chief U.S. equity strategist Mike Wilson offered an interesting perspective regarding the nagging question of whether the dreaded bear market is upon us. According to him, we are already in a rolling bear market, only that it's not easy for investors to tell. Sometimes, just looking at the index level can lull you into a false sense of security.
Of all strategists tracked by CNBC, Wilson remains the most bearish. He has consistently provided forecasts that the S&P 500 will finish the year at 2,750, and guess what? The broad-market index has beaten a hasty retreat from its recent all-time highs and now sits smack at 2,750.79.
| | | |
| --- | --- | --- |
| | 30-Day Change | Year-to-Date Returns |
| S&P 500 Index (SPX) | -4.8% | 5.1% |
| Dow Jones Industrial (NYSEARCA:DIA) | -3.1% | 2.2% |
| Technology Select Sector Fund (XLK) | -5.9% | 8.9% |
| iShares PHLX SOX Semiconductor Sector Index (SOXX) | -8.9% | -0.9% |
| SPDR S&P Retail ETF (NYSEARCA:XRT) | -7.3% | 5.3% |
| Finance Select Sector Fund (XLF) | -6.4% | 5.7% |
| Healthcare Select Sector Fund (XLV) | -3.0% | 9.4% |
It also appears he was probably right about the bear market creeping slowly on us since it's beginning to show across diverse sectors. This is not just the usual sector rotation with money flowing from tech to other sectors like retail since virtually all major sectors have been hammered over the past 30 days.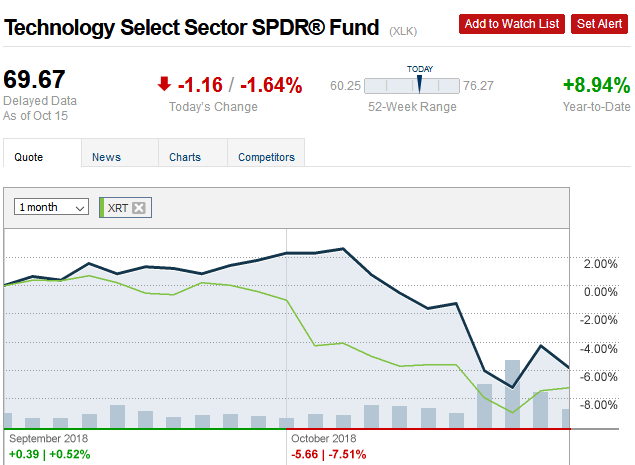 Source: CNN Money
The Information Technology sector has expanded the most during the latest bull-run, ballooning from 19.38% of the S&P 500 six quarters ago to 25.96% by the end of June 2018. A fair assumption, therefore, would be that tech faces a high risk of capital destruction if a cyclical bear market takes hold.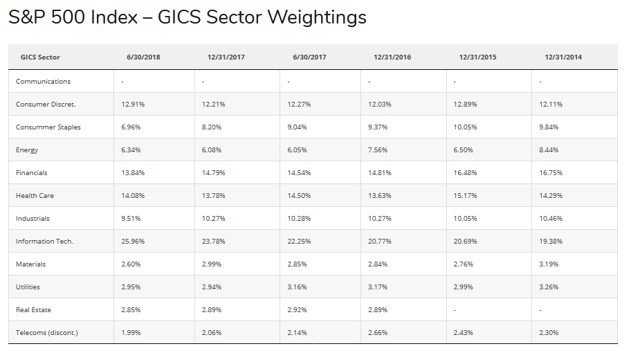 Source: Siblis Research
Nibbling away at tech
A couple of days ago, Jim Cramer added a new wrinkle to the bear talk by saying to abandon the old playbook where investors seek safety in steady-growth consumer staple stocks like Procter & Gamble (PG) with attractive dividends, but instead buy beaten-up tech stocks that have "reported great quarters or have been on a roll."
And that got me thinking. Semi stocks in general pass the eye test after printing phenomenal earnings growth—EBITDA up 80% over the past two years. And, the semiconductor cyclical downturn has seen the sector get wrecked, with former high-flying iShares PHLX Semiconductor ETF turning into one of the worst performing ETFs – and providing opportunities for bargain hunting.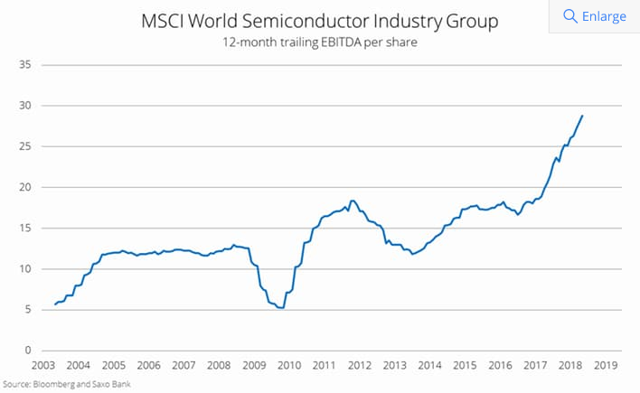 Source: Saxo
Let me cut straight to the chase: Cramer's recommendation has given me the perfect excuse to once again compare two beaten-down smartphone component manufacturers that I have followed for years: Skyworks Solutions (SWKS) and Qorvo Inc. (QRVO).
In terms of performance, both stocks have badly lagged the sector over the past 3 years, with Skyworks racking up a mere 6.7% vs. 44.4% by Qorvo and 86.5% by SOXX. That is mainly due to ongoing smartphone headwinds (especially by Apple Inc. (AAPL) as well as a huge exposure to the volatile Chinese market.
So far, QRVO has been the better performer in the YTD.
| | | | |
| --- | --- | --- | --- |
| | Year-to-Date | 12-Month Change | 3-Year Change |
| SWKS | -7.3% | 6.7% | -17.5% |
| QRVO | 11.6% | 2.6% | 44.4% |
| SOXX | -0.9% | 4.0% | 86.5% |
SOXX vs. SWKS 3-Year Change

Source: CNN Money
In this piece that I penned last year, I compared the two companies and gave Qorvo the edge over Skyworks. I still believe QRVO holds the edge over SWKS in the next 12-18 months.
Now, both stocks remain a risky proposition due to high exposure to Apple (40% for SWKS vs. 33% by QRVO) and their high exposure to the Chinese market (80% for SKWS vs. 60% for QRVO). But hey, that comes with the territory, with semis having the highest exposure to China of all U.S. sectors. And, I think it's time contrarian investors started buying on the cannons and getting ready to sell on the trumpets. As Jack Ma warned, this trade war might last another 20 years but good companies will continue doing just fine.
In a more recent article, I maintained my bullish stance on QRVO but did not provide any competitive analysis between the two companies (one of my readers requested me to do so in the comments section). In last year's article, I talked about Qorvo's wins in the carrier aggregation battle. This time I will be a little more specific regarding Qorvo's design wins with leading smartphone OEMs.
1. iPhone XR design win
Qorvo scored a major win over rival Broadcom (AVGO) when it emerged that Apple will use Qorvo's PAD filters in the upcoming 6.1-inch LCD iPhone XR. The £749/$749 XR (set to be released on Oct.19) will be positioned as a cheaper option to the high-end iPhone XS and iPhone XS Max which will retail at £999/$999 and £1,099/$1,099, respectively.
So why is this a big deal? Because of two reasons. First off, it means big business for Qorvo till the next upgrade cycle. According to estimates by KGI Securities analyst Ming-Chi Kuo, XR is likely to make up about half of Apple's 2018 iPhone shipments due to its considerably lower price point. Nomura Instinet's Romit Shah figures that the socket loss works out to a $400 million revenue headwind for Broadcom during the second half of 2018 - and a big win for Qorvo ($693 million revenue during the last quarter). Second, Qorvo was able to win business from Apple by trading low-margin Low-Band PAD filters for higher margin Mid/High-Band PAD filters. Now, Apple is likely to pair the PAD filters with high-performance BAW filters. Skyworks badly lags AVGO and QRVO in BAW filters. For years, AVGO has been the clear leader in high-performance filters, with Qorvo playing second fiddle. Judging by how Qorvo has struggled to close the performance gap with AVGO by producing high-quality BAW filters in large volumes, it's probably going to be years before Skyworks, Qualcomm Inc. (QCOM), Taiyo Yuden and start-up Akoustis are able to bring up their BAW manufacturing prowess up to speed to satisfy premium vendors like Apple. Further, QRVO's BAW capacity at its new Texas plant remains constrained. This is likely to lead to a situation where the company sells its limited BAW volumes only to leading OEMs, further insulating it from price/margin pressure from Skyworks.
2. Making inroads in China
At this juncture, it might seem like winning more business in China is a curse rather than a blessing. But unless the Trump administration does something unprecedented like slapping a moratorium on all semiconductor sales to China (hint: recent lifting of ZTE ban suggests it's highly unlikely) or Beijing suddenly being able to satisfy its huge chip demand from its limited fabs, China will continue being an important market for American semiconductor companies.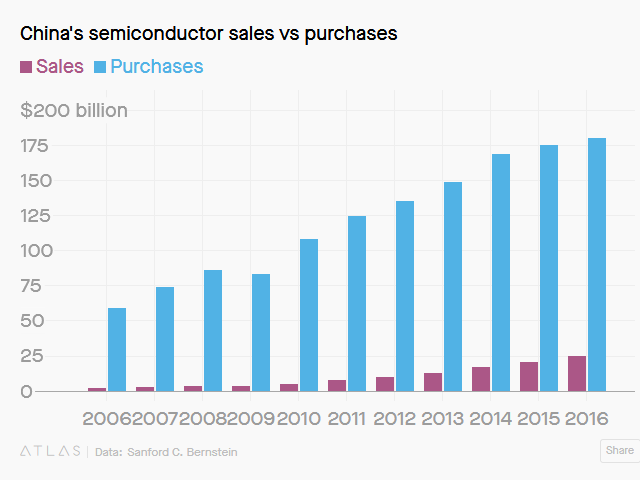 Source: Quartz
So, news that Qorvo has been making good progress with leading Chinese smartphone vendors should definitely be a plus for the company. QRVO's content share on Huawei (15.8% market share) and Mediatek-based devices by Oppo, Vivo and Xiaomi (combined 20%-plus market share) has been rising as Huawei takes share from Samsung (OTC:SSNLF) and Mediatek takes share from Qualcomm. Huawei is Qorvo's second-largest RF customer after Apple, and the fact that the Chinese outfit recorded a huge 41% Y/Y shipment growth during Q2 2018 bodes well for Qorvo. Meanwhile, Apple has been struggling, with shipments growing less than 1% last term.
3. Content in High-end iPhones
Publicly available teardowns for the high-end iPhone XS and XS Max have not identified any Qorvo components. Nomura Instinet's Krysten Sciacca has termed it ''surprising,'' noting that identifying Qorvo's signature envelope tracker has historically been near-impossible from a board photo.
Indeed, she has a point. QRVO and QCOM are the only two suppliers of Envelope Tracker PMICs while Qorvo is the sole supplier of Intel Corp.'s (INTC) Envelope Tracker PMICs. Qorvo's ET should, therefore, be tucked away alongside Intel's baseband, meaning Qorvo has likely won additional tuning/antenna content in Apple's flagship iPhones as well.
Investor Takeaway
Beyond mobile, Qorvo's IDP segment provides a high-margin, long-cycle business in infrastructure, IoT, defense, GaN and automotive. At 30% of revenue and expanding at double-digits, the segment makes Qorvo suited to weather smartphone downcycles better than Skyworks.
Over the longer term though, both companies are likely to outperform the market. Qorvo is estimated to grow earnings at a 12% CAGR over the next five years compared to 14% CAGR for Skyworks. Qorvo's forward P/E of 12.67 is also slightly higher than Skyworks' 11.67. If Apple's 2018 iPhone line-up turns up as expected, both should be solid holdings over the next 12-18 months.
Disclosure: I/we have no positions in any stocks mentioned, and no plans to initiate any positions within the next 72 hours. I wrote this article myself, and it expresses my own opinions. I am not receiving compensation for it (other than from Seeking Alpha). I have no business relationship with any company whose stock is mentioned in this article.