In this article, I'll review all the baby bonds, listed on a National Exchange, sorted into several categories. There are 173 issues in our database that trade on primary exchanges. Since there is no common ETF for baby bonds only, I'll examine the two biggest fixed-income ETFs with a market capitalization of $22B in general, iShares U.S. Preferred Stock ETF (PFF) and Invesco Preferred Portfolio ETF (PGX). As we can see in the charts below, 88% of PFF's holdings are preferred stocks, which occupies more than 83% of the market capitalization of the fund, and 70% of PGX's holdings are preferred stocks with market capitalization of 74%. Still, with $2.2B in baby bonds in general, these two are the most representative for this kind of fixed-income securities.
PFF
PGX
Now that these products have our attention, we are continuously monitoring all baby bonds by several groups and will reinstate our Monthly Review, publishing a recap of the groups of interest. First, let's take a look at the main indicators that we follow, and their behavior during the last month.
TNX - CBOE 10-Year Treasury Note Yield Index ($TNX)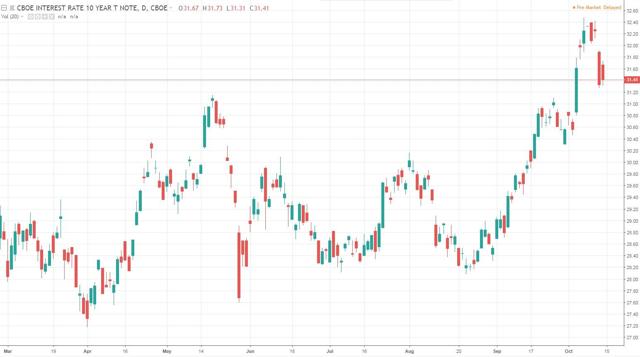 Source: Tradingview.com
iShares U.S. Preferred Stock ETF (PFF)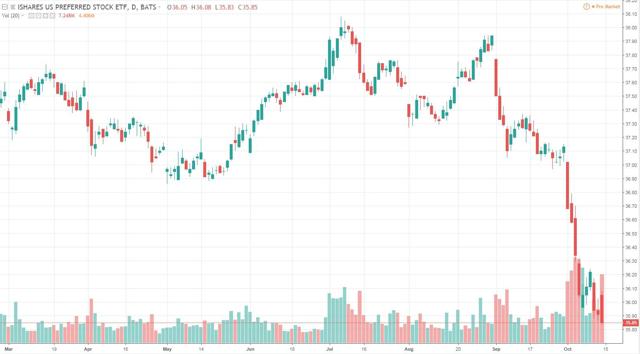 Source: Tradingview.com
PGX - Invesco Preferred Portfolio ETF (PGX)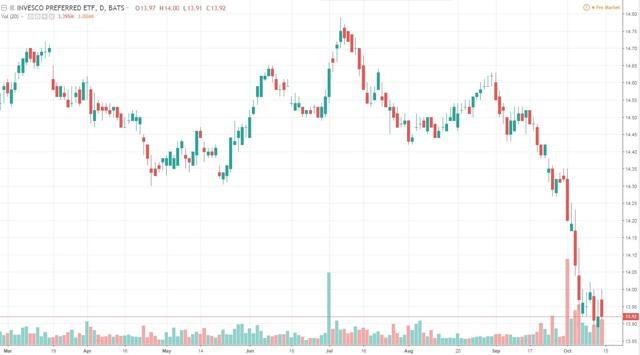 Source: Tradingview.com
SPDR S&P 500 ETF (SPY)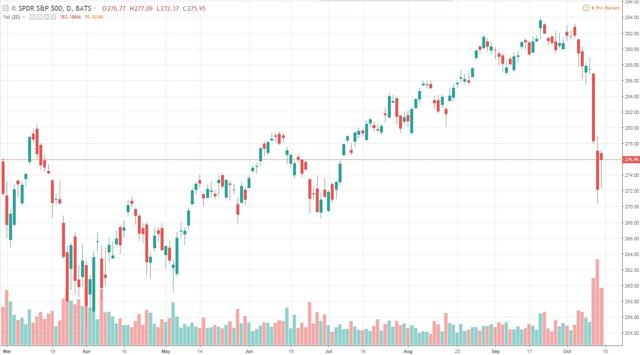 Source: Tradingview.com
The most essential thing for fixed income investors for the past month is TNX climbing back to a fresh 7-year high, caused by the Fed, which increased its Funds Rate by another 0.25% during the September meeting and its projection for another 0.25% rate hike in December. The TNX has reached 3.25% after the unemployment rate fell to its lowest level in 49 years, which has resulted in increasing pressure over the fixed income investor, as we can see in the second and the third chart. As for the equity markets, The Dow and S&P 500 finished the previous trading week down more than 4 percent as investors fretted over rising interest rates.
The Review
These baby bonds resemble the preferred stock securities in their basic features. They are debt securities that are generally issued in $25 denominations and have maturity dates of 5 to almost 90 years (in our database, AGO-F is the security with the longest maturity, 7/15/2103). Baby bonds are normally redeemable at the issuer's option on or after five years from the date of issue at par. Most of these debt securities pay quarterly interest distributions. In payment of interest and upon liquidation, the exchange-traded debt securities rank junior to the company's secured debt, equal to other unsecured debt, and senior to the company's preferred and common stock. An important note is that all baby bonds are not eligible for the 15% tax rate on dividends as they are U.S. securities that pay interest, not dividends.
1. Call Risk Baby Bonds YTC < 0
The lower the bond, the higher the risk.
Be careful not to get surprised in these ones if you are tempted by the higher yield. In fact, the higher the yield, the most likely the redemption.
2. Baby bonds below PAR, YTM < 10%, Yield Curve:
The investment grades only:
After the redemption of CTW, CTU, and CTX, the Qwest's baby bonds made a decent 1% shift on their Yield Curve, bringing a little justice in the bond market. However, after the sell-off of all fixed-income securities, including the Qwests themselves, again they are a good candidate for one's portfolio. As you can see from the CTBB's price chart, for example, it is trading at the same price level as before the redemptions.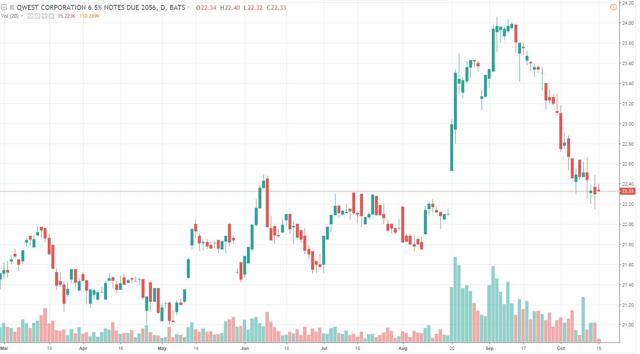 Source:Tradingview.com | CTBB
Prospect Capital's (PSEC) babies, PBB and PBY, can also be nice additions, but you have to keep in mind that currently they are under the pressure of a secondary offering. BrightSphere Investment Group plc 5.125% Notes due 2031 (NYSE: BSA) may also join them but it must take into account the longer maturity of this bond.
3. Baby bonds YTM > 10%. Be careful with these babies:
It's been a while since there were any securities in this group. For the last time, here they were the RAS' baby bonds until they were delisted from the NYSE. Keep in mind that MHNC and MHLA have to bring extra risk because there is no free lunch. The only way I recommend trading these high yielders is to have a hedge with the preferred stocks, MH-A, MH-C, and MH-D.
4. Baby bonds > Par, Yield curve by Yield-to-Worst and Years-to-Call:
Take a closer look at the main group:
5. Fixed-to-Floatings:
By Yield-to-Call and Years-to-Call:
By Yield-to-Call and Yield-to-Maturity
6. Baby Bonds issued by a BDC
Under the 1940 Act, BDCs must generally meet certain levels of asset coverage with respect to their outstanding "senior securities," which typically consist of outstanding borrowings under credit facilities and other debt instruments, including publicly and privately offered notes. "Asset coverage," as defined under the 1940 Act, generally refers to the ratio of a BDC's total assets compared to its aggregate amount of outstanding senior securities, which allow BDCs to decrease their asset coverage requirement to 150% from 200% under certain circumstances.
By Years-to-Maturity and Yield-to-Maturity:
Take a closer look at the main group:
By Yield-to-Call and Yield-to-Maturity
Again, a closer look at the main group:
7. Ex-Dividend Dates:
Which baby bonds are ex-dividend until the end of November. The date given is predicted on the base of the previous ones and may vary by a few days.
The ex-dividend dates are very useful for every fixed-income investor that practices the dividend capture strategy.
8. A Look at the Recent Redemptions
There are 2 issued, called for redemption for the past month:
THL Credit Inc 6.75% Notes due 2021 (TCRZ)
...and
Diana Shipping 8.50% Senior Notes due 2020 (DSXN)
9. A Look at Recent IPOs:
The baby fond family has increased with 9 securities, since the last article in September:
Here is the detailed information about the newly issued baby bonds:
As the newly issued by bond by Algonquin Power & Utilities Corp (AQN) has no permanent ticker yet, here is some more information from our spreadsheet:
At this point, 3 of 9 baby bonds are still trading on the OTC. You can check their current price in FINRA, by clicking over the symbol:
10. How do they move?
Here is the general idea of how the baby bonds have moved since the start of the month:
There are almost no baby bonds to be positive for the past month:
These issues are the only to bring some happiness to their investors.
The most affected by the rising interest rate are those with a low nominal yield and a long duration, respectively.
Conclusion
This is how our small world of baby bonds looks in the middle of October. As very good values, I find PBB and PBY, the Qwest Corporation's babies, and BSA but the rising pressure over all fixed-income securities may drag them lower, so we have to be patient with these. Also, I want to remind you that the rebalancing results for the S&P Preferred Stock Index were announced on Friday, October 5, 2018, and the changes will be effective prior to the open of trading on October 22, 2018. Despite the fact that as of July 2013, Exchange Traded Debt securities are no longer considered for inclusion in the Index, still, there are 22 issues that remained in PFF, which can be affected from the Rebalancing.
I'll present these reviews at the start of every month. All of these layouts are also available in our database. We are trying to improve our review of the stocks and bonds we trade on every new article we publish. Feel free to comment, and if you have any suggestions, they are welcome!
Note: This article was originally published for our subscribers on 10/15/2018 and some figures and charts may not be entirely up to date.
Trade With Beta
The "Trade With Beta" team has been submerged in the universe of preferred stocks and baby bonds for almost a decade, and we decided to share our knowledge and expertise through the inception of this service. We attempt to cover all aspects of these products, from IPOs to pair trades and portfolio picks and, last but not least, called issues. Additionally, once a month we go through all different groups of fixed income instruments to make sure that nothing has gone unnoticed.
Disclosure: I/we have no positions in any stocks mentioned, and no plans to initiate any positions within the next 72 hours. I wrote this article myself, and it expresses my own opinions. I am not receiving compensation for it (other than from Seeking Alpha). I have no business relationship with any company whose stock is mentioned in this article.