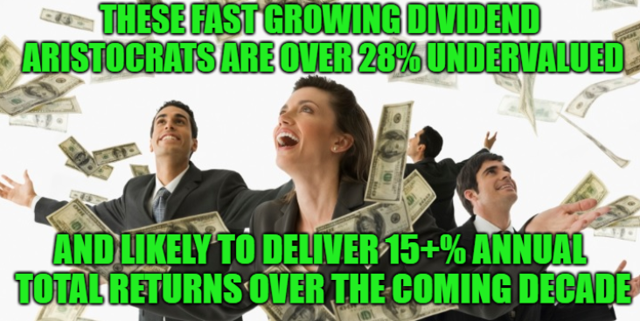 (Source: imgflip)
One of my favorite things is pointing out quality dividend growth stocks when they are trading at deep discounts. That includes dividend aristocrats, those companies with 25+ consecutive years of annual dividend growth under their belts. These time tested blue chips have proven they make great sources of safe and rising income, no matter what the stock market, interest rates, or the economy is doing.
Dividend Aristocrats Vs S&P 500 Total Returns Over Time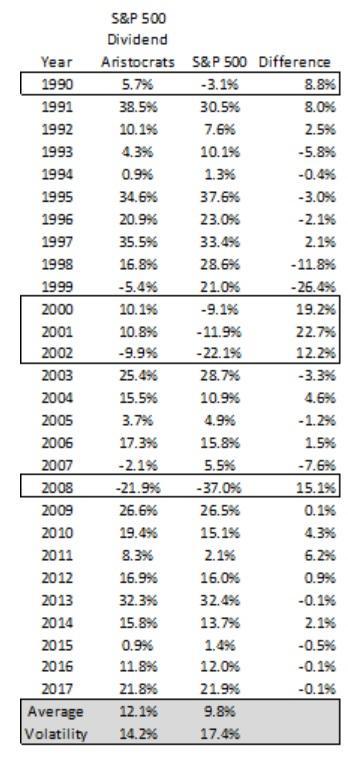 (Source: Ploutos Research)
Since 1990, the dividend aristocrats have managed to outperform the S&P 500 by 23% annually, while delivering 18% less volatility. Thus on a risk-adjusted (returns/volatility) basis, they have beaten the market by an impressive 52% per year. The secret to this outperformance is that aristocrats generally match the market during good times, but fall far less during recessions and bear markets. That's courtesy of their long-term and income focused investor bases, who are less likely to panic sell during a downturn.
But the popularity of aristocrats, combined with a bull market that's now in its 10th year (second longest in history), means that all the aristocrats are trading at rich valuations, right? Actually, as my fellow SA contributor Ploutos recently pointed out, even among the venerable aristocrats some names are badly beaten down.
Dividend Aristocrats In A Bear Market

(Source: Ploutos Research)
Today 12 aristocrats (out of 53) are in a bear market, meaning at least 20% off their all time highs. Let's take a look at two of my favorite aristocrats, Illinois Tool Works (NYSE:ITW) and A.O. Smith (NYSE:AOS), which have fallen especially hard in recent months. That's largely over concerns over the trade war potentially hurting their short-term growth prospects, especially in China.
Let's take a look at why the market's fears are likely overblown, and why both stocks are highly undervalued (by 28% or more). In fact, according to my favorite blue chip valuation method (Dividend Yield Theory), today is the best time in seven years to buy Illinois Tools Works.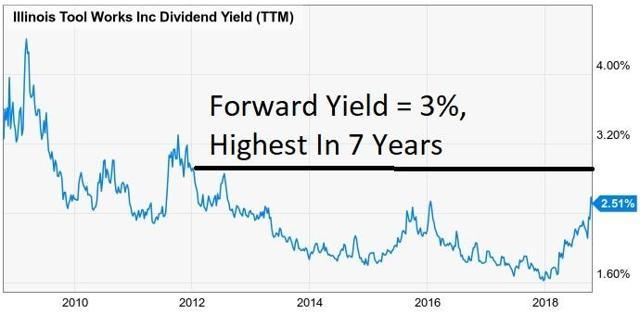 (Source: Ycharts)
That's because this dividend king's (54 straight years of dividend growth) yield hasn't been this high since 2012. And A.O. Smith's buying opportunity is even better.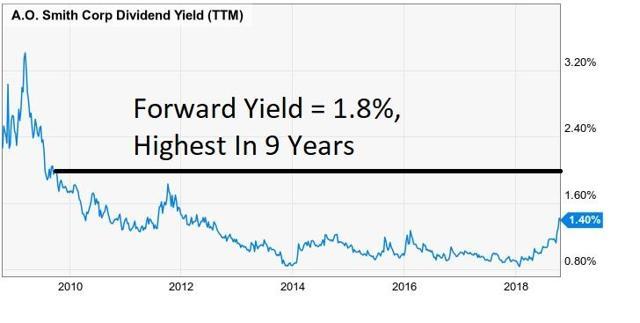 (Source: Ycharts)
AOS (26 consecutive years of dividend growth) investors haven't seen a yield this high since the Great Recession ended in 2009.
Combined with strong competitive advantages, long growth runways, and world class management teams, that means that both Illinois Tool Works and A.O. Smith are likely to deliver excellent total returns over the coming years. In fact, from their current valuations, I expect ITW and AOS to generate about 15% and 18.5% annualized total returns over the coming decade. That means these are two of the best dividend aristocrats you can buy today.
Illinois Tool Works: A Fast Growing Dividend King
Founded in 1912, Illinois Tool Works is one of the world's largest industrial conglomerates, with over 500 manufacturing and R&D facilities in 57 countries. While it's highly diversified by geography, the largest market by far remains the US.
US: 44% of 2017 sales
North America: 51% of sales
Europe/Middle East/Africa: 29% of sales
Asia Pacific: 18% of sales
Latin America: 3% of sales
The company's 85 subsidiaries make thousands of mission critical parts for dozens of industries:
plastic and metal components, fasteners, and assemblies for automotive industry
commercial food equipment
beverage packaging equipment, product coding & marking equipment
equipment for machine testing and measurement of materials and structures including for electronic subassemblies and microelectronics
welding equipment
construction fastening systems and trusses
adhesives, sealants, lubrication, fluids, and polymers for auto aftermarket industry
The industrial component sector is highly fragmented. Companies like ITW maintain their wide moats courtesy of long standing relationships with customers, some that span decades. Most of its industrial products are actually customized for each individual clients, to meet their specific reliability, durability, and safety requirements. This means ITW enjoys high switching costs and a wide moat, in which it can raise prices on customers without significant risk of losing market share.
The downside to wide moats is that it means the company has to grow through acquisitions, which are very common for industrial conglomerates. In the last 25 years, ITW has made about 600 bolt-on acquisitions to acquire new clients and markets. Over time that can make company wide integration challenging which is where ITW's biggest competitive advantage comes in.
The key to what makes ITW such a great long-term investment is its "enterprise strategy".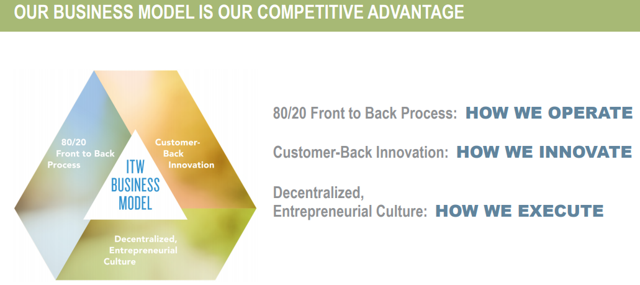 (Source: Illinois Tool Works investor presentation)
Launched in 2013 ITW has invested over $3 billion into optimizing its current business model by continuing and improving the 80/20 capital allocations strategy launched in 1985. 80/20 means focusing most of its resources on the 20% of customers and product lines that generate 80% of revenue and profits. Since 2013 ITW has sold off its 30 weakest performing business units to recycle that capital to target industries that are growing faster than the global economy.
In addition, ITW has added deep customer feedback to its business model, so it can better utilize its approximate 1.7% of revenue R&D budget to continue improving the products it offers customers. That lean R&D budget still translates into 17,000 current and pending patents, and about 1,600 new ones per year. This helps to further increase the company's wide moat, pricing power and profitability (more on this in a moment).
Most importantly, ITW has proven itself a master of decentralized management and streamlining. For example, in 2012 it had 800 subsidiaries, courtesy of those 600 previous acquisitions. Today the company has cut its product lines by 80%, and has just 85 operating units. Those units are run in a Berkshire Hathaway (BRK.B) style fashion, in which managers have clearly defined sales, profitability and returns on invested capital targets. The corporate office doesn't micromanage its subsidiaries but allows local management to achieve those goals in any way they see fit. This means that despite being one of the largest industrial conglomerates in the world, ITW operates like a very lean and adaptable startup (relative to its peers).
Overall the company's goal is to focus on the most profitable and fastest growing markets.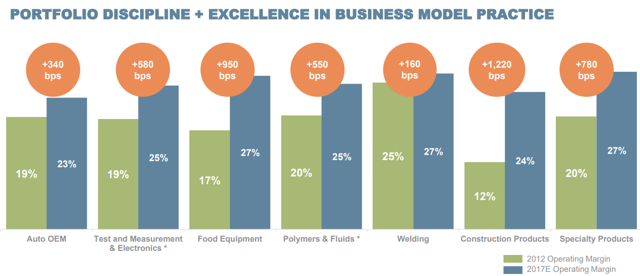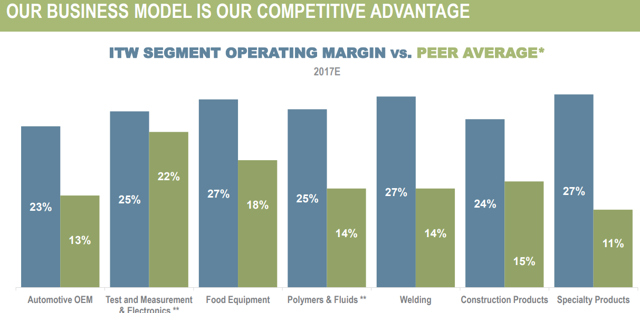 (Source: ITW investor presentation)
Combined with a laser like focus on cost cutting (investing in highly automated and just in time production), this has allowed the company's segment margins to increase by between 1.6% and 12.2% over the past five years. In fact, at the end of 2017 Illinois Tools' operating margins were all significantly better than their industry peers. At the company wide level that increased profitability has meant some of the industry's best margin and EPS growth over the past half decade.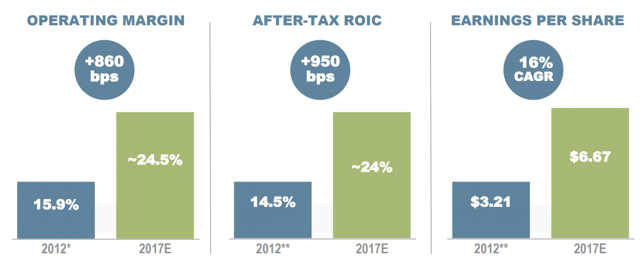 (Source: ITW investor presentation)
And thanks to a very shareholder corporate culture, that means income investors have enjoyed spectacular dividend growth over time.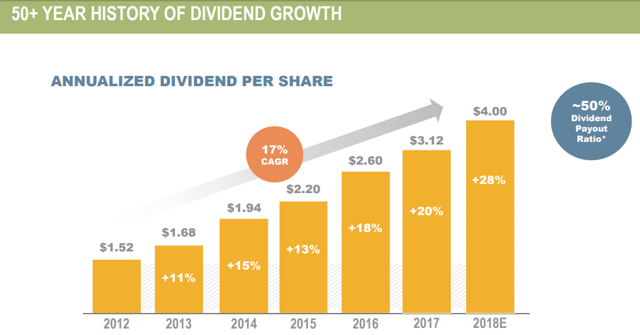 (Source: Illinois Tool Works investor presentation)
Thanks to strong sales growth in key business segments, especially those related to construction, ITW has been able to deliver very strong top and bottom line results in the first half of 2018. This kind of growth is hardly what one would expect from a stock that's in a strong bear market.
| | |
| --- | --- |
| Metric | First Half 2018 Growth |
| Revenue | 7.1% |
| Net Income | 17.4% |
| Free Cash Flow | 24.3% |
| Shares Outstanding | -2.2% |
| EPS | 19.8% |
| FCF | 27.0% |
| Dividend | 10.3% |
(Source: earnings release)
The most important thing for income investors to focus on is free cash flow or FCF. That's what's left over after running the business and investing in future growth. FCF is what ultimately pays the dividend. Thanks to large economies of scale and tax reform, ITW's FCF/share has exploded in 2018, which largely explains why it just raised its dividend by 28% for 2018, the 54th consecutive year of annual increases.
For 2018 management is now guiding for 15% EPS growth, which is slightly slower than the first half of the year. However, that still puts the company on track to achieve management's long-term goals of about 9% EPS and FCF/share growth. In fact, analysts are currently forecasting that ITW's earnings and cash flow will grow at 9.8% (top end of guidance) for the next 10 years.

(Source: Illinois Tool Works)
And with management targeting a safe 50% FCF payout ratio (and 100+% earnings to FCF conversion rate), that means the dividend is likely to also grow at 8% to 10% over the long-term. That's not as fast as the company's most recent dividend increases, which have ranged from 11% to 28%.
However, as I'll soon show, it's still good enough to make Illinois Tool Works one of the best dividend kings you can own, especially at today's attractive prices. But if Illinois Tool Works is such a great company, and seeing strong growth top and bottom line growth, why does Wall Street hate the stock right now? That comes down to the company's risk profile.
Risks To Consider
With 56% of sales coming from outside the US, ITW has significant currency risk in the short to medium-term.

(Source: earnings release)
In Q2 2018, the company actually benefitted from the dollar weakening relative to local currenices, which significantly boosted its organic growth. However, due to the US economy outperforming most other economies right now, and rising US interest rates, more foreign capital could flow into US assets (like higher-yielding Treasury bonds). That might cause the dollar to strengthen, which would mean temporary growth headwinds. In fact, according to CEO Scott Santi the company now expects negative currency headwinds for the back half of the year ($0.12 per share in reduced EPS guidance for 2018).
While currency fluctuations tend to cancel out over the long-term, Wall Street's obsession with short-term results means that ITW might miss its guidance and see continued share weakness in the next few quarters (or even a year or two).
The other major concern the market has is trade wars and tariffs disrupting its global supply chain, raising input costs, and potentially costing it market share in its fast growing Asian markets (especially China). Should the US and China fail to strike a trade deal soon, then 25% tariffs on all Chinese imports (and Chinese retaliation) could weigh on the company's growth next year.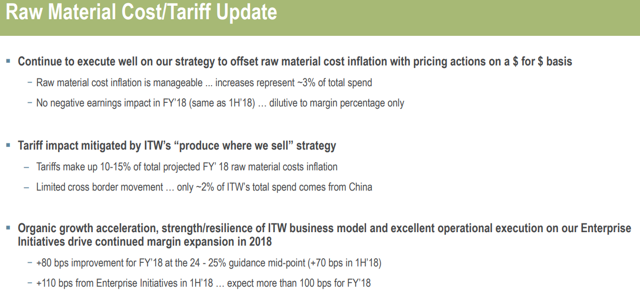 (Source: ITW earnings presentation)
While in the short term, tariffs increase the company's raw material costs just 3%, that combined with rising commodity prices in the US have caused management to lower its 2018 operating margin guidance from 25.3% to 24.5%. Again, this isn't a threat to the long-term investment thesis, but such short-term headwinds are one reason that ITW is on average 24% more volatile than the S&P 500.
Finally, investors have to remember that all industrial stocks operate in a cyclical industry. Sales, earnings and free cash flow can fluctuate significantly during economic or industry downturns.

(Source: Simply Safe Dividends)
For example, ITW's sales fell 15% during the Great Recession. Fixed operating costs meant that translated into a 46% decrease in EPS. Similarly, between 2011 and 2015, a global industrial recession and the worst oil crash in over 50 years, resulted in volatility to its top and bottom line. Currently, some of its top clients (like automakers) are suffering from declining sales and rising input costs which has Wall Street worried about slower growth in 2019.
The long-term growth forecasts provided by management and analysts are for smoothed out rates over time. Fortunately, thanks to a highly conservative dividend policy and strong balance sheet, Illinois Tool Works is able to maintain a safe and growing payout in all economic and industry conditions.
A.O. Smith: A Dividend Aristocrat That's Tapping Into China's And India's Booming Economies
A.O. Smith was founded in 1874 and is the largest manufacturer of residential and commercial gas and electric water heaters and boilers in the US. It also makes water treatment products and generates sales from over 60 countries around the world. Here's how the company's 2017 sales broke down:
U.S: 42%
Canada: 19%
China: 34%
Europe/Middle East: 5%
India: less than 1%
A.O. Smith's core strength lies in its dominant position in North American boilers and water heaters. It's spent 144 years building up the most extensive wholesale distribution network in the country, consisting of over 1,300 wholesale plumbers who account for 55% of sales in US residential water heaters.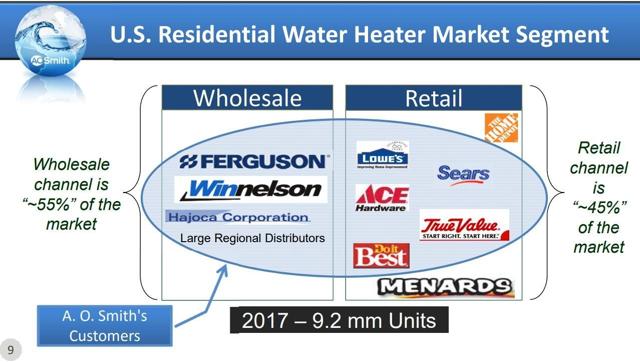 (Source: A.O. Smith Investor Presentation)
The other 45% of revenue is from retail sales through leading home improvement partners like Home Depot (HD) and Lowe's (LOW).
A.O. Smith manages to command strong pricing power thanks to its strong brands and innovation, courtesy of spending about 3% of sales on R&D each year. That spending allows its water heaters and boilers to have industry leading thermal efficiency (what % of power gets translated into heating water). Its products are also renown for their durability and reliability.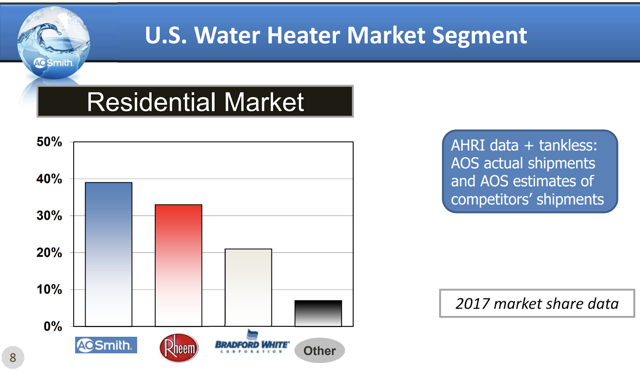 (Source: A.O. Smith Investor Presentation)
This is why A.O. Smith is the king of US residential heaters, courtesy of plumbers choosing its products for new home construction. And since water heaters usually last 10 years, rivals have a very hard time stealing its market share (long upgrade cycles).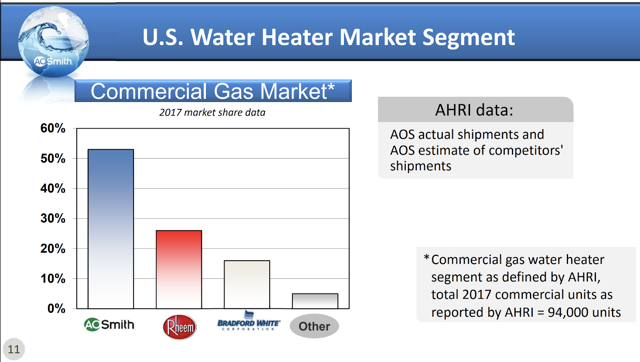 (Source: A.O. Smith Investor Presentation)
A.O. Smith's competitive advantage in product design and innovation can be seen in its over 50% market share in commercial heaters, such as those used in hospitals, schools, hotels, and other large commercial buildings. The company's R&D allowed it to introduce the Cylcone water heater in 1997. With 96% thermal efficiency, this proved to be a smash hit with commercial clients, and now generates nearly 2/3 of its US commercial sales from this one product line alone.
But while its North American water heater and boiler business is a good core business, the biggest reason to own A.O. Smith is its incredible growth opportunities in two emerging markets, China and India. Explosive growth in these markets is what has allowed A.O. Smith to deliver sensational growth from 2010 to 2017 including:
Sales growth: 10.5% annually
Adjusted EBITDA growth: 21% annually
Adjusted EPS growth: 26% annually
Free cash flow growth: 22% annually
Dividend growth: 24% annually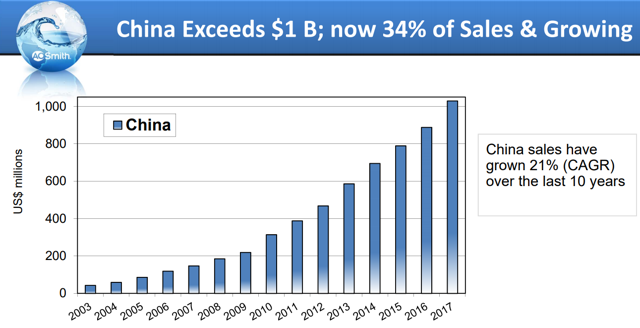 (Source: A.O. Smith Investor Presentation)
The crown jewel in A.O. Smith's business is currently China, where the company has delivered 21% annualized sales growth over the past decade. This has been thanks to that country's massive increase in its middle class, who is eager for top quality water heaters but also air and water purifiers. By 2020 China's middle class is expected to reach 600 million, or nearly double the population of the entire US. Management estimates that this will translate into about 200 million households who can afford its products. Best of all, A.O. Smith is extremely well positioned to benefit from the strong demand in its products by this army of consumers.
That's thanks to being an early mover in China, setting up its first officers there more than 15 years ago. Today A.O. Smith sells its water heaters and purifiers via over 9,000 distributors in China, and has a presence in 30% of China's largest cities. Its presence in medium sized cities is 70%, showing that it still has a long growth runway in that country, in terms of expanding its market presence.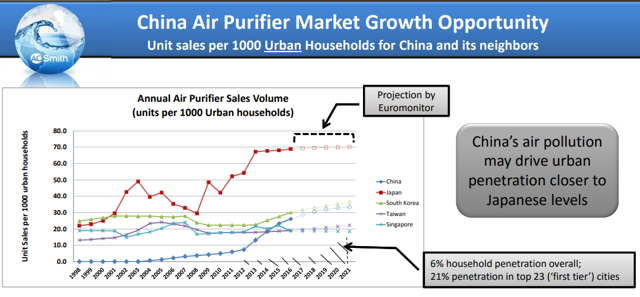 (Source: A.O. Smith Investor Presentation)
But in addition to selling more water heaters and boilers in China, A.O. Smith could make a fortune in air purifiers. Thanks to China's legendarily terrible air quality China's air purifiers sales have been skyrocketing. For example, in 2012 sales per 1000 households were just 7. By 2020 they are expected to increase 400% to 35. And even that huge increase in sales translates to just 21% market saturation in China's 23 largest and most polluted cities.
But while A.O. Smith's China opportunity alone would make it a standout dividend aristocrat worth buying, it's the Indian business that makes A.O. Smith a true "must own" dividend growth stock.
A.O. Smith was the first US company in its industry to enter the Indian market:
First office in India: 2008
Begins making and selling water heaters in India: 2010
Begins making and selling water/air purifiers: 2015
In 2017 Indian sales grew 44% to $26 million, or about 1% of total company sales. Now granted the company booked a $7.5 million operating loss on those sales. But continued strong growth in India means that losses in 2018 are expected to be $5 million, or 33% smaller.
India's middle class (who can afford A.O. Smith products) is estimated to reach 273 million households in 2020 and 322 million in 2030. That's why between 2020 and 2030 A.O. Smith is planning to more than double the number of product segments in India. In fact, India is ultimately a far better growth market for AOS than China.
That's because of superior demographics, meaning a much younger and still fast growing population. The UN estimates that by 2024 India will surpass China as the world's most populated country. By 2030 India's population is expected to hit 1.5 billion, and by 2050, peak at 1.7 billion. After 2060 it's expected to gradually decline as a maturing economy leads to lower fertility rates. The point is that India is a huge untapped market, and one that's only going to get bigger for the next 50 years.
A.O. Smith is already building out a vast distribution and retail network to take full advantage of this incredible growth opportunity.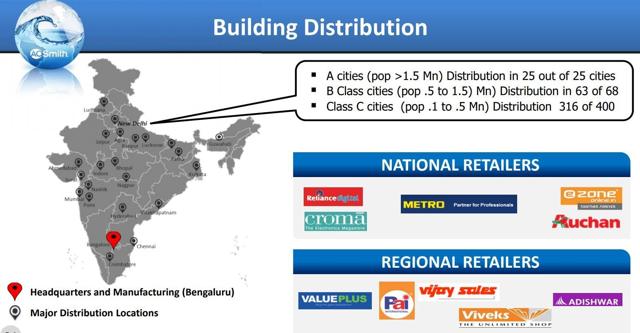 (Source: A.O. Smith Investor Presentation)
The company is in all of India's largest cities, and 93% and 79% of medium and small cities, respectively. That's thanks to partnering with India's top national and regional retailers, the equivalent of that country's Home Depot and Lowe's.
All told, A.O. Smith thinks that China and India will allow it to generate 8% long-term organic growth.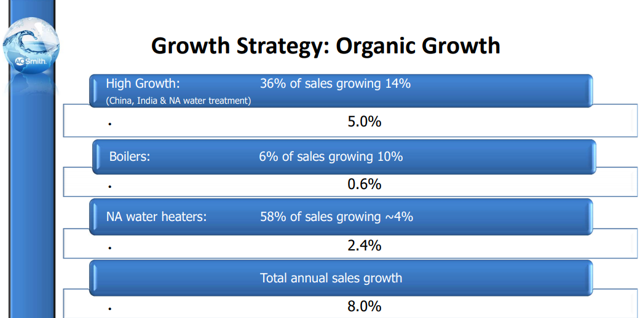 (Source: A.O. Smith earnings Presentation)
And as it achieves bigger economies of scale, margins should continue to improve as they have since 2010.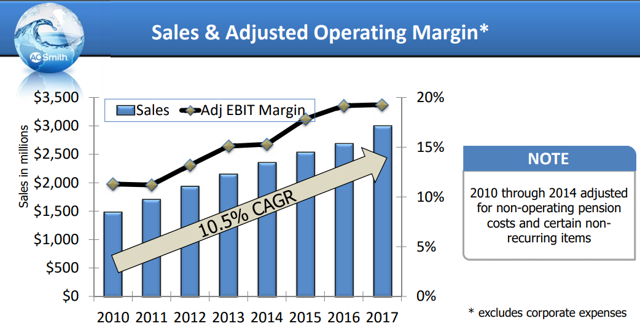 (Source: A.O. Smith earnings Presentation)
The combination of 8% organic growth, plus modest bolt-on acquisitions, rising profitability, and about 1% to 2% per year of buybacks, is what has analysts forecasting 11% to 12% EPS growth over the next decade. I consider that a reasonable estimate given management's great track record on execution and the growth runways ahead of it.
Ok, so that's the bullish thesis behind A.O. Smith, but with shares cratering surely something must have gone wrong. Have the wheels fallen off the AOS growth bus?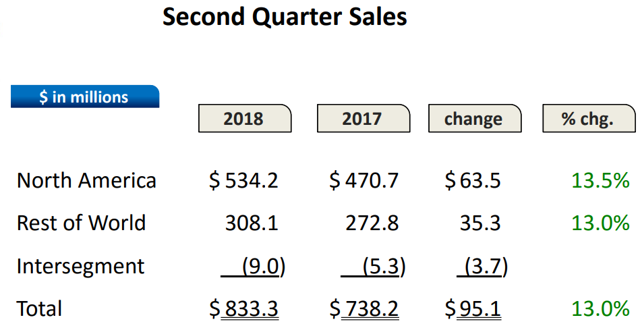 (Source: A.O. Smith earnings Presentation)
Actually, A.O. Smith's recent stock plunge is not warranted by its fundamentals. In both its core North American business and abroad, sales were stronger than last quarter. In fact, the company's sales in Q2 increased 13%, which translated into 25% EPS growth (14% growth excluding tax cuts).
Similarly, in the first half of the year, AOS similarly has delivered excellent results, despite what the stock price might have you believe.
| | |
| --- | --- |
| Metric | First Half 2018 Growth |
| Revenue | 9.7% |
| Net Income | 18.3% |
| Free Cash Flow | 262% |
| Shares Outstanding | -1.3% |
| EPS | 19.4% |
| FCF | 263% |
| Dividend | 28.6% |
(Source: earnings release, Morningstar)
Note that due to its small size and the lumpiness of capex investments A.O. Smith's FCF can be volatile from quarter to quarter. On a comparative trailing 12 month basis FCF grew a healthy 15%, in line with its earnings growth.
And for 2018 management expects operating cash flow to rise 46% and free cash flow to grow an astounding 61%. This, combined with a low payout ratio (33% over the past 12 months), is what allowed AOS to reward investors with a just announced 22% dividend hike. That's the second of the year, following a 29% increase in January. Investors should probably assume this 22% increase represents next year's hike, but the large magnitude is still among the best of any aristocrat.
So if A.O. Smith is growing quickly, and has such massive growth potential in China and India, why is the share price near 52 week lows? Again that comes down to the risk profile.
Risks To Consider
The biggest reason Wall Street is currently so bearish on AOS is due to its heavy exposure to China.
With US steel tariffs increasing its primary input cost, and China's economy potentially set to slow in 2019 from the trade war, investors fear that A.O. Smith's margins will come under pressure and its red hot foreign market sales will cool off. The good news is that the company recently increased its wholesale boiler prices 10% in the US to offset higher steel costs. Thus far this hasn't resulted in a loss of sales volumes due to the strong economy fueling construction demand and generating a strong boiler replacement cycle. In fact, management is guiding for about 10% revenue growth in the US in 2018, which is far above its long-term guidance for North America. What about China? Well, there the news isn't so rosy.
JPMorgan (JPM) is now saying that 25% US tariffs on all Chinese imports are its base case scenario for 2019. And Wall Street isn't just worried that retaliatory tariffs from Bejing might cost AOS market share in the middle kingdom. There are very real concerns that a trade war, if it persists, might slow China's growth rate, and thus its demand for things like water heaters, and air and water purifiers. For example, JPMorgan estimates that a full blown trade war with the US will knock 1% off China's growth in 2019.
Already there are signs that the trade war is dragging on China's already slowing economy (their workforce has been shrinking since 2014). For example, China's government recently announced it would start a $175 billion stimulus program to boost falling growth rates. Most of that will come from lowering capital requirements for banks, so they can lend more money. It's important to note that China's $12 trillion economy isn't nearly as reliant on US exports (just over $500 billion per year) as it once was. However, in recent years wage growth, consumer spending, and infrastructure investment have all started to pull back, which means that any tariff induced slowdown will merely make already slowing growth worse.
What does that mean for A.O. Smith? Well, while China sales grew 12% in Q2, 2/3 of that was due to positive currency translation, specifically from the Yuan depreciating against the dollar. In local currency sales grew just 4%, but management expects that to increase to 6% in the second half of the year (5% full year). Now it's true this is a much slower growth rate than what Wall Street is used to. However, we have to remember that A.O. Smith, like all aristocrats, is focused on the long-term. And at the most recent conference call management said it remains confident in its long-term growth guidance, including 14% long-term annual sales growth from its China and Indian businesses. In 2019 strong Indian sales are expected to help support any weakness in China. But management is confident that organic growth in China over the long-term will still run about 12% to 13%, even as China's economy matures and growth rates slow. And in the medium-term 15% growth in China is what management expects.
However, just because the China/India growth leg of the AOS investment thesis remains intact, doesn't mean that investors don't face another risk to be aware of. That would be currency risk. China and India have more volatile currencies which might cause stronger swings in the companies future sales and cash flow growth. For example, thanks to the trade war causing about 10% devaluation of the Yuan this year (relative to the dollar), AOS is actually forecasting a $33 million positive currency translation boost in 2018. That's about 50% higher than it expected back in April.
But like with Illinois Tool Works, it's important to remember that currencies tend to be mean reverting. The strong growth tailwinds of 2018 caused by a falling Yuan will eventually reverse and become headwinds. And with China and India expected to be the best growth drivers going forward A.O. Smith's earnings will likely become more volatile over time.
Combined with the cyclical nature of its business, this explains why AOS is usually about 37% more volatile than the S&P 500. Of course for long-term income investors mostly concerned with safe and growing dividends, volatility can be a blessing. That's because it allows you to buy fast growing dividend aristocrats like these at bargain basement prices.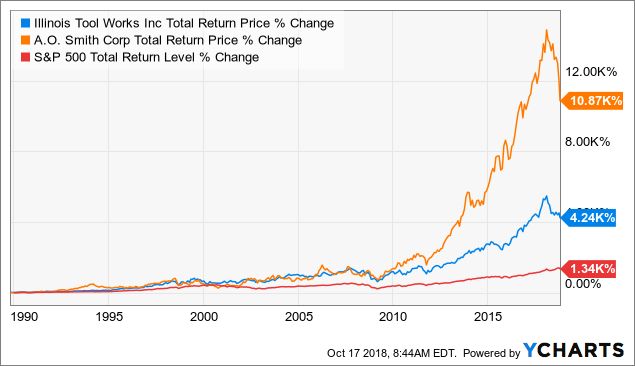 ITW Total Return Price data by YCharts
So while both ITW and AOS may face relatively wild swings in prices in the coming years, investors should remain confident that bear markets for these stocks are a great time to buy. That's because both have the world class management teams with proven track records of generating market smashing returns.
Quality Management Makes All The Difference
Ultimately quality management is what generates long-term investor returns. Running a global industrial conglomerate is a challenging process that requires constantly adapting to changing industry conditions. A quality, long-term focused management team is essential to allocating investor capital wisely over time, and delivering the kind of fast cash flow and dividend growth that income investors crave.
Illinois Tool Works has a "promote from within" culture led by Chairman and CEO Scott Santi. Santi took over for the last CEO, David Speer, who died of an illness in 2012. Santi has been with ITW since 1983 and has spent his entire career steeped in the company's efficient operating culture. Over his 35 year tenure with Illinois Tool, Mr. Santi has worn many hats, including overseeing the running of five of its eight (at the time) business segments. The bottom line is that Illinois Tools is led by a master capital allocator, who has been able to centralize the company's logistics chain, which boosted operating margins by 3% all on its own.
A.O. Smith also has a great corporate culture, marked by very low turnover at the top. For example, in its 144 year history, AOS has had just nine CEOs, meaning an average CEO tenure of 16 years. Today A.O. Smith is led by CEO Ajita Rajendra, who has over 40 years of industry experience, and has been in the top spot since 2014. He's been with the company since 2005, when he started as President of the water products business. That business has been instrumental to achieving AOS' fast growth over the years, especially in China and India.
A good proxy for quality management is comparing a company's profits and returns on invested capital to its peers.
| | | | | | |
| --- | --- | --- | --- | --- | --- |
| Company | Gross Margin | Operating Margin | Net Margin | FCF Margin | Return On Invested Capital |
| Illinois Tool Works | 41.8% | 24.3% | 17.4% | 15.5% | 30% |
| A.O. Smith | 40.9% | 17.3% | 13.7% | 10.5% | 28% |
| Industry Average | 28.1% | 7.1% | 4.9% | NA | 13% |
(Sources: Simply Safe Dividend, Gurufocus, Morningstar, CSI marketing)
The most important metrics to look at are free cash flow margin and ROIC. Both ITW and AOS have strong FCF margins, with ITW's being larger thanks to larger economies of scale (costs spread out over 5X larger sales). But both companies sport net margins that are many times greater than the industry average, as well as eye-popping ROIC. ROIC is a proxy for capital allocation over time, including acquisitions, capex, and R&D spending that are essential to running a good industrial company.
One example of superior capital allocation efficiency is the fact that ITW spends just 4.2% of sales on R&D and capex (growing capacity and cutting costs). That's compared to about 10% for most of its larger rivals.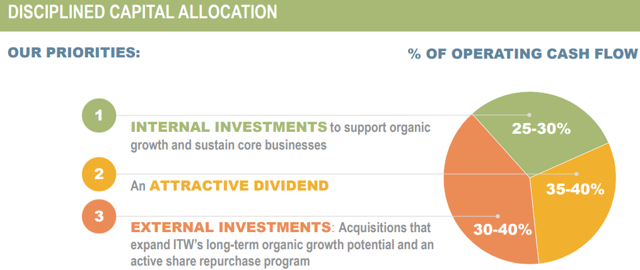 (Source: Illinois Tool Works investor presentation)
Most of the company's operating cash flow is dedicated to the fast growing dividend, which I love to see. But just as importantly an equal amount is set aside for growing the business through smart strategic bolt-on acquisitions. This means purchasing companies in fast growing and profitable industries, that ITW can easily integrate into its corporate culture and global marketing and supply chain. The company also invests heavily, but wisely, into targeted organic growth, with an eye towards achieving above industry average organic growth rates.
A.O. Smith's capital allocation discipline can be seen by management forgoing large, and debt fueled acquisitions. For example, most of its M&A is bolt-on acquisitions such as 2017's Aquasana ($87 million) and Hague ($45 million). These are small water treatment companies that will help grow that business in North America. Those purchases are mostly cash based, because management wants to maintain maximum financial flexibility and a fortress like balance sheet (more on this in a moment).
Basically, A.O. Smith is mostly focused on organic growth, primarily capitalizing on growth opportunities in China and India. Steady but disciplined investment in R&D and capex (cost cutting and efficiency gains), combined with fast growth in sales means steadily higher margins. Which in turn will translate into excellent growth in FCF and the dividend.
Which brings me to the biggest reason to buy these fast growing blue chips today, some of the best dividend profiles of any dividend aristocrat.
Dividend Profile: Safe And Fast Growing Dividends And Market Beating Return Potential
The most important part of any income investment is the dividend profile. This consists of three parts: yield, payout safety, and long-term growth potential. Combined with valuation, this has historically been what drives total returns.
| | | | | | |
| --- | --- | --- | --- | --- | --- |
| Company | Yield | TTM FCF Payout Ratio | Expected Long-Term Dividend Growth | Expected CAGR Total Return (From Fair Value) | Valuation Adjusted CAGR Total Return Potential |
| Illinois Tool Works | 3.0% | 45% | 8% to 10% | 11% to 13% | 14.4% to 15.4% |
| A.O. Smith | 1.8% | 33% | 11% to 12% | 12.8% to 13.8% | 17.9% to 18.9% |
| S&P 500 | 1.9% | 38% | 6.4% | 8.30% | 0% to 5% |
(Sources: earnings releases, management guidance, Morningstar, BlackRock, Vanguard, Gurufocus, Fast Graphs, Simply Safe Dividends, Multpl.com, Yardeni Research, Gordon Dividend Growth Model, Dividend Yield Theory, Moneychimp)
Neither ITW or AOS offer especially impressive yields. Sure Illinois Tool's yield is 50% above that of the S&P 500, but AOS' is in line with the broader market. However, what they lack in current yield these aristocrats more than make up for in safety and strong growth.
With payout ratios of under 50% (considered safe for this industry), both stocks have strong dividend safety buffers that protect and keep the dividend rising even during recessions. Just as important as the payout ratio is the balance sheet. Too much debt can threaten the safety of the dividend, even if free cash flow easily covers this annual cost.
| | | | | |
| --- | --- | --- | --- | --- |
| Company | Debt/EBITDA | Interest Coverage Ratio | S&P Credit Rating | Average Interest Cost |
| Illinois Tool Works | 1.8 | 16.0 | A+ | 3.5% |
| A.O. Smith | 0.4 | 62.6 | Not Rated | 4.0% |
| Industry Average | 2.2 | 38.8 | NA | NA |
(Sources: Morningstar, Gurufocus, Fast Graphs)
Fortunately, both Illinois Tool Works and A.O. Smith have fortress like balance sheets. That includes below average leverage ratios and strong interest coverage ratios. That's why ITW has a very strong investment grade credit rating that allows it to borrow at rates eight times lower than its ROIC. A.O. Smith chooses not to pay the $200 to $500K per year to have a credit rating but if it wanted to it would likely also be rated "A" given its very modest debt levels. In fact, A.O. Smith has a net cash position of $410 million and is generating $219 million in annual retained FCF to grow that over time. That's why it's interest costs are also far below its ROIC.
As for long-term dividend growth potential, ITW's payout is likely to rise as fast as EPS and FCF/share. That's due to its payout ratio being close to management's long-term target of 50%. A.O. Smith has room to raise the payout ratio but might want to retain more cash to fund its ambitious growth plans in China and India. Basically, I'm assuming that both companies will only grow the dividends as fast as their FCF/share. Fortunately, that's likely to be close to 10% for ITW and about 11.5% for AOS. Combining those growth rates with the current yields we get an estimated long-term return potential of 12% and 13.3%, respectively. That assumes no multiple expansion in the future. For context, the S&P 500's historical (since 1871) return has been 9.2%. So even if the market remains this bearish on both stocks forever, both should still deliver market beating returns.
However, in reality, dividend aristocrat valuations never stay permanently depressed so when we adjust for valuation mean reversion, we actually find that ITW and AOS are likely to generate about 15% and 18.5% long-term CAGR total returns, respectively. In contrast Morningstar, BlackRock and Vanguard expect the S&P 500 to deliver between 0% and 5% CAGR total returns over the coming five to 10 years.
Why do I expect both Illinois Tool and A.O. Smith to see such strong valuation returns boosts? Because both are trading at such large discounts to fair value.
Valuation: Best Time In Nearly A Decade To Buy These Aristocrats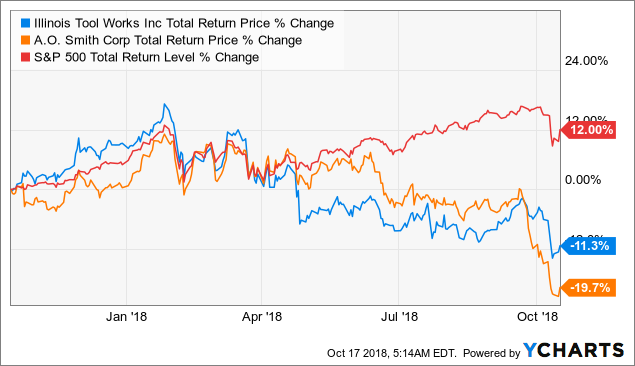 ITW Total Return Price data by YCharts
Both ITW and AOS have delivered terrible total returns over the past year. But rather than see that as a sign to stay away, I consider it a great long-term buying opportunity.
There are dozens of ways to value a stock but for blue chips such as these two have historically been the most useful. The first is to look at the PE ratio and compare it to its historical norms. Due to tax reform this year I'm using the forward PE ratio.
| | | | | |
| --- | --- | --- | --- | --- |
| Company | Forward PE Ratio | 20 Year Average PE Ratio | Long-Term EPS Growth Baked Into Price | Expected Long-Term EPS Growth |
| Illinois Tool Works | 17.0 | 19.7 | 4.3% | 8% to 10% |
| A.O. Smith | 17.7 | 21.5 | 4.6% | 11% to 12% |
(Sources: Simply Safe Dividends, Fast Graphs, Benjamin Graham)
Both stocks are trading at about 17 times forward earnings, which is the average for industrial companies right now. That alone should tell you these stocks are undervalued, since their clearly superior profitability, management teams, and growth prospects mean they deserve some kind of premium. What's more, at today's PE ratios, both stocks are pricing in about 4% to 5% long-term EPS growth, far below what management or analysts think is likely.
Ok, so both Illinois Tool Works and A.O. Smith are like undervalued. But by how much and what does that mean for future long-term total returns? To answer that I turn to a time tested dividend valuation method called Dividend Yield Theory or DYT. Since 1966, asset manager and newsletter publisher Investment Quality Trends has been using this valuation approach exclusively. The result has been decades of market crushing returns, with about 10% less volatility to boot.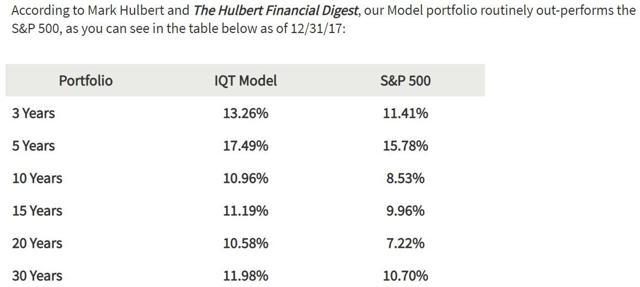 (Source: Investment Quality Trends)
DYT merely compares a dividend stocks' yield to its historical yield. As long as the business model is stable (doesn't change over time) then yields are usually mean reverting. That means they cycle around a historical point that approximates fair value. Purchase a stock when the yield is significantly above its historical fair value yield and you buy it at a high margin of safety. When the yield returns to its historical norm the share price will rise faster than cash flow and dividends, thus boosting your returns.
| | | | | |
| --- | --- | --- | --- | --- |
| Company | Yield | 5 Year Average Yield | 13 Year Median Yield | Historical Yield Range |
| Illinois Tool Works | 3.0% | 2.1% | 2.2% | 1.6% to 4.5% |
| A.O. Smith | 1.8% | 1.1% | 1.1% | 0.8% to 3.4% |
(Sources: Simply Safe Dividends, Gurufocus)
As you can see ITW's and AOS' yields are volatile over time, but tend to cycle around 2.15% and 1.1%, respectively. Thus these are their fair value yields and represent a good entry point for long-term investors.
| | | | | |
| --- | --- | --- | --- | --- |
| Company | Estimated Fair Value Yield | Discount To Fair Value | 10 Year CAGR Valuation Return Boost | Long-Term CAGR Total Return Potential |
| Illinois Tool Works | 2.15% | 28% | 3.4% | 14.4% to 15.4% |
| A.O. Smith | 1.10% | 39% | 5.1% | 17.9% to 18.9% |
(Sources: Simply Safe Dividends, Gurufocus, Dividend Yield Theory, Gordon Dividend Growth Model, Moneychimp)
This means that at their current yields ITW and AOS are about 28% and 39%, undervalued, respectively. A.O. Smith enjoys the benefit of two massive dividend hikes this year, which the market will eventually reward it for.
I can't predict how quickly both yields will return to historical levels, but it's almost certain to happen over the next five to 10 years. I model 10 year time horizons, but even that long span would equate to 3.4% and 5.1% annual return boosts for ITW and AOS, respectively. Combine that with the Gordon Dividend Growth Model (yield + long-term dividend growth = total returns), which has been accurate since 1956, and that's how you can estimate long-term total returns.
The bottom line is that for this caliber of company (fast growing dividend aristocrats) investors will do well buying at fair value or better. So when blue chips like these are selling at such a steep discount, you can invest with confidence, knowing strong total returns likely lie in your future.
Bottom Line: These Time Tested Blue Chips Are Great Buys Right Now
Cyclical industrial stocks are not where one would assume you look for safe and steadily growing dividends. However, in reality the ranks of dividend aristocrats are chock full of world class industrial companies.
Illinois Tools Works and A.O. Smith are two of my favorite industrial aristocrats, thanks to their 54 and 26 years of consecutive dividend growth, respectively. These companies have proven that their strong competitive advantages, long-term focused and shareholder friendly management cultures, and ability to dominate strong growth markets, makes them great places to invest your hard earned money.
Today, despite booming businesses, both stocks are deeply undervalued, thanks to Wall Street's fears over trade wars, a rising US dollar, and short-term margin pressure. However, that just means that today is the best time in nearly 10 years to add these Grade A blue chips to your diversified dividend growth portfolio.
That's because ITW and AOS are about 28% and 39% undervalued right now. Combined with their strong long-term growth potential, that translates into likely 15% and 18.5% annualized returns over the coming years. That's not just better than what the S&P 500 is likely to deliver, but far superior to what most aristocrats and kings can likely deliver.