While toymaker Mattel's (NASDAQ:MAT) stock has been recovering from the fallout of major retailer Toys "R" Us, sentiment about the firm appears to have turned bearish ahead of earnings.
MAT, owner of popular American franchises, including Barbie, Hot Wheels, Fisher-Price and Thomas & Friends, has seen its sales suffer for a protracted period, amid mega-retailer Toys "R" Us' bankruptcy.
Shares of MAT have recovered roughly 16% of their losses since hitting a 52-week low of US$12.80 on March 21 – soon after the March 15 announcement of Toys "R" Us' liquidation. However, the company's sales have continued to decline, and the market appears to be jittery ahead of its third quarter of 2018 earnings figures set for release Thursday, October 25.
At the start of this past week, MAT experienced its third death cross since 2014, with the Relative Strength Index (RSI) – a momentum indicator that weighs the magnitude of recent price gains against the magnitude of losses – languishing below 50.00 (reflecting bearish short-term momentum).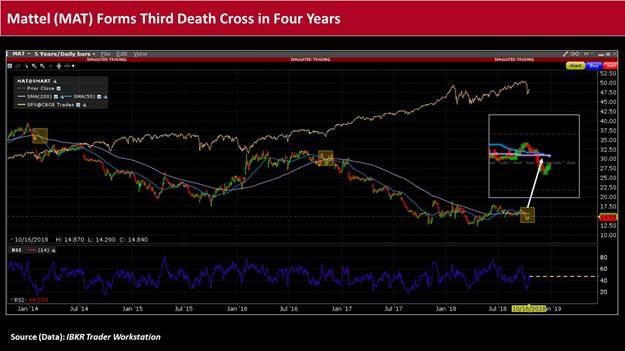 Evolution and FX Headwinds
Part of MAT's challenges appear to be driven by changing consumer interests and behaviors, amid ever-evolving technological advances.
Fitch Ratings analysts David Silverman and Monica Aggarwal recently noted that MAT has been "unable to effectively evolve its product portfolio commensurate with changes to children's play patterns." They observed that children have generally become "increasingly digitally oriented and marginally less interested in traditional toys."
Fitch noted that Mattel's traditional toy portfolio, including Barbie, has had "difficulty effectively retaining mindshare as this phenomenon progresses." Furthermore, Mattel's revenue base has become increasingly tied to licensed properties, which have created the dual risks of lost licenses, such as the Disney Princess line to Hasbro beginning in 2016, and underperforming properties, such as Cars 3 in 2017.
Fitch added that all of these challenges have been "exacerbated by the strengthening U.S. dollar in recent years, given that around 40% of Mattel's revenue is generated internationally."
For Q2'18, net sales in MAT's international segment fell by 10% year-on-year, primarily driven by lower sales of Cars, Fisher-Price and Thomas & Friends, as well as by the impact of the Toys "R" Us liquidation. By region, the decrease in gross sales was attributed to lower sales in global emerging markets, mainly in China.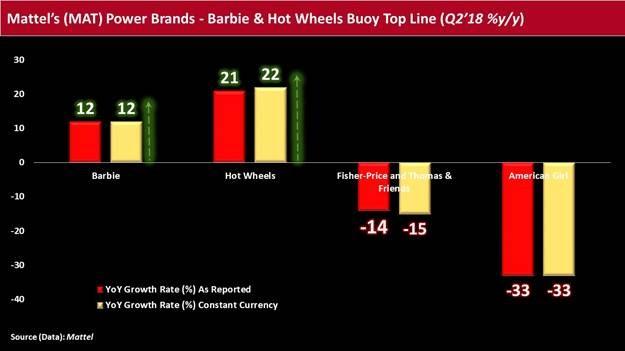 Overall, MAT's revenue has steadily declined in recent years, with sales falling from a peak of US$6.5bn in 2013 to US$$4.9bn in 2017, and US$4.7bn in the trailing twelve months ended June 2018. For Q2'2018, the company's net sales plunged 14% year-on-year, with an adjusted operating loss of US$141.3m, and adjusted loss per share of US$0.56.
For Q2, worldwide gross sales for MAT's 'Power Brands' declined 2% from the prior year to US$619.4m, despite a 12% rise in Barbie and a 21% increase in Hot Wheels.
In late July, Fitch cut MAT's credit rating to 'B-' from 'B+' and assigned a negative outlook.
Transformation
Ynon Kreiz, Mattel's chair and CEO, admitted there has been "a big discrepancy between our financial performance over the last few years and where the company should be."
To combat changes in the industry, MAT has been undergoing a 'Structural Simplification' program, designed to achieve around US$650m in cost savings by 2020. The firm's transformation strategy relies, in part, on growth in emerging markets, as well as operational streamlining.
Meanwhile, apart from a series of board member changes (MAT's BOD includes 10 directors, five of whom have joined within the last five months), the company has also embarked on a new theatrical film division – headed by producer Robbie Brenner – to further capitalize on IP-driven opportunities.
Mattel CFO Joseph Euteneuer said the firm's gross margin had been "challenged" in the first half of 2018, but expects "a significant sequential improvement" in the second half of the year.
The market generally expects MAT to earn a little more than US$0.20 EPS in Q3'18, up from US$0.09 EPS in the same year-ago quarter. However, indications of bearish sentiment from MAT's chart suggests sales from its traditional brands – including typical top producers Barbie and Hot Wheels – may not be sufficient to stop the firm's continued bleeding.
MAT's stock was last quoted down almost 1.10% at US$14.68 intraday Wednesday.
Note: This material was originally published on IBKR Traders' Insight on October 17, 2018.
The analysis in this material is provided for information only and is not and should not be construed as an offer to sell or the solicitation of an offer to buy any security. To the extent that this material discusses general market activity, industry or sector trends or other broad-based economic or political conditions, it should not be construed as research or investment advice. To the extent that it includes references to specific securities, commodities, currencies, or other instruments, those references do not constitute a recommendation by IB to buy, sell or hold such investments. This material does not and is not intended to take into account the particular financial conditions, investment objectives or requirements of individual customers. Before acting on this material, you should consider whether it is suitable for your particular circumstances and, as necessary, seek professional advice.
Disclosure: I/we have no positions in any stocks mentioned, and no plans to initiate any positions within the next 72 hours. Business relationship disclosure: I am receiving compensation from my employer to produce this material.