Electronic Arts (EA) is a company that develops and delivers branded interactive entertainment software globally, according to the Bloomberg DES function. EA's games offer live services, microtransactions, downloadable content, subscriptions, and e-sports. These different services provide multiple engagement opportunities for players.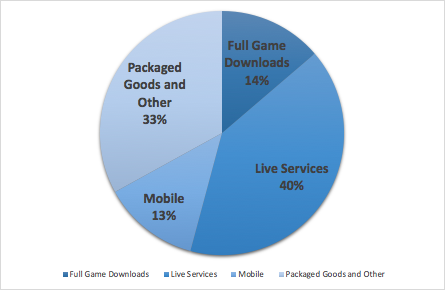 Source: Created by author using data EA 10-k report 2018
The chart above breaks down the percentage of revenue each service creates for EA during the fiscal year 2018. This information is from EA's 10-k report (p. 32). Digital services such as mobile, live services and full game downloads represent 67% of total revenue while packaged goods are only at 33%. Live services at 40% of total revenue prove to be EA's most successful area of business. EA's most successful live service is the Ultimate Team, which allows players to personalize their teams, and contributes to 21% of total net revenue. Mobile sales only contribute to 13% of total revenue which is $659 million. There is a significant opportunity for expansion in mobile game sales and full game downloads to increase revenue as industry trends change.
Electronic Arts resides in the software industry of the technology sector. The technology sector is aware that digital services and sales are increasingly becoming a larger component of total revenue, especially for software industry companies. When analyzing entertainment as a whole, video games/e-sports remain a top growth segment.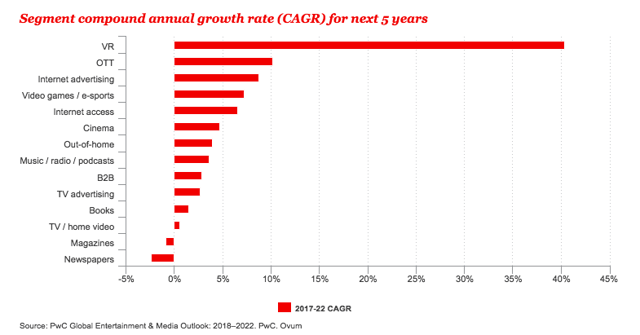 Source: PWC Global Entertainment & Media Outlook, 2018
The chart above shows that the virtual reality segment dominates in projected growth over the next five years. Not far behind, video games/e-sports have a projected segment growth of 10%. According to PWC, if e-sports were separated from video games, they would be the second fastest growing segment. This industry outlook is beneficial for EA revenue growth as they are developers of some of the most popular e-sport games such as FIFA, NHL and Madden NFL.
The video-game software market is worth $124.4 billion and mobile gaming is the main contributor according to the North America Entertainment 2018 Midyear Outlook found on Bloomberg. The industry is becoming mobile, and smartphone/tablet game sales are predicted to increase to $72.3 billion. This report also insists that PC and console games have reached their maturity and mobile games are a catalyst for sales growth.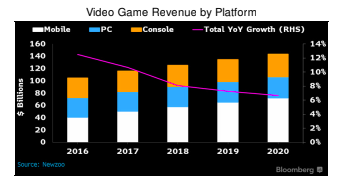 Source: Bloomberg, BIP
The chart above shows that mobile games control most of video game revenue while PC and consoles are much less influential. The shift in the software industry towards digital sales is being capitalized by EA through increasing the sustained growth of their profitable in-game content to boost gross margin by about 100bps a year according to the North America Entertainment 2018 Midyear Outlook.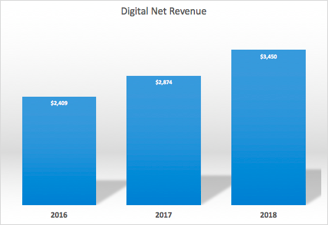 Source: Created by author using data from EA 10-k report 2018
The chart above shows that EA has significantly increased their digital net revenue to $3,450 million. Incentivizing digital sales through subscriptions and microtransaction sales allows EA to remain competitive in the current industry. It is important that EA capitalizes on digital sales growth to increase future revenues.
In the software industry, EA's main competitors are Activision Blizzard, Zynga Inc., and Take-Two Interactive. These video game companies create, publish and distribute interactive video games that target video game players. Video game players are selective towards the games they play, not necessarily the company that creates them, so these top performing video game companies look to provide unique advanced games that are highly addictive and popular among gamers.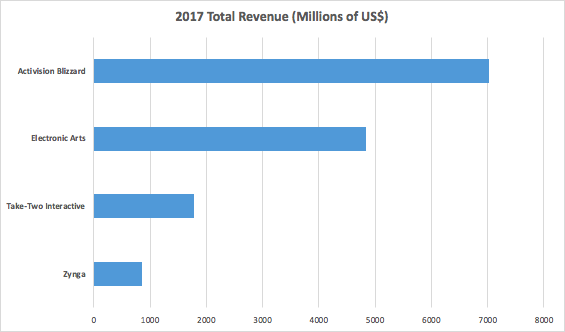 Source: Created by author using data from Bloomberg SPLC function
Above is a chart showing the total revenues in 2017 of EA's top competitors. Company income statements show that Activision Blizzard has a $7,017 million total revenue while Electronic Arts follows behind with $4,845 million total revenue. Take-Two Interactive has a total revenue of $1,780 million. Zynga Inc. has a total revenue of $861 million. EA currently has a profit margin of 20% which is 9% higher than the S&P 500 profit margin of 11%. Activision Blizzard, Take-Two Interactive and Zynga have profit margins respectively of 4%, 4%, and 3%. EA is outperforming its competitors in profit margins. Activision Blizzard has a market cap of 59.4 billion while Electronic Art's is 32.3 billion. Take-Two Interactive is a smaller company with a market cap of 14.7 billion. Zynga's market cap is 3.6 billion. While Zynga Inc. is a much smaller company with lower total revenue, they remain on the radar because this company created success from their social media games which create revenues completely digitally. Since the software industry is moving towards digital sales/services, Zynga is a threat to these three well-established video game companies. Another competitor not mentioned on the Bloomberg SPLC function is Nintendo. Nintendo, founded in 1889, has been a powerhouse video game creator and their 2018 total revenue is 9.59 billion.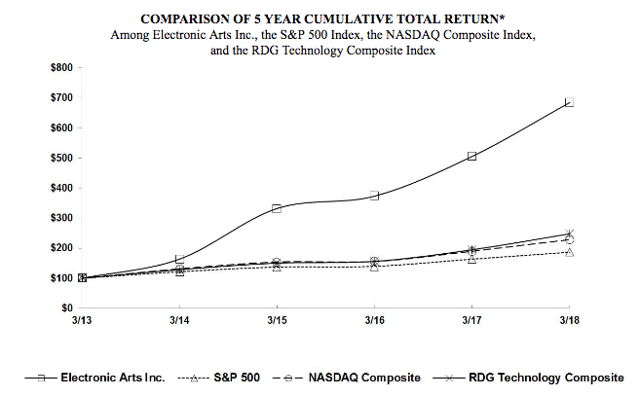 Source: EA 10-k report 2018, page 21
According to the graph above, EA's stock has performed with high returns in the last 5 years. $100 invested in Electronic Arts, five years ago on March 31st, 2013 has grown to $685 in 2018. Outperforming the S&P 500 Index by $498, NASDAQ Composite Index by $465 and the Research Data Group (RDG) Technology Composite Index by $437. EA achieved higher returns of both the NASDAQ Composite Index (which measures the performance of the market as a whole) and the RDG Technology Composite Index (which includes the performance of technology stocks). This historical performance is an indicator of a continual increase in revenue over the next four years for Electronic Arts.
Another aspect that will lead to an increase in revenue for Electronic Arts is its enhancement to e-sports. In the software industry, e-sports have proved to be highly successful and a large provider of revenue. EA's FIFA e-sport game remains on the "Top E-Sports Games on Twitch" chart since April 2018 according to the Bloomberg function BIP. Twitch is Amazon's live streaming video platform. FIFA, NBA and Madden NFL are among EA's top e-sport games. According to the Electronic Arts Research Primer, e-sport competitors and viewers are likely to spend 30% more on games than casual gamers. This is a huge area of opportunity in the industry for EA. EA's Origin Access service allows subscribers to spend $30 a year for special access to new games. This subscription service creates a consistent and predictably high-margin revenue stream but may influence EA's competitors to create a similar special access program. Because the software industry is becoming highly digitalized, EA has the opportunity for geographic expansion. EA has just started to branch out into China's large gaming market. There is a lot of potential in this geographic expansion for revenue growth.
The software industry is supportive of growth in Electronic Arts future revenue. Because of the industry shift towards digital services/sales, EA is expanding their in-game purchases, especially for their Ultimate Team mode, releasing new games to break into other genres (especially mobile games), enhancing their subscriptions such as Origin Access and expanding their geographic reach. Trends in higher-margin digital revenue are going to aid profitability of Electronic Arts.
Disclosure: I/we have no positions in any stocks mentioned, and no plans to initiate any positions within the next 72 hours. I wrote this article myself, and it expresses my own opinions. I am not receiving compensation for it (other than from Seeking Alpha). I have no business relationship with any company whose stock is mentioned in this article.