Remember those simpler times, when telecoms sold telephone service, and not much else? With the ongoing progress of communications technology, those days are long gone, as telecoms scramble to reverse cord cutting via expanding their services on many levels.
We revisited an old former holding of ours, Century Link (CTL), this week. Like other telecoms, CTL has gone through a rough patch, with traditional land line losses, but, in 2017, management made a major acquisition, buying Level 3 Communications inc., and transforming the company into a whole lot more than the rural landline service provider it was once formerly known as.
Profile:
Century Link is an international facilities-based communications company engaged primarily in providing an integrated array of services to our residential and business customers.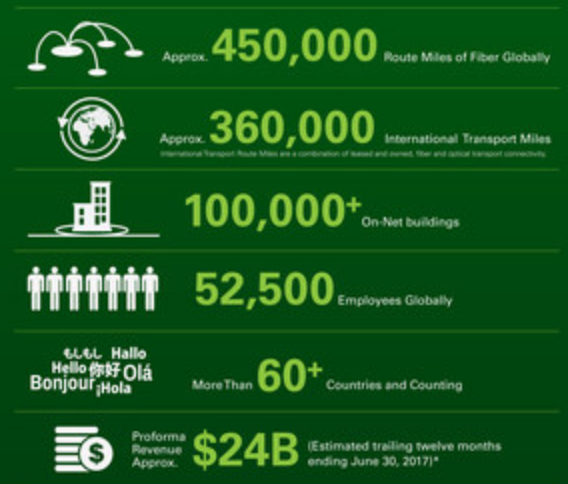 (Source: CTL site)
CTL has two segments: Its Business segment provides products and services to small, medium and enterprise business, wholesale and government customers, including other communication providers. Products and services offered to these customers include local and long-distance voice, VPN data network, private line (including business data services), Ethernet, information technology, wavelength, broadband, colocation and data center services, managed services, professional and other services provided in connection with selling equipment, network security and various other ancillary services.
The Consumer segment provides products and services to residential customers, including broadband, local and long-distance voice, video and other ancillary services.
In Q2 '18 the Business segment accounted for 74% of CTL's revenue, while the Consumer segment accounted for 23%. Enterprise and Wholesale and Indirect sales were ~59% of Business sales, followed by Medium and Small Business sales and International sales.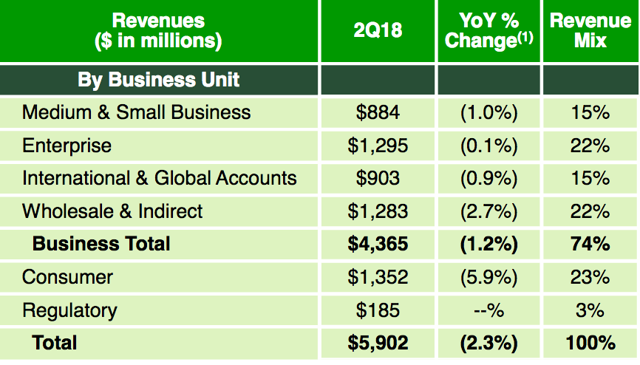 (Source: CTL site)
The Business segment's overall EBITDA margin improved to 42% in Q2 '18, vs. 39% in Q2 '17, and showed the effects of the Level 3 acquisition, with 132% growth in IP and data services, 59% growth in Transport and Infrastructure, 45% growth in voice and collaboration, and 4% IT and managed services growth: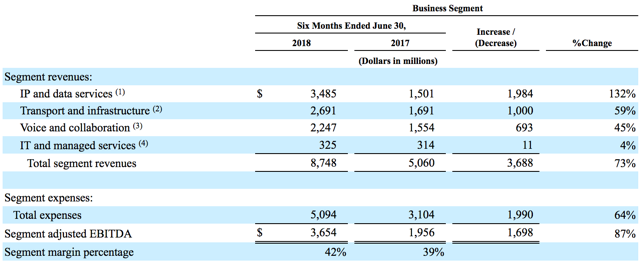 (Source: CTL Q2 '18 10Q)
The Consumer segment had less sanguine results, with total revenues down -5%, and EBITDA down -4%. However, the margin improved slightly, to 57%:

(Source: CTL Q2 '18 10Q)
Overall, IP and Data services comprised 31% of revenues in Q2 2018 and saw a 2.1% rise year-over-year, in spite of its -15% decline in the Consumer segment.
Voice and Collaboration was down -8% overall, forming 28% of revenue, while Transport and Infrastructure was down less than -2%, and was CTL's revenue leader, at 35% of total revenues: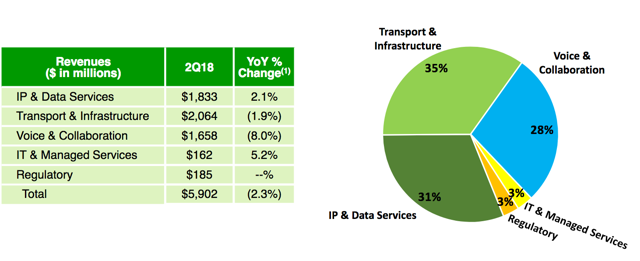 (Source: CTL site)
Take a look at the quarterly jumps in Q2 '18 - revenue grew 44%, free cash flow rose 822%, and net income rose 323%, while EBITDA grew by a more modest 5.18%. It was a transformative quarter for CTL: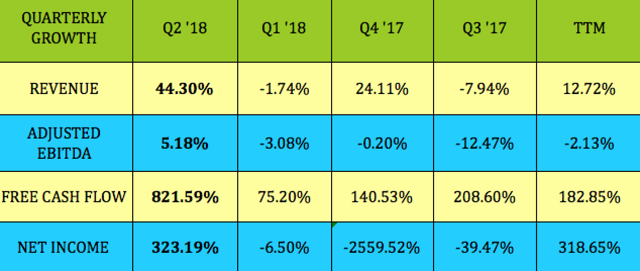 The larger quarterly figures began rolling in Q4 '17, with the Level 3 acquisition, and have mainly ramped up further so far in 2018. CTL's free cash flow has shown the biggest quarterly dollar increase, rising from $457M in Q4 '17, to an $800M-plus level in Q1 and Q2 '18: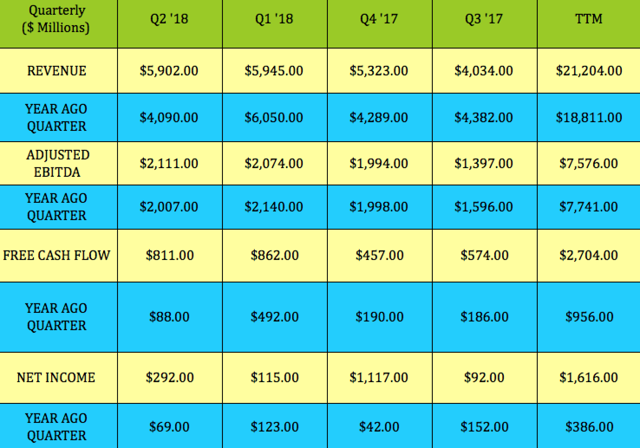 This caused management to raise its full-year 2018 Free Cash Flow guidance by ~14% and to also raise its EBITDA guidance by ~3% on the Q2 '18 earnings release: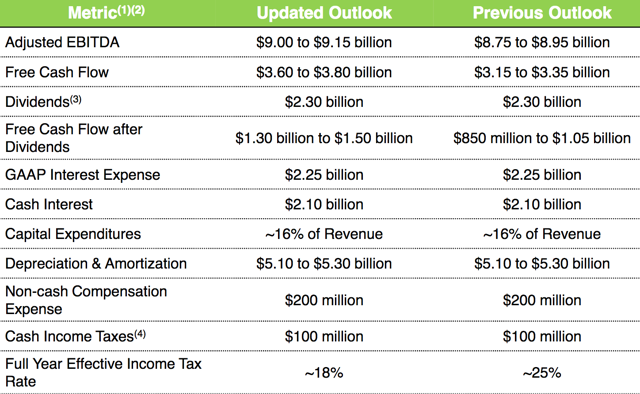 (Source: CTL site)
Dividends:
Here's how CTL's guidance figures should affect its ongoing free cash flow/dividend payout ratio for the full-year 2018. Its payout ratio should actually improve, from the Q1-2 '18 ~69.10% ratio, to a range of ~61% - 64%.
(Note: With a total payout of $576M/quarter, CTL's full year net income guidance of $690 to $1150M wouldn't even begin to cover its dividends. However, those net income figures include $5100 to $5300M in non-cash Depreciation and Amortization, which is why we're using free cash flow as a dividend payout ratio metric instead.)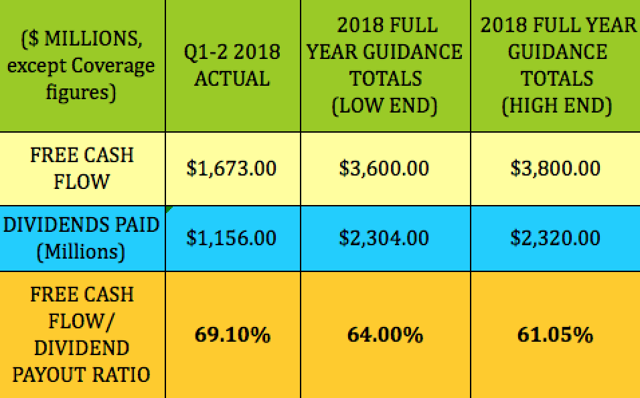 Management calculates free cash flow by subtracting capex from net operating cash flow. They also sometimes add back integration costs, but we went with this basic FCF calculation in this article:

(Source: CTL site)
After lumpy dividend coverage in Q3 and Q4 '17, CTL's payout ratio has been steadier so far in Q1 -2 '18, at 67.29% and 71.02%, respectively: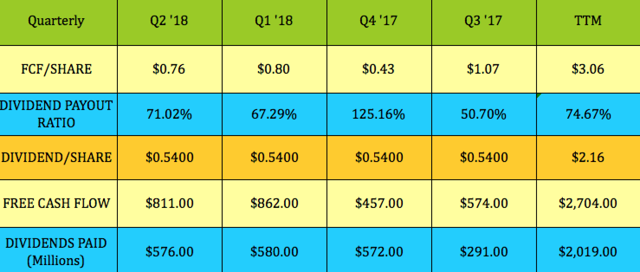 Since trimming its quarterly dividend from $.725 in Q1 '13, management has maintained it at $.54. CTL goes ex-dividend in a Feb/May/Aug/Nov. schedule and pays in the middle of the following month.
Shareholders get a 1099 at tax time, not a K-1. However, CTL's 2017 dividends were reclassified as return of capital.
Options:
If you're looking for another angle on CTL, here are some options-selling trades which may interest you.
We added this April trade to our free Covered Calls Table.
The April $22.00 call strike pays $1.12, slightly more than CTL's next two $.54/quarter dividends, which offers a way to double your dividends:

Since the $22.00 call strike is $1.06 above CTL's $20.94 price/share, the assigned price gain and option income total of $2.18 come very close to equaling the non-assigned, static income of $2.20.
This table details the three main profitable scenarios for this trade:

Conversely, if you're leery of CTL's price/share falling over the next few months, but you'd still like to earn a few shekels on CTL, this April put-selling trade pays $1.65, and gives you a breakeven of $18.35.
You can follow this trade on our free Cash Secured Puts Table, where you can find more details for it and over 30 other trades. Both of these tables are updated throughout each trading day.


Risks:
Pension Plan - Prior to Q2 '18, CTL had a large portion of its pension plan unfunded. However, this situation has improved dramatically. "During the second quarter, the company made a $100 million contribution to the pension plan. As a result of accelerated adoption of certain provisions of the Tax Cuts and Jobs Act of 2017, we received an additional income tax refund in the third quarter of $392 million related to our 2016 taxes. Using the proceeds from this tax refund, along with a small amount of excess cash, we made an additional $400 million pension plan contribution in the third quarter. Our pension plan is now over 90% funded." (Source: CTL site)
Rising Rates - With its debt load, CTL has exposure to rising interest costs. "The aggregate amount outstanding on our revolving line of credit borrowings at December 31, 2017 was $405 million, with a weighted-average interest rate of 4.186%. At June 30, 2018, we had no borrowings outstanding under our revolving line of credit."
"Management periodically reviews our exposure to interest rate fluctuations and periodically implements strategies to manage the exposure. From time to time, we have used derivative instruments to (1) lock in or swap our exposure to changing or variable interest rates for fixed interest rates or (2) to swap obligations to pay fixed interest rates for variable interest rates. As of June 30, 2018, we had no such instruments outstanding. We have established policies and procedures for risk assessment and the approval, reporting and monitoring of derivative instrument activities. As of June 30, 2018, we did not hold or issue derivative financial instruments for trading or speculative purposes." (Source: Q2 '18 10Q)
Business Risk - As we've all seen in the telecom industry, change is the norm. CTL's management will have to continue to make the company competitive in a rapidly changing environment. They commented on CTL's enhanced reach on the Q2 '18 earnings call:
"More than either CenturyLink or Level 3 standalone, the combined CenturyLink is a participant in virtually every large deal in the U.S. wireline enterprise market and a serious provider globally. These deals often have a longer sales cycle, but our overall opportunity is growing. We also expect to grow our share of wallet with these customers that both companies serve prior to the acquisition. We find that customers want a single provider to manage their complex communications needs, and appreciate how focused we are on their business."
"In June, as a combined company, we won the primary provider status via a competitive RFP for General Mills' 120 site global MPLS network, displacing the long-time incumbent carrier. Our combined global assets, dedicated focus, and strong customer support model were key factors in the selection."
Consumer cord-cutting: In 2017, management introduced a new consumer pricing program, called Price for Life. "That effort has been highly successful, with around 40% of our broadband based on that pricing program. The better news is we've improved the customer experience. These Price for Life customers no longer have to worry about bills changing or promotional pricing rolling off. They're happier. It's simpler. And they call less about billing issues, which lowers our costs and streamlines our operations."
"The Price for Life offering has fundamental implications for our cost structure internally just by radically simplifying how we reach out to customers. They don't need bills every month. They're not going to be talking about billing errors. Those things have a lot of costs internally." (Source: Q2 '18 call)

New Developments:
CFO Sunit Patel left the company on Sept. 28, after taking a leadership role elsewhere. Neel Dev, the company's VP of finance, took over as interim CFO. He was integration planning lead for the Level 3 acquisition and has been part of Patel's leadership team for 14 years. Patel joined T-Mobile (NASDAQ:TMUS) as its new executive VP, Merger and Integration Lead, effective Oct. 1. He'll lead strategic planning on an integration with Sprint (NYSE:S).

Analysts' Price Targets and Estimate Revisions:
CTL has received mostly upward estimate revisions over the past month, but this hasn't translated into higher price targets as of yet. At $20.94, CTL is 2.3% below the average price target of $21.44, and 27.79% below the highest price target.


(Source: Yahoo Finance)

Performance:
CTL has outperformed the market over the past quarter and year to date in 2018, but has lagged in the past month and over the past year.
With all of the services offering changes in the telecom world, there aren't any exact peer matches, so we added two other telecom dividend stalwarts, AT&T (T) and Verizon (VZ), to this table to get an idea of relative valuations.
Management touched on this on the Q2 '18 call: "We are the second-largest provider of wireline telecom services to enterprise. It is 76% of our business. If you look at all the other competitors, the two telephone companies is at most a side business. Wireless is their main business."
Due to the tax act, some companies received one-time windfalls in the past few quarters. We stripped out CTL's reported EPS of $1.26 in Q4 '17, and went with its adjusted EPS of $.18, to derive the trailing P/E in this table. Some of the financial websites show a lower P/E due to this one-time event.
CTL wins in these categories vs. T, VZ and overall industry averages - dividend yield, price/sales, and price/book. It's selling below price/book, at a .97X valuation. It's between T and VZ for free cash flow/share and EV/EBITDA, and it's higher on a P/E basis, but, due to tax windfalls, take those industry averages with a grain of salt.

Financials:
CTL doesn't fare as well in this table with its financial metrics trailing T, VZ and broad industry averages. However, there should be some improvement in these figures, as management further integrates the Level 3 operations and continues to harvest synergies.
"We have achieved a total of approximately $675 million of annualized run-rate adjusted EBITDA synergies since the Level 3 transaction closed. We continue to expect to achieve our targeted $850 million run-rate adjusted EBITDA operating expense savings." (Source: Q2 call)

Debt and Liquidity:
CTL had $131 million of letters of credit outstanding under its $225M credit facility, as of June 30, 2018. "On January 29, 2018, the 2017 CenturyLink Credit Agreement was amended to increase the borrowing capacity of the new revolving credit facility from $2 billion to $2.168 billion, and to increase the borrowing capacity under one of the term loan tranches by $132 million. In July 2018, we received the final regulatory approval necessary to fully implement the guarantees contemplated under the 2017 CenturyLink Credit Agreement."
"At June 30, 2018, we held cash and cash equivalents of $700 million, and we had $2.168 billion of borrowing capacity available under our revolving credit facility. We had approximately $126 million of cash and cash equivalents outside the United States at June 30, 2018. We currently believe we have the ability to repatriate cash and cash equivalents into the United States without paying or accruing U.S. taxes." (Source: CTL Q2 '18 10Q)

(Source: CTL Q2 '18 10Q)
As a result of the Level 3 acquisition, CTL's interest expense has risen by 69% in 2018, but its ratio of Earnings to Fixed Charges has actually improved, to 1.36X, as of 6/30/18, vs. 1.28X one year earlier: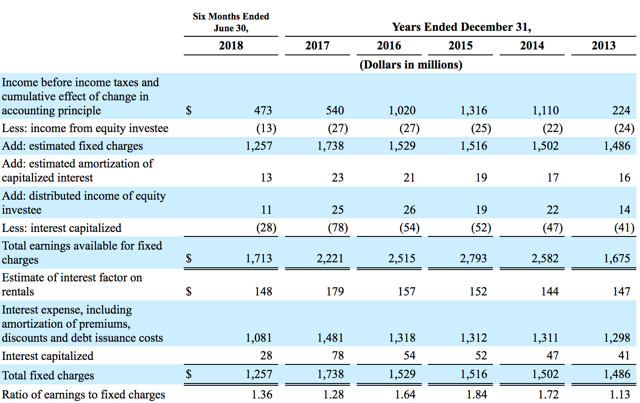 (Source: CTL Q2 '18 10Q)

(Source: CTL Q2 '18 10Q)
CTL's debt looks fairly well-laddered out into the future, with $638M in principal due in 2019, (~1.7% of the total long term debt), rising to $1194M in 2020, (~3% of the total), 8% of the total in 2021, with the lion's share of the total debt not due until 2023 and beyond: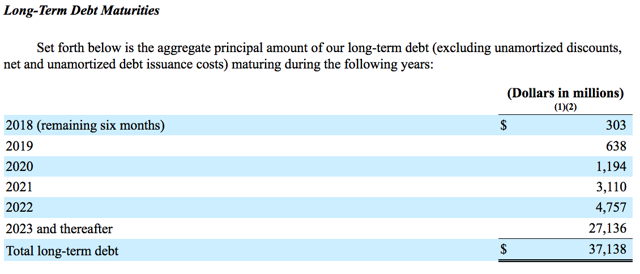 (Source: CTL Q2 '18 10Q)

Summary:
We rate CTL a buy, based upon its attractive, well-covered yield and its business segment growth opportunities. Given the current market volatility, this is a stock which we may sell cash secured put options on, in tandem with taking a partial position.

All tables furnished by DoubleDividendStocks.com, unless otherwise noted.

Disclaimer: This article was written for informational purposes only, and is not intended as personal investment advice. Please practice due diligence before investing in any investment vehicle mentioned in this article.

CLARIFICATION: We have two investing services. Our legacy service, DoubleDividendStocks.com, has focused on selling options on dividend stocks since 2009.
Our Marketplace service, Hidden Dividend Stocks Plus, focuses on undercovered, undervalued income vehicles, and special high yield situations.
We scour the US and world markets to find solid income opportunities with dividend yields ranging from 5% to 10%-plus, backed by strong earnings.
These stocks are often small cap, low beta equities that offer stronger price protection vs. market volatility.
We publish exclusive articles each week with investing ideas for the HDS+ site that you won't see anywhere else.
Disclosure: I am/we are long CTL. I wrote this article myself, and it expresses my own opinions. I am not receiving compensation for it (other than from Seeking Alpha). I have no business relationship with any company whose stock is mentioned in this article.