Quick Take
Property management software firm RealPage (NASDAQ:RP) has closed on its acquisition of Rentlytics for $57 million in an all-cash transaction.
Rentlytics operates as a cloud-based real-estate data analytics and management company.
With the acquisition, RP is increasing its addressable market with additional integrations while adding a new renovation workflow piece that helps property owners improve yield decisions on a per property basis.
Target Company
San Francisco, California-based Rentlytics was founded in 2013 to develop the Rentlytics Business Intelligence system which provides users with information and tools to make sustainable, high-return multifamily portfolio decisions.
Management is headed by Co-Founder and CEO Justin R. Alanís, who was previously Partner and VP at The Reliant Group.
Below is an overview video of Rentlytics' benefits:
(Source: Rentlytics)
Rentlytics' primary offerings are:
Business Intelligence
Renovation Manager
Company partners or major customers include:
US Residential
BH Management Services
TruAmerica Multifamily
South Oxford Management
Investors have invested $16 million in the company and include Traverse Venture Partners, Grey Wolf, Otter Rock Capital, Brendan Wallace, Walker & Dunlop, ZenStone Venture Capital, and Trinity Ventures, among others. (Source: CrunchBase)
Market and Competition
According to a market research report by ManageCasa, the global property management (PM) market is projected to grow to $1.8 billion by 2026. This represents a CAGR of 7.2% between 2018 and 2026. The main drivers for this expected growth are the need for a single-location data storage, to maximize profit and to minimizing the risks associated with real estate deals.
Major vendors that provide property data management services include:
Buildium
Real Capital Analytics
Alteryx (AYX)
Zoho
Reonomy
Pentaho
Rentlytics operates under the real estate data analytics industry, a submarket of the global PM market.
Acquisition Terms and Rationale
RealPage disclosed the acquisition price and terms as $57 million in cash for all outstanding shares in Rentlytics and filed an 8-K.
Financially, RP management said the deal should,
contribute revenue of approximately $1.5 million and to contribute immaterially to its 2018 Adjusted EBITDA during the three-month period ending December 31, 2018. In addition, RealPage expects Rentlytics to contribute revenue of approximately $9 million during the full year ending December 31, 2019, representing growth of 35%.
So, RP paid approximately 6.33x next year's expected revenue for Rentlytics.
A review of the firm's most recent 10-Q filing as of June 30, 2018, showed RP had $373.2 million in cash and equivalents and total liabilities of $984.5 million.
Free cash flow during the six months ended June 30, 2018, was $79.7 million.
RealPage acquired Rentlytics primarily for its business intelligence data capabilities.
As Steve Winn, Chairman and CEO of RealPage stated in the deal announcement,
Rentlytics expands our data footprint in the multifamily industry, thereby improving our benchmarking and precision forecasting capabilities. We intend to combine the real time data that Rentlytics has assembled with our existing business intelligence and data analytics platform, and offer the industry a more powerful, high precision tool to measure financial and operating performance.
With the deal for Rentlytics, RealPage appears to be moving into CoStar's (CSGP) market of combining data with its software solutions to enable property owners to make better decisions on how their properties are performing.
Also, the Rentlytics offering helps owners decide on renovation costs and benefits.
In the past 12 months, RP's stock price has risen 41.6% vs. the S&P 500 Index 8.0%, as the chart below indicates: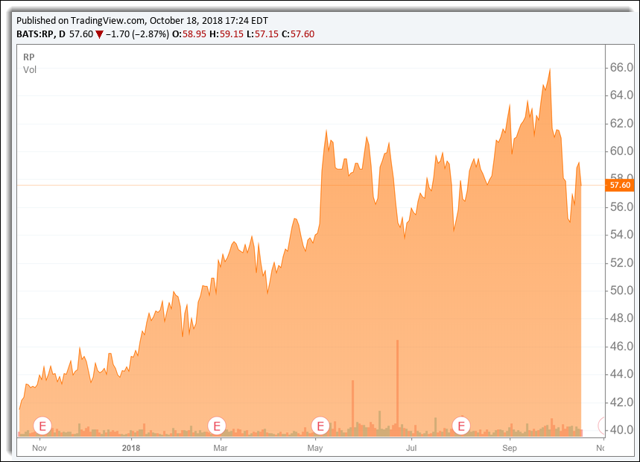 (Source: Seeking Alpha)
Although RP's stock has come down from its September 52-week high when it touched $66.00 and is now around $57.50, the stock has been on quite a run in the past 12-month period.
Despite a strong stock price increase in the past 12 months, analysts still have a target price above $70, and seven out of eight show a Strong Buy rating.

(Source: Seeking Alpha)
I view the deal for Rentlytics as a strong positive for RP. Management didn't overpay for the deal, and it provides a critical data piece for RP to continue to grow.
Rentlytics also adds integration partners to effectively widen RP's addressable market along with broadening its product portfolio across all of its markets.