Well it looks like the game is almost over for the once iconic Sears (SHLD) brand, and as many of you know, I have been covering the mall REITs closely. In a recent Forbes article I explained,
"While not the best timing, it's probably similar to the anticipation of seeing a hurricane coming, dealing with the utter shock and devastation of landfall and its aftermath, and then, after skies have cleared, tending to the damage, dealing with the loss and heartbreak, and eventually, tending to rebuilding."
I have been preaching the so-called "sucker yield" sermon for quite some time on Seeking Alpha and in a recent article I wrote,
"There's really no way for CBL and Washington Prime to provide complete certainty as to whether they will be able to maintain their respective dividends, and while the life expectancy of Sears is now more certain, the costs to redevelop the dark stores are a lesser known."
Rest assured, I have no way to know whether or not these two REITs will whack their dividend, but I do know that these companies are going to be challenged over the next few quarters to manage their capital with a keen focus on redevelopment.
As far as I'm concerned, investing in a "sucker yield" stock is just plain risky and I believe that one is better off gambling in Las Vegas than trying to predict whether the thrill of victory is worth the agony of defeat. In a recent research report BTIG REIT analyst Jim Sullivan explains,
"…companies with portfolios that have lower average sales productivity, especially when combined with lower occupancy levels, and additional anchor vacancies can be faced with more challenges in replacing Sears.

…Sears has not released their store closing list but we expect the stores to be concentrated in markets and sub-markets with below average spending power and sales productivity."
While the Sears bankruptcy may remove part of the cloud for mall REITs, it's unclear whether these two REITs will be able to sustain their dividend payout and this makes it challenging to model future fund available for distribution. In a recent article I explained,
"If you believe that a dividend cut is priced into a stock, you may be "drinking Tang and vodka and listening to The Moody Blues."
Let me be perfectly clear, I would not advise anyone to invest hard earned capital into a sinking ship. And with the recent Sears filing, investors must recognize that their principal is not safe (investing in these two REITs) and this means that there will most likely be a day when the blue lights are no longer flashing at K-Mart…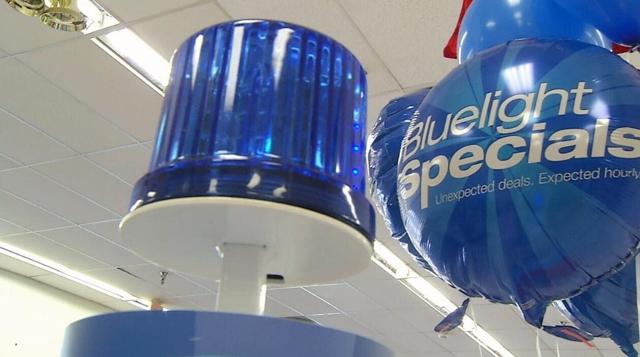 But today I want to point you to a Mall REIT where the blue lights are flashing and that investors can reap the best rewards.
In a recent Seeking Alpha article someone asked, "What happened to SKT... since it was your "Top SWAN Pick For 2018" ?"
Silly Rabbit. Tanger Factory Outlets (SKT) remains my top SWAN (sleep well at night) pick for 2018 and now I will provide you with my reasoning, with absolutely no fluff, because focus enables both simplicity and clarity. To emphasize my point, I'll recite this quote by Seth Klarman (Margin of Safety, 1991),
"The value discipline seems simple enough but is apparently a difficult one for most investors to grasp or adhere to. As Buffett has often observed, value investing is not a concept that can be learned and applied gradually over time. It is either absorbed and adopted at once, or it is truly never learned."
The Business Model
Over the years, Tanger Outlets (SKT) has evolved its business model and today the company owns 44 outlet centers in the U.S. (22 states) and Canada. The rising demographic of young and middle-class shoppers has made the future of outlet malls brighter, as the lower-priced goods in outlets makes high-end luxury more affordable.
Outlets are an effective tool to lure entry-level, budget-wise customers and over the years Tanger has become a highly effective partner - more than a landlord - to the best-in-class brands. For strategic reasons, most retailers do not break out data on sales for outlets, but the demand for outlet space is underscored by the overall profitability of operation.
Tanger is the only "pure play" outlet center REIT and this means that the company has NO exposure to Sears or any other department store. Here's a snapshot of Tanger's top 15 tenants: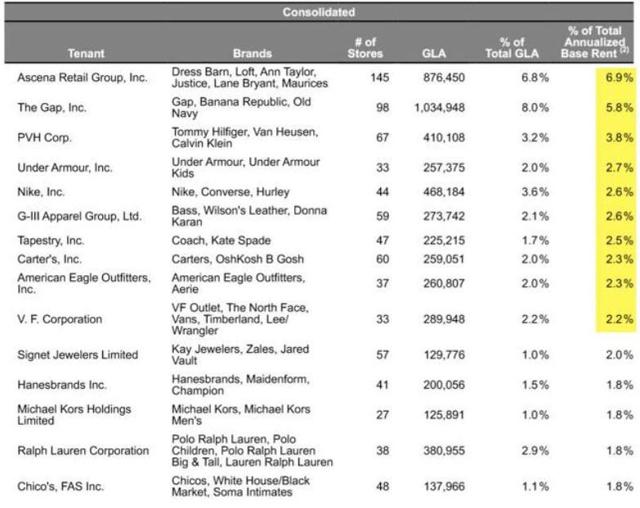 Although the retail industry has been struggling with store closures, outlets are the most profitable legs to the omni channel, occupancy cost ratios for tenants are typically much lower than at full price malls and shopping centers.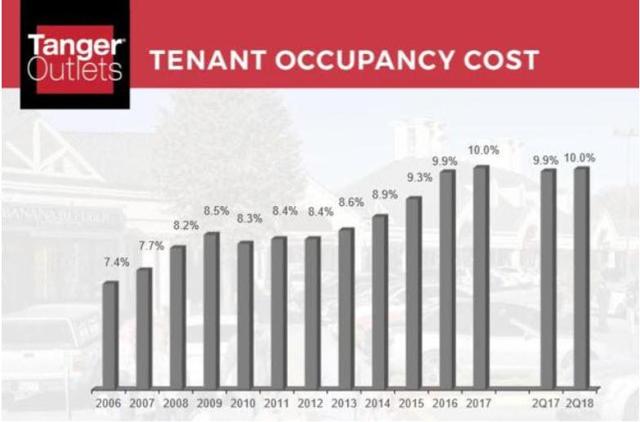 The outlet mall model, which is based on discounting, is well-positioned to grow its share of the value-conscious market. And the issue of value is extremely important, especially for shoppers who travel distances (i.e. tourism markets) to seek value in the best brands.
Tanger has a broader range of brands and the retailers have recognized that outlets are a key distribution channel in which behavior is influenced by branding. In order to attract customers, Tanger has invested in new amenities and restaurants to identify the outlet as a destination experience.
On an NOI weighted basis, average sales productivity for Tanger was $409 per square foot for the 2018 period, up 1.5% from $403 for the 2017 period. Same-center tenant sales performance for the overall portfolio increased 1% for the 12 months ended June 30, 2018, compared to the 12 months ended June 30, 2017.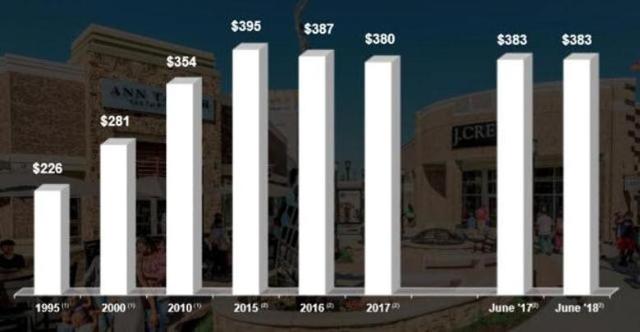 Remember that Tanger's platform offers a more compelling risk/return thesis as the company has ZERO exposure to malls. When Sears, Bon-Ton, and JC Penney closes a store, the landlord must shell out millions of dollars to demolish and rebuild or to redevelop the site for a new customer, not for Tanger!
Alternatively, Tanger has very little cost to retrofit a new space. It is really as simple as broom sweeping the floor and carpeting the retail space, such that properties can be easily reconfigured to minimize tenant turnover downtime.
As of Q2-18, Tanger's consolidated portfolio occupancy was 95.6% compared to 96.1% in the year-ago quarter. The year-over-year difference was primarily driven by roughly 200,000 square feet of closures that Tanger faced in 2017 and the additional 105,000 square feet captured in the first half of 2018. But again, there is much more clarity for Tanger's lease-up costs since there are no department stores to demolish or retrofit.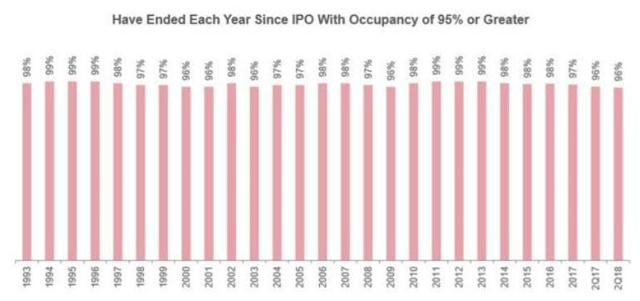 The Balance Sheet
One of the primary reasons that Tanger has been able to successfully weather market cycles is because of the company's fortress balance sheet. The company has always maintained strict discipline and today the balance sheet is in the best shape ever - 94% of square footage in the consolidated portfolio is not encumbered by mortgages.
Only $224 million is outstanding under Tanger's unsecured lines of credit, leaving 62% unused capacity or approximately $370 million. In Q2-18 Tanger maintained a substantial interest coverage ratio of 4.4x and net debt-to-EBITDA was approximately 6.0x at quarter-end.

Tanger's average term of maturity was 6.1 years and the weighted average interest rate for outstanding debt as of Q1-18 was 3.4%. The company has no significant debt maturities until April of 2021.
This Is The Secret Sauce
As noted above, CBL and Washington Prime are higher risk REITs and the double-digit dividend yield reflects the potential for a dividend cut. Again, the available cash available for the dividend is unclear because the costs to redevelop vacant Sears locations could range anywhere from $10 million to as much as $40 million. Also, as BTIG's Sullivan explains,
"In addition, with the liquidation of former mall anchor Bon-Ton earlier this year and the closing of all of their stores (which operated under a variety of brands), there are unfilled anchor vacancies currently in several centers… Incremental anchor vacancies add to the challenge and the cost of re-leasing or redeveloping the vacated space."
But again, to emphasize the point, Tanger has NO MALL EXPOSURE and this means that the potential for a dividend cut is much less likely. In fact, Tanger has NEVER cut its dividend and is the ONLY Mall REIT that has increased its dividend in 2008-2009.
In April, Tanger raised its dividend by 2.2% on an annualized basis to $1.40 per share. The company has raised the dividend every year since becoming a public company 25 years ago, and over the last 3 years, the dividend has grown 22% cumulatively. Tanger expects FFO to exceed the dividend by more than $100 million in 2018 with an expected FFO payout ratio under 60%.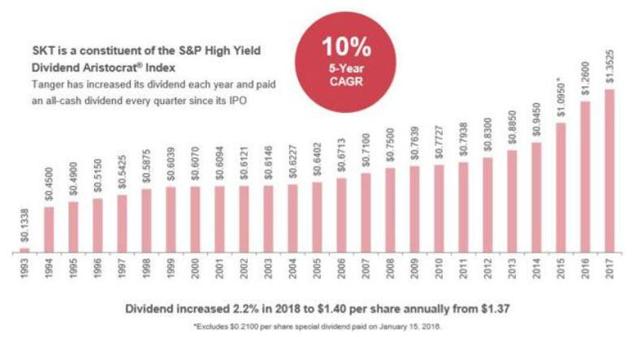 The odds are very high that Tanger will be able to grow its dividend in the years ahead. The holiday season looks bright for Tanger as the U.S. economy is growing above expectations –Q2-18 gross-domestic-product growth came in at 4.1%, the strongest since Q3-14. The country is on track to sustain 4% annual GDP growth and the GDPNow model estimate for real GDP growth (seasonally adjusted annual rate) in Q3-18 is 3.9%.
Although the outlet sector is somewhat misunderstood, we consider shares deeply discounted in Tanger (hence the blue light special argument).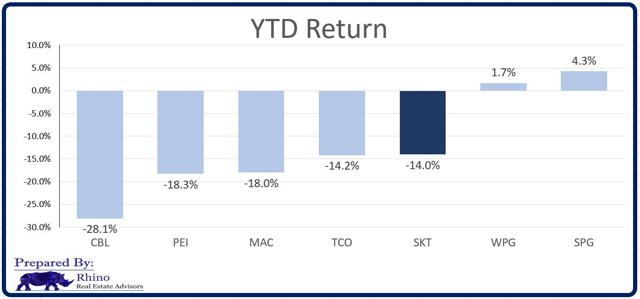 When we seek out the SWANs, we are essentially looking to own companies that have a significant track record of generating high, sustained, and consistent returns. Recognizing that the market sentiment has been unfavorable for mall REITs, we recognize that you must be somewhat contrarian to outperform the market.
As long as the fundamentals are solid (which they are for Tanger), Mr. Market's short-term views can be ignored and we believe (in the case of Tanger) will be corrected in the long-term. Now that Sears has gone "belly up" we believe that some of the fears will dissipate and we're excited about the "new norm" in retail.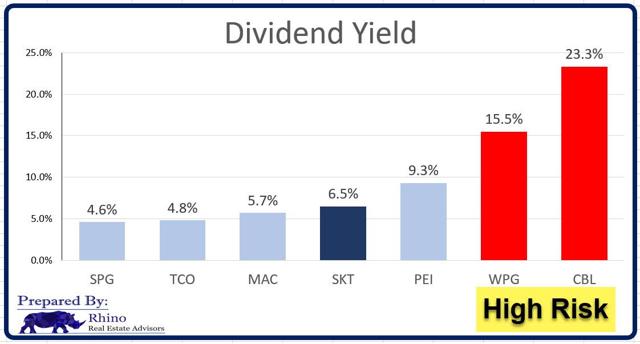 Always remember that value investors price stocks, not time markets, and while Tanger has not delivered the returns we had hoped for year-to-date, we are willing to wait patiently for sentiment to shift. Charlie Munger said it best,
"You need patience, discipline, and an ability to take losses and adversity without going crazy."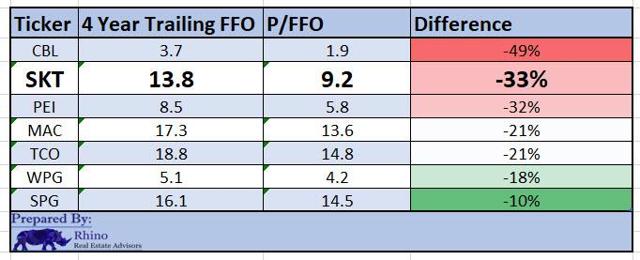 Warren Buffett reminds us that "the best investors are those who have a temperament that is calm and rational". And while Tanger was certainly not my top SWAN pick in 2018, it could be my top SWAN pick in 2019. I am perfectly content waiting out since this mispriced bet because "if you have a big edge, back it heavily because you don't get a big edge often (Munger)".
So yes, Tanger is flashing BLUE LIGHTs and I am maintaining my STRONG BUY recommendation. Howard Marks said, "Rule No 1: Most things will prove to be cyclical. Rule No. 2: Some of the greatest opportunities for gain and loss come when other people forget Rule No. 1." I am long Tanger and "sleeping well at night".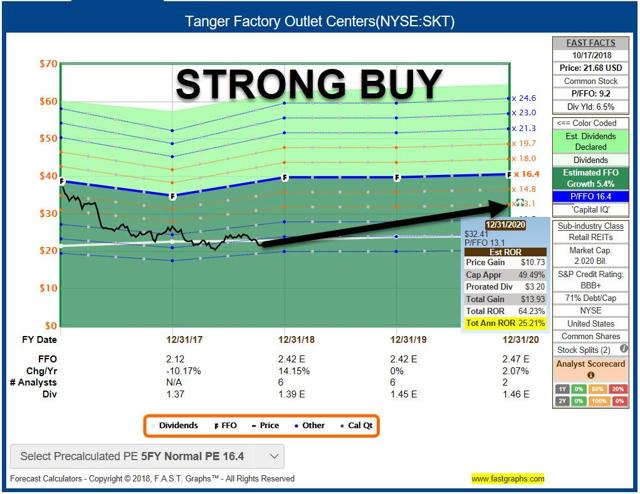 In closing, it's important to recognize that a "rising tide lifts all boats", and that is especially true for REIT investors. While rising rates have continued to thwart total returns in the REIT sector, the opportunity exists when you recognize that rising rates are good for REITs. Rising rates lead to rising rents, and as earnings grow, so do dividends. Take advantage of the mispricing and make sure your vessel can weather the storms... happy SWAN investing!
Author's note: Brad Thomas is a Wall Street writer and that means he is not always right with his predictions or recommendations. That also applies to his grammar. Please excuse any typos and be assured that he will do his best to correct any errors, if they are overlooked.
Finally, this article is free, and the sole purpose for writing it is to assist with research, while also providing a forum for second-level thinking.
Source: F.A.S.T. Graphs and SKT Investor Presentation.
Other REITs mentioned: (TCO), (SPG), (MAC), and (PEI).
Brad Thomas is one of the most read authors on Seeking Alpha (based on page views), and over the years, he has developed a trusted brand in the REIT sector. His articles generate significant traffic (around 500,000 views monthly) and he has thousands of satisfied customers who rely on his expertise.
Marketplace subscribers have access to a growing list of services, including weekly property sector updates and weekly Buy/Strong Buy/Hold/Sell (and soon Strong Sell) recommendations. Also, we are now providing daily early morning REIT recaps, including breaking news across the entire REIT universe.
For new subscribers we will include a free signed copy of The Intelligent REIT Investor. Act now!
Disclosure: I am/we are long ACC, AVB, BHR, BPY, BRX, BXMT, CCI, CIO, CLDT, CONE, CORR, CTRE, CXP, CUBE, DEA, DLR, DOC, EPR, EQIX, ESS, EXR, FRT, GDS, GEO, GMRE, GPT, HASI, HT, HTA, INN, IRET, IRM, JCAP, KIM, KREF, KRG, LADR, LAND, LMRK, LTC, MNR, MPW, NNN, NXRT, O, OFC, OHI, OUT, PEB, PEI, PK, PSB, PTTTS, QTS, REG, RHP, RLJ, ROIC, SBRA, SKT, SPG, SRC, STAG, STOR, TCO, TRTX, UBA, UMH, UNIT, VER, VICI, VNO, VNQ, VTR, WPC. I wrote this article myself, and it expresses my own opinions. I am not receiving compensation for it (other than from Seeking Alpha). I have no business relationship with any company whose stock is mentioned in this article.
Editor's Note: This article covers one or more microcap stocks. Please be aware of the risks associated with these stocks.