Apple's rally is leading some investors to take profits as they cast some doubt on the company's growth prospects. However, bulls remain confident in Apple's pristine balance sheet, its capital returns program, and sales of new iPhone models. They are also optimistic about high-potential ventures in augmented reality and elsewhere. On the other hand, bears worry about the trade war with China, since it is a major component of Apple's growth plans. What is your stance on Apple? Is it a good investment for the long haul?
Our contributors keep their ears to the ground and their eyes on the screen looking for profitable opportunities in the marketplace. Today, contributors Victor Haghani, Michael Boyd, Eng Guan Lim, Shmulik Karpf and Scott Kennedy bring us some of the best ideas. Let us know which is your favorite in the comment section below.
Here are today's Editors' Picks:
Chart of the day: Apple Chart - Seeking Alpha

Comment of the day, by contributor mpg2014
You know how people tell tales on these post; well I've got a whopper! I asked my bankers (Merrill Lynch) if they could help me buy apple in 1998! The market cap at the time was about 3.3B (high for the time) even though they had fudged up the company big time ( license the OS, uninspired design). But here was the thing, then, like now there were "apple heads" who would just not jump off the ship no matter how bad or pricey the product (and they were also big in Japan at the time), and I had a business plan that could leverage that kind of loyalty. Here is why it didn't work. Then, like now, it was hard to expand the brand because of the "luxury pricing" model apple has always been known for. today, In the U.S. market, you have this same problem. Apple has a hard time gaining share as it raises its prices to the moon. Apple heads will always be there but they are boxing themselves in when you consider some of the phones you can buy for a quarter of the price. This is a commodity business, apple will be fine as a trade, but as a long-term hold, no. A trillion dollars is along way to fall.
Image of the day: Apple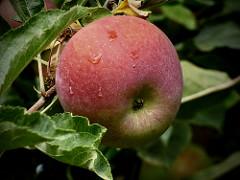 Fun Fact Of The Day:
Apple has a no smoking policy. If they find out a consumer has smoked near their computer, the warranty becomes void.
Thanks for reading. Please share your 'Editor's Pick' with fellow investors by posting it in the comments.
Have a great day!
Jason