Aurora Cannabis (OTCQX:ACBFF) has made money for many investors that invested in the stock and many of us are expecting more to come from the world's third-largest cannabis company by market capitalization, only behind Canopy (CGC) and Tilray (TLRY). However, Aurora just gave a little bonus to its shareholders and the value of this bonus increased more than 1,000% after it accessed the public markets. Australis Capital (OTCPK:AUSCF) is a spin-off from Aurora and each shareholder was able to receive either shares or cash depending on whether they are Canadians or not. We will discuss what is Australis Capital and what does Aurora plan to do with this publicly-traded vehicle.


(All amounts in C$ unless otherwise noted)
Australis Capital Overview
Aurora first announced the spin-off of Australis on June 20, 2018, and said that the latter would become a publicly traded vehicle on the CSE. The initial plan was that Aurora shareholders would receive one Australis unit consisting of one common share and one warrant with an exercise price of $0.25, exercisable within one year. For non-Canadian shareholders, their entitled shares will be sold on the open market post IPO and cash proceeds will be distributed to them. Aurora described the mandate of Australis Capital as:
Australis is an investment company that intends to acquire ownership interests in a variety of opportunities and asset classes, primarily in the cannabis and real estate sectors in the United States.
On September 19, 2018, Australis began trading on the CSE and the final economics was changed to one Australis unit for every 34 Aurora shares and the warrants have an exercise price of $0.25. It is also important to note that before the IPO, Australis completed a financing round of $15 million at $0.20 per share, for total gross proceeds of $15 million. So we can view $0.20 as the last price at which the pre-IPO financing around was done.
Aurora will not own any shares in Australis post the IPO, and it is not surprising given the whole point is to shed U.S. assets in order to remain compliant with TSX regulations. However, Aurora has inserted a back-in right pursuant to which it can acquire, for up to 10 years after the IPO, 20% of Australis shares at $0.20 per share and another 20% at the 5-day VWAP when the second back-in right is exercised. Aurora won't be able to exercise its back-in right unless the U.S. legalizes cannabis and TSX approves. So Aurora is doing something very similar to what Aphria (OTCQB:APHQF) did with its Liberty Health (OTCQX:LHSIF) assets. We encourage you to read about the arrangement for more perspectives in "Aphria And Liberty Health: Bye Bye, For Now".
So what exactly does Australis do and what does it intend to do in the future? Based on the public filings, Australis currently has no operating assets and no revenue stream. It has a 50% interest in an entity that holds 24.5 acres of land in the state of Washington, in addition to a royalty agreement with SubTerra which is in the application stage for a license in Michigan. In short, Australis is largely a shell company with no real assets at this point.
Dividend to Shareholders
Since the IPO, Australis has soared more than 10x relative to the pre-IPO financing round done at $0.20 per share. Australis has 113 million shares outstanding post the listing, which implies an astounding market capitalization of $270 million today for a company that has no operating assets! The company received $500k from Aurora in exchange for issuing 24 million warrants at $0.20 per share and raised $15 million at $0.20 per share, which implies that the market is giving them almost $254.5 million for the non-operating assets it holds and any future potential. If you include the 24 million warrants that Aurora holds, the fully diluted market capitalization reaches $327 million, a very high number for this shell company.
For Aurora shareholders, using Tuesday's closing share price of $13.98 for Aurora and $2.20 for Australis and a conversion rate of 34 to 1, Aurora shareholders would have received an equivalent of 1.0% of a one-time dividend assuming they are still holding the units, calculated as below:
34 Aurora shares have a market value of $475
1 Australis share worth of $2.20
1 Australis warrant worth $1.95, after $0.25 exercise price
Total dividend to Aurora shareholders of $4.15 which is ~1.0% of the market value of 34 Aurora shares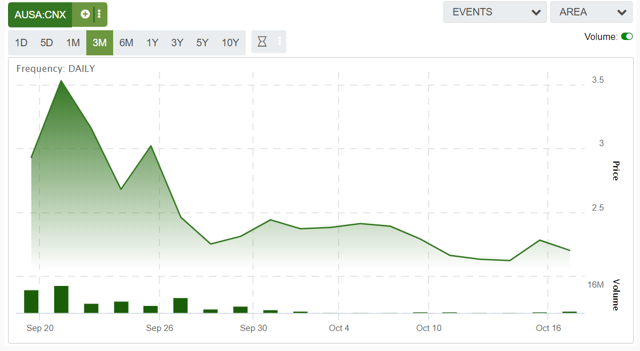 (Source: TSX)
Shareholders might be interested to know that on the first day of trading Australis shares reached over $10 at one point, before settling down to the levels we are today. We think it is inherently impossible to Australis at this point because the company has no operating assets. The current valuation is already generous at best and inflated at worst!
Looking Ahead
The idea of spinning out a U.S. shell company and the idea of investing in U.S. cannabis assets is interesting and Aurora was not the first Canadian company to do so. Aphria has long been in the U.S. market through its Liberty Health holdings and recently it had to make similar arrangements involving a divestiture with a buy-back option under the pressure from TSX. Australis has amassed a decent board of directors including Arlene Dickinson and its management team consists of a CEO and a CFO with relevant experiences. However, we believe Australis still represent a non-operating shell company with no real assets in play and no track record to fall back on. The U.S. cannabis industry is already booming with dozens of companies shaping up to divide up the largest cannabis market in the world. Australis needs to act fast, smartly, and decisively. Until we see more actions out of this team, we remain on the sidelines on potential investors. For Aurora shareholders, the spin-off represents a 1% one-time dividend at no additional cost and we would suggest you to continue holding onto your units for its option value.
Author's Note: Follow us to receive our latest publications on the sector. We also publish a widely read Weekly Cannabis Report, which is your best way to stay informed on the cannabis sector. We are the only place to find detailed research on over 50 cannabis companies in the U.S. and Canada.
Disclosure: I/we have no positions in any stocks mentioned, and no plans to initiate any positions within the next 72 hours. I wrote this article myself, and it expresses my own opinions. I am not receiving compensation for it (other than from Seeking Alpha). I have no business relationship with any company whose stock is mentioned in this article.
Editor's Note: This article discusses one or more securities that do not trade on a major U.S. exchange. Please be aware of the risks associated with these stocks.