Fannie Mae (OTCQB:FNMA) and Freddie Mac (OTCQB:FMCC), commonly referred to as the GSEs, were placed into conservatorship the same year a new law, HERA 2008, was passed specifically to govern that conservatorship. They were placed into conservatorship by board vote and on the first day of conservatorship two government agencies, the FHFA and the United States Treasury, decided on the Senior Preferred Securities Purchase Agreement. This agreement was structured such that if one government agency, the FHFA, decided that various GSE assets were worthless, then another government agency, US Treasury, would benefit by getting stock to paper over those assets. Despite the fact that the companies were generating cash, FHFA decided that it would write down assets as if they could never generate cash ever again. Lawsuits were filed challenging the accounting fraud, and one was settled and the other was dismissed. The new law passed the same year the enterprises were placed into conservatorship has been grossly misinterpreted, starting with Judge Lamberth, and cascading down the line. The prevailing legal interpretation of HERA 2008 violates insolvency principles but because it only applies to Fannie and Freddie, the markets aren't pricing in the possibility that the interpretation of a FHFA conservatorship would carry weight in a FDIC conservatorship.
Investment Thesis: FHFA's Proposed Rule on Enterprise Capital Requirements is open for comments until at least November 16. If you study their proposed rule, even FHFA committing accounting fraud to write down GSE assets like in 2008-2011 wouldn't sink the GSEs with these new capital requirements. During the years of conservatorship, the guarantee fees that Fannie and Freddie charge on their utility like business have been raised significantly in order to permit a capital raise of this magnitude (2.55-3.24%). Also note, with higher guarantee fees, that means that their earnings levels are higher and it is significantly harder to justify writing down their DTAs, at least in theory. Right now, the government sits on an insurmountable liquidation preference and 100% of the net worth swept to it quarterly less a small token capital buffer designed to prevent draws due to standard market fluctuations. I am betting on a recapitalization because Mnuchin wrote that, "any solution will be dependent upon the GSEs being capitalized properly and other such controls that eliminate risk to taxpayers", emphasis mine. I own publicly trading preferred stock which ballpark trades at 20% of par value. Common shares are at risk for substantial dilution, especially if conversions happen before the warrants get exercised. I'm not a lawyer so I don't know what is legally possible but at the same point I am not sure if that would even help here given how things have played out so far. In a recapitalization, preferred get to keep their shares or participate in a recapitalization by converting in full or in partial to common or whatever that preferred share class can get a 2/3 vote approving.
Administrative Timeline Considerations
Midterm elections are Tuesday November 6th. I made a remix video of Mnuchin's interview talking about housing reform becoming a big focus of Mnuchin's post the elections. By waiting until after the elections, Mnuchin can do whatever he wants without jeopardizing the GOP during elections.
10 days later on November 16, FHFA's proposed capital rule closes out its comment period. I'm not sure what that means exactly. If they want to, they could task Fannie Mae and Freddie Mac with developing capital restoration plans but it's hard to envision how exactly they are supposed to develop a capital restoration plan with the net worth sweep in place which prohibits any meaningful capital retention.
It's widely believed that whoever the Trump administration nominates to replace Watt — whose five-year term ends Jan. 6 — will move to rein in the companies and put them on a path out of government control. Corker and Warner both said they believe the FHFA is likely to take administrative steps to change Fannie and Freddie, especially after Trump is able to replace Watt with a new director in 2019. Josh Rosner says:
Until recently, GSE & mortgage market reform were not near the top of the priority list. Given it has now moved up the list there isn't much need to rush rather than wait until after Jan 6th. I believe they are engaged in planning but I don't think they see a reason rush today.
I think that Joseph Otting has a good shot at becoming the next director of FHFA. At OneWest, he worked closely with the bank's founder, Steven Mnuchin, who later became the U.S. Secretary of the Treasury. Brian Brooks also used to be at OneWest, before he moved to Fannie Mae and was advocating for administrative reform without the help of Congress earlier this year.
Director of FHFA Melvin Watt is currently embroiled in a scandal that may lead to him exiting sooner than January 6. Famed GSE analyst Joshua Rosner suggests that Watt has been holding up administrative reform:
Watt has not (been) proactive & was willing to sit & wait for legislation for which there are no votes. I suspect they decided, given it is so close to the end of his term, it would be easier to coordinate policy goals when they have a counterparty who shares their staging & priorities.
This largely aligns with what American Banker reports:
Watt said he hasn't moved from his overarching belief that Congress, rather than the FHFA, needs to determine the future of Fannie and Freddie.
Maybe there is merit to the narrative that Watt is sitting on his hands as an Obama holdout. I wouldn't know. I would figure that if this is true it is certainly odd that he put up a proposed capital rule on his way out without doing anything about it.
What's interesting is to see Hank Paulson come out in favor of more capital at Fannie and Freddie when he was the guy who worked with Dan Jester to systematically reconstruct the record back in 2008, pumping them full of losses. Former CEO Franklin Raines even came out to say the companies should be returned to private shareholders. The CEO of Fannie Mae just stepped down. The CEO of Freddie Mac Donald Layton says he'll step down next year. I would call it a changing of the guard. Donald Layton said:
We should be helping affordability; we're not supposed to be a honey pot for politicians to raid and give money away.
It sure is interesting because the net worth sweep is largely been used to reclassify the GSEs as off balance sheet government agencies which would seem to make them the honey pot he talks about. I agree that Fannie and Freddie aren't supposed to be raided by politicians but to hear this from the guy who is the CEO of one of them raised my eyebrow. When asked about advice for his successor Donald Layton says:
Build up what we have. Remember the people and the management team at the core, because you can't do it all. The easiest thing about being a CEO is you're not in charge of the business, you're in charge of people who are in charge of business.
Sounds like he's not expecting Freddie Mac to get shutdown anytime soon. He also says he's been restricted in what he can say as CEO:
In this job, I'm restricted in what I can say outside, but once I'm out, then I can help.
It's sad because it's true. In normal companies, the most powerful position is when you are CEO, not after you've left. That's what is odd here. For someone who is effectively a fully-funded retiree to begin with, I'm not sure what he has to lose when he has one foot out the door anyway by speaking up and saying the truth as CEO. If you have any ideas as to why the CEO can't speak openly about his views, I'm curious. Leave them in the comments.
More Redactions In Sweeney's Court
Earlier this month, a public redacted second amended complaint was released. The redactions concern the GSEs reversals of their overestimated losses on the eve of the Net Worth Sweep and appear in paragraphs 98, 100, 107, and 133. Mario Ugoletti declared under the penalty of perjury that neither the Conservator nor Treasury envisioned that this was possible, but we've seen discovery documents made public proving otherwise and these redactions indicate that there are more coming. Here's the relevant excerpt from Ugoletti's statement: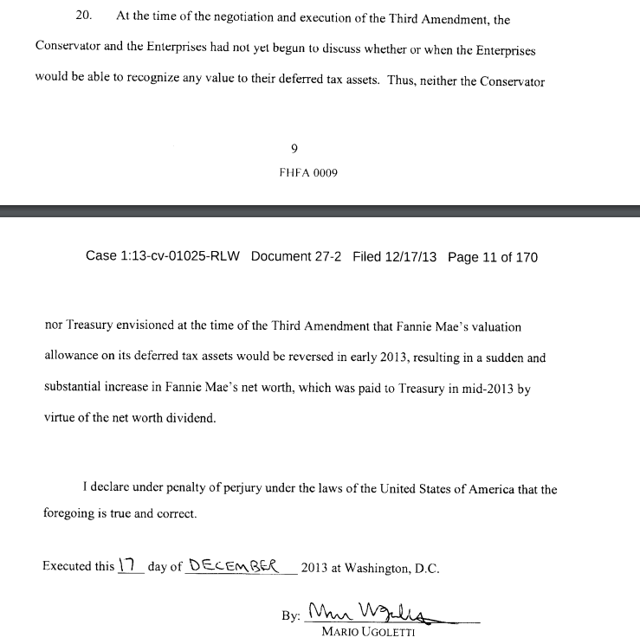 Below are the relevant redacted portions. In the first one, the surrounding context is a discussion of a release of loan loss reserves: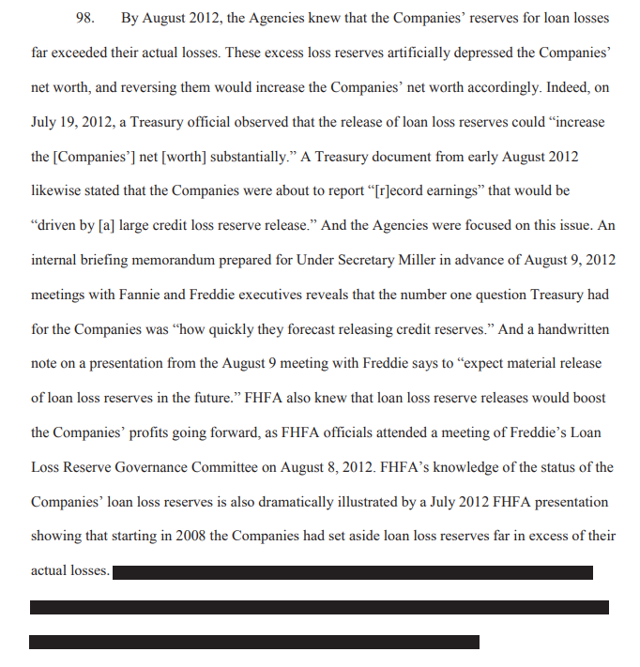 This second redaction is surrounded by a story of increasing profits. If you are new to the accounting chicanery here, the premise was that FHFA wrote down all of the GSE assets to inflate Treasury's liquidation preference 2008-2011 and then in 2012 when they were going to have to reverse what they did, they implemented the net worth sweep. Reversing these earlier one time losses would result in substantial one time gains, so this redaction likely has to do with the improving prospects of the companies as discussed inside Treasury and/or FHFA: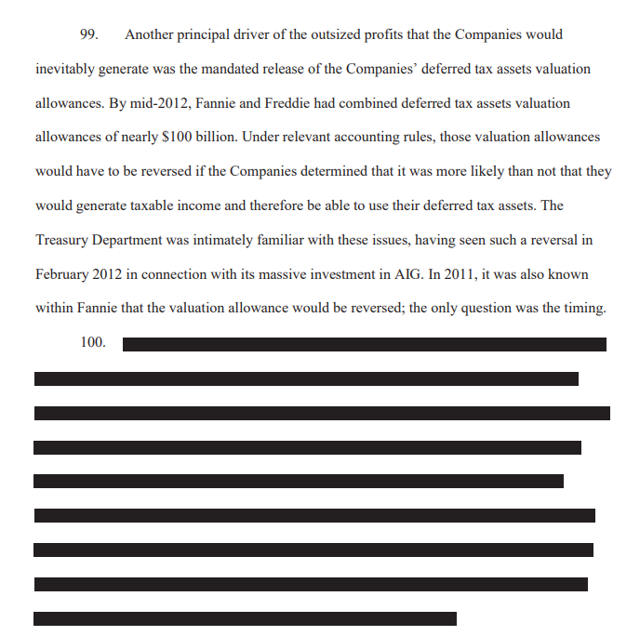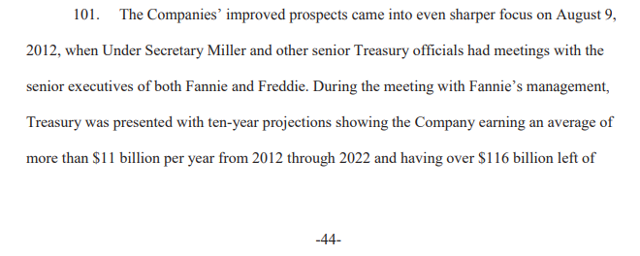 The following seems to illustrate some sort of discrepancy between what the government was sending to other courts and what new discovery documents indicate. It is interesting that the discussion talks about starting in 2018. Was the government expecting to resolve all of the DTA issues by now as well as the outstanding MBS fraud lawsuits? $4.1B per year seems a bit low based on current guarantee fee levels. My guess is that internal Treasury/FHFA/GSE documents reveal that 2018 projections were significantly better than $4.1 billion per year for Fannie Mae. This would undermine the government's earliest narrative involving its death spiral defense: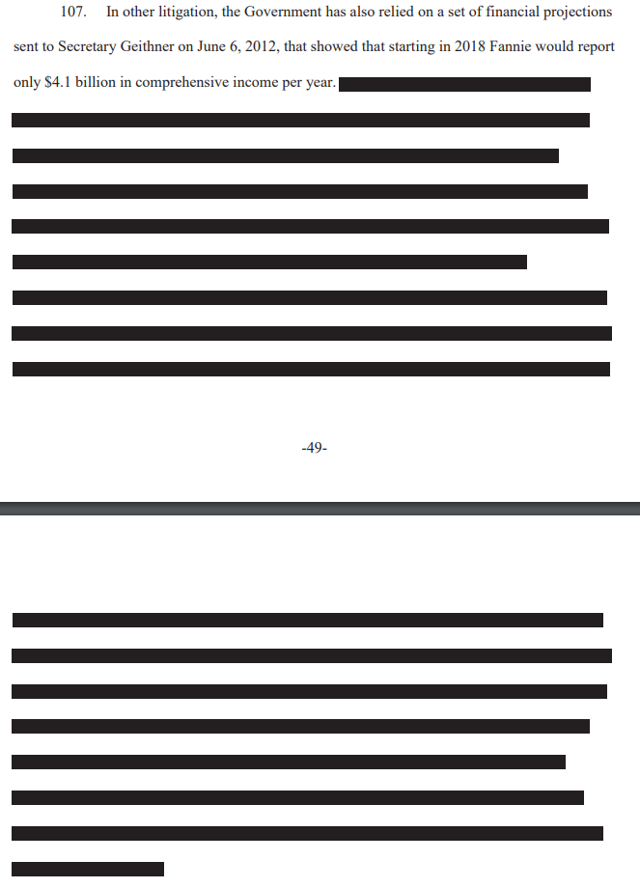 The last redaction likely reveals internal government deliberations about the consequences of following the statute resulting in the release and recapitalization of Fannie and Freddie: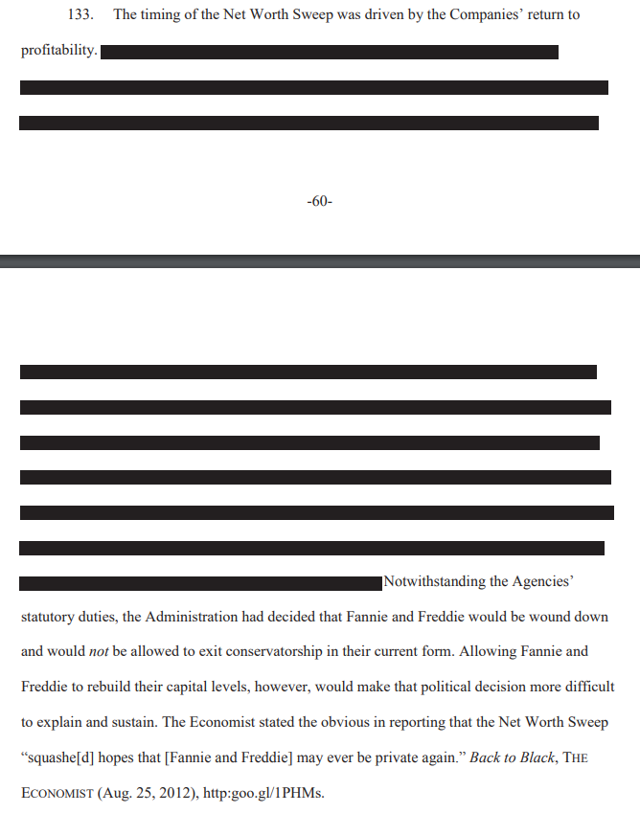 I'm not sure when we might get to see an unredacted copy or the actual documents behind it. It is interesting to see that documents continue to come to light years later at a time when the Perry Capital remand heads into the discovery phase. Lamberth's original ruling was that the facts don't matter and that the government could do whatever it wanted to, but recently he changed his mind after a remand on the breach of implied covenant of good faith claims.
Summary & Conclusion
The courts have really messed this up. To me on a personal level it's disappointing but not surprising. When I study history, the craziest stuff has happened in the past and I guess these sorts of things don't happen by accident. Mostly things can be better understood if you follow the money. That seems to explain everything a bit better than public statements. OneWest seems to be a feeder institution for people who are involved with the GSEs. This largely appears to be an insider deal. The FHFA proposed capital rule largely aligns with the Moelis plan. In the Moelis plan, the senior preferreds are declared paid off and a portion of the junior preferred elect to be converted to common after the warrants are exercised. The upside from here for the common shares in this plan with these valuations is $8-$10 at IPO. In plans where the senior preferred are not declared paid off and instead are converted to common, junior preferred take a haircut and common take a loss.
The way I see it is that common shares have upside that may exceed preferred shareholder's upside if there are not conversions of preferred before the warrants are dealt with. I see it as a 0% possibility that the warrants are not exercised. Hindsight is 2020 and the warrants were issued under false pretenses but the statute of limitations has expired there and let's just say that the courts have been fruitless so far.
Trump needs money to pay for infrastructure spending and both Infrastructure and Housing have seemingly been joined at the hip since inception as one will likely help fund the other. Infrastructure also got pushed until after the midterms. In John Paulson's last merger arbitrage (March) update he said:
Paulson's view is that the net worth sweep will not likely change until there is a broader plan in place to recapitalise the entities.
I don't think we have one of those yet and I'm not sure how to put a broader plan in place to recapitalize the enterprises without doing something about the net worth sweep which makes that impossible. Next month could be fireworks if any serious announcements get made that have been on standby waiting for the midterms to end. Aside from that, I guess we get to wait for Watt to get out of the way. I own 4050 shares of FMCCH, 8094 shares of FMCCI, 9856 shares of FMCCL, 400 shares of FMCCN, 12608 shares of FMCCP, 1210 shares of FMCCS, 5042 shares of FMCCT, 9085 shares of FMCKP, 11132 shares of FNMFN and 5 shares of FNMFO. Those are all preferred shares. I don't know if dividend rates matter in terms of outcome so I'm all mixed up in what I own.
Disclosure: I am/we are long FMCCH, FMCCI, FMCCL, FMCCN, FMCCP, FMCCS, FMCCT, FMCKP, FNMFN, FNMFO.
I wrote this article myself, and it expresses my own opinions. I am not receiving compensation for it (other than from Seeking Alpha). I have no business relationship with any company whose stock is mentioned in this article.
Editor's Note: This article discusses one or more securities that do not trade on a major U.S. exchange. Please be aware of the risks associated with these stocks.