As an investor who is long Royal Bank of Canada (RY), I cautioned back in August that while I expected positive growth, the possibility of an overheating housing market in Canada could put a dampener on growth going forward.
In the past two months, we have seen little movement in overall price. The stock touched a high of just over $81, before reverting back to a price of $76.18 at the time of writing: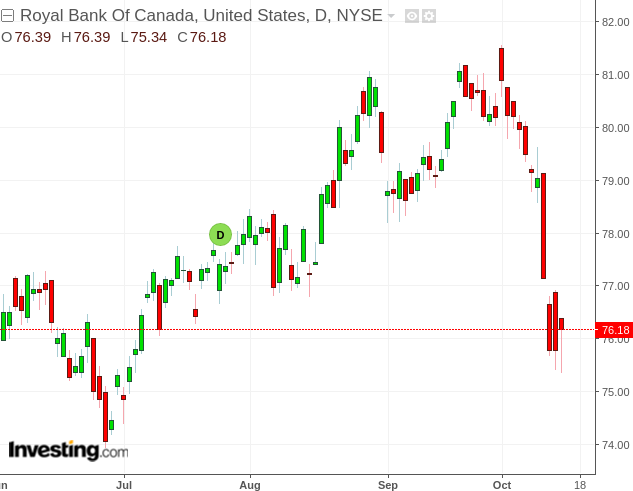 Source: Investing.com
A combination of rising house prices and rising interest rates has the potential to adversely affect Royal Bank of Canada, as the financial institution is significantly exposed to this sector. For instance, we see that along with average gross loans and acceptances being up by 5.9% year-on-year, nearly 60% of the bank's residential mortgage portfolio remains uninsured, and while it is a good thing that Royal Bank of Canada holds adequate PCLs (provision for credit losses) on its residential mortgages, we see that the size of this relative to other business lines underscores the sensitivity of this segment to the bank's overall portfolio.
PCL Across Business Lines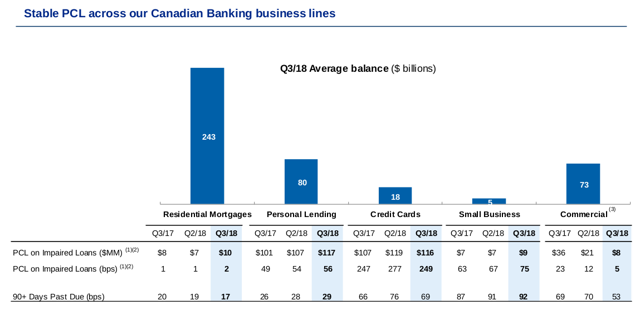 Source: Royal Bank of Canada - Third-Quarter Results 2018
Canadian Residential Mortgage Portfolio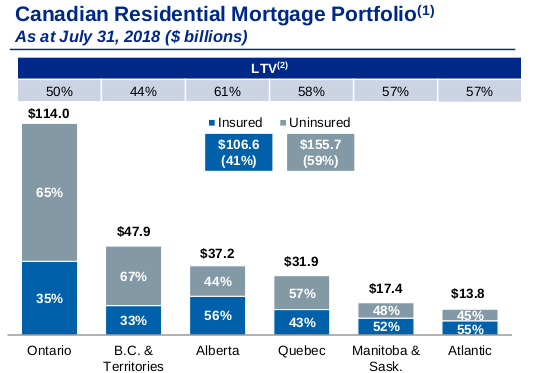 Source: Royal Bank of Canada - Third-Quarter Results 2018
Since my last article, we have seen housing prices in Canada rise even further, with housing affordability reportedly reaching the worst level in 28 years and the share of income that would be needed by a household to cover ownership costs hitting 53.9 percent in Q2 2018. Moreover, a study by Oxford Economics has ranked the Canadian housing market as the third-riskiest in the world, after Sweden and Australia.
Therefore, Royal Bank of Canada is at risk of a decline if a correction in the housing market turns out to be particularly acute. Granted, one could make this claim about Canada's banking system more generally. For instance, Canadian Imperial Bank of Commerce (CIBC) (NYSE:CM) is reported to have the most exposure to the housing market, with earnings from domestic personal and commercial banking being larger than its rivals.
Does this mean that Royal Bank of Canada is a stock that should be avoided at this point in time? When we look at earnings for Q3 2018, we see that diluted EPS was up by 14% year-on-year to $2.10: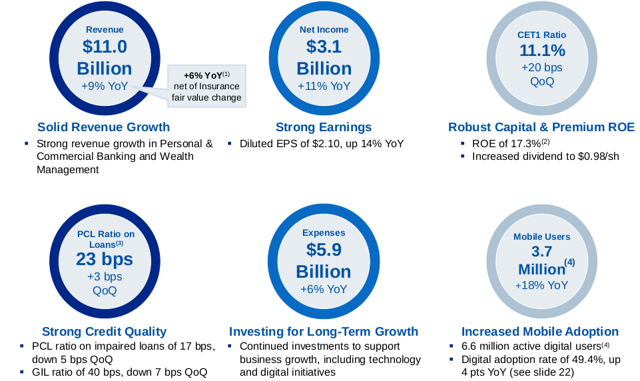 Source: Royal Bank of Canada - Third-Quarter Results 2018
When we look at Royal Bank of Canada on an earnings basis, we see that while earnings have been rising, RY is trading near a five-year high in terms of its P/E ratio: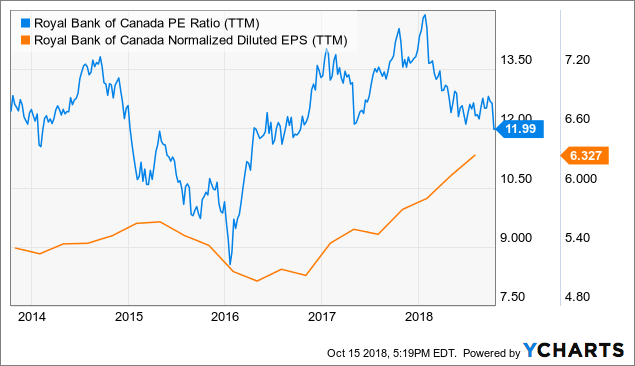 Source: YCharts
So, as an investor, what do I make of RY at this point in time? Well, the stock has proven to be quite resilient to macroeconomic pressures as a result of its earnings growth. However, if the pressures on the housing market spill over into the financial sector more broadly, then the stock could take a temporary hit. Should we see this stock trade below $70, then this is the point at which I would see real value in this stock given its earnings performance, and a price below this level would serve as a buy signal.
Disclosure: I am/we are long RY. I wrote this article myself, and it expresses my own opinions. I am not receiving compensation for it (other than from Seeking Alpha). I have no business relationship with any company whose stock is mentioned in this article.