The recent dip provided the opportunity that potential PayPal Holdings (PYPL) investors have wanted for a while. Following Q3 results, the stock is back up into the $80s. The payments company still has significant growth levers in the digital payments world, making the stock a buy at the right price.

Image Source: PayPal website
Customer Engagement
Due to selling consumer credit receivables to Synchrony Financial (SYF), the revenue story is difficult to analyze. The company reports that actual growth was around 21% when adding back a seven percentage point hit from the receivables sale.
With the growth opportunities in mobile and P2P payments, PayPal is going to consistently trade at lofty valuations. One of the best investment stories is when customer engagement growth doesn't require a company to constantly acquire new customers. PayPal is still seeing solid annual engagement growth of nearly 10% with customers only using the payments service about 3x a month. Every consumer makes far more than three payments a month.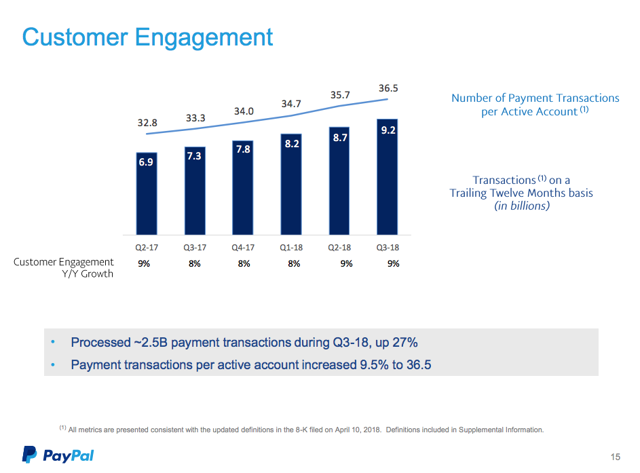 Source: PayPal FQ3'19 presentation
Further data from a commissioned third-party study by Ipsos show that consumers are more willing to make a purchase on a site that offers PayPal. Less familiar brands see a giant uplift of over 50% due to offering PayPal. Probably as amazing is the value of the PayPal brand when non-PayPal users see value when PayPal is available at checkout.

Source: Ipsos study
The study again highlights how PayPal has a huge brand advantage in the mobile and digital payments world. These numbers add up to further growth in both customers and far more engagement from existing ones. The brand is too powerful to expect any slowdown allowing investors to pay more aggressive prices for the stock.
Paying The Right Price
As with any stock, paying the right price matters. The stock recently dipped to $75 and my previous article argued for investors to wait for such a move. Following this 8% surge after Q3 earnings, the stock is in no-man's land now.
Over the last year, PayPal has consistently offered opportunities to own the stock on dips toward 25x forward EPS estimates. One clearly doesn't want to purchase shares when the price reaches 32x forward estimates.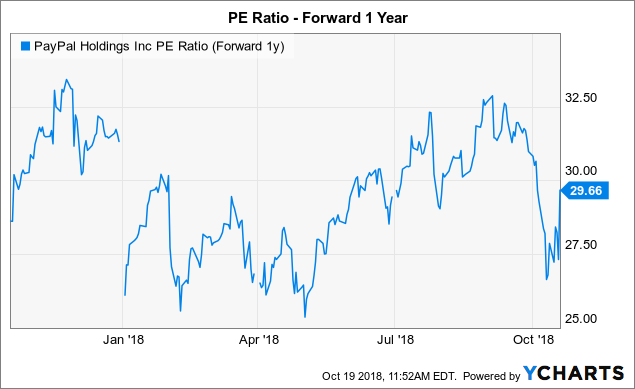 At estimates of $2.80 per share for 2017, the price range is about $70 on the low end and $90 on the upper end. The price scale quickly rises when one starts looking at 2020 EPS estimates as 2018 closes.
A similar 25% EPS growth in 2020 places the target at $3.50 per share. A 25x P/E ratio will have the low-end price target at $87.50 next year when the market shifts to 2020 numbers. My preference, though, is to buy weakness so either wait for the next dip or be willing to allow PayPal to rally from here without you.
Takeaway
The key investor takeaway is that recent history suggests that the market will offer another opportunity to buy PayPal at more reasonable prices. The strong EPS growth won't leave much opportunity to pause, and possibly on buying weakness. Ultimately, investors are likely to do well owning the stock at $84. The question is really how well when buying on dips provides immediate rewards at reduced risks in comparison to chasing rallies.
Disclaimer: The information contained herein is for informational purposes only. Nothing in this article should be taken as a solicitation to purchase or sell securities. Before buying or selling any stock you should do your own research and reach your own conclusion or consult a financial advisor. Investing includes risks, including loss of principal.
Disclosure: I/we have no positions in any stocks mentioned, and no plans to initiate any positions within the next 72 hours. I wrote this article myself, and it expresses my own opinions. I am not receiving compensation for it (other than from Seeking Alpha). I have no business relationship with any company whose stock is mentioned in this article.