Snap-on (SNA) has been one of my favorite industrial stocks over the past few years. The stock had an amazing ability to turn economic growth into strong sales growth and rapidly accelerating earnings. However, the most recent quarter was a wake-up call which caused the stock to drop almost 10%. I am afraid that I will have to ignore this stock for the time being.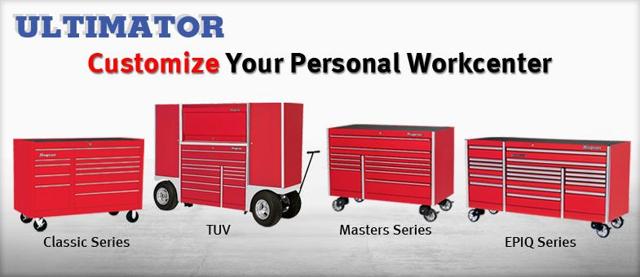 Source: Snap-on
Sales Are The Problem
EPS came in at $2.88. This is $0.03 above expectations and 18% higher compared to its prior-year quarter. The company has beaten EPS estimates every single time over the past few years. Analysts continue to underestimate Snap-on's ability to grow its bottom line over and over again.

Source: Estimize
The problem is that sales did miss estimates by quite a wide margin. Total sales came in at $898.10 million versus expectations of $928.69 million. This is 0.6% lower compared to Q3 of 2017 and 3% below estimates - the biggest miss in years.
That said, EPS misses happen all the time. It's normally not a big deal if there is a good reason why a certain company missed estimates. A large sales miss on the other hand is a bit more severe. It indicates a failure to benefit from a certain business trend. In this case growth acceleration. The only company I can name that currently does not care about hitting sales estimates is RH Inc. (RH) which is fully focused on profitability and polishing its business model. Not only is Snap-on in an entirely different business segment, but the company is also fully focused on sales growth.
A look at the simple sales overview below reveals that sales growth is the core problem. Net sales declined 0.6% as I already discussed while COGS fell 2.4% which caused gross profit to rise 1.11%. Operating expenses also declined by roughly $16 million which caused operating income to rise to $173 million (+13.8%). Operating margins improved from 16.8% in Q3/2017 to currently 19.3%.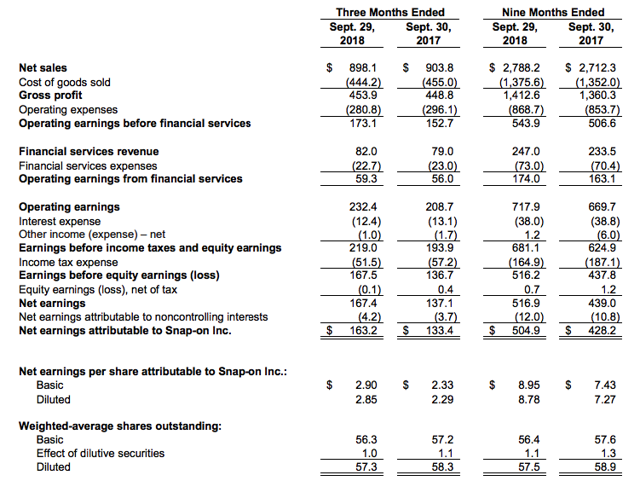 Source: Snap-on Q3/2018 Earnings Press Release
This means that slowing sales were actually offset by slowing costs and operating expenses.
Now, let's look at the company's core business segments starting with commercial and industrial products. Total sales improved 5% to $330 million. Organic sales improved 6.7% while acquisitions added 0.5%. Currency effects, however, had a negative impact of 2.2%. Operating income improved 5.4%. Especially, the higher sales numbers of power tools and strong sales in Asia Pacific added to the segment's strong operational performance.
Snap-on tools saw a 0.7% sales decline which was entirely due to a negative currency translation of 0.8%. Organic sales were up 0.1%.
Repair systems and information took the biggest hit. Segment sales declined 5.7% while organic sales were down 4.8%. The currency translation effect was -0.9%. Operating earnings also slowed 3.7% to $80.7 million, while operating expenses as a percentage of sales increased to 23% from 22.2% in Q3/2017. These declines were mainly the result of slower sales of diagnostic and repair information products to independent repair shop owners and managers, while sales to OEM dealerships were down as well.
So far, I have to say that these results are far from what I had hoped to see. Especially, the sales decline is something we cannot ignore. Nonetheless, I like the fact that expenses were also down. Even though lower tax expenses did improve the bottom line, it was not the main reason the company managed to grow its earnings.
With that in mind, let's look at what we can expect going forward.
What's Next?
The company itself continues to focus on the business model that has made the company so successful.
Snap-on expects to make continued progress through the remainder of 2018 along its defined runways for coherent growth, leveraging capabilities already demonstrated in the automotive repair arena and developing and expanding its professional customer base, not only in automotive repair, but in adjacent markets, additional geographies and other areas, including extending in critical industries, where the cost and penalties for failure can be high.
Adding to that, let me share a graph with you that explains both why the stock is down this much and what we can expect going forward. The graph below displays the ISM manufacturing index. This index is a leading economic indicator that predicts economic growth/cycles. I used the 6 months average to better display the current and past business cycles. What we see is that economic expectations are at their highest levels since the early 2000s. This is the reason why stocks performed so well since 2016. It also means that expectations regarding company earnings are so high. Investors are eager to buy cyclical stocks but expect that these companies actually use the growth trend to turn expectations into actual sales and earnings growth.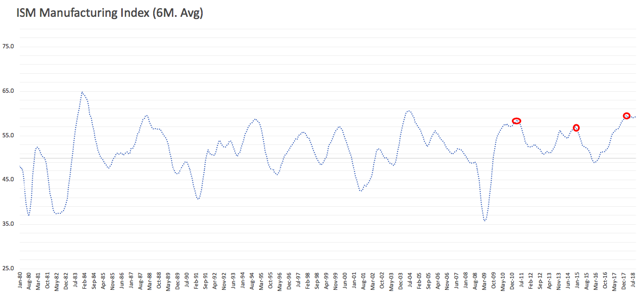 Source: ISM Article
The ratio spread between Snap-on and industrial stocks (NYSEARCA:XLI) as displayed by the red line shows this quite well. The company has outperformed industrial stocks between 2009 and 2016. Since then, the stock has underperformed its peers despite hitting a new all-time high over and over again.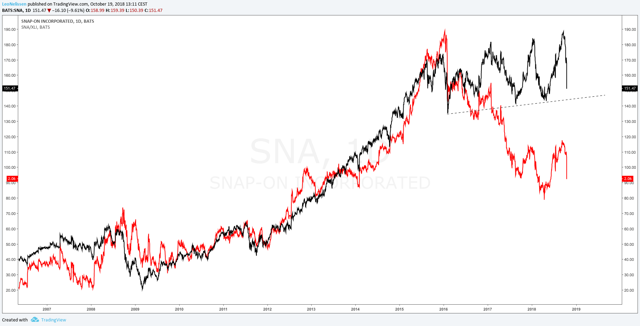 Source: TradingView
It might seem like I am predicting a football game after it happened, but this might be one of the reasons why the stock fell more than 9% after earnings. Expectations were already slowing while a negative sales growth number was everything traders that were still on the fence needed to sell.
That said, I am not turning bearish on the company's management. The reason I am on the sidelines is the fact that traders are increasingly starting to price in slower future economic growth. This makes sense given that we are at the end of a mature business cycle as I tried to make clear by showing you the ISM graph.
For now, I would not be surprised if the stock were to test its support at roughly $140. However, I am starting to buy the stock again when economic growth shows signs of improvement again.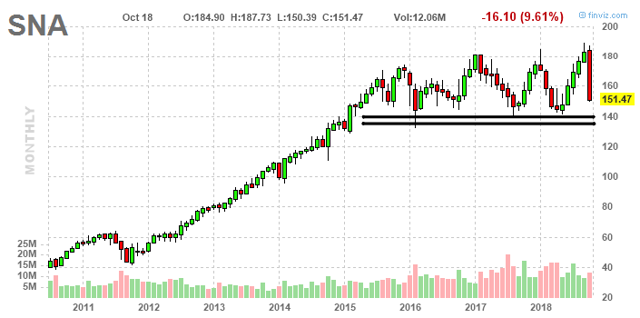 Until that happens, I am staying on the sidelines to see what happens.
Stay tuned!
Thank you for reading my article. Please let me know what you think of my thesis. Your input is highly appreciated!
Disclaimer: This article serves the sole purpose of adding value to the research process. Always take care of your own risk management and asset allocation.
Disclosure: I/we have no positions in any stocks mentioned, and no plans to initiate any positions within the next 72 hours. I wrote this article myself, and it expresses my own opinions. I am not receiving compensation for it (other than from Seeking Alpha). I have no business relationship with any company whose stock is mentioned in this article.