Global digital payments leader PayPal (PYPL) reported robust third quarter numbers after the bell on Thursday, October 18, which sparked a sizable rally in PYPL stock. More importantly, the numbers reaffirmed the company's secular growth narrative, and illustrated that PYPL stock remains a long-term winner wherein big dips are buying opportunities. As such, we think PYPL stock remains a good investment, and believe in the "buy the dip" motto when it comes to PYPL stock.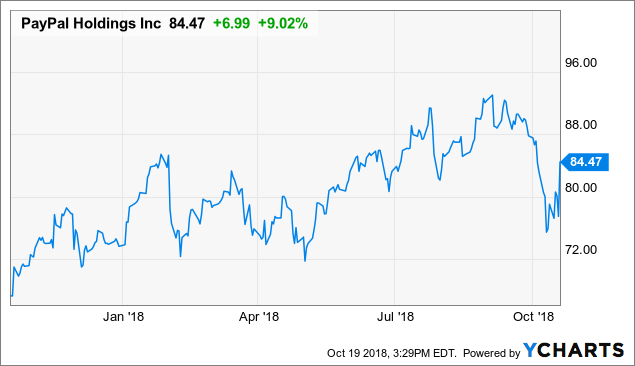 PayPal's third quarter numbers were strong, and essentially eradicated recent market fears which had been baked into the stock price. Long story short, there's no worrisome slowdown taking place anywhere in PayPal's business, and current secular trends remain favorable. Constant currency revenue growth (adjusted for the sale of a credit receivables portfolio) was 21%, which is line with the 20%-plus growth rates PayPal has reported over the past several quarters. Total payment volume rose 25%, which also is consistent with the 25%-30% volume growth reported over the past several quarters (albeit at the low end). Merchant services volume rose 28%, which is somewhat slower than the 30% and up growth rates reported over the past several quarters, but not much slower. Active accounts rose 15%, slightly above the long-term average and in-line with the past three quarters. Payments per active account rose 9%, consistent with high-single digit growth rates reported over the past few quarters. Venmo remained red hot. Operating margins rose slightly, continuing a multi-quarter trend of gradual and steady margin improvement.
Overall, the quarter was very good for PayPal. Growth is slowing somewhat in some areas, but not by that much and certainly not by enough to sound off any alarms (law of large numbers is simply kicking in at a gradual rate). At the end of the day, this is still a 20%-plus revenue growth company with 25%-plus payment volume growth, mid-teens account growth, high single-digit customer engagement growth, an explosive mobile segment, and healthy margin expansion.
Because PYPL stock had sold off sharply into the report, affirmation that recent secular trends in digital payments have not broken sparked a rally in PYPL stock. That's why you are seeing PYPL stock jump in response to strong Q3 numbers.
This rally is likely far from over. PYPL is a pure play on the digital payments revolution, a movement wherein cash payment volume is decreasing and digital payment volume is increasing. This trend is happening globally for multiple reasons, mostly due to the rapid rise in e-commerce. That e-commerce growth is expected to remain robust into the foreseeable future as it spreads beyond retail and into all of commerce. As such, global digital payment volume is expected to grow at nearly 15% per year over the next five years.
Thus, so long as PYPL retains its market share in the digital payments world, this company guarantees itself a ~15% revenue growth rate over the next five years. There's actually reason to believe that PYPL grows its market share during that stretch, given the red-hot popularity of Venmo (transaction volume growth has remained resilient just below 80%). Thus, over the long term, we think that at a minimum, PYPL retains its current market share of the digital payments world and grows revenues at 15% per rate over the next five years.
Assuming operating margins continue on their gradual and steady upward path, we think 15% growth plus slight margin expansion will power EPS to $4.50 in five years. That isn't too far off from the $3.50 mark analysts are looking for in three years, so we think $4.50 EPS in five years is a largely reasonable and consensus view.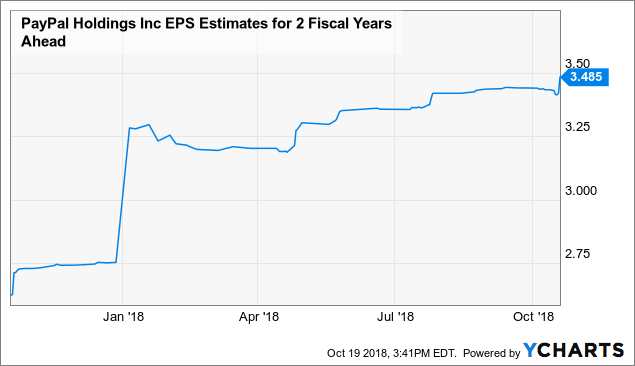 Larger payment peers Visa (V) and Mastercard (MA) have historically traded around 25x forward earnings and have recently been awarded multiples in excess of 30x. Applying the average 25x multiple to $4.50, we arrive at four-year forward price target for PYPL stock of $112.50. Discounted back by 10% per year, that equates to a year-end price target of roughly $85. That's exactly where PYPL stock trades today.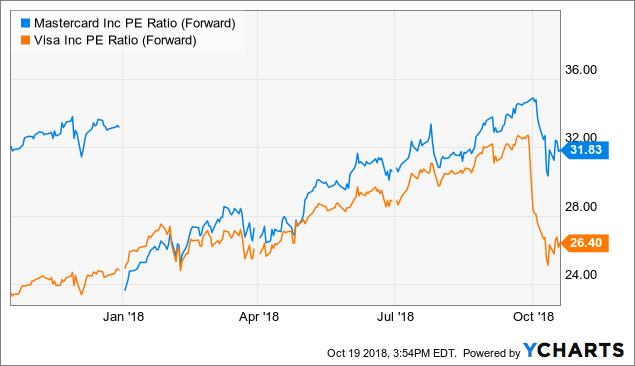 Thus, while we don't think PYPL stock is that undervalued, we also think it is reasonably valued given conservative growth and valuation assumptions. Because big growth stocks have a tendency to trade above fair value for long periods of time, we do not doubt PYPL stock's ability to rally from here and head back toward $90. Indeed, history shows that big dips in the stock are usually followed by even bigger and longer rallies. History should repeat itself so long as valuation remains reasonable (which it does) and fundamentals remain strong (which they do).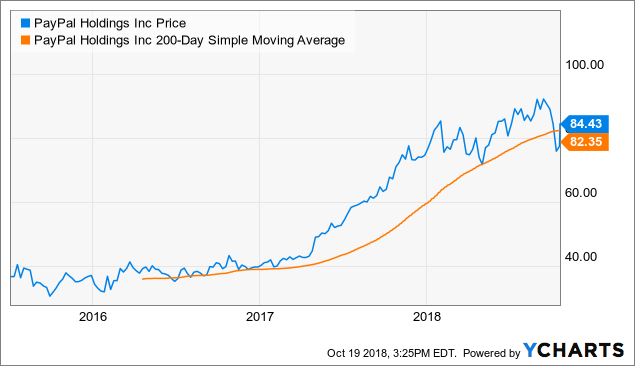 Overall, we think strong third quarter numbers affirmed PayPal's secular growth trends and further affirmed that PYPL is a "buy the dip" stock. The long-term uptrend in this stock will remain intact for the foreseeable future, so big dips like the one we just had should continue to be viewed as buying opportunities.
Disclosure: I am/we are long PYPL, V. I wrote this article myself, and it expresses my own opinions. I am not receiving compensation for it (other than from Seeking Alpha). I have no business relationship with any company whose stock is mentioned in this article.