Q2/Q3 Review
My apologies for not publishing a Q2 review. Time was in short supply this summer between a new job and some vacations. The good news is the DGTR portfolio continued its solid performance in both quarters, delivering a 4.01% Q2 return and a 7.87% Q3 return, exceeding the S&P 500 Total Return index by 0.42% and 0.32% respectively. For the trailing 12 months through September 30, 2018, the DGTR is up 25.08% versus 17.91% for the SP500TR.
The DGTR portfolio received $1359.20 in dividends in Q2 and $1344.53 in Q3; Accenture (ACN) pays a semi-annual dividend in Q2 causing variation in the quarterly amounts. Compared to 2017 Q2 and Q3, these represent gains of 5.9% and 4.8% based on dividends received. These percentages are relatively low because of portfolio trades that exchanged higher yielding stocks for lower yielders. Excluding these impacts, the intrinsic median dividend growth for all stocks held by the portfolio during Q3 was 16.2%.
Leaders
Being born and raised in Ann Arbor, Michigan, and having attended the University of Michigan, the "Hail to the Victors" fight song is burned into my head. The song reference to "the Leaders and Best" comes to mind as I think about some of the DGTR portfolio's top performers over the last two years. These companies produced double-digit earnings and dividend growth and grew into over-weighted positions. In general, I'm letting these positions run, though I made a minor trim to Boeing (BA) in June. I will re-evaluate as we get into 2019. If rising interest rates or the China trade war result in significant drag on the US and global economies, I may rebalance a few positions.
BA continued to deliver strong revenue and earnings growth, raising its 2018 sales guidance during the Q2 earnings call in July. Annual passenger growth has been around 7% since 2010, and the IATA's 2016 report called for demand to double over 20 years. This aligns with the portfolio's theme of the rising global middle class, which BA will definitely benefit from.BA also acquired a controlling stake in Brazilian plane maker Embraer for $4.75B in July. I expect BA to announce another solid dividend increase in December as it did last year.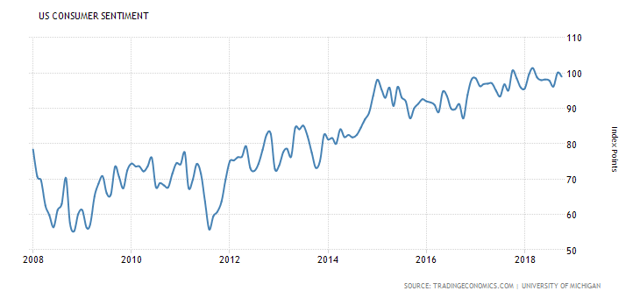 Visa (V) is another company benefiting from the strong economy, the rising global middle class, and the use of payment technologies. US Consumer confidence is at a 10-year high and wage growth is over 4%. Consumers are spending and making use of credit cards. V and Mastercard (MA) settled a lawsuit over swipe-fees with retailers for $6.2B, though some retailers may opt out, as they want to negotiate lower fees due to the high cost of popular rewards cards.
FLIR Systems (FLIR) is a smaller company relative to most of the DGTR positions, but its focus on sensor and imaging technologies aligns very well with current intelligence, security, and defense needs and applications with autonomous vehicles and drones. The stock is not cheap at a forward PE of 25, but earnings forecasts are strong and I believe there is sufficient demand for these technologies to continue holding onto FLIR.
Other strong performers include: UnitedHealth Group (UNH), which raised its dividend 20% in Q2; Marathon Petroleum (MPC), which just completed its acquisition of Andeavor creating the largest US refining company by capacity; and Nike (NKE), which beat earnings estimated and reported 10% sales growth in its most recent quarter.
Portfolio
The DGTR portfolio is a variation of a dividend growth portfolio that I managed for 3 years while working for an RIA, and represents growth holdings in my personal portfolio. The DGTR portfolio is designed for investors who seek total return and are comfortable with a lower yield than an income investor may require. Dividend growth stocks are used based on the research showing this class of equities outperforms the S&P 500 over the long term. Information on the portfolio's rationale and screening process can be found in the original article. This model portfolio started on January 1, 2017 with $200,000 as its initial principal and was worth $305,371 as of September 30, 2018 for a total return of 52.7% vs 34.7% for the S&P 500 TR since inception.
The portfolio composition as of September 30, 2018 is listed below.
| | | | | | |
| --- | --- | --- | --- | --- | --- |
| Ticker | Company | Yield (%) | Shares | Price | Current Value |
| BA | Boeing Co | 1.84% | 55 | $371.90 | $20,454.50 |
| FLIR | FLIR Systems Inc | 1.04% | 315 | $61.47 | $19,363.05 |
| V | Visa Inc | 0.56% | 128 | $150.09 | $19,211.52 |
| | JPMorgan Chase | 2.84% | 168 | $112.84 | $18,957.12 |
| NKE | Nike Inc | 0.94% | 197 | $84.72 | $16,689.84 |
| UNH | UnitedHealth Group Inc | 1.35% | 62 | $266.04 | $16,494.48 |
| MPC | Marathon Petroleum Corp | 2.30% | 199 | $79.97 | $15,914.03 |
| | Home Depot Inc | 1.99% | 74 | $207.15 | $15,329.10 |
| | Stryker Corp | 1.06% | 83 | $177.68 | $14,747.44 |
| | Texas Instruments Inc | 2.87% | 137 | $107.29 | $14,698.73 |
| ACN | Accenture PLC | 1.56% | 85 | $170.20 | $14,467.00 |
| | Air Lease Corp | 0.87% | 306 | $45.88 | $14,039.28 |
| | CoreSite Realty Corp | 3.71% | 126 | $111.14 | $14,003.64 |
| | American Tower Corp | 2.17% | 95 | $145.30 | $13,803.50 |
| | Allstate | 1.86% | 138 | $98.70 | $13,620.60 |
| | Walt Disney Co | 2.87% | 115 | $116.94 | $13,448.10 |
| | Celanese | 1.89% | 112 | $114.00 | $12,768.00 |
| | Principal Financial Group Inc | 3.62% | 211 | $58.59 | $12,362.49 |
| | FedEx | 1.08% | 51 | $240.79 | $12,280.29 |
| | AbbVie | 4.06% | 118 | $94.58 | $11,160.44 |
| Cash | | 0.00% | 1558.26 | $1.00 | $1,558.26 |
| Total Portfolio | | 2.02% | | | $305,371 |
Portfolio Changes
Since my last update, there have been a couple changes to the portfolio. On June 21, 68 shares of Amgen (AMGN) were sold at $185.99 since the portfolio also had a full position in ABBV and I didn't want two pharmaceutical companies. In addition, 9 shares of BA were sold @ $337.66 to trim some gains and reallocate to other positions. While I know some would say "let your winners run", I view occasional trims as part of portfolio risk management. BA remains the largest holding with almost 50% more allocation than the median position in the DGTR. Having overweight positions is great when they are going up, but I've also had ones that eventually declined. At the end of the day, I am concerned about the total portfolio performance, which has been doing quite well for over 6 years now going back to my original SeekingAlpha model in 2011, so I tend to trust my process. I'm not trying to maximize returns, but I am seeking to outperform my benchmark. The proceeds from these sales went into 112 shares of CE @ $111.30, 19 more shares of DIS @ $105.89, and 38 more shares of PFG @ $55.64. $4.95 commissions were factored into all trades. CE was mentioned as a stock of interest in my last update. I wanted a materials company to replace Dow DuPont (DWDP) since it was sold from the portfolio in January 2018.
While not reflected in the table above, on October 1, I reinvested $1525 of the portfolio's cash into 16 additional shares of ABBV @ $95. Going forward, I will also start factoring in interest earned on the cash as money market rates are now at 2%. Previously I didn't worry about this since rates were so low, but now it adds up to a fair amount and I believe it is more accurate to include it in the portfolio return. I will calculate 2% for prior month balances and 1% for the current month since dividends roll in at different times during the month.
Review of Prior Trades
While the portfolio has a long-term focus, since I limit it to around 20 stocks, I expect to make a few trades each year based on valuations, growth outlook, and company-specific factors. I estimate turnover at less than 25% annually, so the average holding period should be over 4 years. I expect most stocks to be held longer. So far, most of the trades have benefited the portfolio as shown in the table below.

Based on the above, the BA trim has not been materially negative thus far. AMGN had a surge after the swap to CE, hence the negative performance from this trade. Based on earnings forecasts, AMGN appears fully priced now whereas CE has a more attractive valuation and stronger forward growth potential. Regardless, the main reason for the change was to add a materials company while reducing the overweight to drug stocks. If anything, the real question may be whether I kept the right pharma stock, as the State of California recently sued ABBV for violating anti-kickback laws regarding its HUMIRA drug; something to keep an eye on.
Portfolio Statistics
On an equally-weighted basis, the average year-over-year increase in DGTR's non-GAAP EPS was 31.8%, above the 25.0% average earnings growth for the S&P 500 as reported by FactSet. FFO growth was substituted for EPS growth for the REIT positions. 80% of the DGTR portfolio's companies beat analyst Q2 EPS expectations, matching the S&P 500 results based on FactSet's tracker. The portfolio was designed to emphasize growth and thus far, the results are meeting this goal.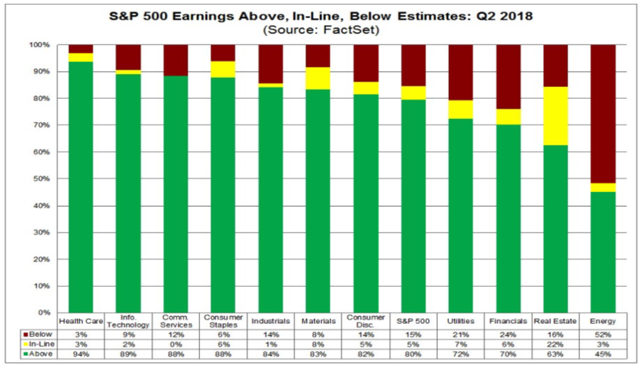 The DGTR portfolio continues to have a favorable profile. The payout ratio is relatively low and the PEG ratio is under 1.7. Earnings forecasts are in the double digits and historical DGRs are above 20%. In addition, the portfolio's beta since inception is 0.99. So despite its growth tilt, the DGTR portfolio has comparable volatility to the S&P 500 while delivering higher total returns.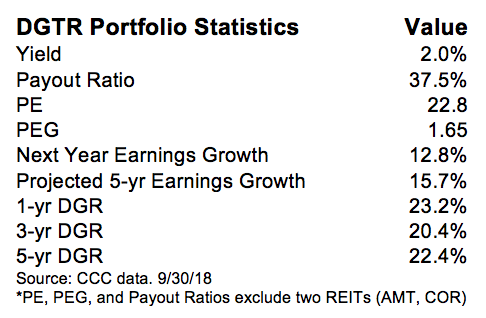 Macro Update
Rising Interest Rate Environment
The Federal Reserve raised the Fed Funds target rate to 2.0% to 2.25% in September, continuing the normalization of interest rates. With the economy remaining strong, the Fed signaled another rate hike in December and expects three hikes in 2019. This would bring the short-term rate to the 3% level; the median of the range from 2000 to 2008.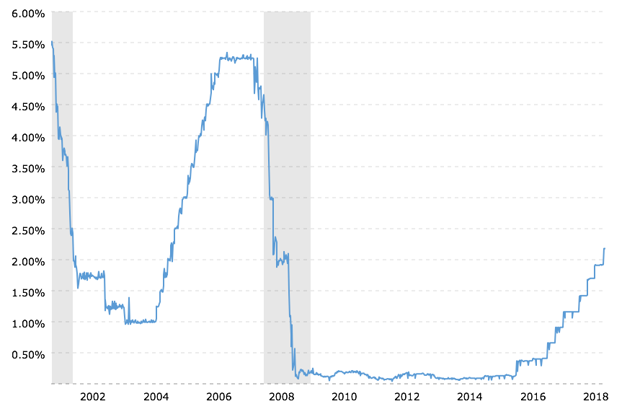 Source: Macrotrends.net
The improving economy and rising inflation warrant a return to more normalized interest rates and historically speaking, rates are still relatively low. Also, the yield curve remains flat with the 10-year Treasury only one percentage point above the Fed Funds rate, due in part to global investors seeking yield in the US because of low global bond rates. Based on JP Morgan's historical analysis, when the 10-year Treasury is below 5%, rising rates correlate with positive stock returns. With the 10-year around 3.1%, interest rates alone should not threaten the bull market, but increasing rates provide one more reason to sell if investors get nervous.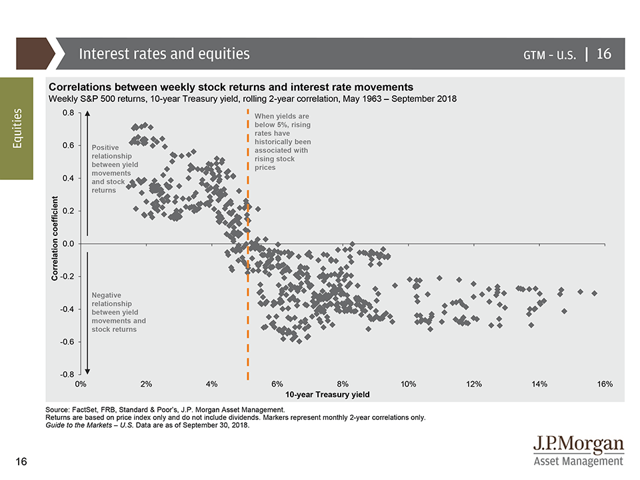 Economic Trends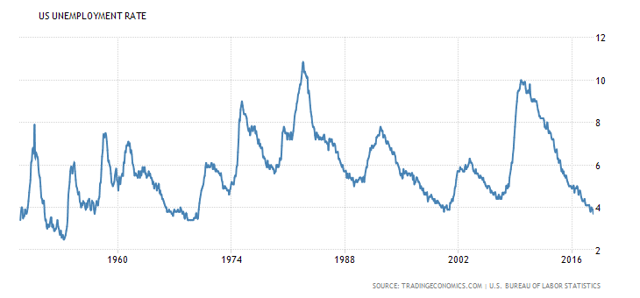 In September, the US unemployment rate declined to 3.7%, its lowest level since 1969. The tight labor market has helped wage growth climb to the 4% range. Combined with the tax cut, consumers have more money to spend and as noted previously, they are feeling confident. The Fed's actions should start to temper economic growth a bit, keeping inflation and wage growth in check. Overall, the US economy is looking good and the new USMCA agreement (formerly NAFTA) resolved one major economic issue.
The remaining concern is the trade war with China. Thus far the market hasn't appeared too concerned. With corporate earnings surging 20%+ this year, life is good! As the number of tariffs increase and tax cut benefits are baked into prior earnings, earnings growth will decline in 2019. I'll be curious to see which companies mention China in their Q3 earnings calls and how much impact they anticipate. AAPL noted that a wide range of its products could be impacted if tariffs are imposed on all Chinese imports, though its Apple Watch and other products were exempted from recent tariffs. While good for AAPL, not every company has its clout nor would tariffs work if every company were exempted, so there will be losers somewhere. Hopefully this situation gets resolved soon.
Earnings Forecasts
Year-over-year earnings growth forecasts remain in the double-digits for the next two quarters thanks to the tax cut benefit. As seen in the chart below from Zacks Investment Research, estimates drop significantly starting in 2019 Q1 after the tax cut boost has been factored in for all 2018 quarters. 2019 earnings growth expectations remain positive in the 6% range, though much will depend on the economic trends discussed. The DGTR portfolio is positioned for double-digit earnings growth based on current earnings forecasts for its holdings.
Closing Thoughts
The DGTR portfolio continues to outperform the S&P 500 TR index based on total return with double-digit earnings and dividend growth. The portfolio's focus on higher growth rate companies benefiting from trends in population growth and technology helped it produce these returns despite rising interest rates and geopolitical events. That said, as we have already seen from the first couple weeks of October, the market is overdue for a correction and as rates continue to increase, investors may re-evaluate their equity positions. Typically investors gravitate toward consumer staples and utilities when the market declines. I would not be surprised to see the DGTR portfolio decline more than these stocks in a correction. However, with interest rates continuing to rise, interest-sensitive equities face some headwind. I continue to believe the leadership positions of the DGTR firms and their alignment with favorable macro trends will enable them to outperform in the long run.
Disclosure: I am/we are long NKE, DIS, HD, MPC, PFG, SYK, UNH, FLIR, BA, V, ACN, TXN, AMT, COR, JPM, ABBV, CE, FDX, ALL, AL, AND AMGN. I wrote this article myself, and it expresses my own opinions. I am not receiving compensation for it (other than from Seeking Alpha). I have no business relationship with any company whose stock is mentioned in this article.