Midstream had another strong relative performance this week. The MLP Index was flat week over week, on par with the S&P 500 (which also miraculously finished the week virtually unchanged). Broader North American non-MLP midstream outperformed, led by Canada, OKE and KMI. The broader energy sector was hit by lower oil prices and underperformed (XLE -2%).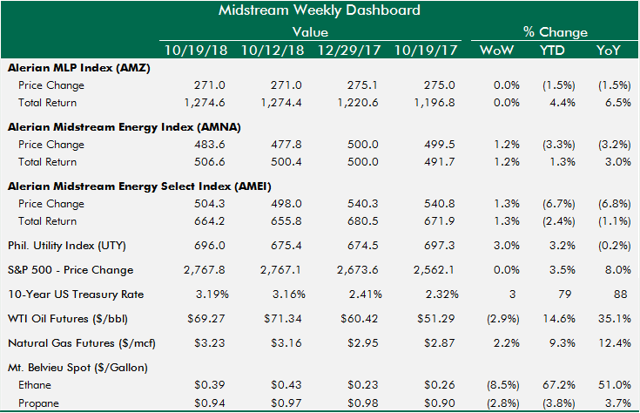 Utilities held all the winning numbers again this week and continue to counterintuitively outperform in a rising rate environment, on an apparent flight to safety trade. Since 8/23, the interest rate on U.S. 10-year Treasuries has risen 38 basis points, and utilities (UTY) have gained 2.4% in value, while midstream and MLPs have lost more than 5% of their value.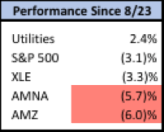 As discussed here in recent weeks, midstream has started to act defensively the last few weeks. If this quarter's earnings go as well as last quarter, with sequential growth and commitment to self-funding aspirations, midstream could attract some fearful capital, which would be a welcome upgrade from no capital. Although, we probably will have to wait for fund flows into the Mega Millions lottery system to subside…
Mutts of Midstream
You've probably heard about the Dogs of the Dow, which is either used to highlight poor performers or to screen for potential mean reversion looking forward. Today, I'd like to introduce you to 4 Mutts of Midstream. These are major players in the midstream game, combining to represent 37% of the midstream universe by market cap. Each has undertaken major strategic transactions in 2018, but each has traded down this year so far (not including distributions). They are Kinder Morgan, Enbridge (NYSE:ENB), Energy Transfer (NYSE:ET), and Williams Companies (NYSE:WMB).
ENB announced asset sales, simplifications and made progress on its major pipeline project…

...but still faces a few months before closing simplifications and a few hurdles to construction.

ET executed an earlier-than-expected simplification and has NGL value chain assets with high operating leverage…

...but has poor corporate governance when compared with corporate options and has a somewhat limited potential investor base given K-1 MLP structure.

KMI extricated itself from a hopeless pipeline construction effort and received a big chunk of cash in the process…

...but has limited operating leverage and growth questions.

WMB exited the MLP sector with a final simplification, following up last year's asset sales, IDR elimination and leverage reduction…

...but Northeast natural gas with no Permian gas or Gulf Coast NGL exposure makes it an easy target for shorts who are betting on huge associated gas production
ET has performed best at nearly flat. ENB has traded worst in USD terms, with an assist from weaker Canadian dollar. Below are some valuation statistics on each based on average estimates from three top midstream sell-side research analysts. They each trade at relative discounts to the universe on several metrics.

Winners & Losers
TCP (rate settlement on GTN) and VLP (takeout) had positive news that helped both rally this week. VLP's buyout announcement on Friday didn't spark a broad rally in drop-down MLPs, like SHLX, BPMP and WLKP. Those last two were among the biggest winners this week, but that was more of a bounce back from last week's sell-off where they were both in the bottom 5. Services MLPs CCLP and HCLP were hammered this week and finished near the bottom, tracking oil and energy stocks lower.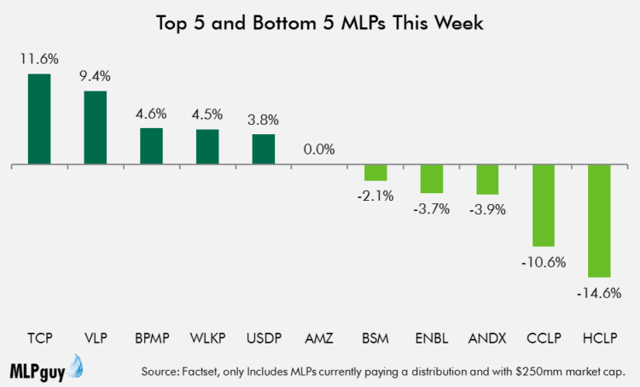 As noted, BPMP and WLKP went from bottom 5 to top 5. USDP repeated near the top. On the YTD leaderboard, CQP dropped out of the top 5 replaced by CCR. EQM returned to the bottom 5, replacing SHLX.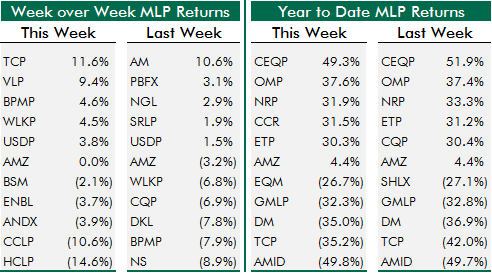 Note that ETP and its 30% return YTD will be replaced in the above charts with the new ET entity starting next week.
General Partners & Midstream Corporations
KMI's earnings this week brought some attention and outperformance, but that was the only significant news items of the week for this group. OKE, TRGP and SEMG bounced back from selloffs as investors position ahead of earnings. EQGP was near the bottom again this week, as the market seems to have lost interest as the spin off approaches, but maybe earnings next week changes sentiment.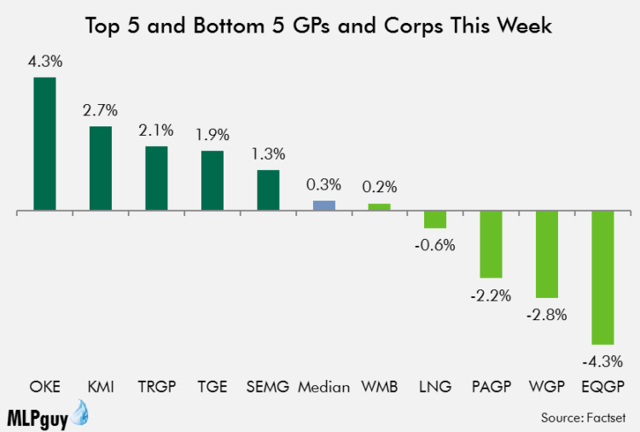 EQGP reclaimed the bottom spot on the YTD leaderboard this week. EQT's MLP experiment was working quite well until it entangled with Rice, ran into delays on MVP and dragged its feet on simplification. It's been pretty terrible for EQM and EQGP investors.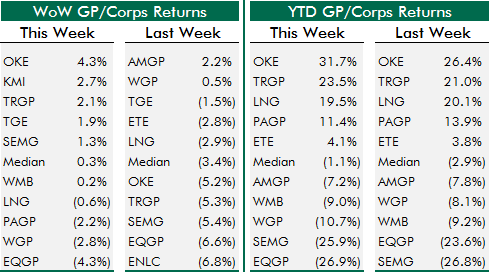 Canadian Midstream Corporations
Canadian midstream outperformed U.S. midstream and MLPs this week. Each one of the stocks in the group were positive with the exception of zombie stub company KML. Gibson (OTC:GBNXF) announced additional terminals at Hardisty, which helped it propel itself even higher after several weeks of outperformance.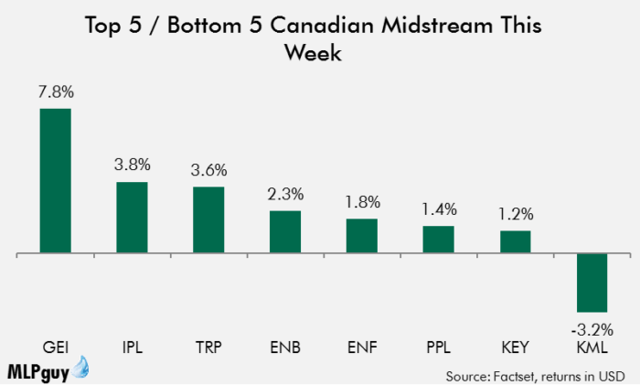 On the YTD leaderboard, performance largely tracks inverse market capitalization, with the smallest company Gibson far outpacing the group. Mega-caps TRP and ENB are bringing up the rear, and in between names trading in between.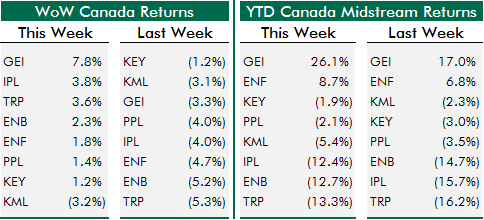 News of the (Midstream) World
Another week another zombie MLP, but this one (VLP) won't linger very long as a zombie. We also retired the largest zombie MLP out there, when we said goodbye to ETP, which was actually legacy SXL that went public in 2002. Also, 28 interstate pipelines filed 501G forms this week.
Capital Markets
Growth Projects/M&A
Energy Transfer Equity and Energy Transfer Partners completed their merger with the surviving entity named Energy Transfer LP (press release)

Valero Energy (NYSE:VLO) announced the roll up of Valero Energy Partners at a price of $42.25/unit in an all-cash transaction (press release)

Takeout price represents a 6% premium to prior day close

VLO does not need approval of the transaction by holders of VLP as it already owns greater than 65% of VLP

VLO is seeking to close the deal as soon as possible
Tallgrass Energy (NYSE:TGE) and Silver Creek Midstream announced the expansion of their JV, Powder River Gateway (press release)

The expanded JV will own the Iron Horse Pipeline, the Powder River Express Pipeline, and crude oil terminal facilities in Guernsey, WY
Gibson Energy (GEI-CA) announced the sanction of 1mm barrels of new tankage at the Hardisty Terminal, underpinned by a long-term agreement with a senior oil sands customer (press release)

MPLX and Crimson Midstream announce binding open-season for Swordfish Pipeline (press release)

The pipeline is being developed to provide connectivity between existing terminal facilities in St. James, Louisiana and Raceland, Louisiana to the LOOP terminal facility
In ancillary midstream news, Sempra Energy (NYSE:SRE) announced acquisition of InfraREIT (press release)

Worth noting because SRE has a substantial midstream asset base, has a Texas utility presence, and InfraREIT has transmission assets in Texas

Also worth noting that it's not just MLP tickers that are going away
Other
TC Pipelines reported Gas Transmission Northwest (GTN) filed settlement with FERC (press release)

As a result of the settlement and progress on other pipelines, TCP expects overall impact of taxes on TCP's cash flow to be $20-30mm, down from $40-60mm originally expected

TCP's share price spiked on this news
John Elway (Coloradan) opposes Proposition 112 (YouTube)

What would John Elway Do?
FERC Chairman Kevin McIntyre is speculated to be on the verge of stepping down from FERC due to health issues, a move that would leave FERC with just 3 commissioners, 2 of which are Democrats (EE News)
Distribution Announcements