Investment Thesis
Procter and Gamble (PG) reported better than expected sales growth and earnings in its Q1 2019.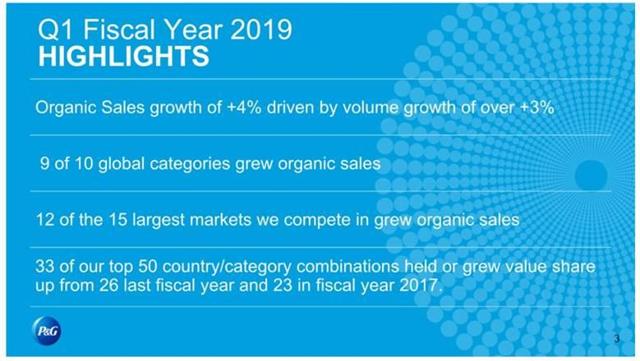 Source: P&G SEC 8-K Oct. 19, 2018
Headwinds exist but this was a very positive quarter. Progress continues on balancing the top line, the bottom line and cash generation.
In my two previous Seeking Alpha articles about P&G I have been positive on the company and its transformational activities. P&G remains a dividend aristocrat. It has had continuing dividend growth (62 consecutive years). Over the past five years the dividend has increased at an annual compound average rate of 4%. P&G has remained a good, conservative long term holding. In this article we will review the recent 1Q '19 results and key factors going forward.
The household consumer product market is characterized by intense competition, niche startup players, cost pressures and tepid consumer demand. Within this environment P&G has seen annual revenue growth in the 1% - 3% range during the past few years. And during the past year P&G has seen sequential quarterly market value share improvement, albeit two of the 10 product lines (Grooming and Baby) have performed subpar. Although in Q1 Grooming sales increased 4%. Prior to the Q1 earnings release the stock was down 11.85% YTD. The 52 week chart looked like this:

Source: Morningstar
P&G reported the 1Q19 earnings on October 19 (P&G fiscal year ends June 30). The results had many positives.
Key Factors
P&G has 10 product categories which comprise the Global Business Units. The 10 product categories are depicted below: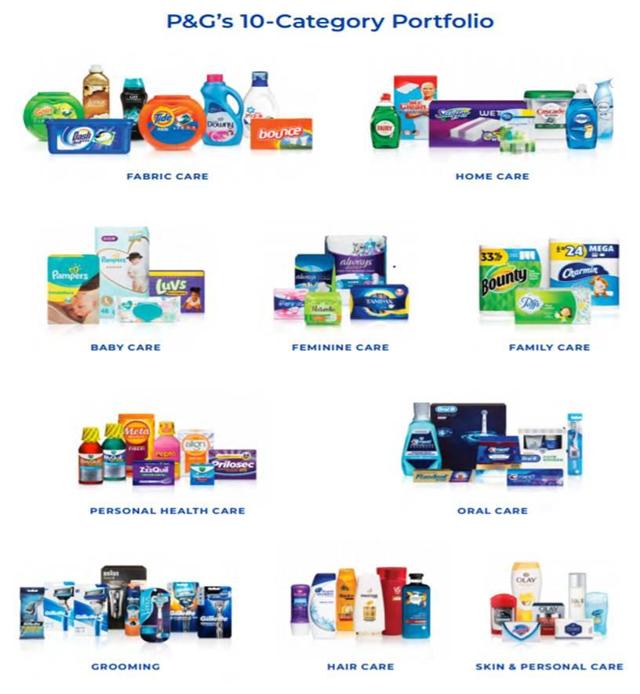 Source: P&G 2018 Annual Report
These 10 product categories are aggregated into five financially reportable segments. Percent of net sales for the year ending June 30, 2018 are shown.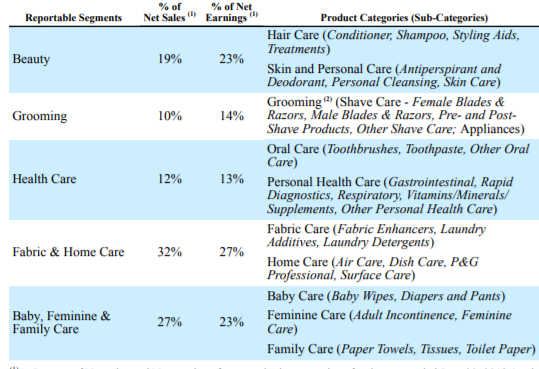 Source: P&G Annual Report
The products are sold in 180 countries. And very importantly 56% of revenue is outside of North America. So revenue is impacted by worldwide local cultures and buying habits, local currency exchange rates, where the products are manufactured, political issues and local competition.
2018 Net Sales by Geographic Regions
North America 44%
Europe 24%
Asia Pacific 9%
Greater China 9%
Latin America 7%
India, Middle East & Africa 7%
33% of revenue comes from Developing/Emerging markets. This presents both a growth opportunity but potential political instability.
Walmart and its affiliates, is the largest customer, accounting for 15% of annual revenue.
Global e-commerce sales are strong and growing, up 30% in fiscal year 2018 and accounted for nearly $4.5 billion of sales – about 7% of their revenue.
P&G is working to improve both top line growth and bottom line performance. In addition to growing revenue by their Five Measures of Noticeable Superiority - superior products, superior packaging, brand communications, retail execution and consumer value, P&G is working to remove another $10 billion in cost from that which was done previously.
P&G has entered into an acquisition agreement for Merck KGaA, an over the counter consumer healthcare business, which does business primarily in Europe, Latin America and Asia. Annual revenue is a relatively small $1 billion.
Q1 '19 Earnings
P&G did well in Q1.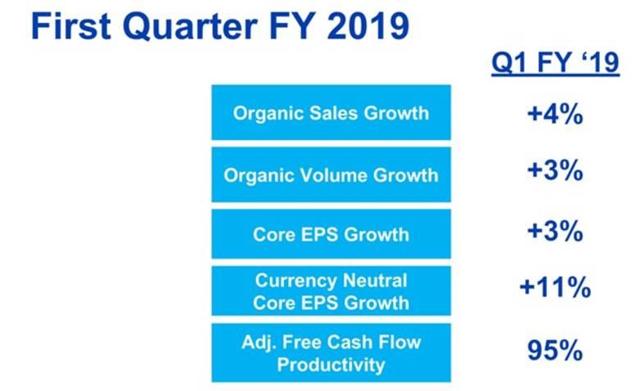 Source: P&G SEC 8-K Oct. 19, 2018
P&G reported first quarter fiscal year 2019 net sales of $16.7 billion. Diluted net earnings per share were $1.22, an increase of 15% versus the prior year. Operating cash flow was $3.6 billion for the quarter. Adjusted free cash flow productivity was 95% (the objective is 90%). The company returned $3.1 billion of cash to shareholders via $1.9 billion of dividend payments and nearly $1.3 billion of common stock repurchases. A key negative was the foreign currency exchange headwind that impacted results.

Source: October 19 Press Release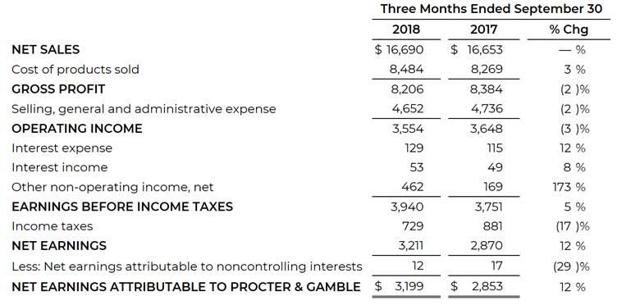 Source: October 19 Press Release
9 of the 10 product categories grew market share. Regarding the five reportable Global Business Units:
Beauty segment organic sales increased seven percent versus year ago.
Grooming segment organic sales increased four percent.
Health Care segment organic sales increased four percent.
Fabric and Home Care segment organic sales increased five percent.
Baby, Feminine and Family Care segment organic sales decreased one percent versus year ago. This was driven mostly by a decrease from Luvs diaper brand.
P&G Leadership is strongly committed to delivering improving results in a very competitive environment.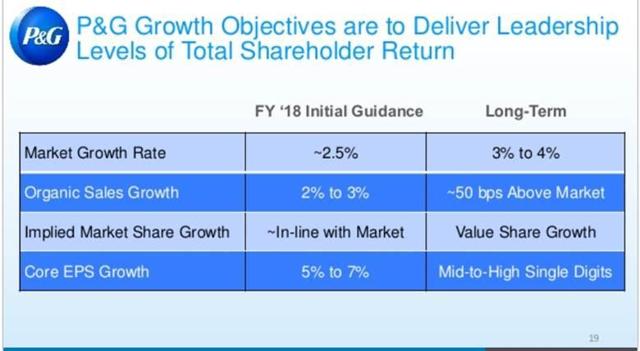 Source: P&G Website
Conclusions
I remain positive on P&G as a conservative, high yield (3.6%) equity. Sequential progress continues with their accelerating change, superiority focus, productivity improvement, focus on cash and innovations. Although there are headwinds with foreign exchange, commodity cost increases, and transportation cost increases they are delivering on their promises. Selective pricing increases are being enacted to combat the headwinds.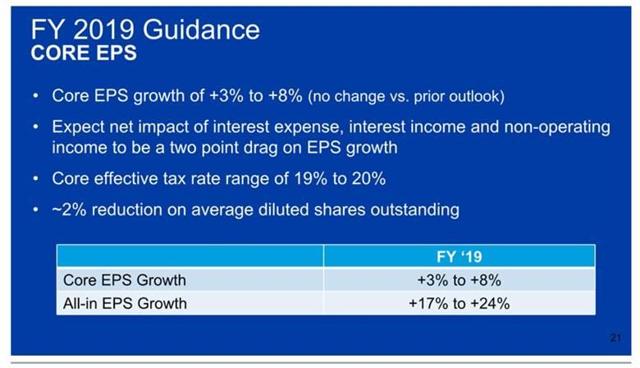 Source: P&G SEC 8-K Oct. 19, 2018
P&G expects adjusted free cash flow productivity of 90% or better for fiscal 2019 and expects to pay over $7 billion in dividends and repurchase up to $5 billion of common shares.
If one is currently a holder of P&G, this Quarter is net constructive to maintaining the holding.
If one is considering purchasing the equity, it deserves a detailed look.
Disclosure: I am/we are long PG. I wrote this article myself, and it expresses my own opinions. I am not receiving compensation for it (other than from Seeking Alpha). I have no business relationship with any company whose stock is mentioned in this article.