Paypal (PYPL) recently reported earnings and is up 8% as a result. I advised my subscribers to buy calls in my most recent article. While my Exposing Earnings subscribers are selling…

… I'm interested in what happens next.
After earnings, two things typically happen. For one, we see a gap. We also have new information via an earnings call.
Seeking Alpha, this godsend of a website, provides the full earnings call transcript for all earnings. If you didn't know that, you need to start reading. PYPL's most recent earnings call transcript is here. (My biggest complaint about Seeking Alpha is that the site defaults to a multiple-page reading of the transcript for no apparent reason; click "single page.")
Post-earnings gaps are usually playable because of over/under-reactions on earnings. I've spent years researching gaps and can usually get an idea of which way the stock is headed after a gap. However, post-earnings gaps are exceptions because of that second piece of information (earnings call), which does not come with every gap.
I run my gap algorithm after earnings gaps to see if a pattern exists. Unfortunately, PYPL is unwieldy in this regard. Here is how PYPL acts on this particular type of gap after one day: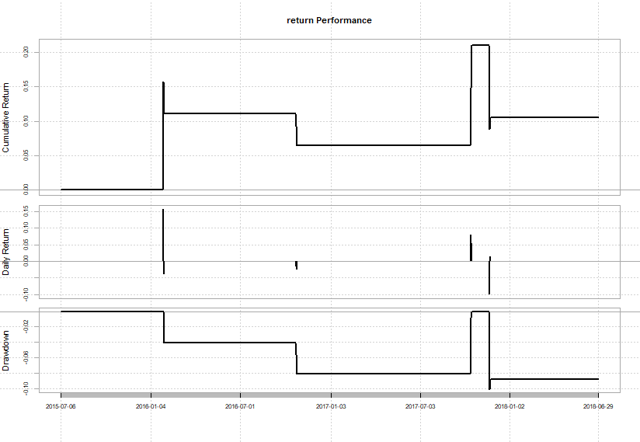 Note the small sample size, making this type of gap even more unwieldy. If we extend the data set to all up gaps, we get a similar trend, but the sample size is still not to my liking: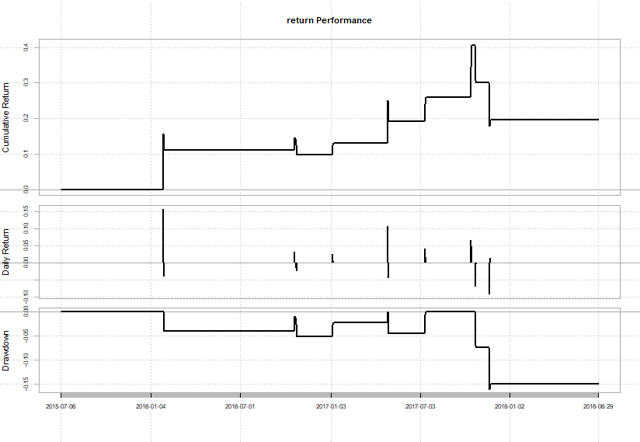 After three days: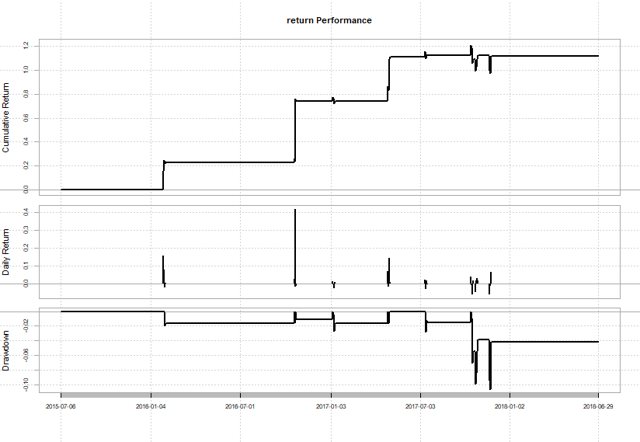 Looks profitable to go long on up gaps, right? However, when we regress to the specific gap type we saw after earnings, we get the following three-day pattern: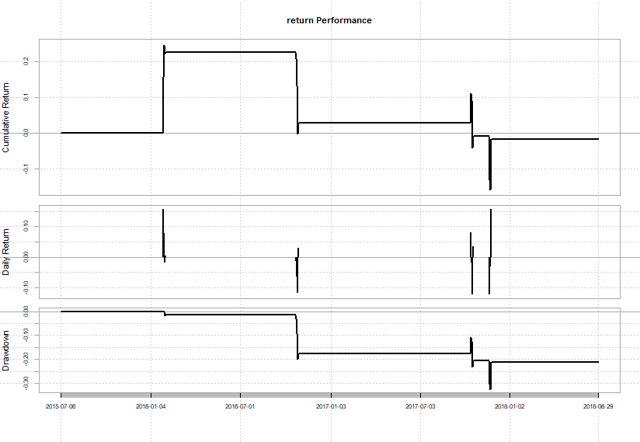 So, merely going long after an up gap does not work for this type of gap. In general, however, going long on PYPL's up gaps is profitable. This implies that bumps in PYPL are underreactions; investors tend to wait for PYPL to rise before buying themselves.
I ran my cognitive dissonance algorithm on PYPL and found no cognitive dissonance. It existed one year ago but dissipated about six months ago. This means that PYPL investors have begun to react fairly (market-wise) to news, such as earnings reports, whereas in the past they overreacted to news.
If so, then PYPL is fairly priced after this gap and will likely trend sideways and/or upward. In other words, this gap is not an area gap but a breakaway/continuation gap. We can attempt to confirm this by checking the earnings call sentiment, which is correlated to the stock's movement in the coming quarter.
I've built code for this analysis exactly. We perform lexical analysis on the earnings call transcript (thank you, Seeking Alpha) to arrive at a sentiment score for the current quarter. My code includes all the recent research regarding earnings call language and future stock price (Google Alerts tell me when to update my code).
The sentiment score is a weighting of positive-to-negative statements. You might think the market average is a score of 0.00, but it is actually around 0.30. If PYPL's sentiment score is better than 0.30, it should (statistically) outperform the market over the next three months.
Also important, however, is PYPL's QoQ and YoY sentiment scores, as this implies progress. I've run the algorithm on PYPL's earnings transcripts and have found the following:
Current quarter's sentiment score: 0.521
74% higher than the market average
QoQ change: 5.5%
YoY change: 16.0%
Clearly, this is highly bullish sentiment. Let's grab a few of the statements flagged by my algorithm:
In just over two years we've signed over 35 partnerships with some of the world's largest and most influential brands in finance, in technology and commerce.
Implies growth and increasingly stability.
Additionally, PayPal and American Express consumers will be able to use their American Express reward points to pay for their purchases at millions of PayPal merchants around the world.
Implies an addition to the consumer toolbox, creating stronger loyalty to the brand and bringing in new customers.
Working together, Walmart and PayPal have developed innovative new product experiences to create a more affordable and convenient way for the unbanked segment of customers to more efficiently manage and move their money; and as a result, empowering more people to gain access to the digital economy.
Partnerships like these increase the exposure of the smaller brand and can bring in new customer bases.
Last month we closed our acquisition of iZettle, strengthening our global platform capabilities and in-store presence.
Acquisitions statistically lead to enhanced growth and higher stock prices.
...would just add to that that in addition to Dan's points there around how simple we're making it for merchants to add a dedicated pay with the most recent things like smart payment buttons, the integrations we've done like with Uber for example, we're seeing tremendous growth that we're quite pleased with but they're quite pleased with it as well, they're seeing this really driving engagement on the platform and the usage of Venmo is outpacing their own expectations which are certainly quite high given how rapidly they grow.
Self-explanatory.
I believe the gap we are seeing is not an area gap and will thus not close. My gap analysis and the sentiment analysis agree. From the earnings call, it seems that PYPL is experiencing another growth phase in which partnerships allowing this payment method to become almost ubiquitous.
While the gap in PYPL is considered "fair" (i.e, not an over/under-reaction) by my analysis, sentiment hints that PYPL will continue moving upward.
Exposing Earnings is an earnings trade newsletter (with live chat) that is based on statistics, probability, and backtests. My models are unavailable anywhere else online, as I designed them myself, keeping the code private for Exposing Earnings subscribers and myself. If you want a definitive answer on which way a stock will go on earnings, the probability of the prediction paying off, the risk/reward of the play, and my specific options strategy for the play, click here.
Disclosure: I/we have no positions in any stocks mentioned, and no plans to initiate any positions within the next 72 hours. I wrote this article myself, and it expresses my own opinions. I am not receiving compensation for it (other than from Seeking Alpha). I have no business relationship with any company whose stock is mentioned in this article.