For a change, foreign markets took center stage this week. China's GDP registered a 6.5% reading in the third quarter - the slowest rate since 2009. The lower-than-expected figure led to a 1.5% drop in local shares, but well-placed comments by senior officials suggesting further macro boosts led to a sharp 4% turnaround. The policy of deliberately weakening the currency as a way to offset increased U.S. tariffs continues to remain at the forefront of market attention. So far, the U.S. Treasury has not labeled China as a currency manipulator and the Chinese government appears to have drawn a red line at 7 CNY to USD, but it may need to choose soon between supporting its stock market or the currency.
In Europe, the European Commission reprimanded Italy for submitting a budget that clearly deviates from the bloc's fiscal rules. Italian assets fell with bond yields moving sharply higher and the local stock index dropping 1.4% to an 18-month low. European bank exposure to Italy is a multiple of what it was to Greece and we all remember the damage inflicted by the Greece debacle a few years ago.
In the UK, the slow-motion car crash that is Brexit is dragging the conservative party under it with several wings of the party sharpening its knives in a hope to replace the prime minister and prevent the UK from becoming a "vassal state."
These three international tail risks have so far not made a big impact on the U.S. market but they all bear watching carefully given the strength of the previous pass-through impact of EU and Chinese turbulence. That said, our current allocation toward Loans and Mortgages fits nicely with this narrative and leaves us prepared for a potential escalation of these risks.
Macro
Retail sales rose 0.1% in the past month while Industrial Production increased 0.3%. Existing Home Sales dropped 3.4% while starts fell 5.3%. The sharp move in interest rates over the past year is clearly having an impact on the housing market, with mortgage rates higher by 1% year-on-year.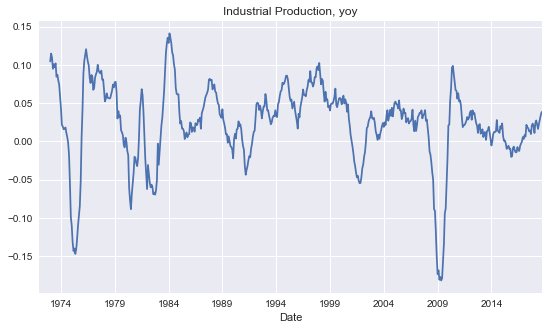 Source: FRED
Markets
With a 3.375% median projection dot plot for end of 2019, the Fed is significantly more hawkish than what the market implies. The last time there was a large divergence between the Fed and the market, the market folded. So far, the Fed has been resisting both market weakness and criticism from the President with Chairman Powell indicating the committee could hike well past the neutral rate which most peg to be around 3 - 3.5%. So far, stable inflation has kept a lid on the repricing of short-term yields and the market has taken this as evidence that the Fed may lose heart and be unwilling to push the economy closer to recession. This is a gamble, and it is one that we are watching carefully because another capitulation by the market may not be digested as quickly as last time.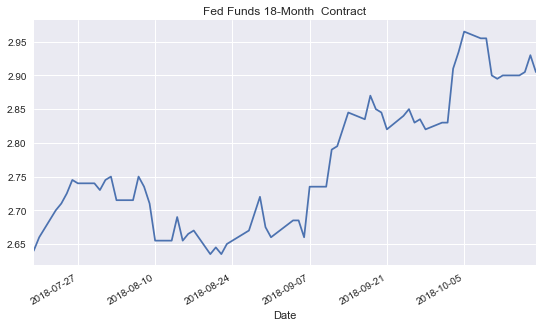 Source: Bloomberg
However, despite higher yields, financial conditions remain fairly accommodative even with the Fed Financial Stress Index rising slightly over the past year.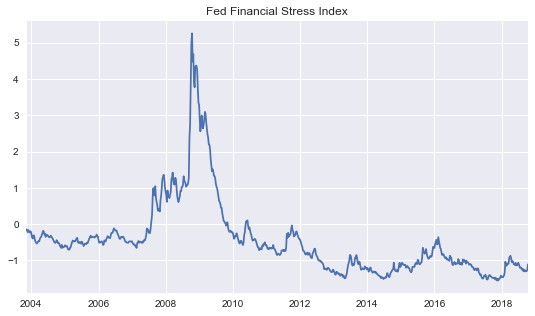 Source: FRED
Digging into benchmark asset and sector returns, broader equities were flat on the week despite a wide trading range. Utilities remains the best performing asset of the previous month, having outperformed the S&P 500 by a surprising 10% in a period of rising interest rates. It is clear to us that the defensive nature of the sector is helping as the market rebalances away from cyclical and growth assets.
REITS did well although the sector's performance over the month is still uninspiring. Real Estate is a sector that is also sensitive to interest rates but doesn't have the defensive stance of the Utility sector to support it in a risk-off environment. In Commodities, higher inventories and continued trade tensions are not helping the Oil price despite potential supply tailwinds from Iran sanctions coming in the following month.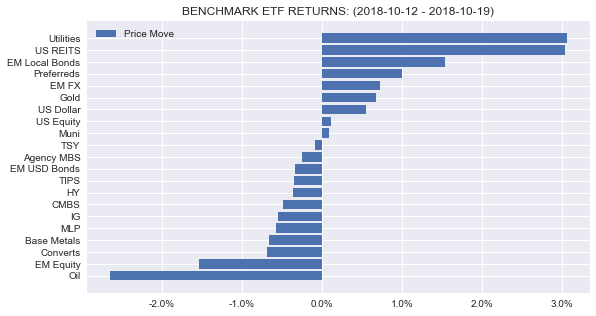 Source: ADS Analytics, Bloomberg
To us, a big risk to the market remains a repricing of either inflation or Fed's intentions - both of which would result in sharply higher interest rates and a risk-off move in equities. There is less cushion now in Fixed-Income credit to be able to withstand higher interest rates, which we think leaves defensive equity sectors like Utilities or more convex sectors like Convertibles in addition to the Mortgage sector as attractive ports in a potential storm.
Fund Space
We saw a relief rally this week despite flattish stocks and higher yields. Apart from the surprising NAV rallies in Real Estate (due more to mean-reversion than any real positive catalyst) and Utilities (owing to the sector's defensive stance), the bulk of the rally occurred in discounts.
Equity and Mortgage sectors have retraced about a third of their widening over the previous few weeks but Credit and Government sectors have barely moved. This is not unexpected - given the sensitivity of these two sectors to the direction of interest rates, we don't expect a significant rally in discounts in these two sectors very soon.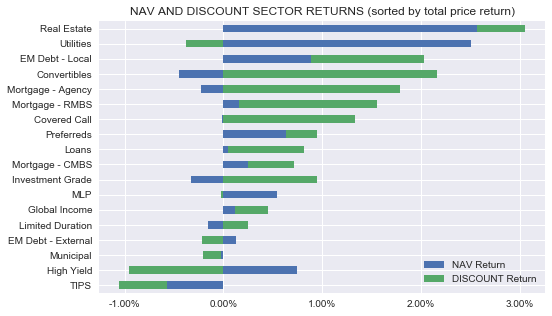 Source: ADS Analytics, Bloomberg
It has been a month since the high in the S&P 500. In the chart below we look at what the sectors have done since then. The moves in sector prices look fairly intuitive and this is exactly the dynamic we have been talking about over the last few months. Large equity drawdowns will be hardest on sectors closely linked to equities and Fixed-Income sectors with large durations. For this reason we have liked the Loan and Mortgage space; they have lower correlations to stocks and bonds, are typically linked to floating-rate products and have lower volatilities.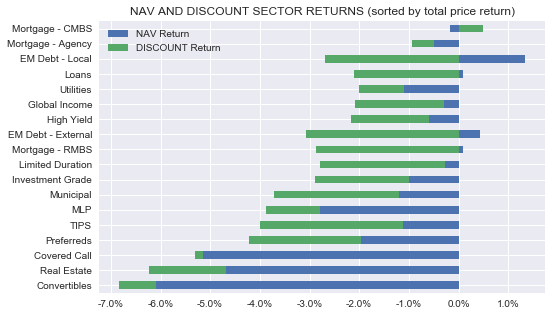 Source: ADS Analytics, Bloomberg
Taking a look at sector discount ranges since 2010, we see there is value in Credit sectors like External EM Debt, High Yield, Limited Duration and Loans. We like the last two of these and particularly Loans. Of the remaining, we would prefer EM Debt, which has better underlying valuations than High Yield or Investment Grade.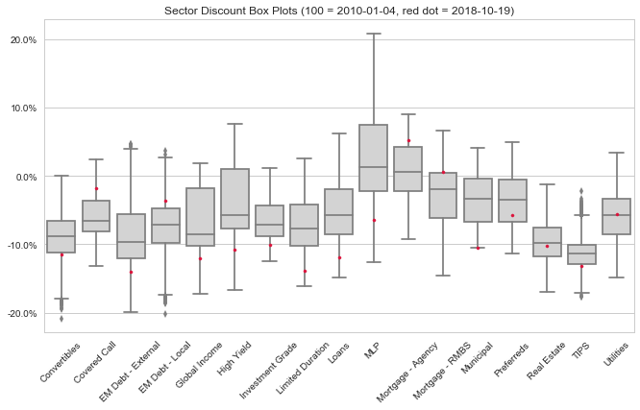 Source: ADS Analytics, Bloomberg
What's Fair in Love And War?
Given the large price action in closed-end funds in recent weeks, a natural question is are discounts priced fairly? In other words, given the current market environment what is the fair-value of discounts on an aggregate basis and are fund prices rich or cheap? A clear answer to this question should guide investor allocations, particularly in the amount of overall risk they are willing to take. For example, a larger-than-expected discount provides, all else equal, a larger
"margin of safety" to fund investors and vice-versa.
We begin by exploring the various macro and market drivers of fund discounts. For the purpose of this discussion we focus on the Fixed Income space. The factors that we found to have sufficient explanatory powers are the following:
Treasury Note VIX Index - captures the implied volatility over the next month of options on 10-Year Treasury Note Futures. We like this metric more than the standard VIX as it is more relevant for the Fixed Income space and it also significantly less noisy. From the chart below we can see that the higher the Note VIX (inverted lhs axis) the larger the discount.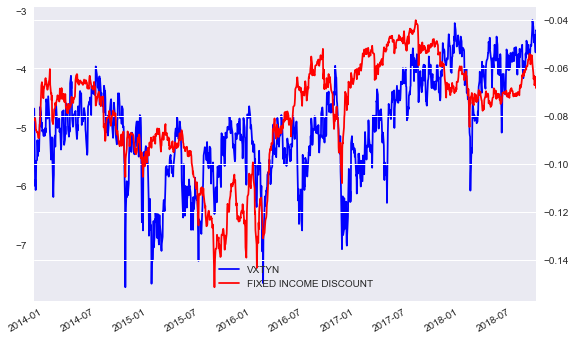 6-Month Return in the S&P 500 - we found that the aggregate Fixed Income discount both reflects the current market environment but is also relatively slow to mean-revert. The six-month return in broad equities tends to correlate quite well with discounts.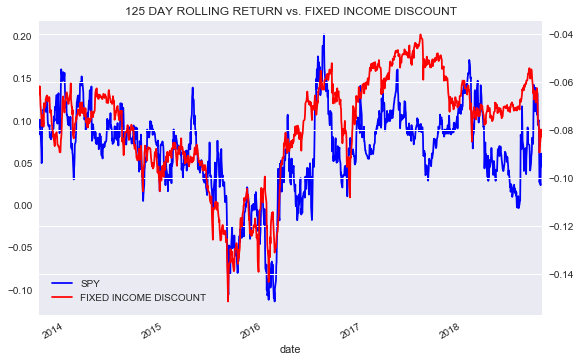 5-Year Inflation Breakevens - intuitively the amount of expected inflation over the medium term contains a lot of useful information about both future potential economic growth as well as the expected monetary policy stance. What we have found is that breakevens actually contain too much information in the sense that the behavior of Discounts relative to breakevens is not monotonic. We can see this in the chart below where from 2014 to 2016, discounts were positively correlated to breakevens, that is, higher expected inflation was correlated with lower discounts. This was a period of the energy crash and the market was very nervous about a recession and so positive inflation numbers were interpreted as indicative of good economic activity. Since 2016, however, discounts have been negatively correlated with breakevens, which jives well with how nervous the market has been about Fed's apparent willingness to tighten well past the normal rate and into restrictive territory.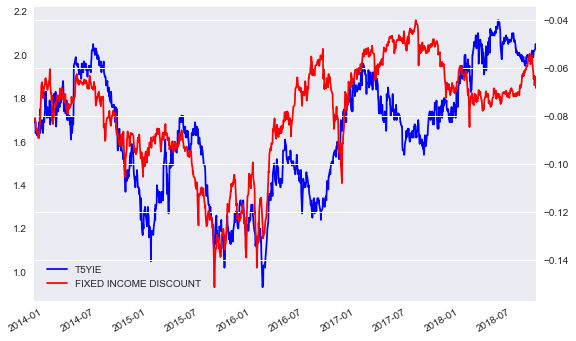 If we smash everything together into a single regression model, we come up with the following chart - where the green line is the model prediction and the blue line is the actual discount. We restrict the period to the last three years given the behavior change in the breakevens after 2016.
Overall, we find that discounts are about 1.5% too wide given these three factors. This is not enough for us to pound the table but it's interesting to see that funds are probably on the cheaper side at the moment.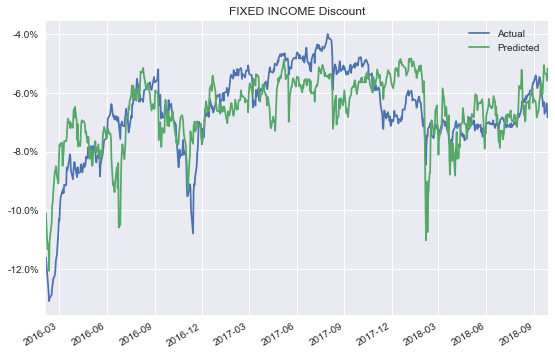 Conclusion
The sharp sell-off over the last few weeks has brought home the need to diversify away from standard Equity and Fixed-Income exposure. While discount valuations of Credit and Government sectors appears attractive, with the exception of Loans, we think they will continue to be challenged by an environment of a hawkish Fed and a diminishing output gap driving rising inflation. For this reason we continue to like the Mortgage space which has offered a relatively safe port in time of storm but that is also geared to a continued strong growth environment.
We hope you enjoyed this article. If you would like to automatically receive similar analysis from us, please follow us above by clicking on the Follow label next to our name.
Disclaimer: This article is for information purposes only and does not constitute investment advice or an offer or the solicitation of an offer to buy or sell any securities. Past performance is not a guarantee and may not be repeated. Investment strategies are not suitable for everyone and you should always conduct your own research or speak to a financial advisor. Although information in this document has been obtained from sources believed to be reliable, ADS ANALYTICS LLC does not guarantee its accuracy or completeness and accept no liability for any direct or consequential losses arising from its use. ADS ANALYTICS LLC does not provide tax or legal advice. Any such taxpayer should seek advice based on the taxpayer's particular circumstances from an independent tax advisor.
Disclosure: I/we have no positions in any stocks mentioned, and no plans to initiate any positions within the next 72 hours. I wrote this article myself, and it expresses my own opinions. I am not receiving compensation for it (other than from Seeking Alpha). I have no business relationship with any company whose stock is mentioned in this article.