The 1-Minute Market Report - October 19, 2018
Includes:
BIBL, BXUB, BXUC, CHGX, CRF, DDM, DIA, DMRL, DOG, DUSA, DXD, EDOW, EEH, EPS, EQL, EQWS, ESGL, FEX, FWDD, GSEW, HUSV, IVV, IWL, IWM, JHML, JKD, OMFS, OTPIX, PMOM, PPLC, PSQ, QID, QLD, QQEW, QQQ, QQQE, QQXT, RSP, RVRS, RWM, RYARX, RYRSX, SCAP, SCHX, SDOW, SDS, SFLA, SH, SMLL, SPDN, SPLX, SPSM, SPUU, SPXE, SPXL, SPXN, SPXS, SPXT, SPXU, SPXV, SPY, SQQQ, SRTY, SSO, SYE, TNA, TQQQ, TWM, TZA, UDOW, UDPIX, UPRO, URTY, USA, USMC, USSD, USWD, UWM, VFINX, VOO, VTWO, VV, ZF
by: Erik Conley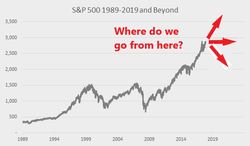 What happened last week. What we're watching for next week.
What comes next?
The dip-buyers are on the ropes. They can mount a strong rally, but they can't sustain it. The rally-sellers are in control for now, but this scrum is far from being decided.
Chart 1. S&P Periodic Returns
There were some notable changes in the periodic return numbers. The 1-month return went even more negative than it was 2 weeks ago when this volatility began. The 3-month return was even worse, and it is now negative as well.
The Year-to-Date gain was as high as 9.6% but is now just 3.5%. Last year, it got as high as 20.2%. What's happening to the vaunted Trump Rally?
And the 1-year return has dropped from 16.1% just three weeks ago all the way down to 8%. This is a concern to me, but not yet an immediate call for aggressive selling.
This Week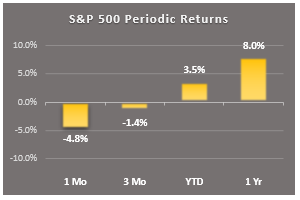 2 Weeks Ago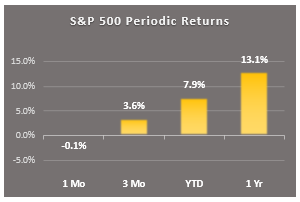 Key Markers
Let's look at the key markers for the market. For those who are new to this weekly report, I track the distance above or below some of the key levels that technicians and chartists obsess over. It has relevance because chart watchers have big followings, and what they say about the direction of the market has impact.
The most salient point from this comparison is the fact that the market has now taken out three support levels, or Key Markers as I like to call them. But again, let's put this in context. It usually takes at least 5 violations of support to confirm a new bear market. Don't get ahead of the indicators.
What's particularly disturbing is that we are now below the 200-day moving average. There is a large cohort of technical analysts who turn very bearish when we close below the 200-day.
Chart 2. Distance from Key Markers
This Week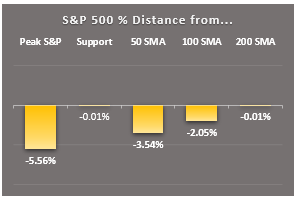 2 Weeks Ago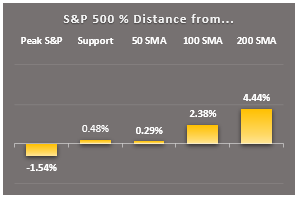 Chart 3 - Chart of the Week
The chart below is called the ZOD, or zone of danger, chart. You've seen this chart before, just not in this configuration.
What it shows is the year-over-year change in the S&P 500 (blue line) and the month-over-month change (green line). There is a red line at 10% and another at minus -5%. These are the markers for the danger zone. Here's how it works.
History shows that when the year-over-year change in the S&P 500 crosses below the 10% line from above, more often than not there is danger ahead. Not necessarily a bear market, but perhaps further downside.
History also shows a similar pattern for the 1-month change, but because this measurement is more "twitchy," it doesn't get attention until it crosses the minus 5% boundary from above.
Today, both lines are at or below their respective boundaries, which tells me that we might see further downside ahead. I use this indicator in my bear market probability model, along with many other indicators of market health.
As of today, the probability of seeing this turn into a bear market is still low. But it's worth watching this chart for signs of more deterioration in the market.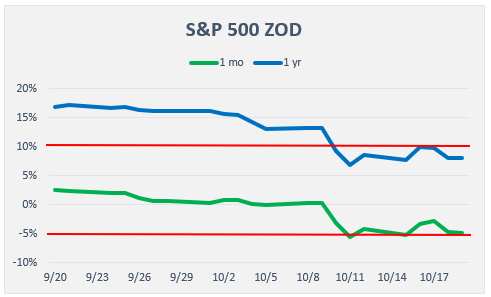 Chart 4. The Market Dashboard
Two things of note in the dashboard. Bollinger Bands, a proxy for fear and loathing in the market, have begun to spike higher. And the number of up days out of the last 10 trading days is now stuck at 2. That's a sign of a very weak market. Since 1980, there have been 9,786 trading days, and just 216 of them had a count as low as 2. And only 41 of them had a count of 1 or 0.
I only care about one thing: what is the probability that a bear market will arrive sometime in the next 12 months. I have a model for that, and subscribers to my monthly newsletter can track it along with other relevant indicators.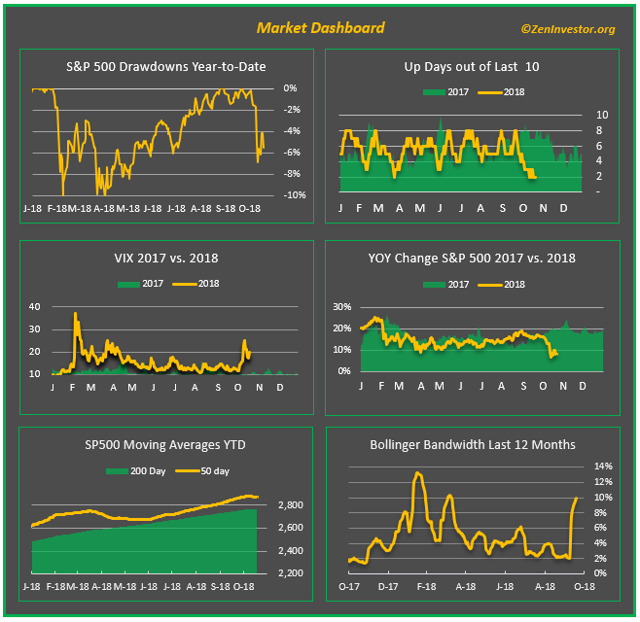 Final Thoughts
This week, I'm watching earnings announcements. As you know, corporate earnings have been on a tear recently, and I'm watching for signs of a slowing of this supercharged growth rate. It may not come this quarter, but it's coming soon.
I'm also watching the Treasury yield curve. Now that it's been trading below 1%, it's not a stretch to think it may tip over into negative territory, where short-term rates are higher than long-term rates. If that happens, it opens up all manner of portfolio adjustment by big money managers. And it won't involve buying equities. Because an inverted yield curve is among the most reliable indicators of an oncoming economic recession.
A recession brings a bear market. That's the real threat today.