2018 YTD Chart: +49.00%
Cumulative return with 1-Week holding period.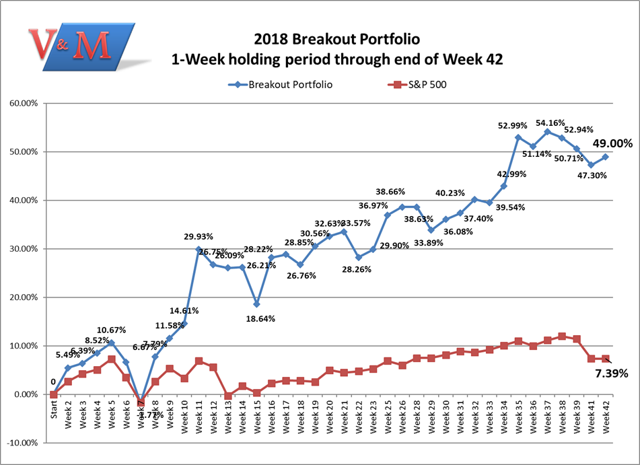 Breakout Forecast Selections for Week 43:
The Momentum Gauge conditions continue to worsen over the past several weeks since Week 39. The positive momentum gauge is now down to 7 from a value of 65 at the end of Week 39 and a value of 15 for the past Week 42. These declines have signaled very profitable hedge positions in VelocityShares Daily 2x VIX Short-Term ETN (TVIX) and BMO REX MicroSectors FANG+ Index -3X Inverse Leveraged ETN (FNGD) - see charts below.
In Week 34 of last year, the positive momentum gauge set its all-time highest score of 120 since the momentum gauge has been put to use. The all-time low for the positive momentum gauge reached 6 during Week 41.
The negative momentum score remains at a very high level of 91 from the prior week since reaching a record high of 100 during Week 41 that has changed the maximum scale of the negative momentum gauge to 100.
Last week's report: Week 42 Breakout Forecast (V&M Breakout Momentum Gauges)
My momentum gauges are based on the count of the momentum stocks screened as either positive accelerating or negative accelerating stocks based on my research algorithm. The combination of the two different types of momentum categories screened by segments 2 and 6 of my algorithm may help validate the quality of the overall market momentum strength.
Hedge Activity
I have been documenting the increasing signs of market deterioration and breakout conditions for inverse hedge trades from October 4th, that are discussed and highlighted in more detail in our live V&M Chat Room Daily Summary Articles.
One example is the TVIX (2x VIX volatility bull fund) that signaled an early breakout on October 3rd, followed by a buy signal on Thursday, October 4th as shown below:
(V&M Technical Analysis using FinViz chart)
Another example is the ongoing FANG (Facebook (NASDAQ:FB), Apple (NASDAQ:AAPL), Amazon (NASDAQ:AMZN), Netflix (NASDAQ:NFLX), Google (NASDAQ:GOOGL) (NASDAQ:GOOG)) Bull Fund (BMO REX MicroSector FANG+ Index 3X Leveraged ETN (FNGU)) deterioration and breakout conditions of the inverse bear fund (FNGD) that have retested May levels again this week. Gains from the movement of the second market leg downward may be as profitable as the prior week:

(V&M Technical Analysis using FinViz chart)
These FANG stocks represent a significant portion of the Nasdaq 100 index and are widely held among most of the top investment funds. Increasingly adverse performance of these five stocks could have a major impact on the markets.
Use caution going into Week 43 as all indicators show we could see more downside. More discussion and detail on the broad market conditions are available in the Chatroom and Summary Articles for members.
Total Return Chart: +90.19%
The Total Return Chart reflects total return of all stocks in the weekly portfolio.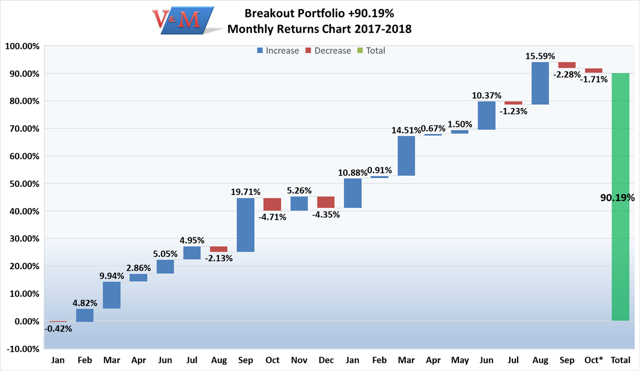 (V&M Breakout Waterfall Chart)
Last Week 42, Cambium Learning Group (ABCD) was the best performer with a gain of +19.40% and RedHill Biopharma (RDHL) beat +10% through midweek. This week I have selected 8 breakout stocks from the following sectors: 3 technology, 2 financial, 1 consumer goods, 1 healthcare and 1 basic material.
The new selections of positive momentum stocks for this week include:
AC Immune SA (ACIU) - Healthcare / Biotech
NII Holdings (NIHD) - Technology / Wireless Communications
Caution: These stocks are not necessarily recommended for long term buy/hold unless you are comfortable with very large price swings. These are the most volatile selections I offer from among all the different Value & Momentum portfolios.
As I continue to observe, strong momentum events usually last from one to three weeks and may encounter some substantial decline before returning again to positive gains. Proposed entry points for each of the selected stocks are as close to the highlighted prices in yellow on the charts at market open.
Breakout Stock Selections for Week 43
Note: all breakout stocks are selected based on my algorithm to increase the frequency of 10% gains within a very short period of time. Price targets are estimated through an unrelated technical charting process for those who are looking for estimated exit points; however, it is possible the momentum in these selections may move well beyond the initial target.
Sample #1: AC Immune SA - Healthcare / Biotech

(FinViz)
Price Target: 11.00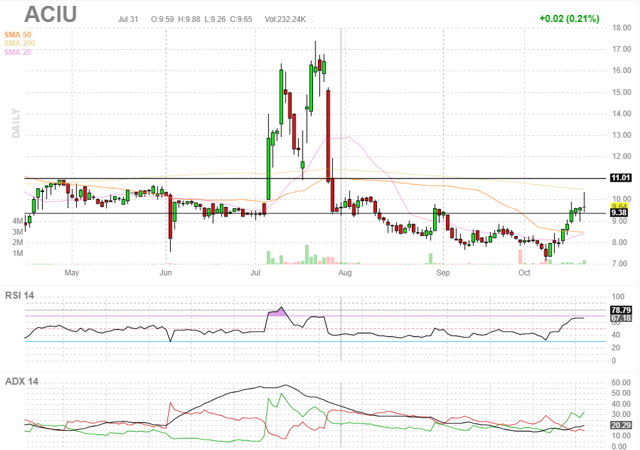 (V&M Technical Analysis using FinViz chart)
AC Immune SA, a clinical stage biopharmaceutical company, discovers, designs, and develops therapeutic and diagnostic products for prevention, diagnosis, and treatment of neurodegenerative diseases associated with protein misfolding. Its SupraAntigen and Morphomer platforms are designed to generate vaccines, antibodies, and small molecules, which selectively interact with misfolded proteins that are common in a range of neurodegenerative diseases.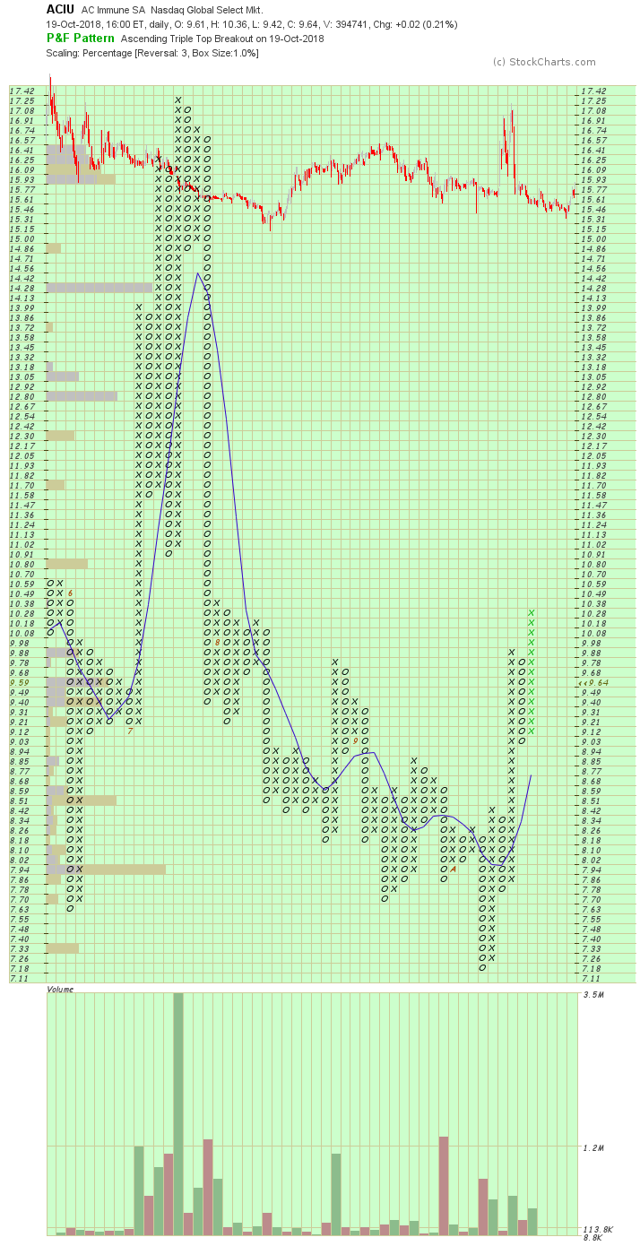 (Stockcharts)
Sample #2: NII Holdings - Technology / Wireless Communications

(FinViz) Price Target: 7.00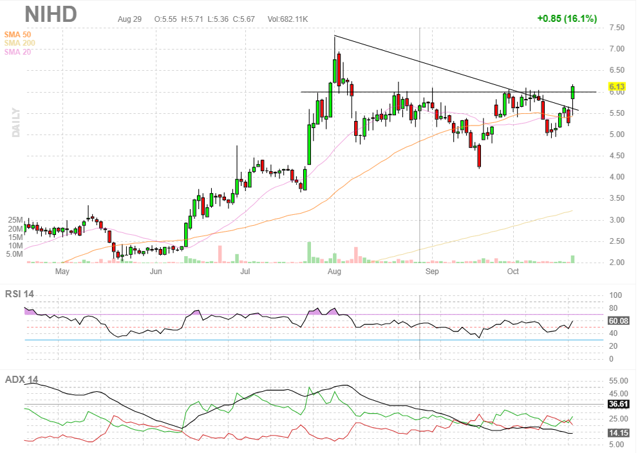 (V&M Technical Analysis using FinViz chart)

(Stockcharts)
Top BO Gainers last four weeks: Farmmi Inc. (NASDAQ:FAMI) +5.10%, Vanda Pharmaceuticals (VNDA) +12.07%, Medallion Financial (MFIN) +8.06%, GOL Linhas Aereas Inteligentes S.A. (GOL) +37.76%, Cambium Learning Group +19.40%, RedHill Biopharma +5.38%
Planned Portfolio Report Schedule*
November will start with a new Piotroski-Graham enhanced value portfolio. The Piotroski-Graham enhanced value portfolio was released for September 2018 as part of the alternating formation schedule with the Forensic portfolios as shown in the table below.
Introducing a new V&M Breakouts contributor
Professor Grant Henning, Ph.D. will be joining V&M Breakouts shortly as a new contributor with the application of his proprietary trading model. More on that here.
As a reminder, 33 Long term portfolios from the best peer-reviewed algorithms in the financial literature for forensic, value, and rebalancing anomalies are tracked live for members.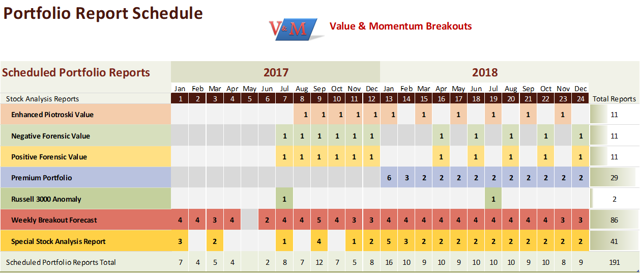 * subject to changes as life unfolds
I think these breakout stocks will serve you well in Week 43 and beyond. I hope you all do well with these stocks and always diversify to minimize some of the market risks.
All the very best and have a great week of trading!
Please be sure to Click the "Follow" button at the top of the page to enjoy free updates and select real-time alerts if you want timely updates on the latest stocks and portfolios I offer that are outperforming the S&P 500 in each of their respective time periods.
Be sure to check out my many other free articles here.
JD Henning, PhD, MBA, CFE, CAMS
To subscribe to Value and Momentum Breakouts, click on the link HERE.
Disclosure: I am/we are long TVIX. I wrote this article myself, and it expresses my own opinions. I am not receiving compensation for it (other than from Seeking Alpha). I have no business relationship with any company whose stock is mentioned in this article.
Editor's Note: This article covers one or more microcap stocks. Please be aware of the risks associated with these stocks.