Welcome to our Weekly Cannabis Report, a reliable source for investors to receive the latest developments and analysis in the cannabis sector.
Trading Summary
Horizons Marijuana Life Sciences Index ETF (OTC:HMLSF) fell 5.4% while ETFMG Alternative Harvest ETF (MJ) fell 4.4%.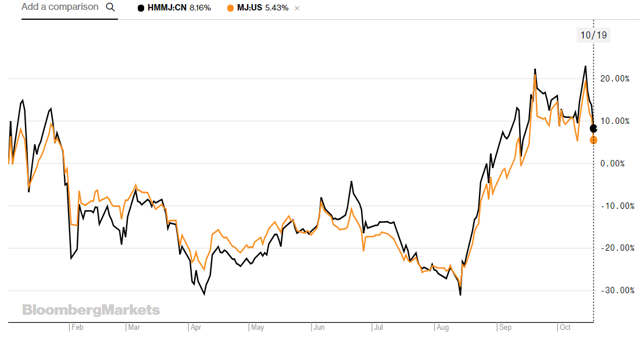 Large Cap: Amid the broader sell-off last week, the large-cap group fared relatively better. Canopy (CGC) fell 5.9% after announcing a hemp acquisition. Aurora (OTCQX:ACBFF) fell 5.1% and confirmed NYSE listing next Tuesday. Aphria (OTCQB:APHQF) fell 4.2% after filing to list on the NYSE. HEXO (OTCPK:HYYDF) was the worst performer with a 21% loss for no apparent reason. CannTrust (OTC:CNTTF) also fell 12.8% after finalizing a national distribution partnership. Tilray (TLRY) and Cronos (CRON) barely changed. TGOD (OTCQX:TGODF) fell another 16.4% bringing its monthly loss to 44%, confirming our long-standing short call on the stock.
Small/Mid Cap: Canopy Rivers (OTCPK:CNPOF) fell another 4.0% continuing its miserable post-IPO performance, while TerrAscend (OTC:TRSSF) continued its gravity-defying momentum with a 1.4% gain. Wayland (p.k.a. Maricann) (OTCQB:MRRCF) gained 4.4% without news. Supreme (OTCQX:SPRWF) closed down 13% after announcing a $100 million convertible note offering. Emerald (OTCQX:EMHTF) was the worst performer after falling 20.4%.
Meanwhile, Delta 9 (OTCQX:VRNDF) jumped 20% after it announced that it has qualified for the next round of retail license RFP in Manitoba. Organigram (OTCQX:OGRMF) fell 9.5% after announcing the sale of its chain of medical clinics to VIVO (OTCQB:VVCIF) for $1.2 million and an acquisition of 25% interest in a German medical cannabis company.
U.S. Sector: While Canadian cannabis stocks slumped last week following the legalization, U.S. stocks held up much better. Following the blockbuster acquisition by MedMen (OTCQB:MMNFF), iAnthus (OTCQX:ITHUF) and MPX (OTCQB:MPXEF) announced the largest public cannabis transaction to date with MPX selling its U.S. assets to iAnthus for US$835 million. Liberty Health (OTCQX:LHSIF) was flat after announcing its joint venture won a processor license in Ohio.
Charlotte's Web (OTCQX:CWBHF) was flat after announcing its 3,000th retail location. Trulieve (OTCPK:TCNNF), Green Thumb (OTCQX:GTBIF) and Sunniva (OTCQX:SNNVF) were flat without news. Golden Leaf (OTCQB:GLDFF) slumped 12% - we think it is likely being viewed by investors as too small in an industry that is quickly consolidating. Size and footprint matter in the nascent U.S. industry and we expect M&A to drive most of the growth.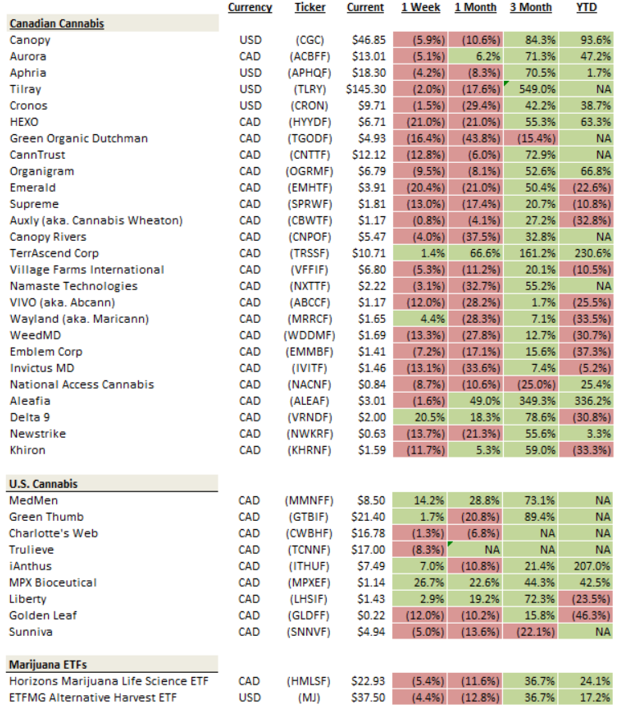 Sector Update
iAnthus Acquires MPX's U.S. Assets
iAnthus announced last Thursday that it has agreed to acquire the U.S. assets of MPX Bioceutical (OTCQX:MPXEF) in an all-stock transaction worth $835 million. iAnthus will issue 0.1673 of its own shares for each MPX share and the combined company will be owned 51/49 by iAnthus and MPX shareholders. The acquisition only included MPX's U.S. assets and the Canadian assets are not part of the deal. MPX shareholders will receive separate shares in MPX International, a separate entity that will seek to become publicly listed in Canada in the near future.
In our view, the deal combines two smaller players to form a top competitor in the U.S. cannabis sector which represents an excellent outcome for shareholders of both companies. Based on the exchange ratio above and the iAnthus closing share price of $8.19, the current implied offer price excluding MPX International is $1.37 representing a 40% one-day premium. We have covered both companies recently here and here.

Canopy Acquires ebbu for Hemp IP and Research
Earlier last week Canopy Growth announced its acquisition of U.S.-based hemp research company ebbu for $25 million in cash and 6.2 million in Canopy shares valuing ebbu at around $450 million. The deal also included certain milestone payments of up to $100 million within two years after closing. The deal came as no surprise to us and marks yet another hemp acquisition for Canopy.
Many investors thought this was the first hemp acquisition for Canopy which is incorrect. In fact, this deal is just another piece of the puzzle for Canopy's hemp strategy. Canopy set up its Canadian hemp headquarters in Saskatchewan through a series of acquisitions and we believe this acquisition will complement its existing assets and prepare the company for when the U.S. legalizes hemp cultivation and commercial sale.

Acreage Holdings New Board Member
Former Canadian Prime Minister Brian Mulroney is joining the board of Acreage Holdings in a move that will boost the already impressive list of board members for the private U.S. cannabis firm. Privately-held Acreage and Curaleaf are both heading to the CSE later in November. We think the land grab race in the U.S. is heating up quickly after the MedMen/PharmaCann and iAnthus/MPX deal and we expect more deals to follow.
Similar to Aurora's acquisition of MedReleaf, we could see two of the large players joining forces to create the undisputed leader in the highly fragmented industry. Acreage is by far the largest multi-state operator by footprint and it would be interesting to see how investors value the U.S. cannabis sector relative to the Canadian peers, which are trading at a premium at the moment benefiting from a market that has just been legalized.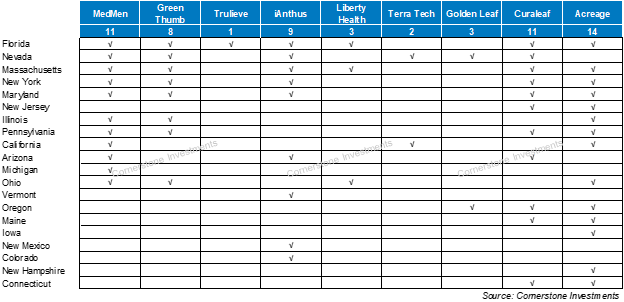 Other Cannabis News
Looking Ahead
As many people had predicted, the Canadian cannabis market suffered broad-based declines last week as Canada made history by becoming the first major developed country to adopt legalization of cannabis. Readers must be wondering if this was the beginning of a prolonged 'sell the news' downturn or should we take this opportunity to 'buy the dips'? Our view remains unchanged as we detailed in our recent work "Are We Heading Into Another Meltdown For Pot Stocks?" that the market will remain volatile after a major rally that started in August.
Investors should take profits off the table and be ready for a potential correction in the range of 20-40% from recent highs. We would also suggest investors reallocate capital from Canadian holdings to invest broadly in the U.S. sector. We won't be able to predict the market but we have warned investors well in advance of last week's declines and believe most of our readers should be better prepared compared to the selloff in January 2018.
We don't see the current market as an opportune time to 'buy the dips' as the declines were still small relative to the rally we've had in the last few months. We would not try bottom fishing at this point just yet. On the other hand, there are still a few potential catalysts remaining for the sector including potential investments from Altria (MO) and Diageo (DEO) and partnership opportunities with Coca-Cola (KO) and PepsiCo (PEP). In summary, investors should take profits but stay invested with enough dry powder to capitalize on potentially better entry points.
Author's note: "Follow us" to stay informed of the latest development and best ideas in the cannabis sector. We provide the most in-depth and comprehensive cannabis coverage on Seeking Alpha with analysis of over 50 cannabis stocks in the U.S. and Canada.
Disclosure: I/we have no positions in any stocks mentioned, and no plans to initiate any positions within the next 72 hours.
I wrote this article myself, and it expresses my own opinions. I am not receiving compensation for it (other than from Seeking Alpha). I have no business relationship with any company whose stock is mentioned in this article.
Editor's Note: This article covers one or more microcap stocks. Please be aware of the risks associated with these stocks.