What goes up
Cryptocurrencies were without a doubt the most spectacular market story of 2017. Bitcoin, the crypto bellwether, was up over 1,300% (shown below) but wasn't even close to being the top performer. Other popular tokens like Ethereum and Ripple went parabolic at over 9,000% and 36,000% for the year, respectively.
Misery loves company
If you missed the rally, don't be too hard on yourself because you were in really good company. Here's what a few gray-haired investors had to say about crypto during and prior to the surge.
· Warren Buffett - "Stay away from it. It's a mirage, basically...the idea that it has some huge intrinsic value is a joke in my view."
· Jack Bogle - "Avoid Bitcoin like the plague. Did I make myself clear?"
· Ray Dalio - "Bitcoin today you can't make much transactions in it. You can't spend it very easily. It's not an effective store-hold of wealth because it has volatility to it, unlike gold. Bitcoin is a highly speculative market. Bitcoin is a bubble."
· Howard Marks - "Digital currencies are nothing but an unfounded fad (or perhaps even a pyramid scheme), based on a willingness to ascribe value to something that has little or none beyond what people will pay for it."
· Carl Icahn - "It's sort of amazing to me. If you read history books about all these bubbles, like in Mississippi - where John Law went around selling all this land in Mississippi that was sort of worthless and the French were going crazy giving him all this money. And then one night it all blew up ... to me, this is what this is. Seems like a bubble."
· Richard Bernstein - "One would have thought that investors would have learned their lesson from the deflation of the technology and housing bubbles, but that doesn't appear to be the case. The sad reality is that many more investors will likely get sucked into this bubble too."
I mostly agreed with the gray-hairs, but I also didn't think BTC would just evaporate into nothing. In my own words I wrote, "Like all bubbles, it will burst, that much I agree with. But when all is done, I don't think we hear last of Bitcoin. Rather I think it matures and finds its place, wherever that may be."
So far in 2018, the gray-hairs are right. Crypto has crashed from its January high. The question bagholders have now is what's next for BTC (and by BTC I mean all cryptos in general)?
The bigger picture
To be honest, nobody knows, I certainly don't. But those obsessing over BTC prices may be missing the bigger picture. Even if all cryptocurrencies end up totally worthless, there will still likely be a huge, long-term opportunity in blockchain the underlying technology.
A blockchain is like a digital ledger that records transactions between parties. Each transaction is recorded as a block of code linked to previous blocks in a chronological chain visible to all parties involved. The technology is secure, efficient, and has many practical applications.
Blockchain Example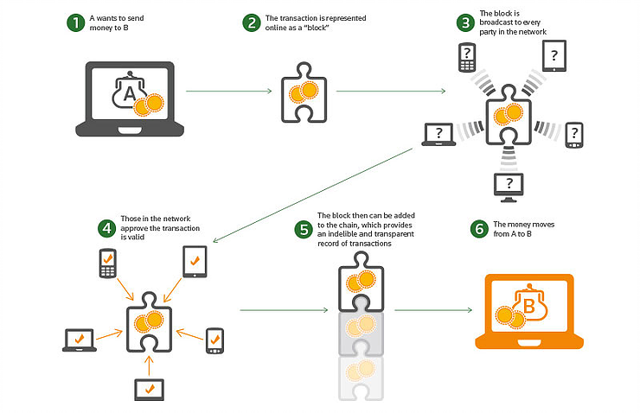 Source: World Economic Forum
Examples include streamlining the transfer of assets like securities or real estate. Currently, the sale and purchase of such things require layers of middlemen (brokers, clearing houses, title companies, etc.). Each layer adds time, cost, and complexity to the process, but they're necessary because there's no standardized, automated, and secure way to simultaneously record a transaction for all parties involved. Applications don't stop there, blockchain could disrupt everything from medical records to inventory management because the technology is still in infancy.
The point is despite the surging interest in Bitcoin the currency, the real long-term opportunity may actually be in blockchain the technology. Companies small and large are still scrambling with how to capitalize on blockchain's potential. FT reporter Sally Davies put the opportunity in proper context with her now famous analogy, "Blockchain is to Bitcoin, what the internet is to email."
Easier said than done
Blockchain's potential is huge, yes, but if only it were easy to capture. As with any emerging opportunity, new ventures are proliferating rapidly in this space. And while some sound attractive, some are total frauds, and most are unprofitable, financially unstable, hard to value.
Despite that, there are plenty of investors who don't seem to care about the substance behind the cryptocurrencies or crypto-related companies and stocks that they pump money into.
Making sense of buzzwords
Take, for example, Blockchain Technology Consumer Solutions (OTCQB:BTCS). This is a penny stock that gets promoted on ambiguous forums all over the internet but trades an average of almost 2 million shares a day.
On the surface, it's easy to see why. A quick look at the company's website provides enough buzzwords to send crypto-speculators into a frenzy. In big, bold letters the homepage reads "THE BLOCKCHAIN MEANS DISRUPTION." Also displayed is the company's redundant claim to fame, being, "The first blockchain-focused U.S. Public Company."
That sounds good and disruptive and all, but what does it really even mean? Digging deeper into BTCS' history reveals the company itself may not even have a definitive answer. Here's a summary timeline derived from its 10-Ks since 2008.
2008 - The company incorporated in Nevada as "Hotel Management Systems," a company that designed hotel operations software.
2010 - Entered into a share exchange agreement with TouchIT Technologies in Istanbul (Turkey), ceased operations as HMSI and became a manufacturer of touch-screen LCD products "to suit all types of applications."
2014 - TIT entered into an exchange agreement with BitcoinShop, LLC (OTCQB:BTCS) in Maryland, ceased touch-screen manufacturing and became focused on building an e-commerce marketplace where people could transact in digital currencies.
2015 - BTCS added "Transaction Verification Service Business" to its activities (aka bitcoin mining). Notably, also added "Blockchain Technologies and Other Growth Initiatives" business.
2016 - BTCS discontinued the e-commerce marketplace, suspended bitcoin-mining, and now focused on creating "a portfolio of digital assets including bitcoin and other 'protocol tokens'..." Also continued with "Blockchain Technology and Digital Asset Initiatives."
2017 - BTCS becomes a cryptocurrency holding company. From its most recent 10-K, "Subject to additional financing, the Company plans to acquire additional Digital Assets to provide investors with indirect ownership of Digital Assets that are not securities, such as bitcoin and ether."
BTCS has experienced an oscillating identity crisis of sorts. However, it has executed on a couple of things consistently.
First, it's lost money every year since it ventured into crypto, shown below. In 2017 BTCS reported revenues of $4,480 and a net loss of $45,065,336. Adding insult to injury, it's timing for becoming a cryptocurrency holding company was off, to say the least.
BTCS Annual Income Statement

Source: Morningstar
Second, and perhaps most consistently, BTCS continues to describe itself with all the right buzzwords. From its 10-Ks, "We are an early entrant in the Digital Asset market and one of the first U.S. publicly traded companies to be involved with Digital Assets and blockchain technologies."
Walking the talk
Of course, not all companies in the space are all talk and buzzwords. One company that may be different is BTL Group (OTCPK:BTLLF) based out of British Columbia, Canada.
On the surface, it has similarities with the likes of BTCS, another blockchain penny stock, an odd past, and no earnings. However, a closer look also reveals some contrast.
BTL was originally incorporated in 2011 in Alberta, Canada as Northern Aspect Resources. However, it was organized as a "capital pool company," which meant its principal activity was to identify, evaluate, and ultimately invest in or acquire businesses, properties, and/or assets.
In 2015, the company found its target in Blockchain Tech Ltd. Post-acquisition Northern Aspects changed its name and BTL Group was born. From inception, BTL's approach was different. The company was more focused, organized, and strategic.
The company's founder Tom Thompson, now CTO, was flanked by a seasoned team of corporate executives and advisers. Instead of making vague claims about being an early mover in blockchain technology, BTL focused on developing a proprietary product with real benefits and a clear long-term objective.
BTL's flagship product is Interbit, a new type of blockchain development platform designed specifically with large corporations in mind. BTL recognized traditional blockchains would not scale to meet enterprise-level demands. Interbit addresses that issue by combining many blockchains together that can meet many demands in a simultaneous and coordinated way. The result is companies can use the platform to quickly and easily develop, adopt, and integrate blockchain applications with built-in privacy, scalability, and resiliency.
Not only does the story sound good, but BTL is also walking the talk. In 2016, BTL partnered with Visa (V) to pilot a "first of its kind blockchain based cross-border solution." Not only was the pilot successful, but it provided important proof-of-concept and market recognition for BTL.
In 2017, BTL partnered with a group of global energy companies including Britsh Petroleum (NYSE:BP) and ENI Energy (E) to develop and pilot an energy trading solution using the Interbit platform. The pilot proved the platform would increase security and efficiency throughout the trading cycle including for confirm, settlement, audit, compliance, reporting, and risk management. Since then BTL has expanded the project to include 9 global energy companies and is working to commercialize "a new standard for energy trading."
The point is there seems to be more substance than buzzwords at BTL. BTL's CEO Dominic McCann sums it up well with a simple quote, "While others compete for time in the spotlight, we have been busy building something truly game-changing."
Of course, when all is said and done BTL, like the others, is still not profitable and is working with a limited amount of capital. This is all speculation about potential and it's entirely possible that BTL will run out of cash before its products achieve financial viability.
The bottom line
I'll end with an important note, I recently wrote an article about the challenges of stock-picking. Ironically, I share my opinion on two stocks in this article.
But to be clear, I am not picking or recommending any stock here. Though I prefer BTL to BTCS, both companies are unprofitable and both stocks are highly speculative. Neither stock is appropriate for the vast majority of people, in my opinion. In addition, I'm absolutely not an expert on cryptocurrency or blockchain.
I wrote about the stocks simply to make a point about the many uncertainties in the crypto/blockchain space, and how companies operating in that space may not always be what they seem.
The bottom line is whether you invest in cryptocurrency, blockchain, or related stocks, be very careful, do your due diligence, and don't buy more than you're willing and able to lose.
Disclaimer
The information in this article solely represents the personal opinions of Victor Lai. None of this information represents advice. Investing is inherently risky and involves the potential loss of principal. You should conduct your own due diligence and/or consult with relevant professional advisors before making any investment decisions.
Disclosure: I am/we are long ETH-USD, BTLLF, XRP-USD. I wrote this article myself, and it expresses my own opinions. I am not receiving compensation for it (other than from Seeking Alpha). I have no business relationship with any company whose stock is mentioned in this article.
Editor's Note: This article covers one or more microcap stocks. Please be aware of the risks associated with these stocks.