This article was first published on Trend Investing as of August 21 2018; therefore all data is as of that date.
The cobalt miners have recently seen a considerable share price pullback across the board due to the cobalt spot price falling back, poor sentiment in the EV metals sector, and fear of a trade war/China slowdown. Meanwhile the fundamentals supporting the cobalt sector such as the electric vehicle (EV) and energy storage booms continue to grow stronger. The cobalt sector is now full of good buying opportunities.
For a background on the cobalt miners, investors can read a couple of my previous cobalt articles:
Cobalt spot prices have recently pulled back from above US$40 to closer to US$30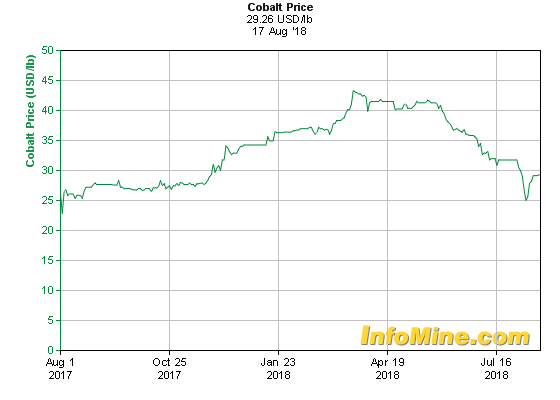 Cobalt demand set to surge in the next decade
As the BNEF research below highlights, the surge in passenger electric vehicles (EVs) will drive a doubling of cobalt demand over the next decade. My models suggest it will be more like a tripling.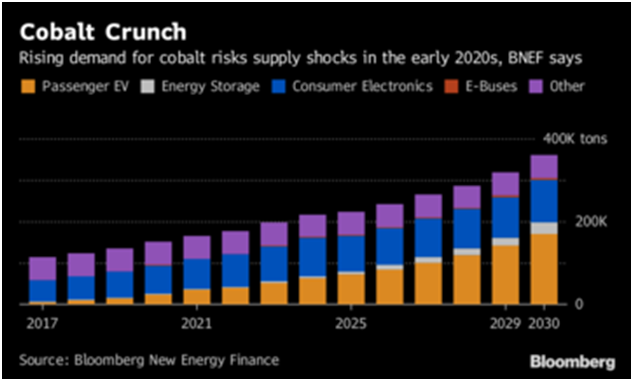 Source: Bloomberg
Top 5 cobalt miners to consider
Glencore [HK:805] [LSE:GLEN] (OTCPK:GLCNF)
Glencore is a diversified mining giant and the global number 1 producer of cobalt from its Democratic Republic of Congo (DRC) operations. Glencore owns 86% of Katanga Mining (OTCPK:KATFF), and is my preferred way of gaining exposure to Katanga's prime DRC assets. Also of note most of Katanga's earnings will go towards interest and debt owed to Glencore.
Investors can view more details of Glencore's latest results presentation here. Basically Glencore had a record H1 2018 as shown by its recent results including net income attributable to equity holders pre-significant items of $3.3b, up 40%. Furthermore net debt was reduced 16% to $9.0b.
Glencore has been steadily ramping up cobalt production from the DRC, as well as copper. Its production target for 2018 is for 39,000t of cobalt. Company wide, Glencore is also increasing production across most metals.
Risks revolve around the DRC exposure (and new DRC super profit taxes and royalties), base metal price changes (China slowdown), and some regulatory issues (money laundering, corruption in the DRC, etc.).
Current market cap is $55b, with an enterprise value of US$79b. 2018 PE is 8.2 and 2019 PE is 8.3. Analysts' consensus estimate target price (for GLCNF) is US$5.59, representing 43% upside.
To buy Glencore, investors need to be positive on copper, coal, zinc, and the company's marketing/trading division. Nickel also offers some future potential. Cobalt being a by-product is included in the copper result and hence an indirect contributor. I rate the stock an accumulate and a must-have cobalt stock (despite not a pure play) as it is the number one cobalt producer.
Glencore's current EBITDA breakup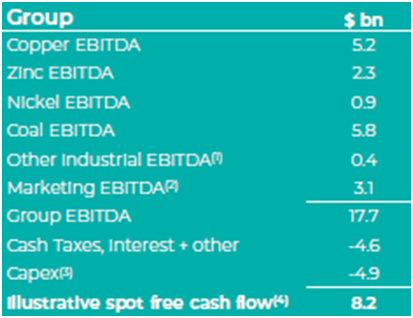 Source: Glencore 2018 Half-Year Results
MMC Norilsk Nickel [LSX:MNOD] [GR:NNIC] (OTCPK:NILSY)
Norilsk Nickel has by far the largest reserves (12.97 billion lbs) and resources (45.5 billion lbs) of nickel globally, as well as significant cobalt reserves. It is the industry's lowest-cost nickel producer. Cobalt (~5ktpa) is a significant by-product of its large nickel production. Other important metals for Nornickel include copper, lead, and palladium.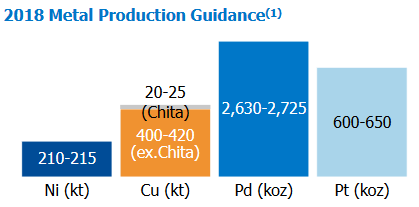 Source: Nornickel 1H 2018 Financial Results Presentation
Current market cap is $25.75b. 2018 PE is 8.9 and dividend yield is 7.07%. Analyst consensus estimate target price is US$20.43, representing 25% upside. I rate Norilsk an accumulate, noting some political risk due to the company being located in Russia.
Highlands Pacific [ASX:HIG] (OTC:HLPCF)
Highland Pacific is an Australian mining company with projects in Papua New Guinea (PNG). It owns 8.56% of the Ramu nickel/cobalt mine (in production), and 20% of the massive $3.6b Frieda River gold/copper resource. The later project will require massive CapEx, two years for approvals, and six years for construction, meaning first production would be no earlier than 2024/25.
Current market cap is A$131m, and enterprise value is A$232m. Currently no PE. Analyst estimate target price is AUD 0.33, representing 175% upside. I rate Highlands Pacific a buy, noting some sovereign risk due to its PNG mine location.
Cobalt Blue Holdings [ASX:COB] [GR:COH] (OTCPK:CBBHF)
Cobalt Blue is step by step earning into a 100% ownership of the Thackaringa cobalt-pyrite sulphide project in NSW Australia from Broken Hill Prospecting (OTC:BPLNF) [ASX:BPL]. They have just recently finished the 70% earn in stage. The Thackaringa Cobalt Project covers an area of 63km2 and is located in western New South Wales (23km west of Broken Hill), Australia.
The total Mineral Resource estimate comprises 72Mt at 852ppm cobalt (0.0852%), 9.3% sulphur and 10% iron for 61.5Kt contained cobalt.
In March 2018, LG International invested into Cobalt Blue making it a strategic partner. It bought US$6.0m of Cobalt Blue shares at A$1.10 per share.
In July 2018, Cobalt Blue announced its PFS for Thackaringa. Results included a post-tax NPV7.5% of A$544m, based only on a 12.8-year mine life. An important point is that the mine life is highly likely to be extended close to 20 years at the DFS stage, thereby significantly improving the NPV. CapEx was estimated at A$550m, which includes a A$66m contingency.
Cobalt Blue's point of difference is it has developed proprietary IP to allow it to separate the cobalt sulphide ore, and hence only need to process 20% of the ore, thereby significantly reducing processing costs (OpEx). Its other advantage is sulphide ore is cheaper and easier to process than laterite ore.
Near-term catalysts would be any off-take agreements, increased interest from LG, a mineral resource update by end Q1 2019, and a DFS by end June 2019.
Current market cap is A$64m. As at March 31 2018, the company had A$3.256 million in cash, noting the US$6m raise from LGI did not arrive until after this date. Cobalt Blue has no debt. I was unable to find an analyst price target. My price target is AUD 2.81 for end 2023 (at full production of 4ktpa cobalt metal and assumes a US$30 cobalt metal selling price). I rate Cobalt Blue a strong speculative buy, noting risks are still high due to the early stage and the dependence on a single commodity (cobalt) price.
Ardea Resources [ASX:ARL] (OTC:ARRRF)
Ardea Resources 100% own the Kalgoorlie Nickel (laterite) Project (KNP) in Western Australia. Ardea states it has "Australia's and the developed world's largest cobalt resource."
Ardea's total cobalt and nickel resource now stands at 405,000 tonnes contained cobalt (grade 0.05%), 5.46 million tonnes contained nickel (grade 0.7%). Added to this is its recent scandium discovery. Other projects include the Lewis Ponds zinc-gold-silver development project, and the Mt Zephyr Gold Project.
Ardea's March 2018 PFS results are shown below. The 1.0 Mtpa base case production scenario included 5,500 tpa of cobalt sulphate (1,180 tpa contained cobalt) and 41,500 tpa of nickel sulphate (9,300 tpa contained nickel). Capital cost estimate was A$599 million including A$77 million contingency. Competitive industry C1 cash cost of US$0.42/lb nickel metal (after cobalt credits).

Ardea has recently produced a 2.25Mtpa scenario. The result was a post-tax NPV 8% of A$2.3 billion (CapEx A$1,165 million inclusive of 20% contingency), post-tax IRR 27.1%, 5.1yr payback on an initial 25 year (likely to be extended) mine life. LOM C1 cash cost of approximately US ($0.34)/lb nickel metal (after cobalt credits). Average annual EBITDA of A$450m pa.
Current market cap is A$84m. As of May 31, 2018, cash was A$19.2m and zero debt. I was unable to find an analyst price target. My price target is AUD 6.82 for end 2023 assuming Ardea makes it to Stage 1 production of 9.3ktpa nickel metal (assumes a nickel metal selling price of US$7/lb). I rate Ardea Resources a well-valued speculative buy, noting risks are still high due to the early stage and the large CapEx (laterite ore project) required to fund the project. Below is a comparison of some similar laterite projects:
Source: Ardea Resources company presentation
DRC producers to consider
For investors that don't mind having DRC exposure, and the risk of large royalties (up to 10%) and super profits tax (50%), then the following are good options. For now I prefer to look elsewhere (excluding Glencore).
China Molybdenum [HKSE:3993] [SHE:603993] (OTC:CMCLF)
Glencore [HK:805] [LSE:GLEN] - Glencore included above
Katanga Mining [TSX:KAT]
All three are significant cobalt producers with other co-products. China Molybdenum's DRC mine is a lower grade but has the longest mine life, Glencore is a diversified global mining giant and trading house, and Katanga Mining is a purer, high-grade cobalt/copper play. The three were previously my top 3 prior to the new onerous royalty and tax changes, which clearly if implemented have a very significant negative impact on profits. If Katanga Mining can somehow escape its massive debt of C$6.51b, then it may again do very well. For now I am watching on the sidelines.
The big Chinese cobalt plays (cobalt mostly from DRC sources)
Jinchuan Group International Resources [HK:2362]
Zhejiang Huayou Cobalt [CH:603799]
Cobalt juniors to consider
The following cobalt companies are in my view very promising juniors that have a good chance to progress to be cobalt producers by 2022/2023.
Cobalt metal and broad cobalt sector play
Cobalt27 Capital Corp. [TSXV:KBLT] [GR:27O] [LN:OUPZ] (OTC:CBLLF)
Risks
Cobalt prices falling due to cobalt oversupply. In several cases, the copper or nickel price is also highly significant.
The usual mining risks - Exploration risks, funding risks, permitting risks, production risks, and project delays.
Management and currency risks.
Sovereign risk - The DRC is very high risk. PNG is medium risk. Canada and Australia have lower risks.
Stock market risks - Dilution, lack of liquidity (best to buy on local exchange), and market sentiment.
Further reading
Conclusion
The recent cobalt price pullback has resulted in significant stock price decline in the cobalt sector. This has the advantage of allowing cheaper buying of quality miners, which in good times do not come cheaply.
My top 5 cobalt companies include 3 current producers and the two most promising cobalt juniors in my view.
My three producers - Glencore is a diversified safer play (with large coal, copper, and marketing revenues), Norilsk Nickel is a well-valued, very low-cost producer (with nickel, copper, lead, platinum, with some cobalt), and Highlands Pacific (with nickel and cobalt).
My two developers - Ardea Resources (nickel, cobalt), and Cobalt Blue (cobalt).
As usual all comments are welcome.
Disclaimer: The information in this article is general in nature and should not be relied upon as personal financial advice.
Trend Investing
Thanks for reading the article. If you want to go to the next level, sign up for Trend Investing, my Marketplace service. I share my best investing ideas, latest trends, exclusive CEO interviews, chat room access to me, and to other sophisticated investors. You can benefit from the work I've done, especially in the electric vehicle and EV metals sector. You can learn more by reading "The Trend Investing Difference", "Recent Subscriber Feedback On Trend Investing", or sign up here.
My latest Trend Investing articles are:
Disclosure: I am/we are long GLENCORE (LSX:GLEN), KATANGA MINING [TSX:KAT], NORSILK NICKEL (LME:MNOD), HIGHLANDS PACIFIC [ASX:HIG], AUSTRALIA MINES [ASX:AUZ], FORTUNE MINERALS [TSX:FT], RNC MINERALS [TSX:RNX], ARDEA RESOURCES [ASX:ARL], COBALT BLUE [ASX:COB], AEON METALS [ASX:AML], GME RESOURCES [ASX:GME], CASSINI RESOURCES (ASX:CZI), HAVILLAH RESOURCES [ASX:HAV], CONICO LTD [ASX:CNJ], CRUZ COBALT CORP [TSXV:CUZ], BANKERS COBALT [TSXV:BANC], POSEIDON NICKEL [ASX:POS], ALLOY RESOURCES (ASX:AYR), CASTILLO COPPER (ASX:CCZ), CELSIUS RESOURCES [ASX:CLA]. I wrote this article myself, and it expresses my own opinions. I am not receiving compensation for it (other than from Seeking Alpha). I have no business relationship with any company whose stock is mentioned in this article.
Editor's Note: This article covers one or more microcap stocks. Please be aware of the risks associated with these stocks.