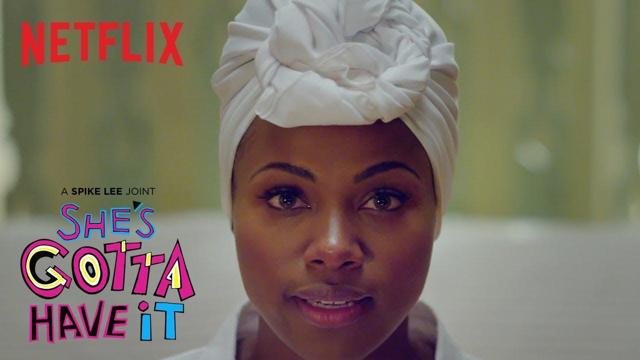 Source: YouTube
Netflix (NFLX) reported quarterly earnings last week. Revenue was in line while the company delivered an earnings beat. NFLX rose initially but is down about over 3% post-earnings. The trend toward online viewership, combined with the company's international expansion has created explosive top line growth. NFLX bulls have been richly rewarded as the stock is up over 60% Y/Y. However, one major item could trip up NFLX going forward. I explain below.
International Subscriber Additions Were Stellar
The investment community previously focused on Netflix's subscriber growth. As the company reaches critical mass, it will be difficult to show explosive growth in subscribers as it has in previous quarters. However, millennials continue to cut the cord which works in the company's favor. Now the market seems to be more focused on net new subscribers rather than subscriber growth.
Netflix reported nearly 1.1 million domestic streaming additions, beating guidance of 650,000. The company had 5.9 million international streaming additions versus guidance of about 4.4 million. The net additions were impressive amid streaming competition from Amazon (AMZN) and Disney (DIS). Domestic and international subscribers grew sequentially by 2% and 8%, respectively. Management guided on Q4 paid net additions of 7.6 million and total net additions of 9.4 million. Y/Y growth in paid net additions and total net additions are expected to be 15% and 13%, respectively.
In my opinion, nobody is cancelling Netflix anytime soon, regardless of the competition. First of all, Netflix has one of the most-powerful brands for online operators. Secondly, it has a major head start versus Disney and potentially, Costco (COST) and Walmart (WMT), who are reportedly weighing their own streaming service. Lastly, the content is addictive. The question mark a few years ago was whether Netflix could offer content on par with cable or network television. It recently tied HBO with total wins at the 2018 Emmy's. If Netflix is cheap, convenient, and the content is on par with HBO's, then it bodes well for future subscriber growth.
Netflix Continues To Burn Cash
Netflix is also benefiting from increased scale. Its Q3 revenue of $4.0 billion was up 2% sequentially and 34% Y/Y. EBITDA of $2.4 billion grew 5% sequentially and 30% Y/Y. Netflix's EBITDA margin of 61% was slightly below the 63% recorded in the year-earlier period. I expect margins to remain robust as the company gradually adds more scale.
However, Netflix continues to burn cash. Q3 2018 free cash flow ("FCF") was -$859 million versus -$465 million in the year-earlier period. Cash burn for additional streaming content assets increased Y/Y by over $900 million. The company's higher mix of self-produced content requires Netflix to fund content during the production phase prior to its release on Netflix.
The company raised $1.9 billion of debt through the first nine months of the year to fund cash burn. Management expects full-year 2018 FCF to be around -$3 billion, which implies a cash burn for Q4 2018 could exceed $1 billion. With $3.1 billion in cash on hand, it is not as well-capitalized as Walmart or Disney. Its lack of liquidity could get exposed going forward.
Netflix's Debt Obligations Are Expanding
Netflix currently has debt outstanding of $8.3 billion. Its content costs also create current and future obligations. Content obligations include amounts related to the acquisition, licensing and production of streaming content. Obligations for the production of content include non-cancelable commitments under creative talent and employment agreements and other production commitments. An obligation for the acquisition and licensing of content is incurred at the time Netflix enters into an agreement to obtain future titles. Once a title becomes available, a content liability is recorded on balance sheet.
At Q3 2018, Netflix had streaming obligations of $18.6 billion, of which, about $10.4 billion were considered off-balance sheet. About $16.9 billion of those obligations are due over the next three years. Netflix's streaming obligations combined with $8.3 billion of long-term debt totaled about $27.0 billion.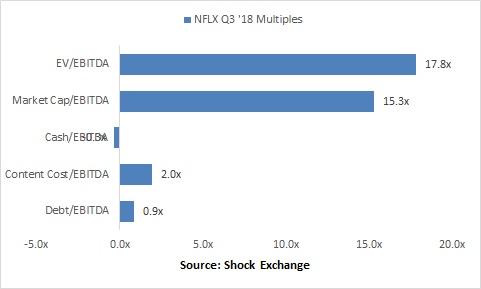 This equated to nearly 2.9x its run-rate EBITDA - 0.9x for debt and 2.0x for streaming obligations. The company has an equity market capitalization of $145 billion. NFLX bulls likely believe its market capitalization could provide a cushion against its $27 billion in obligations for debt and future streaming costs.
If Netflix's combined obligations for debt and content costs reach 3.5x to 4.0x run-rate EBITDA, then its credit quality could come under scrutiny. Secondly, any sharp decline in its equity market capitalization could pressure the company to raise equity while it still can. The biggest risk now may be that competition from Disney, Amazon, Walmart, or others could spike its costs to acquire new titles or talent. This is likely where Netflix is most vulnerable to competition.
Conclusion
NFLX trades at 17.8x run-rate EBITDA. I believe its ballooning content obligations could trip up the company. Sell NFLX.
Disclosure: I/we have no positions in any stocks mentioned, and no plans to initiate any positions within the next 72 hours. I wrote this article myself, and it expresses my own opinions. I am not receiving compensation for it (other than from Seeking Alpha). I have no business relationship with any company whose stock is mentioned in this article.