Summary
China's apparent oil demand is near the all-time high.
China's crude imports are expected to remain elevated into year-end.
With the Chinese government now announcing more fiscal and monetary stimulus, we expect the country's global oil demand to remain healthy going forward.
Welcome to the China's demand is still very strong edition of Oil Markets Daily!
There are a lot of macro headline concerns nowadays from global trade wars to strengthening USD and emerging market contagion risks. China is at the center stage of all of this with the Shanghai index as one of the worst-performing indices this year, so investor concerns are somewhat valid.
This macro risk has also rippled into the oil world with commentators noting a potential slowdown in China's oil demand. But the latest data indicates otherwise.
Chinese apparent demand, mb/d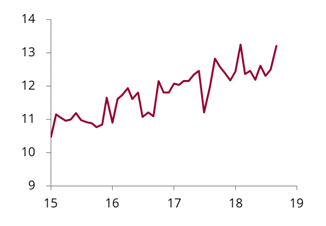 Source: NBS, Energy Aspects
According to the National Bureau of Statistics of China (NBS) and the chart created by Energy Aspects, China's apparent demand is near the all-time high reached in February this year.
From our perspective, we are also seeing a sizable increase in Chinese crude imports month-to-date:

Source: HFI Research
A big part of the increase in crude imports this month stems from an increase from teapot refineries:

Source: HFI Research
A combination of refinery maintenance along with destocking inventories led to this inevitable increase in crude imports. From what we are seeing, Chinese crude imports are expected to remain high into year-end further supporting our observation that Chinese implied oil demand remains strong.
Government Stimulus
In addition to the increasing oil demand, China's government is announcing more stimulus for the economy in the face of the trade war concerns.
These announcements were made following the four-year low we saw in the Shanghai index. In our view, we should start to see more and more stimulus being announced alongside monetary intervention such as open market operations:
A good gauge for the casual observer on the state of China's economy should be its equity markets. We will need to see the A shares stabilize going into year-end, and if we do, we know the risks of a macro blow-up dwindles.
Conclusion
Despite softening economic data, China's oil demand remains strong and crude imports are expected to remain elevated into year-end. With the government now announcing more fiscal and monetary interventions, we expect the concerns about a China hard landing to dissipate.
Author's Note: Thank you for reading this article. If you found this article insightful, please leave a "Like" below.
We've recently launched a new report called "weekly oil market fundamentals". This report helps readers understand just what is developing in the oil market and where we think oil prices are headed on a short-term and medium-term basis.
We are now offering a 2-week free trial. Come and see for yourself why we are the 4th most subscribed premium service on Seeking Alpha, see here for more info.
Disclosure: I/we have no positions in any stocks mentioned, and no plans to initiate any positions within the next 72 hours. I wrote this article myself, and it expresses my own opinions. I am not receiving compensation for it (other than from Seeking Alpha). I have no business relationship with any company whose stock is mentioned in this article.