If you caught our report on robotic vending machine designer Generation Next (OTC:VEND), our field research exposed lackluster sales. VEND fell 40%+ over the next three days after the publishing of our report. Today, we are exposing another robotics company, surgical robot company TransEnterix (TRXC). We know TRXC well, as we published a bearish report on it 11/14/17. The stock fell 50%+ over the next couple of months, before starting a 300% rally. Despite its big recent uptrend, the bear case for TRXC hasn't changed since it was trading below $2. In fact, it has gotten worse as sales are still anemic for the company, and the fundamentals of its Senhance robot still make it impractical for commercial use.
This update will illuminate why TRXC will likely continue having a major share price correction in the near term. TRXC has ties to Phil Frost who was recently charged by the SEC with orchestrating many microcap pump and dumps (more on this below). In addition, TRXC has a history of its stock price running up, and each time, insiders top-tick the stock - we'll show you how this time is no different. After speaking to various robotic surgery experts, we believe that the Senhance has several significant fundamental flaws that will prevent widespread adoption. This is why the TRXC story will end with investors in tears.
TransEnterix Management Has Historical Ties To A Financier Charged In A Microcap Pump-And-Dump Scheme
For those who have followed the story from the beginning, it has been well documented that TRXC's history was littered with stock promotion. On 2/1/16, Broad Street Alerts published a report on speculation that Johnson & Johnson (JNJ) was considering acquiring TRXC. Broad Street Alerts is a newsletter that promotes small cap stocks to retail investors.
What investors may not know is that the company's roots have deep ties to Dr. Phillip Frost, who was recently charged by the SEC with numerous microcap pump and dump schemes. TRXC came public via a reverse merger with SafeStitch Medical. Frost was a major shareholder and investor in SafeStitch, and Jane Hsiao (current TRXC director) was chair of the company at the time of the reverse takeover. They invested together in SafeStitch with their oddly similarly named investment entities: Frost Gamma Investments Trust (Dr. Frost) and Hsu Gamma Investment, L.P. (Hsiao). Notably, Hsiao is on the board of Cocrystal Pharma (COCP - formerly Biozone), one of the companies identified in the SEC lawsuit. The SEC charged Dr. Frost and his associates with selling unprofitable assets to COCP, using financing to amass cheap shares, and orchestrating a pump-and-dump for personal gain.
Dr. Frost used his position as Chairman and shareholder at Ladenburg Thalmann (LTS) to help raise money for TRXC, in which he was a significant shareholder and insider. LTS underwrote a $50M equity offering for TRXC in 2014. Frost's last TRXC shareholding was reported in 2016 when he owned 4.3M shares of the company, he has not reported being a shareholder since then. The rest of the insiders are following suit as we will show in the next section.
We would point out that key management and board members from the RTO still run the company - Todd Pope (CEO), Joseph Slattery (CFO), Paul LaViolette (chairman), William Starling (director), Aftab Kherani (director) of Aisling Capital, Richard Pfenniger (director) and Jane Hsiao (director). It is the same cast of characters that brought the company public with Dr. Frost. When we look at the players involved and their affiliations, the egregious insider sales are not surprising.
We don't believe the bear case has changed in the past year - it has only been further confirmed. TRXC still has been unable to sell its Senhance surgical robot for consistent commercial use - paltry sales to-date have only been for clinical use and training purposes. Time is running out for the company to make any significant sales, as it has been a year since the Senhance was approved in the US. Sales are minimal in Europe where the Senhance has been approved for seven years.
Insider Selling Has Historically Caused Major Share Price Corrections For TransEnterix
We believe that TRXC insiders are experts at top ticking the share price after rallies driven by retail speculators. Time and time again, the stock sees major corrections after these bouts of insider sales. Shortly after FDA approval of Senhance in Oct. 2017, CEO Todd Pope sold 600k shares, and major holder Aisling Capital (Aftab Kherani) sold 5m shares. In the following months, the stock lost two-thirds of its value. We expect this time to be no different. From Sept. 25-27, director William Starling (with the company since the SafeStitch days) sold a whopping 3.6m shares at an average price of $6.28 for total proceeds of ~$23m. These sales represented 68% of his overall holdings via Synergy Life Science Partners. We believe insiders know the improbability of TRXC growing into its current nosebleed valuation. So, they are cutting and running at the expense of uninformed retail investors. We would not be surprised to see filings documenting further insider sales in the coming weeks. In addition, we expect institutional holdings to be significantly lower when Q3 13F filings are released in mid-November. While TRXC has had a great run over the last 6 months, we believe this has come to an end.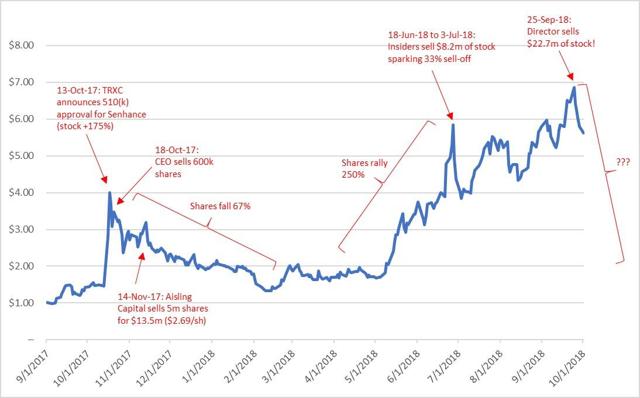 Source: Chart created by author with data from Bloomberg.
As shown above, every time shareholders have made some big sales, it sparks a large sell-off. While we understand that insiders selling down their stakes is a normal part of doing business, it appears that TRXC insiders have enriched themselves without proportional improvement to the underlying company. TRXC insiders have sold >$47 million of stock in the last year alone - if only the company was as good at selling surgical robots. The company had revenues of only $7m in 2017 and $16m through 3 quarters in 2018.
The following are all the insider sales of TRXC in the last year, most at prices lower than today's price: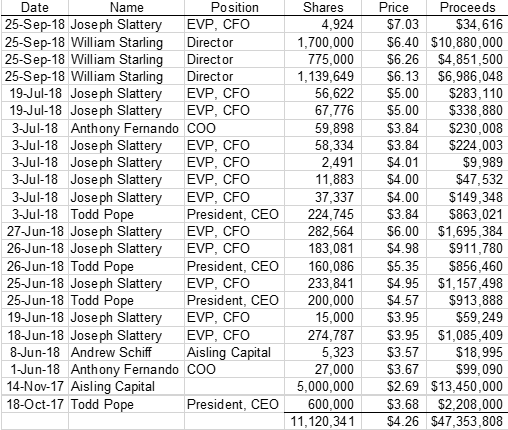 Source: Bloomberg.
We sent TransEnterix CFO Joseph Slattery questions regarding our concerns about the Senhance system a few weeks ago. Slattery is the investor relations contact as shown on the company's webpage here. The questions we asked are revealed at the end of this report. Slattery didn't respond to our questions, but we did see that after we submitted them, he filed that he sold an additional 65,000 shares at a $5.74 average on October 1 and 2. As shown in the insider sales list above, Slattery also sold many shares after our first report was published in November 2017 at below $3 per share.
TransEnterix Is A Great Short Now
With a hyped-up majority-retail-investor-owned stock like TRXC, it is important to step back and look at the bigger picture. TRXC is now a $1 billion+ market cap company with a paltry $24 million in sales expected in 2018. It is trading at EV / sales of 48x, which is nearly 3x the valuation of Intuitive Surgical (ISRG), its closest competitor and the industry leader with established dominance. When you add in an annual cash burn of ~$40m, this valuation just does not make sense.
TRXC has rallied >200% since May 2018 - the stock is currently near a multi-year high. In our opinion, the rally is certainly not a product of the company's accomplishments. As we stated earlier, they have yet to make a sale for commercial use. We would caution investors from interpreting ISRG's success as a positive for TRXC - if anything, the opposite is true. TRXC struggles to compete in the same market in which ISRG dominates.
The following chart of Bloomberg data illustrates how TRXC is a perpetual disappointment. The red line shows 2018 forecasted revenues since 2014 vs. the white line, the stock price. In 2014, TRXC was expected to generate upwards of $150m in revenue in 2018. However, this was just a pipe dream. The actual revenue number will be 80% lower than those historical estimates. How can an investor trust a company that has continually failed to deliver on its promises?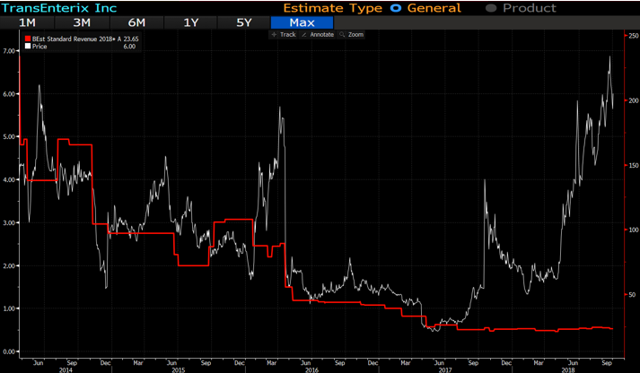 Source: Bloomberg.
The answer rests with CEO Todd Pope, who is a very good salesman. He uses buzzwords like "3-millimeter instruments", "digital laparoscopy", "ultrasonic instrument", "artificial intelligence", "eye tracking", and "haptic feedback". (All those words were from the Q417 earnings call, except "artificial intelligence", which was mentioned in their PR on the company's acquisition of MST Tech.) And the company applies for FDA and CE Mark approval for these added attributes to the Senhance. These add catalysts which bring more attention to the company and more buying, such as the submission and approval of the ultrasonic instrument, the submission and approval of 3mm instruments, and the submission and approval of expanded indications, all of which happened this year. These buzzwords get investors excited, but our research found that none of these approvals mean much to surgeons and do not meaningfully increase the benefits for patients. While it may sound crude, the saying: "you can't put lipstick on a pig", rings true here. The saying fits our view that the fundamentals of the Senhance still make it impractical no matter how many "add-ons" you put on it. We will elaborate later in this report why this is the case.
On the Q417 earnings call, Pope said:
We continue to believe that the capital sales cycle in the U.S. will be four to six quarters, and our pipeline is progressing nicely and is exactly where we would hope to be at this point in our commercialization efforts.
This is the opportune time to short TRXC because that 4-6 quarter window outlined by the CEO is quickly closing. The Senhance was approved in the US on 10/13/17. The Senhance was already being marketed in the US months before FDA approval. In one week, a year will have passed by since approval and the company will not have had success in selling a Senhance for commercial purposes, as far as we know. The Senhance has been approved in Europe for 7 years, and sales are still anemic, and it still is not consistently used commercially there. Investors will start losing hope and selling the stock off more as sales fail to materialize. It has already been a failure in Europe, and if it fails in the US, there will be no other avenue to justify its billion-dollar valuation, or even a $100m+ valuation. As we stated in our previous report, TRXC needs to sell 100 Senhance systems in a year just to break even.
Robotic Surgery Experts Say The Senhance Is A "Piece Of Junk"
For this article, we spoke extensively with an expert who has spent a lot of time studying the da Vinci (ISRG) and the Senhance (TRXC).
"I can guarantee that the ALF platform, renamed or not, is going nowhere", declared Richard Johnson, RASD (Robotic Assisted Surgical Device) technologist.
What Johnson is referring to is the surgical robot "ALF-X" - TransEnterix changed the name to the "Senhance" in September 2016.
Johnson contacted us to share his knowledge of the Senhance. We quote him and other robotic surgery experts later in this article. Johnson has 18 years of operating room experience. He is the senior lead surgical robotics specialist in a level 2 trauma center with over 300 beds and 28 operating rooms. He trains surgeons on robotic platforms along with RNs and medical students. He is about as informed as they come in regards to robotic surgery. Johnson said:
Robotic surgery is all I do, I've always been into it. I got into this job when my parents died and I wanted to give back a little bit. It's all about patient care. And this (Senhance) platform just isn't going to benefit the patient.
Johnson provided us with a screenshot of a certification from the National Center for Competency Testing website:

Johnson said that he works with a very good general surgeon at his hospital who does about 10 robotic cases a month with Intuitive Surgical's da Vinci Xi robot. He does some complicated surgery as well, like colorectal surgery. This surgeon overheard Johnson talking about the Senhance a few months ago. He asked:
Are you talking about that new robot that was up at SAGES [the Society of American Gastrointestinal and Endoscopic Surgeons]? I tried it, and it's a piece of junk.
Johnson also said the Senhance is a "piece of junk" and that nothing fundamental has changed about the company since it was trading at around $2.00 per share earlier this year.
In this report, we go over the main reasons and evidence on why some robotic experts are so negative on the Senhance. It has some very significant problems. These problems primarily are:
It has no articulation;
Its massive size;
In the US, only three arms were approved, which means there is no counter-traction.
For the Senhance to ever be commercially successful and compete with the da Vinci, it will have to be redesigned and rebuilt. That would be very difficult, expensive, and time-consuming. And TransEnterix would have to start again from scratch to market it.
We Have Not Found The Senhance Sold For Commercial Use, Only Clinical Use
There is a key difference between commercial and clinical use - a commercial use has paying customers providing hospital revenues whereas clinical use has the hospital spending money doing studies on non-paying patients. To this day, we haven't found any hospital that uses the Senhance commercially on a consistent basis. This means the Senhance may not have any real commercial customers to help the company ramp up revenues and start making profits. In our opinion, the Senhance is not ready for commercial use and won't be for many years, if ever.
When a patient is a part of a clinical study, they are taking many risks. In return, they are getting needed surgery for free. Even a commercial hospital can do clinical studies. The Florida Hospital Orlando, where TransEnterix sold its first Senhance in the US, is a commercial hospital, but the device is placed in a clinical setting; they are doing trials with it. But the Florida Hospital is not operating the Senhance on billed patients; they are using ISRG's da Vinci on billed patients. This is shown on their website here; when you search for "da Vinci," there are 33 search results and articles talking about using the da Vinci commercially for paying patients:

Source: Floridahospital.com.
Next, when you do a search on the Florida Hospital Orlando's website for the Senhance, you get 1 result: an article saying they're the first hospital in the nation to receive the Senhance:

This above article was from 11/14/17. The fact that the hospital's website still doesn't have any other pages about the Senhance after almost a year suggests they aren't doing much with it.
In the article, it states:
Florida Hospital will be the first U.S. health-care system to utilize the Senhance, both for training purposes and for clinical use.
Again, "training purposes" and "clinical use" do not generate revenues for the hospital.
Clinical Results from Senhance Are Inferior to Traditional Laparoscopy
On the TransEnterix website, there is a clinical page that lists the publications of the studies for the ALF-X/Senhance. The studies that directly compare the Senhance to standard laparoscopy show standard laparoscopy is superior. These results are very bad for Senhance.
A significant study entitled "TELELAP ALF-X Versus Standard Laparoscopy for the Treatment of Early-Stage Endometrial Cancer: A Single-Institution Retrospective Cohort Study" was published in April 2016. For the ALF-X group, the median operative time was 128 minutes for subgroup 1 and 193 minutes for subgroup 2. For the standard laparoscopy group, the median operative time was 82 minutes for subgroup 1 and 104 minutes for subgroup 2. So the surgeries were significantly shorter in the standard laparoscopy group. For the ALF-X group, there was 1 conversion to standard laparoscopy and 2 conversions to laparotomy. There were no conversions in the standard laparoscopy group. (Conversions mean the current method of surgery isn't working for the patient, and the surgeon needs to stop operating, remove the instruments, and try a different method. Surgical conversion is bad for the patient and more expensive for the hospital.)
The study titled "Total Laparoscopic (S-LPS) versus TELELAP ALF-X robotic-assisted hysterectomy: a case-control study" showed results similar to the previous one. It was published in October 2016. For the ALF-X group, the median operative time was 147 minutes. For the standard laparoscopic group, the median operative time was 80 minutes. Procedures were performed without conversion in 94.3% of cases in the ALF-X group, and in all cases in the standard laparoscopic group.
Early postoperative pain was significantly lower in the standard laparoscopic group. This makes sense, as the ALF-X causes more pain since it's a longer surgery, the Senhance instruments in a patient's body are ripping up more tissues and organs.
Johnson said regarding the ALF-X operating time in the study:
We're doing 20-minute hysterectomies with the Da Vinci XI, Senhance studies show it takes 147 minutes on average. So, it's not even viable. A laparoscopic procedure takes 83 minutes, so the Senhance even takes longer than that.
The study titled "The Senhance surgical robotic system for total hysterectomy in obese patients: a pilot study" states:
The median time to discharge was 2 days (1-4). Our study results suggest that Senhance platform could be safe for hysterectomy even in obese patients. More clinical data are needed to determine whether this approach would offer any additional benefits in a new middle line between standard laparoscopy and robotics.
From the above results, patients had to remain in the hospital for a median length of two days.
Johnson said:
Our best laparoscopic surgeons were interviewed because the senior staffers wanted to see if it made sense to make a cap-ex purchase for a third da Vinci XI. The surgeons said the XI allows for better patient care, and the patients typically go home the same day compared to standard laparoscopic or open procedure. Now they are going home the same day, what I see, is about 95%-98% with the da Vinci. With laparoscopic surgery, they are still going home earlier than with the Senhance. The obese patients study shows patients stay in the hospital for 2-3 days.
The study, along with the other studies listed on the website, states that more data is needed to see if there's any benefit at all to use the Senhance over standard laparoscopy.
In the Q417 earnings call, Pope stated:
With the Senhance, we are digitizing the laparoscopic interface between the surgeon and the patient, delivering the benefits of surgical robotics without requiring trade-offs in time, resources, familiarity of motion, surgeon preferences and per procedure cost.
When looking at the clinical results above, Pope's statement is inconsistent. There is a required trade-off in time, resources and per procedure cost with the Senhance. It was shown from the above clinical studies that the Senhance procedure takes longer than traditional laparoscopy and much longer than the da Vinci. According to Johnson, OR time costs over $150 per minute. Surgery with the Senhance takes much longer than either traditional laparoscopy or the da Vinci, equating to a much higher procedure cost.
Patients who undergo Senhance surgery experience more postoperative pain and have to spend extra days in the hospital compared to the other methods. Longer patient stays cost the hospital and the patient more money.
Videos Show The Difference In Efficiency Between The Senhance And The da Vinci
Here is a video of the Senhance in action from April 2018. Starting at about 14:00, you can see how clumsy the instruments are when tying the suture. Once Dr. Dietmar Stephan performs the surgery, and once he passes the needle through, and then tries to grab it again, he's fumbling with it. It's the surgeon's hands that are moving the instruments.
Now, look at a video of the da Vinci. See how much swifter and more efficient the instruments are when tying the suture. The surgeon can grab and switch over the suture with no fumbling. The system eliminates the surgeon's shaking, making the movements more precise.
The Senhance Has No Articulation; the U.S. Model Has Three Arms With No Counter-Traction
As stated on the SAGES (Society of American Gastrointestinal and Endoscopic Surgeons) website regarding the Senhance:
The FDA has determined this device to be substantially equivalent to predicate device: the da Vinci Si IS3000 device. However, the Senhance differs from the predicate device, as the predicate uses wristed instruments, whereas Senhance instruments are similar to traditional laparoscopic instrumentation. Note that in Europe, the company has been approved for a fourth robotic arm and an articulating needle driver.
The above describes some major disadvantages compared to the da Vinci. First, the Senhance doesn't have "wristed instruments", also called "articulated instruments".
Second, the Senhance was approved in the US for only three arms. The original model, which was approved in Europe, has four arms. Without the fourth arm, the Senhance has no counter-traction.
Both counter-traction and articulated instruments are essential features for a surgical robot, and of course, the da Vinci has both. This next section goes into detail on what each feature is, and why they are important.
Counter-Traction
According to Johnson:
Counter-traction is tissue dissection 101; you have to have it. Without the fourth arm, the Senhance has no counter-traction, and that's a big problem. The way I try to explain it to people who don't know surgery is to try cutting a steak without a fork. That's what it's like to dissect tissue without counter-traction. Now the only way to get counter-traction with the Senhance is with an additional port and another assistant in the room, which defeats the purpose of the whole platform in the first place.

This is how the three arms of the Senhance work. One arm is a camera, and it's a 12mm camera, the old da Vinci-style diameter camera. It's bigger than what you use for laparoscopy. The other arm is a grasper that grasps the tissue. The third arm has a dissecting instrument, something that can cut for coagulation. Counter-traction has to have a fourth arm, you need to have another grasper so you can spread that tissue apart. You can get around that with articulation, you can use a side wall inside the body and pull the tissue away and then cut. But if it's in the middle like the uterus or appendix, you need to have two grasping instruments to hold them up and pull apart a little to have the dissector cut it.

You can have three arms with an additional port and a hand held old laparoscopic instrument grab the other side and pull the other way. There usually is another person, but that other person is usually holding suctions for the bleeding... so the surgeon can see the tissue better. But if that person is doing the suction, then he has to hold another instrument for the counter-traction? It's not happening. There's no way one person can do both of those things.
The following image is the three-armed Senhance as shown on the SAGES website: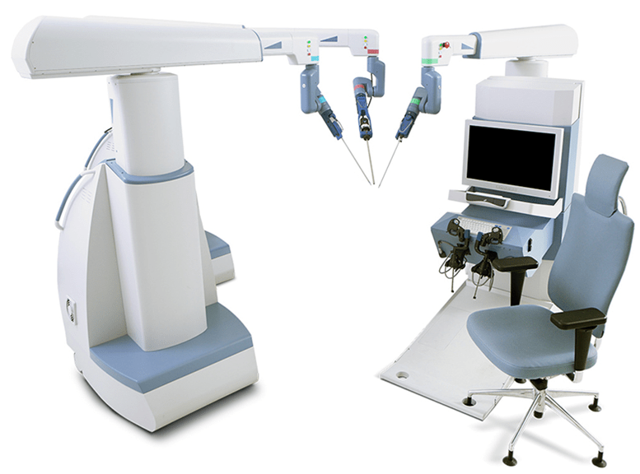 Source: Sages.org
The above photo is actually deceiving and a bit of a camera trick. One of the arms is placed behind the CPU control unit, so it looks like it's one unit. The other arm is behind another arm, so that looks like it's one unit. In reality, all arms are docked separately as shown in the image below. The whole thing is gigantic.
The following is an image of the four-armed Senhance that's approved in Europe: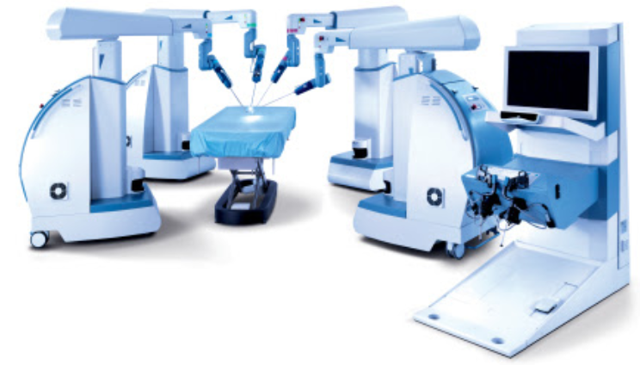 Source: TransEnterix website.
Compare the above Senhance photos with that of the da Vinci Xi below: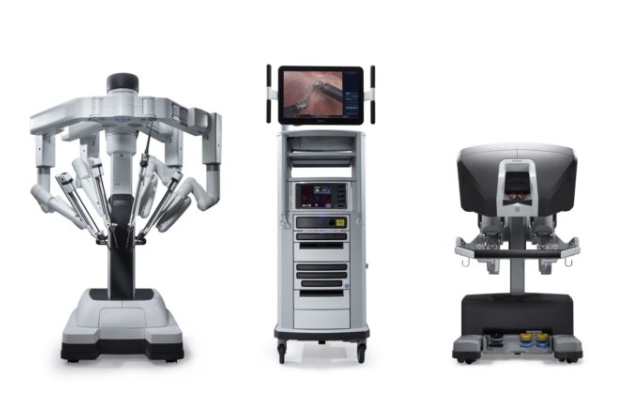 Source: Cheyenneregional.org.
As shown above, with the da Vinci, all four of the arms are docked together, making plenty of space in the OR for convenience and safety.
One of our questions at the end of this article asked TransEnterix why the FDA only approved three arms, and why it approved the Senhance at all since it performs worse than the standard of care which is standard laparoscopy. Johnson speculates that FDA only approved three arms because the whole system is too big for operating rooms, which could compromise patient safety. He stated:
The platform is massive — it's way too big. Each base has one arm. Now if you look at a da Vinci, the third or fourth generation, it's one base with four arms. That's taking up one footprint area. The Senhance has one arm per base. You have to encircle the patient with the four arms. That's just flat-out dangerous. If the patient codes, they need to bring in something to get their heart going again, they need to bring in additional people, if they have a malignant hypothermia, an MH reaction, there would be a dozen people buzzing around. I'm telling you this with 18 years of experience under my belt — if I had that fourth arm in the way, much less the second and the third, I'm worried about getting to my patient, and bringing in the proper equipment in the case of an emergency.
As described, the total size of the Senhance is a fundamental flaw.
Articulated Instruments
As explained in this Pub Med report on articulated instruments:
In minimally invasive surgery, instruments are inserted into a patient's body through minimum incision, resulting in limited visibility, accessibility, and dexterity. To address this problem, surgical instruments with articulated joints and multiple degrees of freedom have been developed. The articulations in currently available surgical instruments use mainly wire or link mechanisms.
The Senhance doesn't have articulated instruments, and that's a problem. Johnson told me a story where he was discussing the Senhance with a couple of surgeons. The surgeons asked him what's so special about it, and he mentioned that it has eye-tracking and haptic feedback. The surgeons were interested and said both of those features sounded cool.
Then Johnson said: "But here's the thing, the instruments don't articulate."
Then, without even thinking, the surgeons said: "Well, then why would I want to use that?"
Johnson said:
The surgeons' immediate dismissal of the Senhance illustrates that those two attributes, eye-tracking and haptic feedback, are cool-sounding but they are really trivial compared to the importance of articulation. Articulation is the whole thing, that is it. And that's why Pope is starting to address it. Well, he's been trying to address it since 2015, actually. Da Vinci has over 1,000 patents on their robots, they have it locked up.
Even a doctor who spoke for the Senhance in a promotional video by TransEnterix stated that "wristed instruments" are important. In the video, Dr. Kho describes trying out the Senhance and pointed out some advantages with it. However, at about 1:35 of the video, he mentions that "wristed motion" from articulated instruments is very important. He says he understood that by September of 2015, the instruments will be wristed, and that will "complete the necessities for the robot to be useful". The video was published in May, 2015. More than three years later, the instruments are still not articulated.
Pope realizes the importance of getting the instruments articulated. In the Q417 earnings call, he said:
Our last portfolio expansion initiative for 2018 is to launch five-millimeter articulating instruments. We are excited about the launch of these instruments and anticipate receiving CE Mark and filing for 510(K) clearance by the end of 2018.
However, getting articulating instruments approved could be difficult getting around the patents of the da Vinci. Here is a list of Intuitive Surgical patents; many are regarding articulation, and many have been granted within the last couple of years. Even if they do get approval, rebuilding the Senhance to use articulating instruments would also be no easy task.
Johnson said:
The Senhance isn't built to run articulating instruments. It's meant to just open and close a jaw. If you look at a da Vinci platform, there are five different servos that turn five different gears on each instrument to make that articulation and the opening and closing of the jaws happen. They're not going to be able to make the Senhance instruments articulate without some overhaul of the robot itself. They would have to put a servo into each place for these arms to move.
A Critical Look At The Attributes Of The Senhance
The following are the positive attributes of the Senhance that the company touts as "a new era of minimally invasive surgery."
Haptic Feedback and Eye-Tracking Camera Control
Haptic feedback is the ability to convey a sense of touch and resistance to the surgeon during the procedure. Eye-tracking is the camera moves as the surgeon moves his eyes or his head.
Johnson said:
The Senhance instruments don't have articulation, which is why they want you to look at haptics and eye-tracking. I liken it to a magician to have you look at one hand to distract you while the other hand does what needs to be done for the magic trick.

In regards to eye-tracking, you can move the cameras of the da Vinci with your foot, so that's really no big deal.

The da Vinci doesn't have haptics. The da Vinci has force feedback, visualization and an immersive 3D pod. These compensate for haptics; you can see tension. Haptics isn't something that's really being missed here, and it certainly hasn't caused an injury in the 6,000 hours I've been doing robotics.
Three-Millimeter Instruments
On 6/7/18 TransEnterix filed a FDA 510(K) submission for 3mm Senhance instruments, and Transenterix announced it got approved on 10/11/18. The company claims this is an improvement over 5mm instruments because the incisions will be smaller. 3mm instruments has already been approved in Europe and there haven't been demand for it there, Senhance sales haven't improved from it. Johnson doesn't think 3mm instruments is an improvement, he said:
The 3mm instrumentation that they say is new and improved has been out for two decades, and is used in pediatrics daily. Pediatrics is the only place I've ever seen 3mm instruments. If you put a 3mm and a 5mm next to each other, and you're standing a foot away, it would be tough to see which is which. When I get out there, training in different hospitals, you just don't see 3mm used on adults, there's no reason for it.

I'd question the safety of using a 3mm instrument to retract heavier tissue, if you were going to hold back let's say a liver with a 3mm instrument, I would be concerned about that instrument failing. These are graphite shafts, I've had one actually break in my hand.

They try to say it's less pain. The cut doesn't cause the pain, it's the 145 minutes of the Senhance poking around in someone's body that causes the pain. The pain isn't from the skin incision. It's what's underneath the skin. The only thing that hurts is going through the fascia and muscle. The Senhance doesn't have articulation, it doesn't have the wristed motion, so instead of being able to move the far end without moving the whole stick that's going through the body, you have to move the whole stick. On a da Vinci, you can move the end without moving anywhere where the incision is at. So, with the Senhance, you're wrenching on all of the skin, muscle, fascia and peritoneum, and that's what causes all that pain.
Ultrasonic Instrument
On 10/1/18, TransEnterix got approval for CE Mark for its Senhance Ultrasonic Instrument System in Europe. Johnson said regarding Ultrasonic:
While it may be new to them, Ultrasonic has been around since 2005. This is nothing new, they're catching up. There are several uses of terminology for what it is. One is called a Ligasure, the other is called a harmonic scalpel. Da Vinci has a vessel sealer, in fact Intuitive Surgical has their own energy department that they just opened up, they are creating their own devices now.
The following are statements from two surgical robot experts about the Senhance's attributes:
The dynamics of today's hospitals are demanding faster turnover times, The Senhance System will require longer turnovers and require one extra nurse for docking.
—J. Barkley, RN, CNOR (Certified Nurse, Operating Room)
This is the first time I have checked out the Senhance Surgical Robot. I went through the Senhance website and read what they state their robot can do. I will compare their claims to what the da Vinci robots have been able to do for at least the past 9 years:
"3DHD" - nothing new or novel.
"Eye tracking" - novel, and future generations of surgical robots may adapt this (without the glasses).
"Comfortable ergonomics" - nothing new or novel.
"Digital fulcrum" - nothing new or novel.
"Haptic feedback" - new and an improvement over da Vinci and future generations of surgical robots may adapt this.
"Fully reusable instruments"- definite advantage over da Vinci. Though the instruments appear to be significantly shorter than the da Vinci's working length (32cm past the distal end of the port).
"Power of pause" - nothing new or novel.
"No patient docking time" - completely unsupportable statement. The video I watched took Senhance a similar amount of time that it takes to dock the daVinci robot. I believe the video was staged to make it look this short (though I could be wrong).
Numbers 9-11 are technology that Senhance is clearly not up to standard.
"Articulating instruments" - no, and this is a significant step backwards in technology.
"Guided tool exchange" - a safety feature that da Vinci has and Senhance, significantly, does not.
"OR footprint" - Senhance has a Surgeon console and a patient cart for each arm that is used. If 3 instrument arms and a camera are used that equals 4 patient carts. Da Vinci has a surgeon console and one patient cart no matter how many instruments are used.
The massive OR footprint is a significant flaw of the Senhance system for the following reasons:
-- Increased docking time;
-- Increased carts to move out of the way and back in place when you are bringing the patient into the room;-- Increased issues with cables running across the OR floor from one cart to the next. This is a tripping hazard and the more cables you have running across the floor the greater your chances of cutting one.
In a video I watched, the anesthesiologist was literally sitting behind a vision cart and an arm cart and barely had access to the patient's airway.
Three main points:
I am excited about the future of robotic surgery. I have nothing against Senhance and it has a few improvements over the da Vinci (haptic feedback, eye tracking, and reusable instruments), but mostly the same technology with some significant disadvantages (non-existent guided tool exchange, non-articulating instruments, significantly larger OR footprint, and shorter instrumentation).
I am glad companies are trying to compete with da Vinci. The more companies compete, the better robotic surgery becomes, and the care our patients receive continues to improve.
If Senhance could develop reusable, articulating 5- and 3-mm instrumentation, they might be able to put pressure on da Vinci. Though I am not sure if they can overcome their large OR footprint.
—A. Wilson, RN, runs the Robotic Assisted Surgery Device program at Rich Johnson's trauma center
The da Vinci X Is A Better And Cheaper Alternative To The Senhance
The da Vinci X became FDA-approved in May 2017, a few months earlier than the Senhance FDA approval. According to Johnson, from speaking with da Vinci reps, Intuitive Surgical sold 255 da Vinci Xi and da Vinci X systems last quarter. 21% were da Vinci X systems, which make a total of 53 sold for the quarter. The da Vinci X is a cheaper version of the da Vinci Xi, but still has the dexterous arms and precision instruments with articulation that the Xi has. Here is an article about the da Vinci X right before it got FDA approved. According to Johnson, the da Vinci X sells for around $1.37M. That's $130K less than the Senhance, which sells for around $1.5M. Below is a photo of the da Vinci X: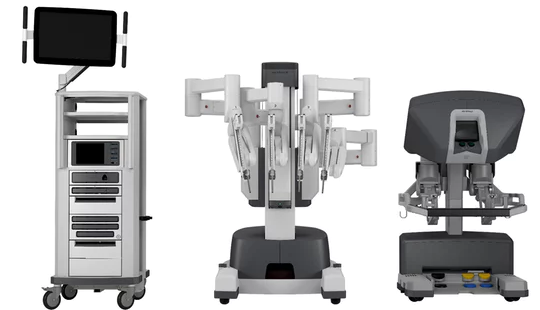 Source: New Atlas
Sell-Side Analyst Opinion On TransEnterix
The only sell-side analysts that cover TRXC are from the five investment banks that were its book-runners. No other sell-side firm is bothering to cover this company. From this offering announcement in 2015:
Stifel and RBC Capital Markets acted as the joint book-running managers and Raymond James, BTIG and Ladenburg Thalmann acted as co-managers for the offering.
The following are analyst opinion on TRXC from these five firms.

Source: TipRanks.
There aren't many analysts asking questions on conference calls. In the Q417 earnings call, only Ladenburg and Stifel analysts had questions. In the Q118 earnings call, Stifel, RBC and Raymond James had questions.
Stifel's analyst, Rick Wise, is the sell-side analyst closest to TransEnterix. On 5/29/18, the company received FDA 510 clearance for expanded indications of the Senhance for laparoscopic inguinal hernia and gallbladder removal. The stock went above $4 on the news, but Wise still kept his $4 price target on TRXC. However, on July 2nd, Wise increased his price target to $5.50 on TRXC, on no significant accomplishment by the company.
Just recently, after the company released a corporate update on 10/1/18, Wise increased his PT to $6.50 on TRXC. That's an over 50% increase in his PT since June, on no major fundamental changes. It's a sign of a bubble when sell-side analysts keep raising their PTs on a stock just because it's going up. In his report, Wise said TRXC is "in line" with his three system sales projection in Q318. TRXC reported four sales in Q318, but two of those sales were to distributors. We don't think the distributor sales should count, so without counting those, TRXC only sold two systems in the entire quarter.
Sales Are Still Almost Nonexistent In Europe
From the Q417 earnings call, CFO Joe Slattery said:
Sales and marketing expenses in the quarter increased to $5.5 million from $3.6 million in the prior year period, primarily due to growth in our commercial efforts in Europe, as well as the build-out of our U.S. commercial team.
Despite continually growing their European sales team, they still can't sell a single Senhance there for commercial use. They only sell one or two Senhance in Europe per quarter after being approved there for seven years. So, why do investors think that they'll be able to sell any in the US? It's mind-boggling.
From the earnings call, Pope said:
I think we have the advantage in the U.S. to be able to lean on what we've done in Europe. We've got a diverse case series in Europe across multiple countries and multiple specialties. So when we do engage with surgeons, we can give them some comfort on how the system is being used in a wide variety of procedures in Europe.
Pope seems overly optimistic with this statement. The Senhance was and is a commercial failure in Europe. So, how can the company use Europe as an example of how well the Senhance is doing?
Conclusion
TransEnterix started out as a reverse merger and stock promotion led by Phillip Frost who has recently been charged by the SEC in illegal pump and dump schemes. It has since ballooned to an over $1B company from a hot surgical robot market and continual token catalysts and the CEO's use of buzz words. About two weeks ago, insiders sold a massive $22.7M worth of stock and have sold more stock since then. Two other times in the past year, massive insider selling caused a 30%-65% decline in the share price. We believe that will happen again on this recent insider selling.
Even though the Senhance has been approved and marketed in Europe for seven years, and for over one year in the US, sales are still anemic. It has only sold two units to hospitals last quarter, and two units to distributors. We calculated, in our previous article, the company needs to sell 100 Senhance units in a year in order to just break even. We don't believe the company will ever sell that many units in a year because of major fundamental flaws that make it impractical. Mainly, it's too big to be safe, it only has three arms approved in the US, which takes away counter-traction, and it doesn't have articulation, or wristed motion. To redo the robot to make it practical would be a huge, complicated endeavor that would be very expensive for the company and take a long time.
To find the answers to these fundamental problems of the Senhance, we sent the following questions to TransEnterix' investor relations on October 2nd. We have yet to receive an answer to these questions:
Why did the FDA approve the Senhance given that its surgery time is longer than standard laparoscopy in a side by side comparison clinical study?
Why did the FDA only approve 3 out of the 4 arms of the Senhance?
If the Senhance gets approved for articulation, how will you rebuild the Senhance for this?
Why didn't the Senhance get articulation earlier in 2015? Is it because Intuitive Surgical has a patent on it?
Does the company need to sell around 100 Senhances per year to break even? How does the company expect to get to this number?
How does the Senhance compete with the da Vinci X, which is about $130,000 cheaper?
Editor's Note: This article covers one or more microcap stocks. Please be aware of the risks associated with these stocks.