Editor's note: Seeking Alpha is proud to welcome Brandywine Global Investment Management as a new contributor. It's easy to become a Seeking Alpha contributor and earn money for your best investment ideas. Active contributors also get free access to the SA PRO archive. Click here to find out more »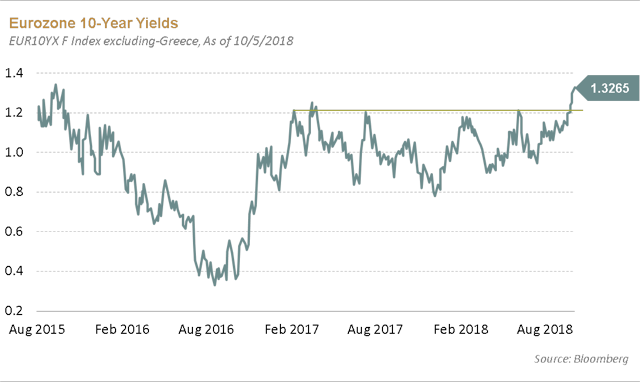 Is the breakout in eurozone 10-year yields sustainable? Although political risks within Europe are driving Italian yields higher and German yields lower, the gross domestic product (GDP)-weighted 10-year eurozone yield seems to be notching higher. The upward pressure on these regional yields could be a result of what's happening in the U.S. Treasury market, or a credible sign that European bonds are starting to price in the output gap relative to labor market conditions.
While growth momentum has weakened in Europe in 2018, the output gap continues to diminish as the overall unemployment rate continues to decline. Core inflation is still subdued near 1.0%, but if history remains a guide, then the tightening of the labor market will lead to a further acceleration in wages, which, in turn, will drive core inflation towards the European Central Bank (ECB) target of 1.5-2.0%. If this is the case, then this recent breakout in yields may be more of a long-term trend rather than an anomaly.